By Parke Shall
Banc of California (NYSE:BANC) had an impressive week of trading last week. After the company announced that it had completed its internal investigation into allegations made in a blog in October, the company's stock shot up significantly, almost reaching the $20 mark at one point. We think this move higher is unwarranted, as SEC investigation risk remains outstanding and a full analysis of the bank's asset base has yet to be completed on our end.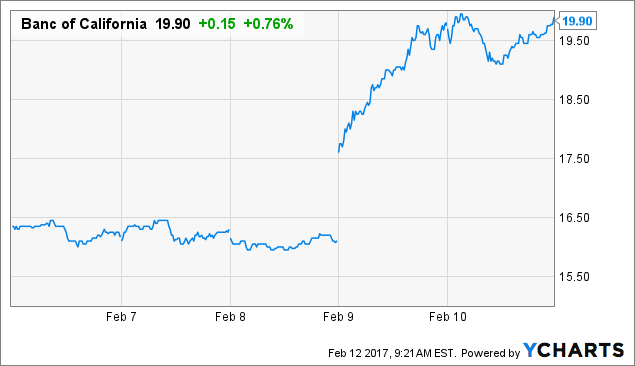 BANC Price data by YCharts
For those unfamiliar with the story, it was just a couple of months ago that SA contributor Aurelius came out and began to allege ties to fraud at BANC. Since then, the company had commenced an internal investigation, and for the most part, the stock has rebounded.
In a previous article out last week about Banc of California, we warned that the stock was still too risky to touch,
When we keep in mind all of the outstanding questions that are still up in the air, combined with the fact that regulators are just now starting to take interest, we have to reiterate our stance to avoid BANC. In addition to new allegations brought forth last week, the valuation does not look compelling for a company that we believe has a higher-risk profile the most.
While we may be eating crow in the short term as the stock has clearly rallied significantly here over the last week, we stand by our original conclusion that there are still too many unknowns to own the stock.
There are now activist investors involved with Banc of California, looking to possibly make a run for a couple of board seats and get the company's governance under control and/or potentially sel the company. The one item that could help Banc of California sustain a relatively normal share price is its asset base. Despite any alleged wrongdoing at the top by executives or any ties to potential fraudsters, if the company's asset base is real it should put a somewhat firm foundation under the company's stock price, albeit potentially at a lower price.
About two weeks ago, we began the exercise of segmenting out and identifying the company's asset base. We are going to provide further color on that in an upcoming article when we are finished with our analysis.
However, the main concern for us this week is the fact that the company's stock has undergone somewhat of a short squeeze and has appreciated 21.71% over five days based only on the results of an internal investigation.
Without accepting or refuting the company's findings, we just have to be mindful that the investigation that concluded was internal and was not in any way related to the SEC investigation on the company that we know began just weeks ago.
It came to light over the past month that BANC was now being formally investigated by the SEC. This came at the same time as the CEO resigning.
While this is certainly a step in the right direction for the company and the CEO's resignation should actually assure investors that a new tide may be turning for the company, we still don't think the company is worth investing in and we certainly don't think it is worth investing in now that the price has moved up so significantly. The one body that can really make an impact on the company still would be the Securities and Exchange Commission and until we have the results of their investigation, we have anything but the "all clear" for the company going forward.
We believe the company's new share price near $19 in no way takes into account the risks that remain on the sideline concerning not only the findings of the SEC investigation, but also potential for wrongdoing and allegations that may be made against the company in the future. We have seen situations where one allegation can snowball into several and before you know it, you are looking at a situation like Valeant, where more dirty laundry is being aired than you ever thought possible. We're not saying this is a definite for Banc of California, nor are we questioning the company's internal findings. We're simply saying that the door for more bad news has been left slightly ajar and paying 21% more for the stock this week with that risk still a possibility doesn't make much sense to us.
We will continue to monitor the story and will update our readers on our progress after we complete our analysis of the company's asset base.
Disclosure: I/we have no positions in any stocks mentioned, and no plans to initiate any positions within the next 72 hours.
I wrote this article myself, and it expresses my own opinions. I am not receiving compensation for it (other than from Seeking Alpha). I have no business relationship with any company whose stock is mentioned in this article.