On February 9, Transocean (NYSE:RIG) released the Company's quarterly fleet status report ("FSR"). The FSR used to be a great way to assess the progress (or lack thereof) of underwater drillers on a monthly basis. Beginning in 2015, many of the drillers changed reporting from monthly to quarterly as the good news dried up and announcements focused more on cancellations than on new contracts or contract extension.
In RIG's most recent report, we see a new level of the expansion of a new level of opaqueness. The February report had no less than six rigs with contractual dayrates identified as "Not Disclosed". The only reason credible reason for this widespread change from standard industry practice is the embarrassingly low rate RIG has contracted. As the driller downturn is clearly lasting much longer with far more impact to dayrates than contemplated twelve or twenty-four months ago, the viability of firms once considered survivors is beginning to be, if ever so gently, questioned. No matter how bad the news is, hiding the facts only makes observers fear an outcome even worse than reality.
Contrary to what some investors had hoped - that an increase in the price of oil would like to an increase in both contracting and dayrates - an economically beneficial recovery has not occurred in the underwater drilling industry. To the extent there is an offshore contracting recovery, it is largely for shallow-water, jack-up appropriate wells. And these new contracts are at rates as low or lower than the low dayrates agreed to in 2016. Further, the other potential catalyst for higher dayrates - the scrapping of rigs - has not occurred at the levels required for a supply-demand balance (see: Transocean: Mr. Thigpen, 'Scrap Those Rigs!').
Looking at RIG's February FSR, we see the now routine disclosure of a contractual termination (Deepwater Asgard, effective January 2017), with a payment of $79 million (contractual rate less operating costs). We see three mini, non-terms disclosed deals. The first, a one-month agreement to drill an extra well (Transocean Spitsbergen option exercise); the second, a 30-day contract extension (Paul B. Lloyd, Jr.); and the third, a seven-month agreement to drill three wells (Dhirubhai Deepwater KG2) contract. In summary, a very disappointing FSR, especially as it followed OPEC's production curtailment agreement.
Bloomberg reported oil & gas exploration spending will hit a 12-year low in 2017, with only $37 allocated to E&P (exploration and production) activities.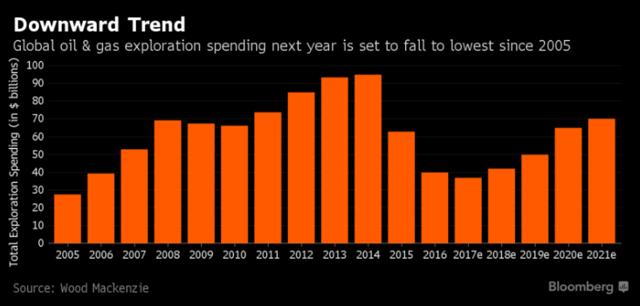 (Source: Bloomberg/Wood Mackenzie)
Production is not expected to increase to 2007 levels until 2020, which means serious contracting will likely not begin until the second half of 2018. Given the huge oversupply of rigs (not including those sitting at production yards), a return to the prospect of "normalized" profits is likely more than 24 months away.
In summary, RIG's FSR was disappointing, but not unexpected. I think, despite the positive inclinations of Seeking Alpha readers (and writers), the reality is that there are no signs of an early (or late) Spring. The focus must shift from getting through a rough winter to surviving near-famine conditions. While the stock market is too unpredictable to make any formal recommendations, it certainly suggests the risk-reward is skewed toward the downside. To those readers who are new to underwater drilling and seeking a bargain, I suggest you do a lot of personal research, read a bunch of SA articles (on a variety of drillers) and do a gut check. There may be rewards, there may be disappointments, but there certainly are risks.
Disclosure: I/we have no positions in any stocks mentioned, and no plans to initiate any positions within the next 72 hours.
I wrote this article myself, and it expresses my own opinions. I am not receiving compensation for it (other than from Seeking Alpha). I have no business relationship with any company whose stock is mentioned in this article.