Welcome to the blitz edition of the Weekly Restaurant Report. Readers may have noticed we missed a week, and also note that our 2017 Contrarian Pick remains a work in progress as we we've been busy pursuing various non-restaurant sector contrarian plays. Now that restaurant earnings are in full swing, it's time to play catch up, and turn our efforts towards numbers like same-store and comparable sales, EPS beats and misses, revenue increases or declines, and whether or not guidance meets expectations. Excuses will be heard, as well as surprise announcements, and we can't wait to hear them all.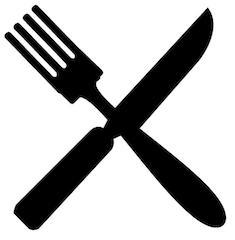 Trend Line: The Re-Franchise Shuffle
The past three years one of the hottest trends on Wall Street for the restaurant sector has to be the new refranchise model. This model includes companies shedding their assets as they sell units to private equity groups, and one of the buzzwords associated with this trend is a goal of "95%-99% franchised" or something in that range. Companies like Wendy's or McDonald's (NYSE:MCD), often keep the best (1%-5%) performing stores, and shift the burden or risk more squarely on the individual operators. Obviously, this works both ways as revenue drops amid rising margins. This week provided more evidence that this trend has yet to fade.
Sonic Corporation (NASDAQ:SONC) announced the sale of 53 Sonic Drive-Ins as part of a previously outlined refranchising initiative. The units will be purchased by the multi-brand franchise organization Let's Shake, led by Sunil Dharod. Keep in mind, Sonic owns and operates 286 Drive-Ins, and this moves the company closer toward a goal of an approximately 95% franchised system. Another noticeable trend, private-equity restaurant groups are growing quickly as they gobble up multiple brands in large buying sprees.
With decades of restaurant franchisee experience in Texas, Sunil's organization makes for a great partnership with SONIC," said Drew Ritger, senior vice president of development for SONIC. "We anticipate strong leadership from Let's Shake to provide stellar guest service and delicious SONIC food to consumers in the San Antonio market."
Wendy's (NYSE:WEN) entered into three independent definitive asset purchase agreements to sell a total of 69 Wendy's restaurants located in the Midwest and Mid-Atlantic States. Assuming approvals, the deals should close during the first and second quarters of 2017. The buyer: Meritage Hospitality Group Inc. (OTCQX:MHGU), another restaurant operator with a large, and growing footprint. Meritage Hospitality Group CEO Robert Schermer, Jr., explains the move.
We are inspired by the opportunity to expand our Wendy's footprint into these new market areas. The consummation of these three transactions will represent the completion of nineteen Wendy's acquisitions in the past eight years and are consistent with our stated investment strategy of 'profitable growth' within the Wendy's franchise system. We intend to systematically integrate each of these Wendy's restaurants into our unique web-based operating & accounting platform, followed by a long-term remodeling program designed to modernize the Wendy's restaurants and enhance the guest experience."
As far as refranchise models are concerned, we like Wendy's, and Nelson Peltz, which explain our 2017 Activist Pick.
Fast-Casual Casualty: Noodles & Company
Not all franchises are hot, profitable, or even attractive, and the first fast-casual casualty for 2017 announced trouble ahead for its concept, and company outlook. Make no mistake, the future for Noodles & Company (NASDAQ:NDLS) looks bleak, and this press release illustrates what a "falling knife" sounds like after a couple short years of destroying shareholder value. The announcement speaks for itself:
Raises $18.5 million from L Catterton through private placement
Amends credit facility to increase flexibility
Announces plan to close approximately 55 underperforming restaurants
Announces selected preliminary fourth-quarter result
Announces conference call to discuss strategic initiatives and recent developments
BROOMFIELD, Colo., Feb. 09, 2017 (GLOBE NEWSWIRE) -- Noodles & Company (the "Company") today announced that it completed an $18.5 million private placement sale of Series A Convertible Preferred Stock and warrants to purchase shares of the Company's Class A Common Stock to an existing shareholder controlled by L Catterton on February 8, 2017 (the "Private Placement"), to strengthen the Company's balance sheet and fund strategic initiatives. Additionally, the Company announced the amendment of its existing credit facility, allowing for greater financial flexibility."
Keep in mind, underperforming often means negative cash flow, which is the case with many of these locations. This announcement represents another lifeline, and short-term solution to the much larger problem, the "Noodles" concept remains dead on arrival (DOA). Management gets another go at it, and we don't expect much as far as traffic, or margins are concerned. Dave Boennighausen, Chief Financial Officer and interim Chief Executive Officer of Noodles & Company, stated the usual catch phrases:
Today we announced important initiatives that we believe are critical to the long term success of Noodles & Company. These initiatives focus on our strong go-forward restaurant portfolio, shore up our balance sheet and give us the financial flexibility to further our in-restaurant operational and culinary initiatives."
Flexibility remains the keyword, and NDLS promptly dropped over 12% by the time the market closed Friday. We recommend avoiding this disaster of a story, unless, of course, you are looking to fade a rally, as with a speculative short position.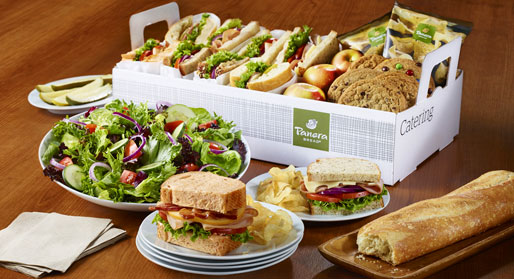 Panera 2.0: Everybody's talking about it
In case you missed it, analysts fell over themselves at last month's ICR Conference when discussing Panera Bread (NASDAQ:PNRA), and its earnings report on Wednesday provided additional support to the bull thesis. One of the biggest PNRA bulls last month had to be Morgan Stanley (NYSE:MS), which stated this about Panera Bread:
Our $235 price target reflects 31x FY17e EPS of $7.55, two turns below FC peer average multiple of 33x, but two turns above PNRA's historical NTM average multiple as we anticipate an acceleration in EPS growth in '17 and '18. Our PT is supported by our DCF model, including a 7.1% WACC and 3.0% terminal growth rate. Risks include 1) SSS fall short of targets, calling into question success of 2.0, 2)Operating initiatives weigh on margins but don't succeed in driving traffic, and 3)Commodity costs (particularly labor) inflate, offsetting leverage of 2.0."
Overweight best describes the Morgan Stanley position from a month ago, and much of that has to do with Panera 2.0, which includes technological upgrades as well as accelerating delivery service. A list of some of the discussion points from the conference with PNRA CEO Ron Shaich and CFO Mike Bufano (January 11th, 2017):
Panera 2.0 is working. 2.0 comps are growing faster than non- 2.0, and 2.0 was in 70% of cafes at end of 2016 and 100 franchise units (75% of franchise groups).
Delivery generates a ~$5k sales lifts per week after 6 months, with 80-90% of those sales incremental. Delivery was rolled out to 15% of system by end of 2016 (20% of company cafes) and will be rolled out to 35-40% of total system by end of 2017. Startup costs average $3k per week. A delivery order's margin is roughly the same as a dine-in order and higher if scale is reached (eat in = 10-12% to input order, production identical, capacity constrained in store and must pay for cost to heat + light; delivery = pennies for order input, production = identical, cost to delivery = $3-3.50 on a $22 average check).
Internal vs. 3rd Party: 1.) Outsource delivery coverage is still relatively small percentage of country. PNRA serves 1/30 Americans every week via nearly 2,100 stores (delivery will be 35-40% of those stores next year vs. 3rd party only in metro areas). 2.) Infrastructure was already in place. Soups, salads sandwich travels very easily and has broad appeal that people want. PNRA can deliver in 35 minutes but outsourced delivery doesn't go into your KDS system so it takes longer. 3.) 3rd party is expensive and PNRA wants to be mass market. Pizza companies don't outsource because of economies of scale.
Digital utilization is 24%, but 28% at 2.0 stores and 30% at mature 2.0 stores. PNRA fulfills 170k-175k orders per day vs. GrubHub (NYSE:GRUB) of ~250k per day. Nearly 70% of online orders are customized, making operational integrity (end to end approach to improving production and accuracy) a key part of 2.0.
As delivery service becomes another hot, and difficult trend, Panera finds itself in an advantageous situation. As indicated above, soups and salads, as well as pizza and sandwiches, travel well, which makes delivery much more attractive, and profitable, for a company like Panera Bread. Not all food concepts work optimally for delivery; for example, concepts such as casual dining or fast-food. Consumers generally don't order steaks, entrees, or fries for delivery, and with good reason. Panera 2.0 seems to be working as advertised, and the company delivered positive results for earnings last week.
Panera Bread reported a Q4 EPS of $2.05, beating by $0.05, on revenue of $727.11 million (+5.1% Y/Y), in line with estimates.
The company reported comparable bakery-cafe sales increased 3.0% in Q4 at company-operated stores vs. +3.50% consensus estimate.
Pricing was up 1.8% during the quarter. The mix of digital sales increased to 24%. Cost of food and paper products -150 bps to 28.9% of sales. Labor costs +80 bps to 32.8% of sales
Operating profit rate -40 bps to 9.7%.
Panera targets a full-year EPS of $7.45-$7.70, with delivery to soon be available at 30%-40% of system-wide bakery-cafes some time this year, which is in line with what it said at the conference. Things are moving splendidly at PNRA, and all systems seem to be operating as advertised.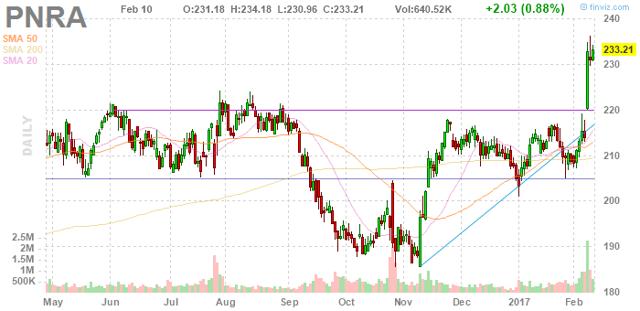 As illustrated in the chart, PNRA broke out of a tight trading range and hit new highs. As a result, the stock is near its average price target of $237 with a red-hot RSI of 75.39, which signals short-term overbought conditions. PNRA received upgrades from Telsey Advisory Group ($270 from $250) and RBC Capital Markets ($255 from $250), as well as a downgrade courtesy Longbow. There is no doubt PNRA seems poised to outperform the market in 2017, but remember that the stock is already up 13.71% year to date. PNRA currently trades at a 38.79 times last year's earnings, and 30.44 times next year's earnings.
One particular PNRA bull stepped up late last year when the stock was struggling in $190 range, and with that fellow SA contributor Josh Arnold wins our call of the quarter with the article: Panera 2.0 Is Firing On All Cylinders. This call occurred late last October after the company reported Q3 earnings. Sector sentiment hit a low point before the election, and quickly reversed amid the subsequent Trump rally. PNRA remains a great story in tough restaurant environment, but interested investors would be best served just waiting for this stock to cool off.
Earning's Blitz!
As far as the restaurant sector goes, this past week was the biggest in terms of number of companies reporting earnings. As expected, the week was a mixed bag of traffic slowdowns, modest beats, and revised expectations.
Dunkin' Brands (NASDAQ: DNKN): Reported a Q4 EPS of $0.64, beating by $0.03 on revenue of $215.7 million (+5.8% Y/Y), in line. The company declared a $0.3225/share quarterly dividend (7.5% increase from prior dividend of $0.30) with a forward yield 2.48%, which puts the dividend payout ratio around 80%, a number to watch for despite free cash flow numbers. Other highlights include:
U.S. comparable store sales growth of 1.9% in Q4. Revenue rose 6.5% to $163.07 million, led by 14.4% growth in royalty income
International revenue decreased 5.7% to $5.98 million.
Baskin-Robbins U.S. comparable sales down 0.9% whereas revenue grew 3.7% to $9.43 million.
Baskin-Robbins International revenue up 6% to $29.44 million. Adjusted operating margin rate improved 430 bps to 55.3%
Dunkin' Donuts U.S. had 199 net openings during the quarter to take the number of distribution points up 4.7% Y/Y to 8,828.
The company added 296 net new restaurants worldwide during the quarter. Consolidated global points of distribution +723 Y/Y to 20,080.
Dunkin' Donuts also provided 2017 guidance: U.S. comparable store sales: Low single-digit growth; Baskin-Robbins U.S. comparable store sales: Low single-digit growth; Revenue: Low-to-mid single-digit growth; Adjusted operating income: Mid-to-high single-digit growth; GAAP EPS: $2.16 to $2.24; Adjusted EPS: $2.34 to $2.37; Share count: ~93 million; Tax rate: 38.5%
Fogo de Chão (NASDAQ: FOGO): Reported Q3 EPS of $0.16, beating by $0.01 on revenue of $69.01 million (+13.2% Y/Y), beating by $3.21 million. Comparable restaurant sales increased 0.6% in Q3 at company-owned locations. The mark beat the expectations of analysts. Despite management citing a "challenging" environment in the restaurant industry, FOGO left guidance unchanged.
Yum! Brands (NYSE: YUM): Reported Q4 EPS of $0.79, beating by $0.05, on revenue of $2.02 billion (+2.0% Y/Y), missing by $70 million. Core operating profit improved 27% Y/Y on an 8% increase in system sales. A brand segment breakdown:
KFC: Restaurants +3% to 20,604 units, same-store sales +3%, restaurant margin +100 bps to 15.0%, operating margin +190 bps to 27.2%.
Pizza Hut: Restaurants +2% to 16,409 units, same-store sales -2%, restaurant margin -110 bps to 8.5%, operating margin +900 bps to 36.0%.
Taco Bell: Restaurants +3% to 6,604 units, same-store sales +3%, restaurant margin -20 bps to 23.4%, operating margin +450 bps to 29.3%.
Yum China (NYSE:YUMC) reported Q4 EPS of $0.17 on revenue of $1.98 billion (-3.4% Y/Y). Most notably, China Pizza Hut comparable sales fell off 3.0% in Q4 vs. +2.3% expected. China KFC comparable sales were up 1.0% vs. estimates of +0.4%. The company opened a total of 302 new restaurants in Q4. Margins increased three full percentage points to 11.0%, resulting from a more favorable tax environment. Just how big is the company's footprint in China? From the Q4 earning presentation: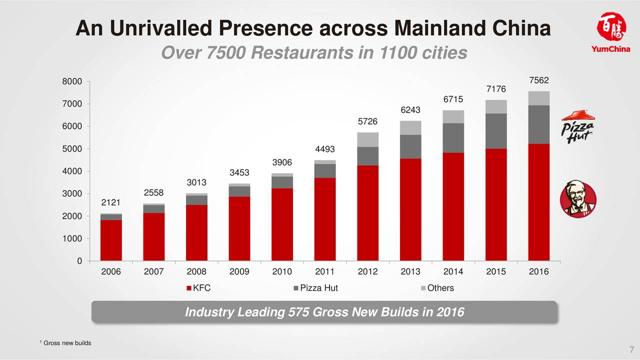 The company also announced a new $300 million buyback program, approved by the board. If this report feels unimpressive, you're not alone. Fellow SA contributor Doug Young penned the article: Yum China Looks Flat In Maiden Report. With a 3% drop in revenue year over year, we couldn't agree more.
Rave Restaurant Group: Eyeing that Pie in the Sky
In our dividend edition of the WRR, we issued a double-bottom alert in RAVE Restaurant (NASDAQ:RAVE), which sparked more of a curiosity as opposed to an investment thesis. Back in December, we nominated RAVE as our penny-stock candidate for 2017, and this week provided more news as to the future of our prediction. As a reminder, on January 9th, RAVE announced that its board appointed Scott Crane as Chief Executive Officer, effective immediately. Crane, former CEO of Smashburger, succeeds Interim CEO Clinton Coleman, who will remain in his role as a member of the board.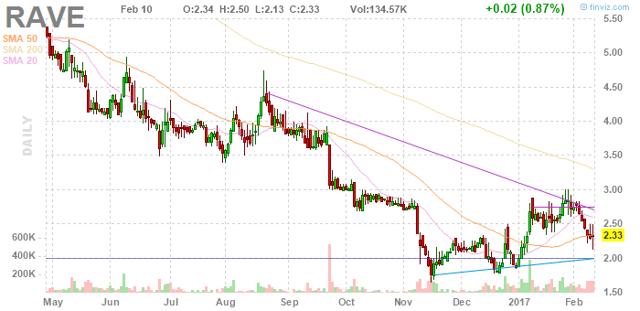 As illustrated, the stock bounced nicely off that double bottom providing a dangerous, yet profitable opportunity for short-term traders. However, on February 8th, RAVE reported an earnings loss along with several other announcements. Some of the highlights (or lowlights) included:
Total consolidated revenue decreased 3.4% to $14.8 million compared to $15.3 million in the second quarter of fiscal 2016.
Pie Five comparable store retail sales decreased 17.4% from the same period of the prior year. Pie Five system-wide retail sales increased 9.7%, while average weekly sales declined 14.7%, year over year.
Pizza Inn domestic comparable store retail sales decreased 1.2% from the same period of the prior year, while total domestic retail sales increased by 0.4%.
Net loss of $7.9 million was $3.1 million greater than the same quarter of the prior year primarily due to increased impairments and other lease charges, and losses from the sale of assets. On a fully diluted basis, the loss was $0.74 per share for the second quarter of fiscal 2017, compared to a loss of $0.45 per share for the same period of the prior year.
Adjusted EBITDA of ($1.2) million was $1.2 million less than the same quarter of the prior year.
Company-owned Pie Five operating cash flow decreased $0.3 million from the same period of the prior year.
Net addition of seven Pie Five restaurants during the quarter brought the total Pie Five restaurants open at the end of the quarter to 99.
We are aggressively exploring bold new strategies that can be deployed to ultimately improve financial performance," said Scott Crane, Chief Executive Officer for Rave Restaurant Group, Inc. "Over the next year we will be addressing underperforming markets while also improving the overall customer experience at all of our restaurants."
On Friday, RAVE announced an extension of a recent shareholder rights offering for up to $3,000,000 of its 4% Convertible Senior Notes due 2022 from the previous expiration date of February 13, 2017, until 5:00 p.m., Dallas, Texas time, on Friday, February 24, 2017.
The primary purpose of the extension of the subscription period is to afford RAVE shareholders sufficient time to participate in the rights offering if they wish to do so. The Company believes that some shareholders who hold their shares through brokerage accounts or other so-called "street name" accounts may only recently have received notification from their broker of the availability of their rights."
Hmmm? It's hard to believe that some shareholders resisted the urge to double down on the Pie Five concept, but that's what makes markets. The value here lies not in the stock, but rather in the lesson, and with that, RAVE remains a story worth watching this year. Stay tuned.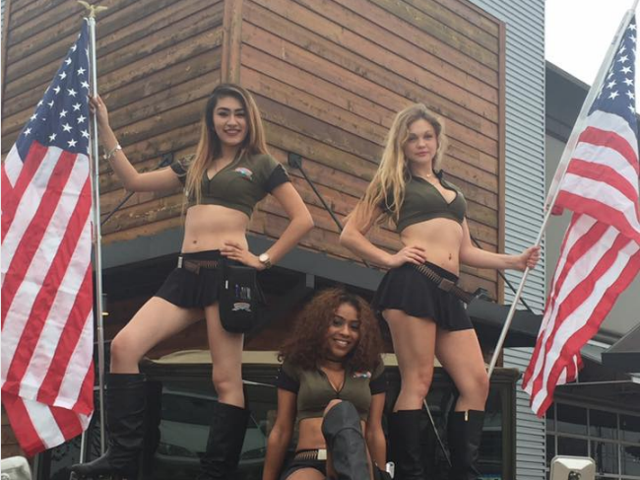 RICK: Taking Care of Business
Who can forget our leftover edition of the WRR, which introduced readers to the Bombshells' "breastaurant" concept, and RCI Hospitality Holdings (NASDAQ:RICK), a nightclub operator with shareholder-friendly management. On February 8th, RICK reported an EPS of $0.31, missing by $-0.03, on revenue of $33.74 million (+ 0.8% Y/Y), missing by $-0.11 million. Keep in mind, RICK closed some underperforming units last quarter, and free cash flow numbers remain off the charts, as well capital allocation measures. Check out the slide presentation for more details. We picked a couple to highlight RICK's propensity to take care of business, meaning shareholders.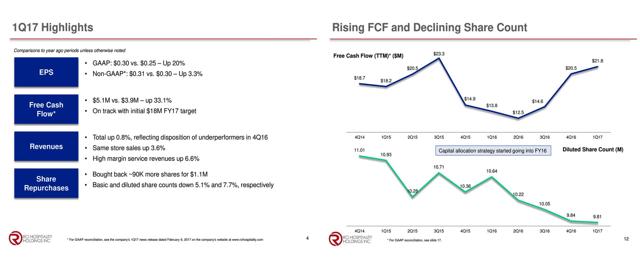 Because nightclubs and breastaurants operate with a higher margin of risk, RICK deserves to trade at a discount to restaurant peers. However, cash is flowing, and the company is taking prudent measures during the good times, which earns RICK watch list status in our book.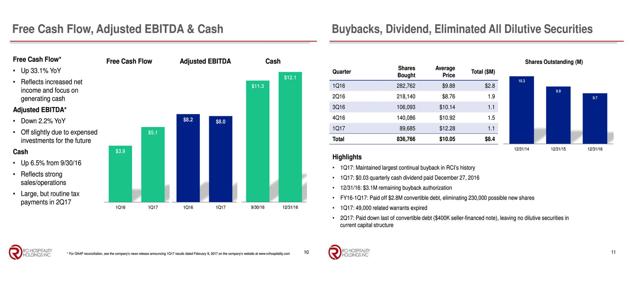 The best part of the earnings call? How about this invite? Which would be tempting if we lived in the New York area. Directly from the call, Gary Fishman, Investor Relations:
Please turn to Slide 3. I also direct you to the explanation on the non-GAAP measurements that we use and that are included in our presentation and news release. Finally, I'd like to invite everyone in the New York City area to join us at Rick's Cabaret New York tonight at 6 PM to meet management at Rick's Cabaret, which is Manhattan's number one gentleman's club and we'll also have another tour of the new sister club, Hoops Cabaret and Sports Bar next door. Rick's Cabaret New York is located at 50 West 33rd Street between 5th and Broadway, around the corner from the Empire State building. If you haven't RSVP'd already, ask for me at the door and the little snow we had in New York is not going to stop us."
Restaurant Article of the Month!
January provided many insights, predications, and outlooks, and as always, many articles on Seeking Alpha offered compelling buy and sell arguments across the board. After sifting through a high number of viable candidates, we would like to acknowledge fellow SA contributor Vince Martin for his short thesis: Brinker International Has More Downside. The article, line-by-line, highlights a number of significant, secular business challenges, starting with Brinker International's (NYSE:EAT) Q2 miss. Most notably, traffic declines, which parallel problems with mall retailers. The thesis simply put: likely deleveraging plus negative comps will compress earnings and lead to further downside.
So far this earnings season has surprised to the upside, for most companies. However, the losers keep losing, and those "beating" estimates are doing so with reduced expectations. The broad market rallied to new highs as companies continue producing underwhelming numbers amid deregulation speculation. Decent earnings from the likes of YUM and Dunkin' Brands provided investors with confidence, and restaurant stocks rallied across the board to finish the week.
Next week earnings continue with the following companies due to report: The ONE Group Hospitality, Inc. (NASDAQ:STKS), Zoe's Kitchen (ZOE), Denny's Corp.(NASDAQ:DENN), Arcos Dorados (NYSE:ARCO), WEN-preliminary, BJ's Restaurants, Inc. (NASDAQ:BJRI), and Biglari Holdings (NYSE:BH). If we missed any important earnings report, or anything restaurant, please let us know. Until then remember to eat well, be merry, and prosperity is yours!
In case you missed it….
McDonald's: Earnings Vs. The Turnaround Story
Weekly Restaurant Report: Sentiment, Sector Outlooks, DRI Vs. PLAY
Under Armour: New Pajamas, Shorts (On) Underneath
Disclosure: I am/we are long WEN.
I wrote this article myself, and it expresses my own opinions. I am not receiving compensation for it (other than from Seeking Alpha). I have no business relationship with any company whose stock is mentioned in this article.
Additional disclosure: This article is intended for information, engagement & entertainment purposes only, and is not meant as investment advice or direction. Shorting stocks can be dark business. Investors are strongly encouraged to perform due diligence and/or consult with their financial advisor.
Editor's Note: This article covers one or more stocks trading at less than $1 per share and/or with less than a $100 million market cap. Please be aware of the risks associated with these stocks.