Report Entitled "Polluted Outlook at CECO Environmental"
Spruce Point Capital Management is pleased to announce it has released the contents of a unique short idea involving CECO Environmental. (Nasdaq: CECE, "CECO" or "the Company"), a poorly constructed roll-up in the environmental control, energy, fluid handling and filtration industrial segments. Our price target of $4.85-$8.75 per share, or approximately 30% to 60% downside.
We have conducted an extensive fundamental and forensic accounting review, and believe the 83% appreciation in CECO's share price in 2016 is unwarranted given the change in the environmental regulation regime under the Trump administration, and the likelihood of a covenant breach and heightened balance sheet risk in 2017. As a result, we have a "Strong Sell" opinion detailed extensively in our presentation, which is accessible on our website. Please review our disclaimer at the bottom of this report.
I. Executive Summary
Our report on CECO Environmental cautions investors about the following:
CECO has acquired 7 companies since 2013 at the expense of punitive dilution, and mounting leverage on its balance sheet. With 55% of its assets as goodwill and intangibles, we believe CECO is forestalling a crippling goodwill impairment of Met-Pro, its largest acquisition, and a deal it touted as a "success." CECO's shares appreciated 83% in 2016 on the false perception that its recent PMFG acquisition has also been a winner. However, we believe CECO pulled forward cash flow through rapid synergy realization and working capital maneuvers to pay down debt ahead of schedule. However, recent performance suggests that both CECO and PMFG are now declining organically by double digits, and management stopped disclosing key contribution metrics.
The single most important driver of CECO's outlook is a stringent environmental regulation regime that drives its clients to comply with issues such as air pollution control. With the election of President Trump, and his new Executive Order designed to expedite environmental reviews and eliminate the burdensome environmental compliance issues, CECO's future is at best uncertain, and at worst materially impaired. Not surprisingly, the same day of the Executive Order, the Company's CEO abruptly resigned, but not before cashing in options, and leaving unexpired RSUs tied to 2017 EBITDA. Based on research, we found other key executive departures at CECO, particularly in Asia, where it touts a large and growing opportunity to gain market share.
The Company's CFO also left his position prior to the CEO's departure. We are concerned that CECO recently appointed its 5th CFO since 2011. Pay close attention to new language on its material weaknesses of financial controls in the recent 10-K. Specifically, the Company even cited issues with accounting for revenues. This should be a big red flag to investors, particularly because CECO uses the "percentage-of-completion" method of accounting, which is notoriously abused and a focus of SEC investigations according to recent speech from the enforcement director.
CECO's governance is weak and should not give investors comfort. The current Chairman is the son of the former CEO Phillip DeZwirek, who settled with the SEC for insider trading, without admitting guilt. The rest of the Board is stacked with allies of the DeZwirek family, and many have questionable backgrounds that offer little relevant experience to CECO's core businesses. The Board has shown a willingness to pay management cash bonuses for completing bad deals, and rubber-stamping annual cash bonuses for failure to hit financial targets.
CECO has been touting to investors that it has been successful in delivering its balance sheet post-PMG acquisition, and that its current Net Debt to EBITDA leverage is down from 3.6x to 1.6x as of 9/30/16. On the surface, this appears impressive, but the picture is not so simple. CECO should be pointing investors to its "Leverage Ratio" covenant per its credit agreement, which looks at gross leverage (not net of cash) and includes significantly more debt obligations beyond just its term loan. When factoring in CECO's earnout obligations, leases, and outstanding letters of credit, we find that its current leverage is closer to 3.4x.
CECO has no room for misstep in 2017 given its Leverage Ratio covenants will tighten twice, from 3.5x to 3.25x in September, and finally to 3.0x in December. Based on our analysis, at CECO's current LTM EBITDA of $56.5m, it will most certainly trip a covenant absent material improvement in EBITDA or a dilutive equity raise. CECO has also said it has no assets of materiality to sell to accelerate the deleveraging process. In short, the Company is stuck between a rock and a hard place.
Optically, CECO's share price looks cheap, and analysts argue that its valuation discount to peers will narrow, while its organic growth accelerates and its margins improve. Some analysts have price targets up to $13.40, implying 7% upside. This is wishful thinking, don't be fooled: There is no visibility in CECO's business, it has suffered significant executive turnover, and its #1 risk factor just materialized. The easiest way to value CECO is on a book value basis. We expect a goodwill impairment to eliminate $79m of equity. By adjusting the book value and applying a generous 1.0x-1.5x multiple, we get $4.85 to $7.25 per share or approximately 40%-60% downside. We also conservatively estimate sales declines of 8%-12%, which at 1.0x to 1.2x multiple (in line with its small cap peers) and using our adjusted debt gets us a valuation range of approximately $6.35 to $9.15 per share or approximately 30%-50% downside
Follow the money: The CEO just exercised options and dumped shares just prior to resigning, and as a reminder, left on the table restricted stock units (RSUs) specifically tied to 2017 EBITDA, a critical target necessary to avoid a covenant breach. CECO's Chairman and largest shareholder just altered the terms of his large warrant to allow for "cashless exercise" - a way to avoid tying up capital in the stock, and using stock sales to fund the warrant exercise.
CECO's Rapid Share Price Appreciation In 2016 Mertis Scrutiny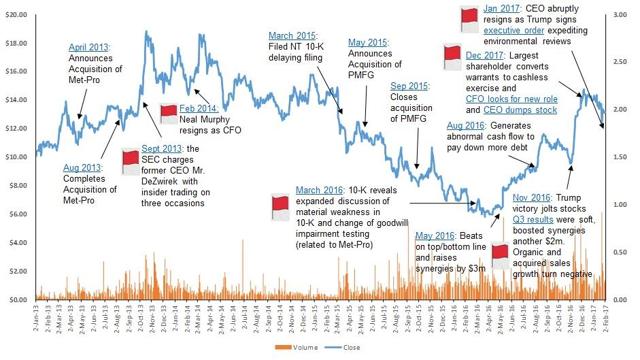 I. CECO's Poorly Executed Acquisition Spree And Deal Promotion
Since 2013, CECO has made seven acquisitions in the pollution and environmental control sector.
Our focus will be on CECO's two largest deals to acquire Met-Pro (2013) and PMFG (2015), which entailed substantial shareholder dilution and leverage. In our opinion, both deals have been failures.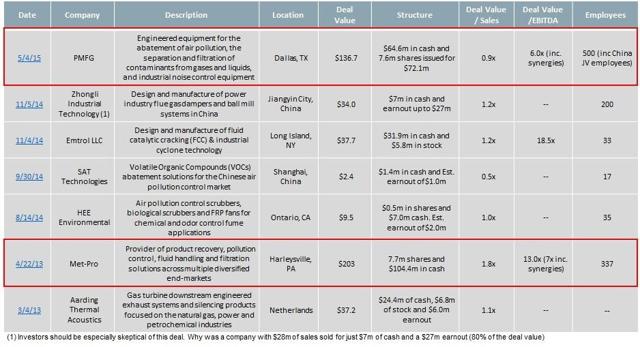 Despite numerous acquisitions from 2013-2015, it's clear CECO's business is under pressure. We base our view on evidence from the Company's declining margins and widening GAAP vs. Non-GAAP results. (top two charts - EBIT and Net Income)
This was the likely motivation to acquire PMFG, which closed Sept 3, 2015. We will demonstrate this recent deal has been a failure and came with heavy dilution and dangerous leverage (bottom charts).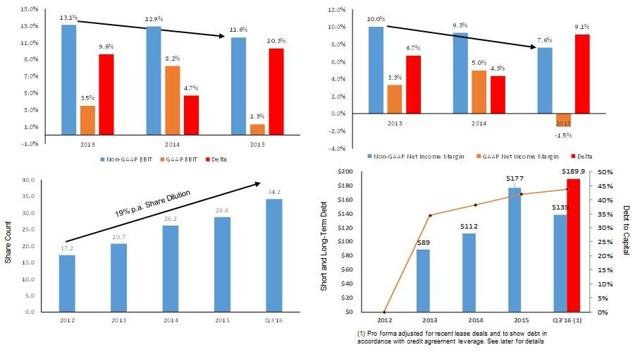 Through 2013, CECO's largest deal was to acquire Met-Pro for $203m, which it touts as a "Success Story."
Two years later, CECO was promoting "The CECO Met-Pro Acquisition Success Story" in the slide below.
CECO used to report Met-Pro's results as a business segment "Met-Pro Group" (2013), but effective Jan 1, 2014, CECO implemented an internal reorganization resulting in its three current reporting segments. (2014 10-K, p. 33)
This reorganization made it difficult to track Met-Pro's performance, but we know what really happened by looking carefully at CECO's notes on goodwill impairment testing
Source: Q3'15 Earnings Presentation, (Slide 6) Nov 2015
CECO's goodwill testing methodology tells a different story about Met-Pro. In our opinion, CECO has realigned its business segments (2014) and altered its goodwill testing methodology (2015) in order to avoid a substantial goodwill impairment. CECO now uses the market method "with a control premium" and has wide discretion to choose larger and healthier companies in its analysis.
As of its last 10-Q, it appears an impairment is becoming increasingly imminent.
Notice Change in Goodwill Impairment Testing To Incorporate Market Method Testing (10-Q, p. 10)
"Under the first step, the Company bases its measurement of the fair value of a reporting unit using a weighting of the income method and the market method on a 50/50 basis. In prior years, the Company used the income method. The income method is based on a discounted future cash flow approach that uses the significant assumptions of projected revenue, projected operational profit, terminal growth rates, and the cost of capital…. The market method is based on financial multiples of comparable companies and applies a control premium. Significant estimates in the market approach include identifying similar companies with comparable business factors such as size, growth, profitability, risk and return on investment and assessing comparable revenue and operating income multiples in estimating the fair value of a reporting unit. Based on the step 1 analysis, the resultant estimated fair value of the reporting units exceeded their carrying value as of October 1, 2015 and no goodwill impairment charges were recorded."
Goodwill Impairment Discussion 2nd Quarter 2016 (10-Q, p. 10)
"The Company did not identify any triggering events during the three-month and six-month periods ended June 30, 2016 that would require an interim impairment assessment of goodwill or indefinite life intangible assets. There was no impairment of goodwill or indefinite life intangible assets during the three-month and six-month periods ended June 30, 2016."
Revised Language: 3rd Quarter 2016 (10-Q, p 10) Note: CECO also says the unit was acquired in 2H 2013 (Met-Pro)
"Although the Company has not identified any triggering events in 2016 that would require a more frequent test for impairment, the reporting unit with a lower excess fair value over its carrying value (as described above), as determined in the prior year's annual assessment, is experiencing lower than forecasted results through the first nine months of 2016. This reporting unit has goodwill and tradename intangible assets of $77.9 million and $5.0 million, respectively, as of September 30, 2016. The Company is currently in the process of analyzing internal strategic initiatives to improve operating performance, and forecasting for 2017 and future years as part of its annual impairment assessment, which is performed as of October 1, and will be completed in the fourth quarter. As of the date of this filing, the Company has not yet completed its assessment."
With the Met-Pro business under pressure and needing a new growth driver, CECO announced the acquisition of PMFG in May 2015. The Company outlined eight reasons why the deal made sense and has recently been touting that the deal has exceeded expectations.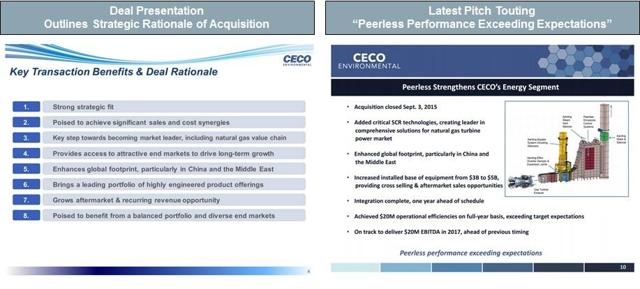 Source: PMFG Deal Presentation, May 2015 and Needham Presentation, Jan 2017
The CECO/PMFG was heavily promoted as a combination that would drive "organic revenue" growth and "recurring revenue" - both buzz words to get investors excited, and to achieve a higher stock price valuation. However, according to each company's 10-K, neither CECO nor PMFG ever used the terms "recurring" revenues prior to merging. Furthermore, CECO only used the word "aftermarket" twice in its pre-acquisition 10-K.

Source: PMFG and CECO Deal Presentation, May 2015 and Needham Presentation, Jan 2017
In our view, the Company's acquisition of PMFG in September 2015 is a disaster. Its revenues declined by approximately 29% in Q3, and the Company stopped disclosing bookings. Overall, CECO organic growth declined by 11% in Q3.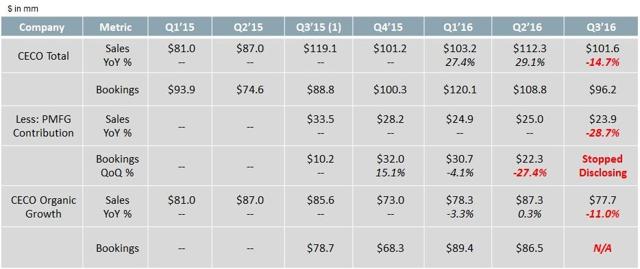 Source: SEC filings and investor presentations
(1) Per CECO's Q3'15 investor presentation (slide 8), PMFG's full 3Q sales were $33.5m and its contribution to the quarter reflecting the deal close date of 9/3/15 were $12.6m. We have increased CECO's Q3 results of $98.2m by $20.9m to pro forma adjust the quarter as if PMFG had been acquired at the beginning of the quarter.
Consider that the deal announcement press release touted the $500m of revenues, and as of LTM 9/30/16, the Company has produced just $418m:
"CECO and PMFG's products and end markets are highly complementary and when combined will represent one of the most comprehensive product portfolios in the industry with approximately $500 million in environmental, energy and fluid handling-related revenue."
The projections that CECO included in its proxy statement for both standalone PMFG and CECO have been missed by a substantial margin (see below).

Based on our review, PMFG produced just $112.8m of bookings and $111.6m of revenues from June 2015-June 2016 coinciding with its FY 2016.

PMFG's gross margin was projected at 31.9%. For Q4'15 CECO projected 27% gross margins (slide 8), and came in at an unbelievable 35.3% (slide 8). Thereafter, CECO stopped disclosing further gross margins attributable to PMFG.

CECO says PMFG added $17.3m of EBITDA from Sept 15-16, but that includes $20m of synergies.

We calculate core CECO Revenues and EBITDA for the LTM 9/30/16 period as $316.3m and $39.7m, respectively. These results are trending significantly below plan.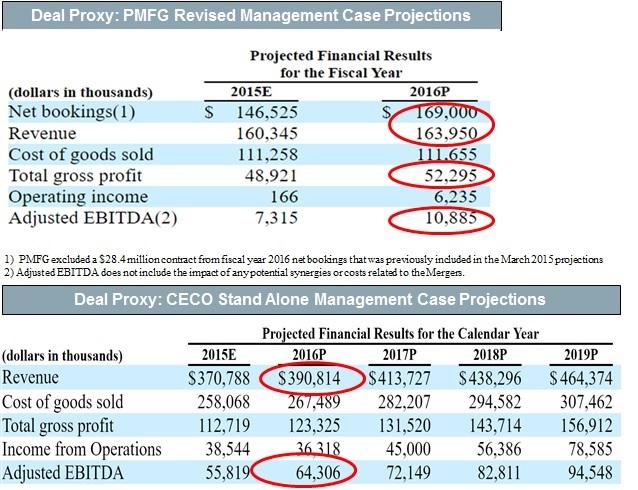 Investors should also be cautioned by CECO's rapid synergy implementation. The Company originally forecast $15m of synergies to be realized over 24 months. Yet, by March of 2016, the Company achieved its target in only 6 months.
CECO then went on to increase its realized synergies twice, increasing them to $18m by Q2'16 and then to $20m by Q3'16 and didn't provide any further explanation. These rapid synergy realizations support our belief that further upside to CECO's substantial cash flow benefits in 2016 are not likely to be repeated going forward.

With CECO's business declining at a double-digit rate before Trump was elected, its outlook became even more grim once he took office and signed the "Executive Order Expediting Environmental Reviews and Approvals For High Priority Infrastructure Projects."
It's no secret that our President wants to cut government red tape, and that he views the EPA as prime target for budget cuts. According to reports, it is reasonable to expect cuts of $1 billion from the EPA's $8 billion annual budget. (Source: Time). These actions are likely to have a significant impact on CECO. CECO's 10-K lists the #1 demand driver for its business and says "increasingly stringent environmental regulations are the principal factor that drives our business." Accordingly, changes in environmental regulation are its #1 risk factor.
Passages from CECO's 10-K tell the story clearly:
We believe demand for our products and services in the United States and globally will continue to be driven by the following factors:

Stringent Regulatory Environment. The adoption of increasingly stringent environmental regulations in the United States and globally requires businesses to pay strict attention to environmental protection. Businesses and industries of all types from refineries, power, chemical processes, metals and minerals, energy market and industrial manufacturing must comply with these various international, federal, state and local government regulations or potentially face substantial fines or be forced to suspend production or alter their production processes. These increasingly stringent environmental regulations are a principal factor that drives our business.

Risk Factor: Changes in current environmental legislation could have an adverse impact on the sale of our environmental control systems and products and on our financial condition, results of operations and cash flows

Our business is primarily driven by capital spending, clean air rules, plant upgrades by our customers to comply with laws and regulations governing the discharge of pollutants into the environment or otherwise relating to the protection of the environment or human health. These laws include, but not limited to, U.S. federal statutes such as the Resource Conservation and Recovery Act of 1976, the Comprehensive Environmental Response, Compensation, and Liability Act of 1980, the Clean Water Act, the Clean Air Act, the Clean Air Interstate Rule, and the regulations implementing these statutes, as well as similar laws and regulations at state and local levels and in other countries. These U.S. laws and regulations may change and other countries may not adopt similar laws and regulations. Our business may be adversely impacted to the extent that environmental regulations are repealed, amended, implementation dates delayed, or to the extent that regulatory authorities reduce enforcement.
II. CECO's Cash Flow and Debt Covenant Concerns
Spruce Point believes CECO's recent free cash flow is not sustainable and likely to decline. On a pro-forma basis for the acquisition of PMFG (including run-rate cost synergies of $20m), we estimate free cash flow of $31.8m. However, as we previously illustrated, both CECO and PMFG have experienced double-digit revenue declines post-acquisition.
YTD 2016, CECO has generated abnormal free cash flow of $20.3m which it attributes a "few favorable net working capital items." - primarily collections of receivables. (1) The abnormal cash flow was used to make $23.3m of prepayments on its term loan - a wise move in our view before cash flow dries up.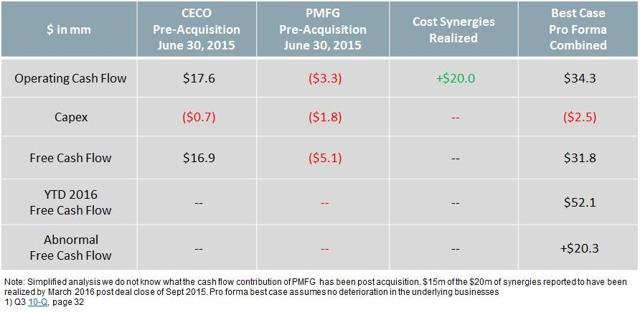 CECO's recent slide below entitled "Strong Free Cash Flow Generation" is backward looking.
Based on our view, there are numerous reasons to believe the recent performance is unsustainable and cash flow will contract.

Spruce Point believes that CECO's display of its leverage and debt reduction is potentially misleading. The Company's recent investor slide below shows "Net Debt/Adjusted EBITDA" and illustrates that it has been declining post-PMFG acquisition.
However, the key leverage metrics that investors should be focused on are its financial covenants articulated in its credit agreement. CECO's Consolidated Leverage Ratio does not net cash and cash equivalents against debt. (1) CECO's Adjusted EBITDA adds back earnout amortization expense, so it is not apples-to-apples for CECO to ignore significant earnout liabilities.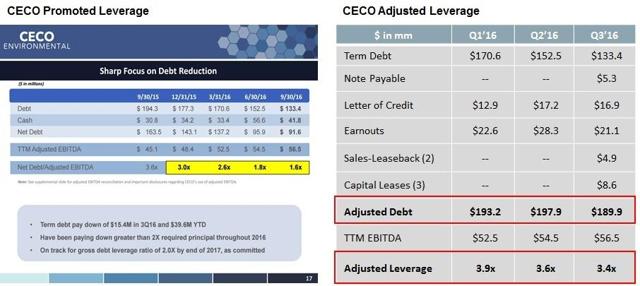 Source: Q3'16 Earnings Presentation, Slide 17
Note: Per CECO's recent 10-Q, $22m of its $41.8m of cash is held abroad in China, Netherlands, UK and Canada, which may explain why deducting it from debt is not accurate
Credit Agreement, Form D-5
Related to Telford, PA and Indianapolis, IN
Related to Denton, TX facility
CECO has very little EBITDA cushion relative to its Leverage Ratio covenant.
Per CECO's credit agreement, its Consolidated Leverage Ratio recently tightened to 3.50x on Jan 1st, 2017. The Ratio tightens again on October 1st to 3.25x and then to 3.0x thereafter.
Our analysis suggests CECO has no EBITDA cushion and could be in breach within a few quarters.
We also alert readers that by recently resigning, CEO Lang forfeited RSUs that were tied to 2017 EBITDA objectives.

CECO Q3'16 '10-Q p. 11
Credit Agreement, Form D-5
We assumes current Note payable, LOCs, earnout, capital and sale-leaseback liabilities remain outstanding
III. Management Turmoil and Board Concerns
CECO's last two CEOs have departed under suspicious circumstances.
CECO's long-time CEO Mr. DeZwirek was charged with insider trading around issuing promotional press releases, while selling stock. He settled charges without admitting guilt.
CECO's current CEO abruptly resigned in January 2017, but not before he cashed in options and reaped $634k in gains. The resignation was clearly a surprise to the market; CECO's stock declined by almost 15% on the news. Mr. Lang's options are fully vested, and he still has 280,000 unexercised options struck at $3.78/sh.
Investors should consider that by resigning, Mr. Lang left Restricted Stock Units (RSUs) tied to 2017 EBITDA. As we previously illustrated, CECO must increase 2017 EBITDA in order to avoid financial covenant issues.
"In addition, after consultation with Meridian and consideration of general market trends, in 2015 the Compensation Committee introduced time-based RSUs and performance-based RSUs into its compensation program. Specifically, in September 2015, the Compensation Committee approved grants to Mr. Lang of time-based RSUs that generally vest on March 1, 2020 and performance-based RSUs that generally vest based on the degree to which the Company achieves a 2017 earnings before interest, taxes, depreciation and amortization ("EBITDA") performance goal, subject to additional service-based vesting in two substantially equal installments on March 15, 2018 and 2019. We anticipate describing in further detail the specific EBITDA goal after the applicable performance period is completed." (Proxy, p. 19)
| | | |
| --- | --- | --- |
| CEO | Resignation Date | Questionable Behavior |
| Phillip DeZwirek | | CEO from Aug 1979 to Feb 2010. On September 3, 2013, the SEC charges Mr. DeZwirek with insider trading on three occasions and "engaging in hundreds of violations of the trade reporting and ownership disclosure rules of the federal securities laws." |
| Jeff Lang | | Abrupt and unexpected resignation of the CEO. Mr. Lang cashes in options on Dec 21st to Dec 28th reaping $634k of gains. Upon news of his departure, CECO's stock fell almost 15%. |
CECO appears to have a revolving door at the CFO position.
The Company is on its 5th CFO since 2011.
Its currently appointed CFO is 36 years old and has never held the CFO position at a public company.
Executive
Resignation Date
Note
Dennis Blazer

Left for the apparel industry - TSC Apparel.

Brenton Cook

Resigned as interim CFO, a role he held for 2 years and is now VP of Finance and Controller.

Neal Murphy

Had been the VP of Finance, CFO and Treasurer of Met-Pro.
Left to become the VP and CFO of Bloomer Chocolate Company.

Ed Prajzner
12/6/16

Transitioned to EVP and Corporate Development Role. Was the Corporate Controller and Chief Accounting Officer at Met-Pro.

Matt Eckl
--

Appointed CFO. Mr. Eckl, age 36, previously served as the Vice President, Finance - Energy Group at Gardner Denver, Inc. from 2012 until January 2017. Prior to joining Gardner Denver, Mr. Eckl served at various roles within General Electric Company (NYSE:GE) (2002-2012)
Beyond the recent departure of its CEO and CFO, CECO has experienced senior departures in a number of business areas. Most notably, CECO has lost key members of its Asia business, where it touts its focus and large opportunity to gain share.

Annual Report Promotion: "Our continuing focus will be on global growth, market coverage, and expansion of our Asia operations" and "Our Asia operation is positioned to benefit from the tightening of air pollution standards by China's Ministry of Environmental Protection." (2015 10-K, p. 26)

Investor Presentation Promotion: "Strong CECO Asia Platform" and "CECO's low market share in Asia - niche player in China's $10 trillion GDP economy -creates significant growth opportunities over the next decade" (Nov 2015, Slide 21)
Executive
Employment Date
Notes

Brent Becker/President of CECO Asia

Jan 2014 -
July 2016

We believe he was a key deal executive for acquisitions of Zhongli and SAT Technologies. He was quoted in both deal announcements touting the growth opportunities.

Arthur Li/VP and GM of CECO Shanghai

Aug 2014 -
Dec 2016

Senior China executive.

James Zhou/
Technical Director

Dec 2014 -
May 2016

Lead business development and technical management of air pollution control involved in cyclone, scrubber, dust collector, RTO, filter and APC system.

Matt Hoppe/
VP and GM of Adwest and Klex-Kleen

Oct 2011 -
Nov 2016

VP in the Environmental segment. Led a team of 60 people in executing the company's overall strategy in Sales, Project Management and Engineering.

Matt Corbo/VP of Sales

Mar 2015 -
Aug 2016

Led the Sales and Marketing efforts for CECO Filters, Keystone Filtration and Mefiag Filtration.
The Board is stacked with allies of the former CEO and largest shareholder. Many Board members lack experience relevant to CECO's business, and some are receiving compensation from the Company

The Board has shown a willingness to pay management bonuses for completing acquisitions. We do not believe this is good practice, especially when acquisitions are a part of the Company's stratetgy and we believe these deals have later proven to be busts. Also, the Board has rubber-stamped annual bonuses to management despite missing financial goals (Source: Proxy Statement)
| | | | |
| --- | --- | --- | --- |
| Director | Committee | Work Experience | Comment/Concern |
| Jason DeZwirek | Board Chairman | In 1999, Mr. DeZwirek founded Kaboose Inc., a family focused online media company. Former Director of API Technologies | Son of the former CEO Philip DeZwirek who was charged by the SEC with insider trading and other violations. Jason's entity Icarus has an "oral agreement" with CECO for management consulting services and was paid fees of $360,000 in 2015 |
| Eric Goldberg | Comp Committee and Chairman of Nominations and Governance | Since 1996, served as the President of All American Events & Tours, a Pittsburgh, PA-based sports incentive company. 1996 -1999, was the general counsel for Native American Nations, a company focusing on developing strategies for Native American tribes. Served as director of API Technologies | Any relevant experience in the environmental, industrial or energy markets? |
| Seth Rudin | Nominations and Governance | Currently the President of Muskoka Rock Company Ltd., manufacturer of granite. Has served as VP of Business Development and Client Relations at PatientOrderSets.com, a provider of innovative clinical support services for use across all phases of health care from 2011 until 2013, Managing Director U ABS System Consultants Ltd, a health care solutions company, from 2001 until 2010 and Vice President of InternetIncubation.com | Any relevant experience in the environmental, industrial or energy markets? |
| Don Wright | Audit and Compensation | A principal of and real estate broker with The Phillips Group, a real estate development company and apartment building syndicator, in San Diego, CA since 1992. Since September 2010, he has served as Associate Broker and VP of Syndication of SD Homes, a real estate brokerage firm in San Diego. Served as Director of API Technologies. | Any relevant experience in the environmental, industrial or energy markets? |
| Claudio Mannarino | Audit | Served as the SVP and CFO of API Technologies Corp. (NASDAQ: ATNY). Served as Controller for two divisions of Transcontinental, Inc. | Another API related individual. API's stock value fell by more than 50% before going private |
| Jon Pollack | Assistant Secretary | Currently the President of JMP Fam Holdings, Inc., an investment and consulting company. Previously, he served as Executive Vice President of API Technologies. Former Director of Hanfeng Evergreen Inc. (NYSE:HF) | Hangfeng described as "messy state of affairs" as stock is halted. CECO is paying Pollack's company fees through and "oral agreement" - fees totaled $670,000 in 2015 (including $225,000 for a bonus related to the terrible PMFG acquisition) |
| Valerie Sachs | -- | Former VP and General Counsel of OM Group, EVP and General Counsel of Jo-Ann Stores, and General Counsel of Marconi | Strongest board member with diversified public company experience but she serves on no committees |
Given our views on the unattractiveness of owning CECO shares, its largest shareholder and Board Chairman has been steadily decreasing his ownership since 2013.
As an additional potential indicator of his aversion to owning shares, we observe that on December 9, 2016, Icarus (his investment holding company) amended its CECO warrant agreement to allow for "Cashless Exercise." By making this change, DeZwirek eliminates his need to commit cash to purchasing CECO shares, and will settle the warrant by selling shares to fund the exercise. (Source: 8-K filing). Excluding CEO Lang's ownership, the remaining executives own virtually no stock and have nothing at risk if CECO fails.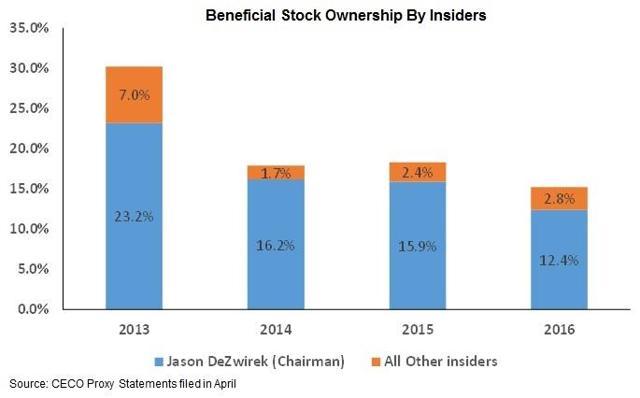 IV. Accounting Worries and Financial Control Issues
CECO freely admits it has material weaknesses of internal controls. What troubles Spruce Point the most is that even its revenues are at risk of misstatement. A substantial portion of CECO revenues use the "Percentage-of-Completion" method of accounting, which requires a high degree of management judgment to estimate contract costs. For the full material weakness disclosure, review the 10-K.
Also pay close attention to the Risk Factor Language:
"In addition, failure to maintain adequate internal controls could result in financial statements that do not accurately reflect our financial condition, results of operations and cash flows."
Investors' should pay close attention to this language:
The Company did not maintain internal control over financial reporting that was appropriately designed, adequately documented and operating effectively to support the accurate and timely reporting of revenue recognition. Specifically, the Company did not design and maintain effective controls to ensure:
revenue recognition policies are in accordance with generally accepted accounting principles;
estimates of percent complete are accurate;
all projects are supported by executed contracts, including approved change orders;
billings are approved;
there is appropriate systems access and controls over schedules; and
appropriate review of contracts by accounting personnel.
To illustrate our deep concern, we carefully reviewed CECO's financial statements. We found a disclosure that the Company had issues with the overstatement of revenues it reported in its press release.
What's even more mysterious is that CECO has contradicted itself about the amount of the restatement, in one place saying it was a $2.7m adjustment, but on the last page of its 10-K noting the revenue adjusted was $5.2m. We caution investors to tread carefully.
"On March 10, 2016, the Company furnished a Current Report on Form 8-K with the Securities and Exchange Commission that included an earnings release issued that same day reporting results for the fourth quarter of 2015, which was furnished as Exhibit 99.1 thereto (the Earnings Release). Between the issuance of the Earnings Release and the filing of this Annual Report on Form 10-K, the Company became aware of additional information affecting its final closing adjustments, which resulted in the Company recording, for the three month period ended December 31, 2015, a decrease in net sales of $2.7 million, a decrease in cost of goods sold of $0.3 million, and a decrease in selling, general and administrative expense of $2.0 million, resulting in a decrease in pre-tax income of $0.4 million, which was offset by a decrease in income tax expense of $0.4 million. The net impact of these adjustments had no impact on net income or diluted earnings per share as initially reported for the year ended December 31, 2015." (Source: 2015 10-K, p. 29)
And Then On The Last Page In The Annual Report, A Completely Different Description:
"In making final closing adjustments for the year ended December 31, 2015, the Company became aware of additional information affecting the determination of year-to-date revenue recognition for certain business units, which resulted in the Company recording, for the three month period ended December 31, 2015, a decrease in net sales of $5.2 million, and a decrease in cost of goods sold of $5.0 million." (Source: 2015 10-K, p. F-44)
CECO's "percentage-of-completion" accounting methods give management wide discretion to recognize revenues and costs using its own estimates.
The SEC has noted that revenue recognition issues will remain a staple of its financial fraud caseload, and called out percentage-of-completion accounting as a culprit. Source: SEC Enforcement Director Speech, 2013
Recent Accounting Restatements and SEC Investigations of Cases
| | | |
| --- | --- | --- |
| Company | Year | Note |
| Archrock (NYSE:AROC) | 2017 | Financial statements for FY 2013-2015 should no longer be relied upon. The determination was made after considering conclusions reached by Exterran Corporation (NYSE:EXTN) that there were material errors in such historical periods relating to the application of percentage-of-completion accounting principles to certain Belleli engineering, procurement and construction ("EPC") contract |
| Orbital ATK (NYSE:OA) | 2016 | The Restatement is primarily a result of a non-cash error in the application of purchase accounting with respect to a limited number of long-term contracts, which are accounted for under the percentage-of-completion method |
| Toshiba (OTCPK:TOSYY) | | Toshiba Corp. must correct at least 152 billion yen ($1.2 billion) of pretax earnings over a six-year period after an internal accounting probe revealed the company overstated profits. The company initially uncovered irregularities related to "percentage of completion" estimates used on infrastructure projects, including nuclear, hydroelectric, wind-power equipment, air-traffic control and railway systems |
| L-3 Communications (NYSE:LLL) | 2014 | Receives SEC subpoena and DOJ investigation and pays fine of $1.6m and $4.6m, respectively to each agency (source). The cases relate to improper revenue accounting at L3's aerospace systems segment that resulted in the contractor's correcting financial results over a roughly four-year period starting in 2011 and firing at least four employees. |
| Cubic Corp. (NYSE:CUB) | | Changes will result in an increase in revenues and net income cumulatively over the period. |
| Computer Sciences Corp. (CSC) | 2011 | The anticipated result of the restatement is to reduce net income by ~$50 in FY 2010 and ~$3.69 billion in FY 2011 and to increase net income in FY 2012 by ~$3.90 billion. Settled with the SEC for $190m. |
We observe that CECO has been slow to recognize loss on uncompleted contracts:
"Provisions for estimated losses on uncompleted contracts are made in the period in which such losses are determined. Changes to job performance, job conditions, and estimated profitability may result in revisions to contract revenue and costs and are recognized in the period in which the revisions are made. No provision for estimated losses on uncompleted contracts was required at March 31, 2016 or December 31, 2015." (Source: Q1'16 10-Q)

"Provisions for estimated losses on uncompleted contracts are made in the period in which such losses are determined. Changes to job performance, job conditions, and estimated profitability may result in revisions to contract revenue and costs and are recognized in the period in which the revisions are made. A provision of $0.1 million for estimated losses on uncompleted contracts was recognized at June 30, 2016. No provision for estimated losses on uncompleted contracts was required at December 31, 2015." (Source: Q2'16 10-Q)

"Provisions for estimated losses on uncompleted contracts are made in the period in which such losses are determined. Changes to job performance, job conditions, and estimated profitability may result in revisions to contract revenue and costs and are recognized in the period in which the revisions are made. A provision of $0.2 million for estimated losses on uncompleted contracts was recognized at September 30, 2016. No provision for estimated losses on uncompleted contracts was required at December 31, 2015." (Source: Q3'16 10-Q)
V. Valuation and Bear Summary
A majority of CECO's analysts have Buy recommendations and see upside to $13.40 on average (implying just 7% upside). Given our views on the risk and uncertainties for CECO, it doesn't appear to be a compelling risk/reward.
Two analysts do not even offer price targets.
We congratulate the lone analyst at Jefferies for having a price target below the current price.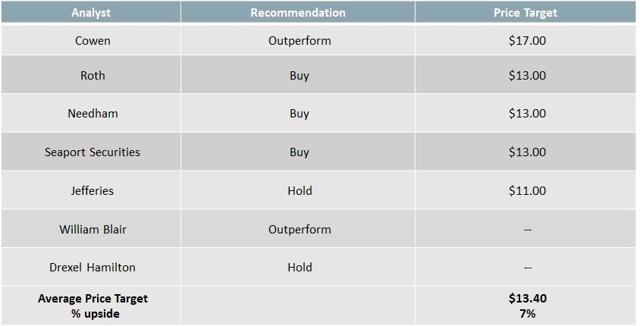 Source: Bloomberg
Spruce Point believe the bull case is easy to refute. Most analysts cite management's view and haven't expressed any concern that our government's new environmental regulation regime has fundamentally changed.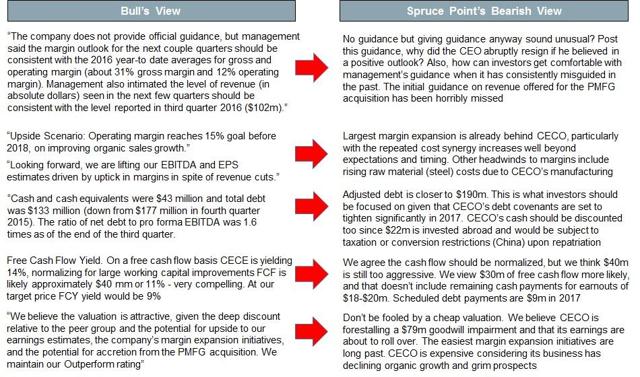 Some bulls might argue that CECO looks cheap, but don't be fooled so easily. Street analysts' estimates are way too high for a company that's had organic revenues decline by double digits before Trump's Executive Order was even signed.
There's no visibility in CECO's business, and there are many other headwinds that could cause financial results to severely disappoint.
For example, CECO generates approximately 38% of sales from international markets, where a strong dollar can crimp its revenues.
Also, as a manufacturer, CECO cites its dependence on steel and other commodity input costs. Steel prices have increased from last year and industry observers believe that prices can rise further.
CECO's valuation is best compared with a mix of small and microcap industrial companies serving the environmental, filtration and power industries such as US Ecology (NASDAQ:ECOL), Aegion (NASDAQ:AEGN), Gorman-Rupp (NYSEMKT:GRC), Calgon Carbon (NYSE:CCC), Circor (NYSE:CIR), NV5 Global (NASDAQ:NVEE), Ameresco (NYSE:AMRC) and Heritage - Crystal Clean (NASDAQ:HCCI).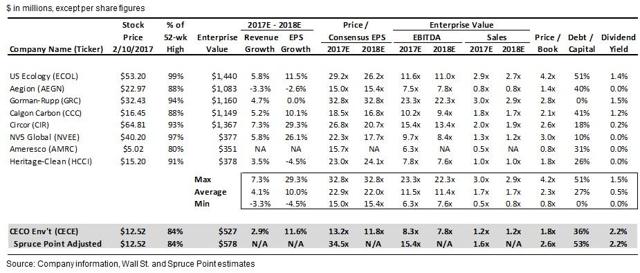 Spruce Point believes that 2017 could be a major re-set year for CECO's earnings and valuation. We believe the biggest catalyst will be significant earnings misses from continued organic growth declines, and a realization that its debt covenant has no cushion.
Our downside price target range is between 30%-60% and based on using a multiple of book value (adjusted for an imminent goodwill impairment) and a multiple of revenues, which we believe are declining by up to double digits on an organic basis.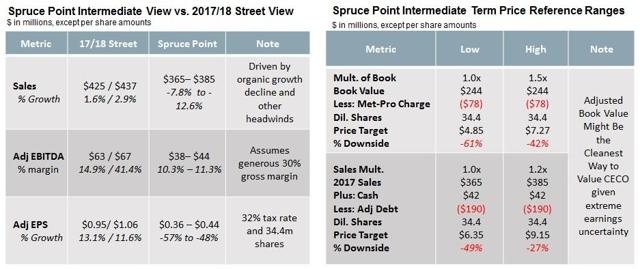 Disclaimer
This research expresses our investment opinions, which we have based upon interpretation of certain facts and observations, all of which are based upon publicly available information, and all of which are set out in our complete research presentation report on our website. Any investment involves substantial risks, including complete loss of capital. Any forecasts or estimates are for illustrative purpose only and should not be taken as limitations of the maximum possible loss or gain. Any information contained herein may include forward looking statements, expectations, pro forma analyses, estimates, and projections. You should assume these types of statements, expectations, pro forma analyses, estimates, and projections may turn out to be incorrect for reasons beyond Spruce Point Capital Management LLC's control. This is not investment or accounting advice nor should it be construed as such. Use of Spruce Point Capital Management LLC's research is at your own risk. Any historical performance achieved from any idea or opinion from Spruce Point Capital Management should not be considered an indicator of future performance. You should do your own research and due diligence before making any investment decision with respect to any of the securities covered herein.
You should assume that as of the publication date of any presentation, report or letter, Spruce Point Capital Management LLC (possibly along with or through our members, partners, affiliates, employees, and/or consultants) along with our subscribers and clients has a short position in all stocks (and are long/short combinations of puts and call options of the stock) covered herein, including without limitation CECO Environmental, Corp. ("CECO" or "the Company"), and therefore stand to realize significant gains in the event that the price of its stock declines. Following publication of any presentation, report or letter, we intend to continue transacting in the securities covered therein, and we may be long, short, or neutral at any time hereafter regardless of our initial recommendation.
This is not an offer to sell or a solicitation of an offer to buy any security, nor shall any security be offered or sold to any person, in any jurisdiction in which such offer would be unlawful under the securities laws of such jurisdiction. Spruce Point Capital Management LLC is not registered as an investment advisor, broker/dealer, or accounting firm.
To the best of our ability and belief, as of the date hereof, all information contained herein is accurate and reliable and does not omit to state material facts necessary to make the statements herein not misleading, and all information has been obtained from public sources we believe to be accurate and reliable, and who are not insiders or connected persons of the stock covered herein or who may otherwise owe any fiduciary duty or duty of confidentiality to the issuer, or to any other person or entity that was breached by the transmission of information to Spruce Point Capital Management LLC. However, Spruce Point Capital Management LLC recognizes that there may be non-public information in the possession of CECO or other insiders of CECO that has not been publicly disclosed by CECO. Therefore, such information contained herein is presented "as is," without warranty of any kind - whether express or implied. Spruce Point Capital Management LLC makes no other representations, express or implied, as to the accuracy, timeliness, or completeness of any such information or with regard to the results to be obtained from its use. All rights reserved. This document may not be reproduced or disseminated in whole or in part without the prior written consent of Spruce Point Capital Management LLC.
Disclosure: I am/we are short CECE.
I wrote this article myself, and it expresses my own opinions. I am not receiving compensation for it. I have no business relationship with any company whose stock is mentioned in this article.