Thesis
Texas Instruments (NYSE:TXN) would make a good addition to a long-term portfolio. They have a substantial dividend and buyback program. They display consistent growth and have the opportunity for much more. Demand for semiconductors is moving away from smartphones and towards automotive. Texas Instruments is in a position to capitalize on this. Finally, their revenue streams have great diversity, which reduces sector risk.
About The Company
Most people know Texas Instruments for their calculators. However, their primary business is making and selling semiconductors to electronics manufacturers across the world. They operate in two segments, Analog and Embedded Processing. Their chips are found in a diverse range of end markets. These span from cell phones, cars, and consumer products to industrial products as well. This means that if one segment isn't doing well, Texas Instruments will be fine.
What I Like
I like how much capital Texas Instruments returns to investors. I like their growth. And, I like their diverse revenue streams. Texas Instruments returns all of their free cash flow to shareholders. You read that correctly, all of it. This is done through buybacks and dividends. This is truly exceptional as free cash flow has had a 12% CAGR since 2004. Dividends have had many consecutive years of increases and come in at 2.63%, which is higher than the 10-year treasury rate. Their payout ratio remains a safe 48%. A breakdown of their capital management is shown in Figure 1.
Figure 1: Texas Instruments Capital Breakdown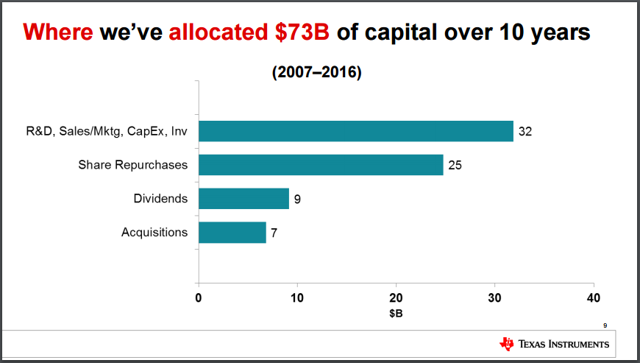 Source: Capital Management Presentation
So they return a bunch of money, but is there growth? Yes, there absolutely is. In the fourth quarter of 2016, they saw 10% revenue growth in Analog and 6% growth in Embedded Processing. Operating Profit, Net Income, and EPS are all up year over year as well. Their EPS quarter over quarter are up 26.5%, year over year are up 23.3%, and have a five-year growth rate of 13.1%. This is displayed in Figure 2.
Figure 2: Texas Instruments Earnings Track Record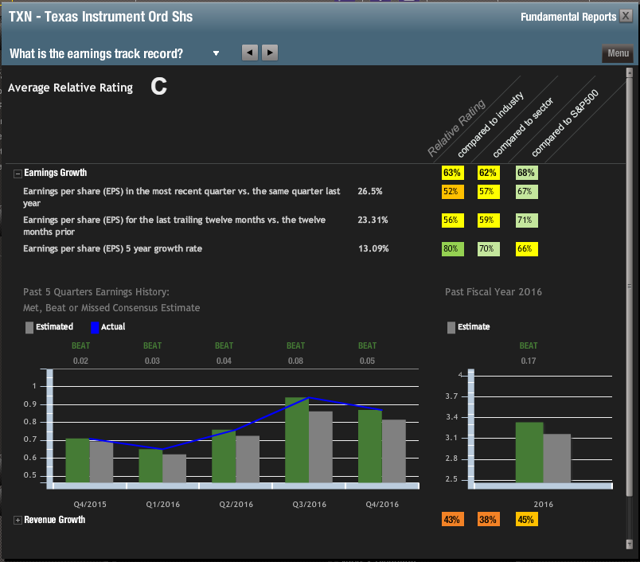 Source: TradeMonster Fundamental Report
Opportunity
Many semiconductor companies live or die based on mobile devices. This is a tough market to be in since new phones are being rolled out constantly. Automotive is a whole different story. Programs take years to develop. Once in production, you don't have to change anything for years for that line. ADAS stands for advanced driver assistance systems. ADAS requires chips to monitor the operating conditions of the car.
In 2015, 7% of cars had ADAS; it is predicted by 2020 that 18% will have ADAS. I believe this presents an excellent opportunity for growth. According to their fourth quarter earnings call, Texas Instruments has been allocating their capital to increase market share in their Automotive segment. Texas Instruments is in a better position than most to capitalize on the macro change of autonomous cars. They have the strong cash flow necessary to increase their market share, whether through acquisitions, or R&D.
Analysts predict earnings for Texas Instruments to grow 10% each of the next five years. I expect them to meet this on the belief of a faster than expected revolution of autonomous cars. I also believe that a company growing earnings 10% year over year deserves a higher multiple than 25. But, using the analyst's numbers and straight across comparison, EPS comes to roughly $4.78 by 2022. Assuming the same P/E of 25, this equals a share price of $119. This is a near 60% increase without taking into account dividends and buybacks.
Risks
Texas Instruments is not without its risk. They have a P/E of 25, which some value investors consider expensive. They also face some stiff competition. Texas Instruments earned nearly half its revenue from automotive and industrial business segments. Meanwhile, Qualcomm (NASDAQ:QCOM) is attempting to merge with NXP Semiconductors (NASDAQ:NXPI). Post-merger, Qualcomm would be the largest producer of automotive semiconductors. They also face competition from Nvidia (NASDAQ:NVDA), the top performer of the S&P 500 last year. These are valid concerns, but, Texas Instruments has its other segments to fall back on should automotive not play out as stated.
Final Thoughts
I plan to add regularly to my existing Texas Instruments position. I would recommend 'buying the dip' to a more cautious investor. I believe the dividends and buybacks make Texas Instruments a solid addition to a retirement portfolio.
Disclosure: I am/we are long TXN.
I wrote this article myself, and it expresses my own opinions. I am not receiving compensation for it (other than from Seeking Alpha). I have no business relationship with any company whose stock is mentioned in this article.