By: Luke Palmer and Cullen Moore at Atkins Investment Group
A Ripe Opportunity
The recent election has brought with it hopes of tax cuts and increased fiscal stimulus. President Trump is looking to push a trillion dollar infrastructure budget plan. If approved, this stimulus will funnel into Americas industrial businesses and provide them with work in a slowing global economy. Specifically, this will benefit the steel industry greatly. Whether it be rebuilt bridges, brand new buildings, or a wall across our southern border- steel is going to see an increase in demand over the next few years.
Yes - industrials and steel company stocks in general, rallied on huge volume after the election. However, since that time many stocks have had sizable price corrections. Because of this, we see this as a ripe opportunity to enter the steel industry. Within the industry there is a clear cut leader in terms of future opportunity and performance. Steel Dynamics (NASDAQ:STLD) clearly separates itself within the industry with superior margins and cash flow generation. In an industry with huge growth potential, Steel Dynamics is the clear performance leader.
Company Overview
Steel Dynamics is one of the largest domestic steel producing companies in the United States with a market capitalization of $8.4 Billion. The company was founded in 1993 and is based in Fort Wayne, Indiana. Steel Dynamics operating segments include steel operations, metals recycling and ferrous resources operations, and steel fabrication operations. As one of the only steel producing companies that operates electric arc furnaces, Steel Dynamics' product portfolio includes flat rolled steel sheet, engineered bar special-bar-quality, and structural beams. The company currently operates entirely in the United States with 100% of net sales coming from domestic customers.
Critical factors for Growth
Since the Financial Crisis of '08, the U.S. steel industry as a whole has faced an increasingly tough landscape with low steel demand, prices and competition with low cost Chinese steel. However, over the last year steel prices have rallied due to a 500% tariff on Chinese steel imports due to the dumping of unwanted steel in foreign markets like the United States. Not only did the U.S. Department of Commerce file suit against Chinese steel imports, but they also applied many smaller duties to various other foreign importers of steel like Brazil and India. Following the original news of the tariff implementation in March, steel prices rallied ~52% to $607 per ton. Moving forward, Steel Dynamics should see increasing steel prices as imports remain constrained due to trade cases coupled with potential further trade actions. Also, all of this is happening in what could be a cyclical bottom in commodity prices. After the financial crisis the Bloomberg Commodity index fell over 60% until it finally found price support levels this past year.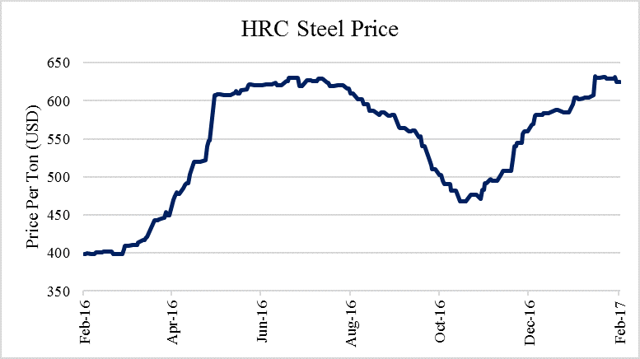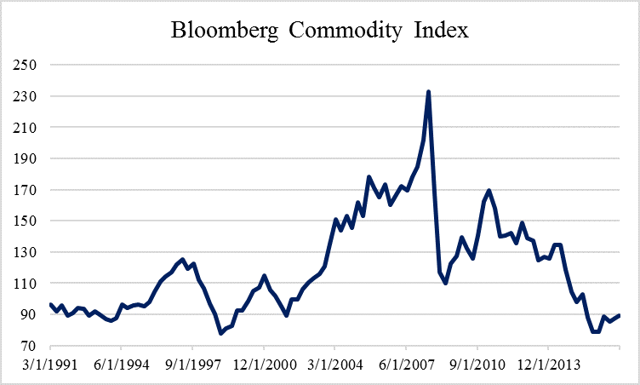 End Market Demand
Among the many expectations of a Trump Presidency is that off bolstering infrastructure spending. While on the more speculative side, a focus on President Donald Trump's plans for infrastructure spending is important for a the steel industry. The Trump Administration recommended the government set aside $137 billion in tax credits for infrastructure spending, but estimate infrastructure spending will reach $1 trillion. As the major driver of his job-creation plan, President Trump has made infrastructure projects a priority. However, on average it takes around 2-3 years for the affects of infrastructure spending to trickle down to materials companies like STLD. Therefore, STLD is not likely to see a sizeable affect on sales until at minimum late 2018 or early 2019. On the other hand, Steel Dynamics saw stronger pricing and demand from a few key end markets including the automotive, construction and energy markets toward the end of 2016. Although the affects of increasing infrastructure on STLD remain speculative at the moment, continuing strength in key end markets bodes well for sales in 2017.
Comparable analysis
Steel Dynamics focuses on having a diverse product line that ensures high plant utilization throughout the business cycle. More specifically, a focus on value added products has bolstered STLD's ability to remain profitable where competitors have lagged. For example, Steel Dynamics offers products like painted steel, galvanized steel and a premium 320-foot rail. They also have millions of tons of untapped capacity that could begin filling up due to potential increases in commercial construction.
On a comps basis - STLD clearly separates itself from the pack. Looking at valuation Steel Dynamics is undervalued compared to its peers. They are trading at an 18.9x P/E vs a 24x peer average. Also, their strong earnings leave them a lower EV/EBITDA multiple as well. Steel Dynamics is substantially less levered than its peers and still has 1.1 Billion in untapped revolvers. Looking at profitability, they not only have the highest EBITDA margins, but also the highest FCF yield as well. In an industry with high growth potential, STLD towers above its peers in terms of valuation and profitability multiples.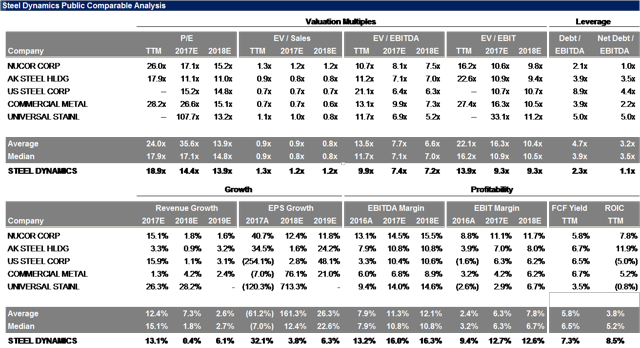 Valuation
Using a Discounted Cash Flow Analysis and Perpetuity Growth Method, in a base case scenario we arrived at an implied share price of $41.78. Unlevered Free Cash Flow was calculated through projected annual revenue and expenses found below. Revenue in 2020 spikes as a result of projected infrastructure spending trickling down to Steel Dynamics. We are pricing in a potential increase in infrastructure spending under the Trump Administration in the coming years and on average it takes 2-3 years for materials companies to realize gains from infrastructure spending. From 2017 through 2019 we priced in increasing prices and demand for domestic steel on the basis of steep tariffs imposed by trade cases over the last year and the Trump Administrations stance on international trade. Due to the strength of Steel Dynamics balance sheet, we project Cap Ex and Depreciation & Amortization increasing to account for potential acquisition spending in 2018 and 2019 at similar levels of D&A as with the Vulcan acquisition.

As seen in the WACC Calculation found below, we arrived at a WACC of 9% using a Cost of Equity of 10.5% and a Cost of Debt of 5.4%. Cost of Equity was calculated through the Capital Asset Pricing Model using a re-levered beta of 1.23 to account for the industry capital structure. For Cost of Debt, we used the weighted average fixed coupon on Steel Dynamics' long term debt.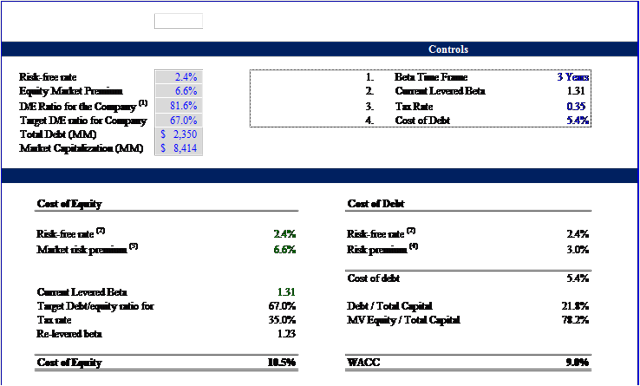 Risks
Potential headwinds to our recommendation and valuation include:
Trade cases not effectively reducing foreign steel dumping and leveling out prices

Uncertainty with the Trump Administration's infrastructure plans

Potential stalling in the housing and automotive markets

Potential increases in future input costs
Investment Theses & Recommendation
Steel Dynamics should benefit from increasing steel prices and improving levels of demand in key end markets such as the construction, railroad and automotive industries. STLD variable cost structure should allow them to maintain the industries highest margins and outperform in the long run. Furthermore, STLD's focus on increasing steel capacity since the financial crisis has increased operating leverage to increasing demand and prices. Finally, strength in STLD's balance sheet and free cash flow generating ability during an industry trough allows Steel Dynamics to take advantage of growth opportunities like acquisitions while also returning wealth to shareholders.
We rate Steel Dynamics a strong buy with a price target of $41
Sources: All financial information was gathered using the Bloomberg Terminal
Disclosure: I/we have no positions in any stocks mentioned, and no plans to initiate any positions within the next 72 hours.
I wrote this article myself, and it expresses my own opinions. I am not receiving compensation for it (other than from Seeking Alpha). I have no business relationship with any company whose stock is mentioned in this article.