Another week has come and gone. Contract awards were relatively slow this week but there was a lot of activity in the small-business sector which we will cover below. Totals from last week didn't change much but Lockheed finally crested $15 billion in total awards thanks to three relatively small contracts.
Nobody made any big moves although BAE, Raytheon and Northrop were on the winning end of a contract we will discuss below.
Significant Contracts
The US Army Space and Missile Defense Command and Army Forces Strategic Command awarded a $3 billion contract to BAE, Kbrwyle Technology Solutions (NYSE:KBR), Northrop, QEK Integrated Solutions (a JV between KBR, Kratos (NASDAQ:KTOS) and Vencore, Raytheon, Science Applications International (SACI) and Teledyne Brown Engineering (NYSE:TDY). Per the contract, the companies above will provide for the "research and development effort for the design, development, demonstration and integration, domain-one of space/high altitude missile defense hardware and safety solutions." As I covered last week, missile defense is going to gain visibility with North Korea and Iran testing ICBMs. This is just one small piece to that puzzle and investors should anticipate more movement.
Bell Helicopter, a subsidiary of Textron (NYSE:TXT), was awarded a $423 million contract for 25 AH-1Z new build helicopters for the Marine Corps. Bell Helicopter has a great position against Sikorsky, and with the Huey and V-22 I see them doing well in many years to come.
Stryker (NYSE:SYK) was awarded a $486 million contract for orthopedic devices for the US military. There isn't much to say about the award, but Stryker is just one of those stalwart companies that year after delivers and has provided incredible stability for investors.
While I go through the contract awards I'll search all the companies I am not familiar with. The DoD also puts an asterisk next to what is considered a small business. This can sometimes generate a good investment idea, as it did with CACI (NYSE:CACI) after they were awarded a large $1 billion contract on October 31, 2016. I covered it in one of these installments and look what happened to the share price.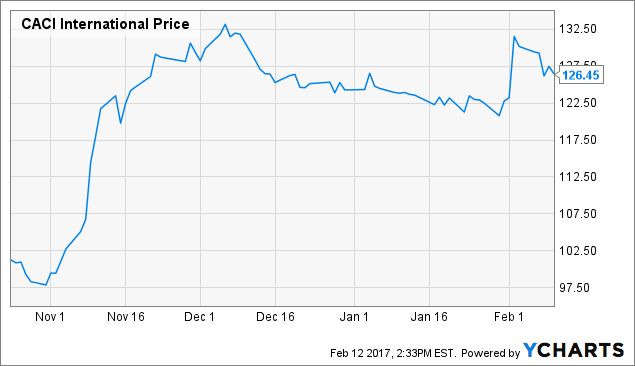 The company went from trading around $97 to going for over $130 in just a couple of weeks. I didn't take my own advice there, which I'm always a victim of, but it convinced me to take closer looks when things look big.
The DoD awarded another contract that caught my eye to a company called Mikros Systems (OTCQB:MKRS). The contract is part of the Small Business Innovation Research Phase III program and is for the support of Adaptive Diagnostic Electronic Portable Test Sets used for the maintenance on several different military radar systems. The stock, which trades at $0.32, has already experienced a 28% pop since the contract was disclosed. What is remarkable about this contract is that in 2015 the company had just $7.3 million in revenue. Even after the 28% run the market cap is $11.4 million. The award length goes out five years and the company was given $1 million at the time of the award leaving $34 million on the table. This contract has the potential to provide what was an entire year's revenue for the next five years. The company looks healthy, and could finally have found a catalyst to break out.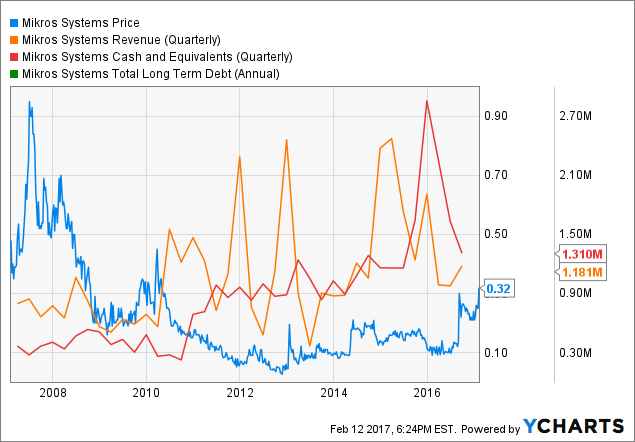 The company has no debt, and this injection of revenue will help stabilize what is otherwise a lumpy figure. They have definitely caught my eye.
Weekly Performance
The overall indexes had a rather sleepy week despite intra-week volatility and for the most part our focus companies followed along.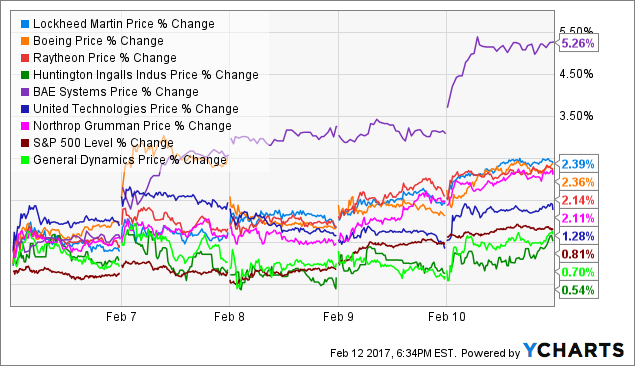 BAE had the big week, finally, and went up five and a quarter. Only GD and Huntington failed to beat the S&P which is okay because they've been huge winners on the year thus far.
Brother, Can You Spare a Turbine?
In a damning article courtesy of Breaking Defense, it was reported that the Navy and Marine Corps F-18 readiness levels are incredibly low. The Marine Corps alone is suspected of having 74% of its required F-18s unable to fly and the Navy at just 62%. There are multiple factors causing this: fleet age, sequestration hangover, lack of funding, longer depot level maintenance stays and operational demand. But once this sort of things get going, it is incredibly hard to climb out of the hole.
The lack of mission-ready strike aircraft for the Navy and Marine Corps leaves a glaring hole in our capability to conduct missions as needed around the world. Should an adversary get a little reckless and attempt to challenge us we will find ourselves in a less than advantageous position. The United States does not like to find itself with their proverbial pants around their proverbial ankles; we have experienced this a few times before and the immediate time afterward was not pleasant and resulted in more death and destruction than would have been the case had we been prepared. So, knowing what we know and not wishing to be caught unprepared, what are we to do?
With the logistical challenges that come with maintenance and a finite amount of trained personnel to conduct said maintenance it is easier and faster to buy more of the jets needed. Enter Lockheed Martin and the (in)famous F-35. After finding itself the target of President Trump's tweets the jet now looks positioned to be the hero.
Of course the DoD could buy more new Boeing F-18s and we have seen a good amount thrown at the jet so far this FY for sustainment operations but with plans to replace them with the F-35 this option doesn't seem fiscally responsible.
Lockheed Martin has a great opportunity to provide the United States with absolutely necessary strike aircraft...if they can only prove that they are ready to fulfill that role. Right now the Marine Corps has one F-35B squadron deployed to Japan on a permanent basis. The squadron, VFMA-121, moved from Yuma Arizona to Japan in January of this year. The Marine Corps has also conducted several close-in ground support training exercises as a proof-of-concept further illustrating the F-35's capabilities as a replacement for three aircraft the Corps currently flies. Since we are talking about the readiness of the US Navy it is also important to point out that the F-35C has conducted several carrier-borne takeoffs and landings and illustrated that it is ready for the more demanding sea-borne missions.
Despite what the headlines might say, and what President Trump tweets, it is pretty obvious that the United States needs the F-35, perhaps now more than ever. Lockheed Martin knows this and those on the other side of the negotiating table know this.
In Other News
The fallout from the "Yemen Raid" continues and now Yemen doesn't want US boots on the ground.
The Battle For Mosul continues in Iraq and Al Jazeera actually has some pretty great coverage.
North Korea forgets they're a poor failed state whose closest ally likely secretly hates them and shoots off a missile.
President Trump did some sidestepping and told China he would recognize the "One China" policy that has persisted for decades.
On Seeking Alpha
Sure Dividend provides the case for a huge General Dynamics dividend increase.
Dhierin Bechai, in his march to Aerospace Sector dominance, provides articles on the T-X contract and the F-35 LRIP 10 contract.
The Coming Week
The Trump Administration is settling in and their policy toward defense posture is becoming clearer. With Secretary of Defense Mattis (I enjoy saying that) visiting several parts of the world I'm eager to see what hard stances come out.
I appreciate you reading, please leave your thoughts and questions in the comments. If you don't already follow me and would like to receive the (mostly) weekly updates on this sector along with my other posts, please hit "follow."
Disclosure: I am/we are long RTN, BAESY.
I wrote this article myself, and it expresses my own opinions. I am not receiving compensation for it (other than from Seeking Alpha). I have no business relationship with any company whose stock is mentioned in this article.
Editor's Note: This article covers one or more stocks trading at less than $1 per share and/or with less than a $100 million market cap. Please be aware of the risks associated with these stocks.