Investment Thesis
Lear Corporation (NYSE:LEA) is undervalued relative to its growth prospects, strong cash generation, and industry tailwinds moving forward.
Lear Corporation is a mid-cap automotive parts company specializing in seating and electrical distribution systems for automotive companies around the world. It operates 243 manufacturing, engineering, and administrative locations in 37 countries. The company has been an excellent investment since coming out of Chapter 11 bankruptcy protection in 2009, yielding an annualized return of 23.7%. Since reinitiating a dividend in 2011, it has hiked it every year at an average rate close to 20%, but due to the continued performance of the share price only yields .85% today.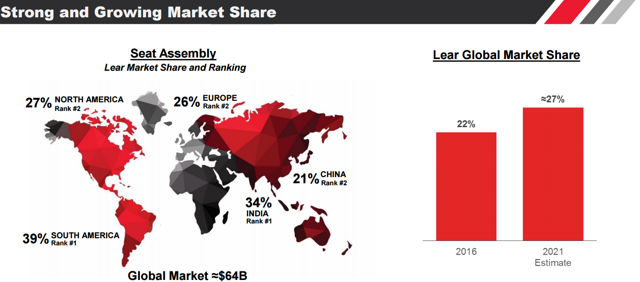 Source: Company Presentation

Although Lear was founded in 1917, potential investors will notice that the shares only started trading again in late 2009 after coming out of Chapter 11. Companies that didn't make it through the Great Recession are not typically ones that I would consider for potential investment, but there is reason to believe that Lear might have learned from its past mistakes. Significant growth through acquisitions overly leveraged the balance sheet, and when major customers like GM (NYSE:GM), Chrysler, and Ford (NYSE:F) hit tough times and in some cases even declared bankruptcy, Lear was not in a position to weather the storm. Looking below, it appears that the last 8 years have shown consistent and impressive earnings growth. This growth is expected to tail off in 2019 by analyst projections, possibly due to a peaking domestic automotive market. This anticipated growth tail off in concert with the stigma of Lear's bankruptcy have kept shares trading at a lower EV/EBIDTA than the peer group average, and a valuation close to Magna International (NYSE:MGA). MGA is a solid company I wrote on here, but one which I don't believe has the same growth prospects.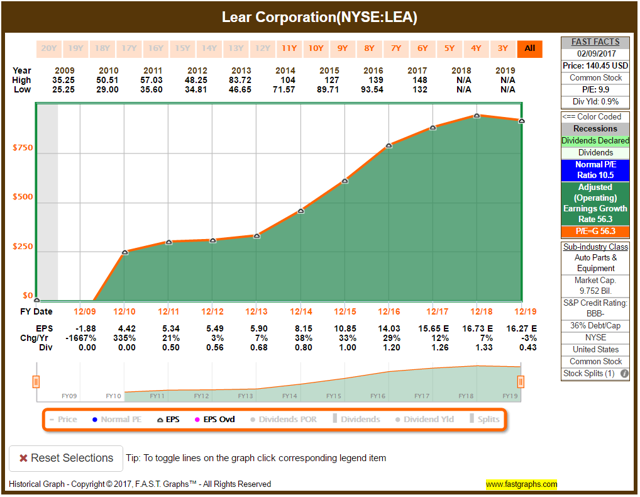 Source: FAST Graphs
Recent Results

Source: Company Filing
As mentioned above, auto sales have plateaued domestically, something that has depressed the share prices of domestic automakers and many auto parts suppliers. However, looking above, Lear has shown its ability to drive outsized revenue gains globally, including key markets like China, India, and Brazil. For the full year 2016, Lear expanded its operating margin to 8.3%, up from 7.2% in 2015. Additionally, sales overall were up 2%, or 5% when adjusted for forex and commodity prices and earnings per share increased 29%, adjusted down from a GAAP earnings increase of 39%. All this was achieved with a 3% decline in North American sales. Management projects a 2% decline in North America for 2017, but continued strong growth globally where more than half of sales are generated.

Source: Earnings Presentation
In December of last year, Lear acquired AccuMED, a privately-held developer and manufacturer of specialty fabrics. AccuMED was founded in 1974 and has headquarters in North Carolina with core manufacturing operations in the Dominican Republic. Tacking on this acquisition with the Eagle Ottawa company from 2015 will help maintain Lear's dominance in seating. Eagle Ottawa is a leader in leather for automotive seating, and Accumed adds additional manufacturing capabilities for fabric. Additionally, Lear entered in to a strategic partnership with Tempronics to add seat heating and cooling for luxury models. This function adds to the appeal for its seats, and shows continued investment into maintaining market share.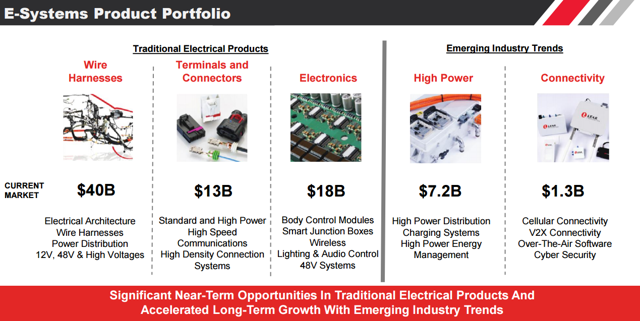 Source: Company Presentation
Lear is on the right side of the trend of technological advancement in cars, much like one of the other auto parts companies I have written about in the past and currently own, Gentex (NASDAQ:GNTX). As cars become more connected and move towards autonomy, Lear's electrical systems will continue to become more complex and drive additional gains for the company. Another trend likely to provide a tailwind going forward is the shift towards electric and hybrid cars. These cars require higher degrees of electrification and more complex systems, which results in more equipment produced by Lear being put into each car.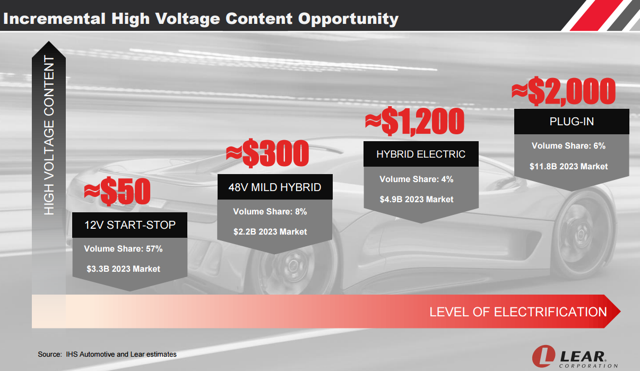 Source: Company Presentation
On the seating side of the company, China has seen its market move towards CUV's and luxury cars, from a mix of 11% to 35%. Luxury cars and SUV/CUV's generate more sales per unit for Lear and have helped drive gains in Lear's Chinese market. Additionally, China has a higher long-term growth expectation as the single largest major automotive market in the world, which will likely continue to see increased demand for luxury features and higher levels of electrical and electronic content in vehicles. It is unlikely that the trend towards increased technology and electronics will change any time soon. I have seen it talked about many times before for companies that will likely be involved in the chips required for autonomous driving. Lear will benefit, as well, with their software offerings and V2X/cellular connectivity.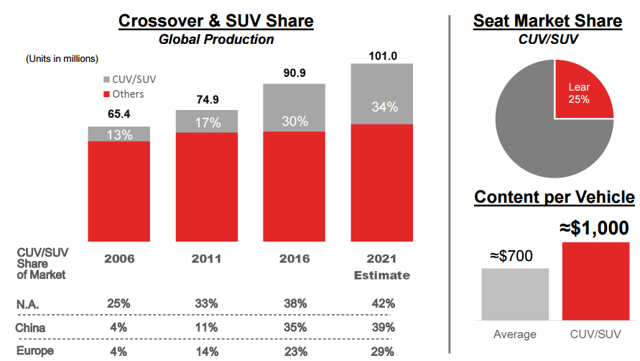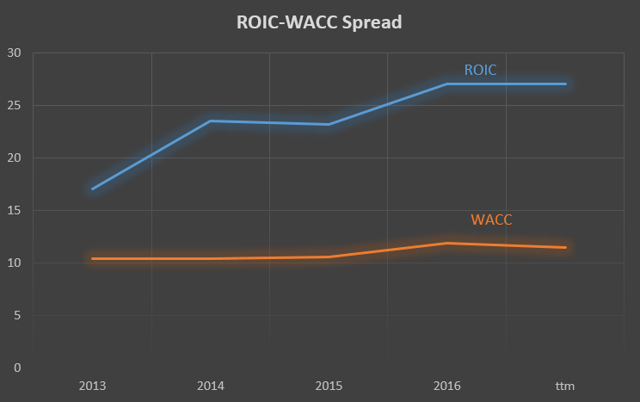 One of the reasons I began researching Lear was the impressive ROIC that the company has continued to maintain. Since 2013, WACC has remained relatively steady while ROIC has steadily climbed from ~17% to where it stands today in the high 20's. This compares well with GNTX, which achieved a 25% ROIC and operates in a similar field of technologically advanced auto parts. However, Lear is trading for around 8X forward earnings compared to GNTX's 14X.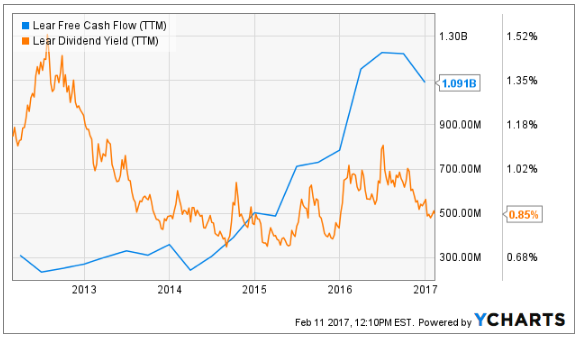 Considering Lear's past bankruptcy, keeping an eye on debt levels and cash generation is very important. Lear is currently carrying $1.898B in long-term debt with a quick ratio of 1.1, showing adequate liquidity. It expects to generate over $1B in FCF this year and its payout ratio is only 9%, which gives it plenty of breathing room on dividend growth and debt paydown. With this level of free cash flow generation, Lear currently has a FCF yield of 11%, which signals undervaluation. An important upgrade from S&P Capital last year now has Lear at a BBB- investment grade credit rating.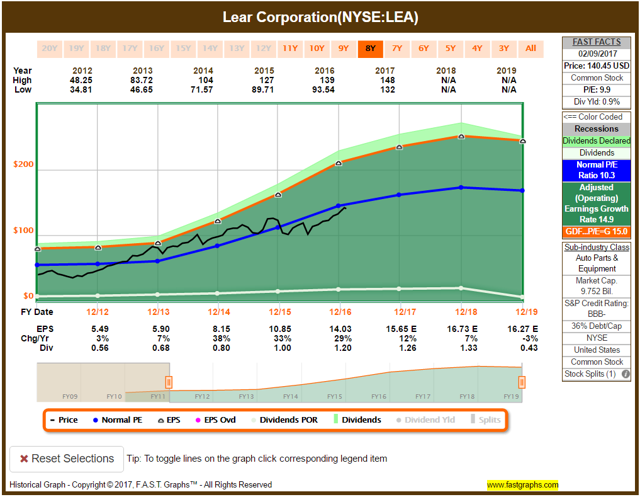 Looking at the FAST Graph, it shows that Lear is trading slightly below its average valuation, which is only a P/E ratio of 10.3X. Even after the pretty substantial run-up in share price since July of last year, I think that Lear is still a value today.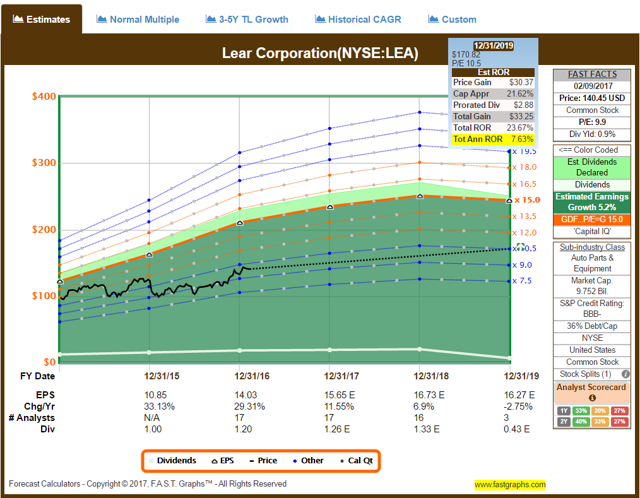 As a final check, I want to take a look at expected returns based off of analyst projections going forward. If Lear maintains a ~10X P/E ratio, investors could expect ~8-9% returns (adding the dividend in) per year. However, it stands to reason that there is plenty of room for multiple expansion and for Lear to beat pessimistic estimates for slowing growth. Its history of bankruptcy and low yield don't place Lear among the best dividend growth stocks for safety even in their own industry group. However, I see a strong value proposition, growth prospects, and the possibility for significant total returns going forward.
If you liked this article, and would like to read more like it, please click the "Follow" button next to my picture at the top and select Real-time alerts. Thanks for reading.
Financial statistics were sourced from Morningstar, with the charts and tables created by the author, unless otherwise stated. This article is for informational purposes only and represents the author's own opinions. It is not a formal recommendation to buy or sell any stock. Please do your own due diligence and/or consult a financial professional prior to making investment decisions.
Disclosure: I am/we are long GNTX.
I wrote this article myself, and it expresses my own opinions. I am not receiving compensation for it (other than from Seeking Alpha). I have no business relationship with any company whose stock is mentioned in this article.
Additional disclosure: May intiate a long position in LEA over the next 72 hours.