By Parke Shall
Subsys is a large part of Insys' (NASDAQ:INSY) plans to become a cash flow positive company. However, as we pointed out in two previous articles over the last few weeks, prescriptions have moved down meaningfully as public awareness and outrage about fentanyl continues and the government continues to crack down on parties that have been involved with prescribing the spray off label and potentially illegally.
Last week we wrote an article talking about how Subsys prescriptions will probably continue to decline as doctors see more and more that those involved with prescribing/selling the spray are now "paying the piper". This week, we were treated to yet another Department of Justice indictment of somebody involved with prescribing this spray, now making this the second indicted party in just two weeks. The Department of Justice released the following on Friday, February 10: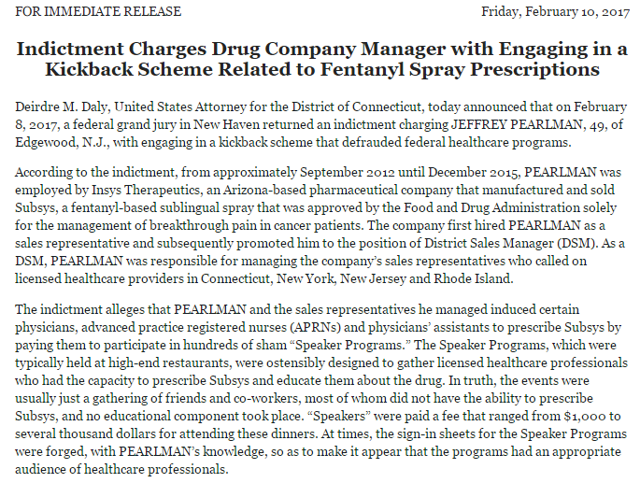 As one can see, the government continues to keep very close watch on all parties potentially involved with INSY.
The chart below, which we presented in our article last week, shows that total Subsys prescriptions were almost in freefall to end 2016 and as a result, we brought into question the company's ability to remain cash flow positive and to successfully launch other drugs.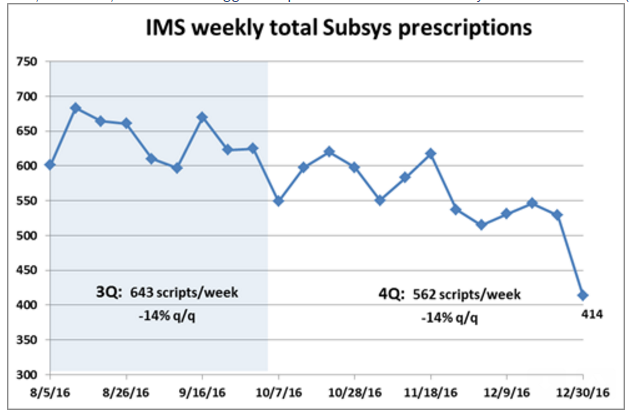 We believe that these continued indictments and bad press could continue to generate a bad name for INSY with prescribing physicians, and that the company may find it very difficult to launch new drugs or get existing drugs prescribed moving forward, regardless of what indications they are for.
Last week we stated very clearly that we were not sure that the bad news was over:
This most recent indictment tells us that the government is still very much hot on the case and with Mr. Trump's renewed commitment to the opioid crisis, we just don't get the impression that INSY is going to be able to bounce back from this catastrophe. This will put significant pressure on continued sales for the company and, given the company's reliance on Subsys to remain cash flow positive, we are hard pressed to make any case for being long INSY.
No sooner do we say that than this week, we get yet another indictment from the Department of Justice. What is to say that these charges will not continue ad infinitum as the year progresses for INSY? We certainly think that this seems to be an active and ongoing case with many moving parts that isn't anywhere close to being wrapped up. With this type of potential legal liability and overhang outstanding, we can't fathom why bargain hunters would be risking capital in an investment in INSY.
We will continue to monitor the situation. We remain skeptical of INSY and continue to believe that the worst may not be over for the company.
Disclosure: I/we have no positions in any stocks mentioned, and no plans to initiate any positions within the next 72 hours.
I wrote this article myself, and it expresses my own opinions. I am not receiving compensation for it (other than from Seeking Alpha). I have no business relationship with any company whose stock is mentioned in this article.