Company Overview
Carriage Services (NYSE:CSV), founded in 1991, is one of the largest consolidated players in the highly fragmented death-care industry. Their aim is to consolidate and operate family owned funeral homes under a decentralized business model. CSV works to ensure a long-term orientation is maintained in asset development and operation and as such has managed to beat the returns of the S&P 500 (NYSEARCA:SPY) of late. As of FY 2015, CSV operates 167 funeral homes, and 32 cemeteries across 27 and 11 states respectively (Annual Report).
(Original Content, Data from Annual Report & Capital IQ)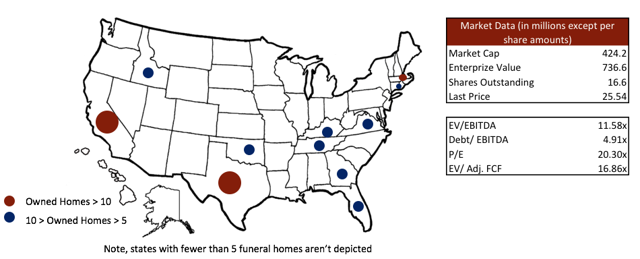 Melvin Payne is the CEO and co-founder of Carriage services, and is the chairman of the board of directors. Prior to Carriage he gained significant experience in private company turnarounds and corporate lending. Individuals and insiders currently hold ~13% of the common shares outstanding.
(Original Content, Data from Google Finance)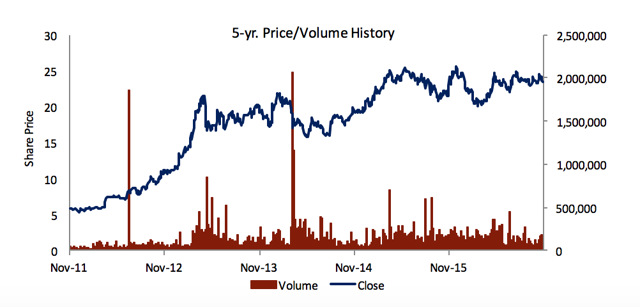 Industry Overview
The death-care industry is characterized by high levels of fragmentation, stable industry revenue, high levels of regulation, and medium barriers to entry through capital requirements, regulation, and market saturation.
Growth in this industry is driven largely by the US death rate, the portion of the population above 65 years of age, and consumer disposable income.
Funeral homes in the US:
· 14.2bn revenue 2015
· Negligible top-line growth through 2021
Cremation Services in the US:
· 3.6bn revenue 2015
· 0.4% annual growth through 2021
This industry is starting to trend towards consolidation with large organizations acquiring formerly independently owned funeral homes.
Relevant players:
Service Corporation International (NYSE:SCI) 2,992mm LTM revenue
StoneMor Partners LP (NYSE:STON) 303mm LTM revenue
Carriage Services 247mm LTM revenue
(Industry Research from IBIS World)
(Original Content, Data from IBIS World)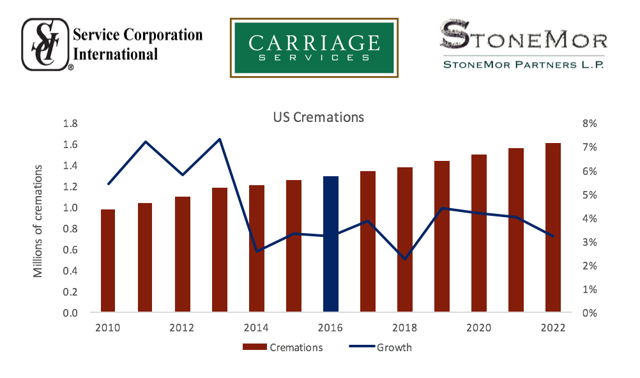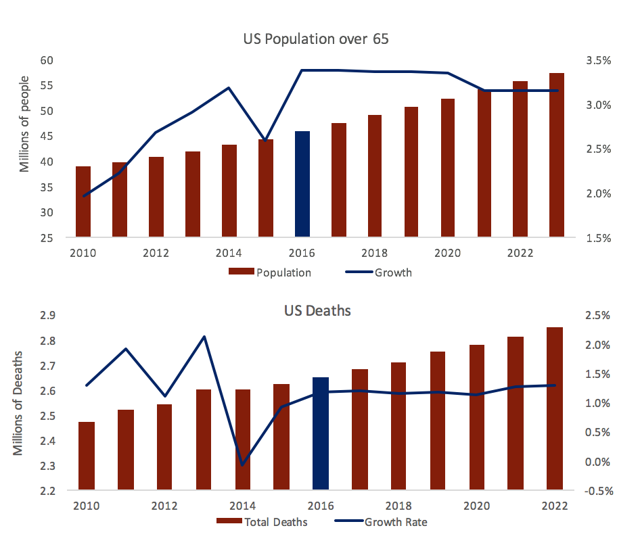 Investment Thesis
The thesis behind this investment proposal is that the market is not properly considering Carriage Services' future potential to outperform as a consolidator in the death-care industry. Their current size affords them unparalleled acquisition flexibility when compared to massive competitors like Services Corporation. There are two main hypotheses behind this thesis, the first being that, given CSV's small size, it is often overlooked. The second is that investors are less willing to optimistically invest in the death-care industry.
This is supported by CSV's industry leading margins; its competent management team, which has a track record of effectively and productively investing capital (normalized ROIC > WACC); and the fact that its scale allows management to "move the needle" through the acquisition of only a handful of businesses. This leads to the reflection of a "winning by not losing" approach in management's strategy.
Growing, Industry Leading Margins Drive Value
After speaking to many operators in the industry it is clear to see that the shift towards cremation as a form of disposition has worked as a significant headwind for margin growth. Despite this, by employing a heavy "people focus" strategy, CSV and its subsidiaries have been able to maintain and improve operational efficiency across its asset portfolio.
Operational goals for acquisition targets - first five years:
2 - 4% organic revenue growth potential
6 - 8% EBITDA growth
(Original Content, Data from Annual Report)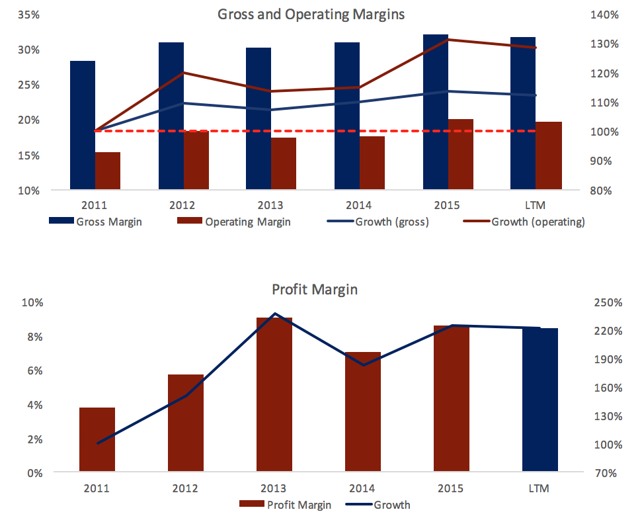 Stable, Compounding Free Cash Flows
It is through this re-investment of free cash flows that management aims to achieve the compounding company ideal, the cornerstone of Berkshire Hathaway's (NYSE:BRK.A) (NYSE:BRK.B), and Warren Buffet's, investment strategy. Over the past five years, adjusted free cash flows had a CAGR of 10.7%, and have shown management's ability to reinvest in businesses returning a rate higher than the internal cost of capital.
Carriage Services has, over recent years, produced higher adjusted free cash flow yields than competitors, which markets have been valuing at a discount to peers.
(Original Content, Data from Bloomberg, and Capital IQ)

Over the past 5 years, normalizing for abnormal volumes of goodwill accumulated in 1997 - 1998, management has invested at an average ROIC of 8.2%, yielding a spread of 1.2% between ROIC and cost of capital. Indicating effective capital deployment, indications from management and current market conditions point toward potential for spread growth. However, in the interest of conservatism it will be assumed to be constant. Striping away goodwill from invested capital in order to assess the attractiveness of the underlying business, we find an average ROIC over the past 5 years of 13.3% is found (yielding a spread of 6.3%). Generating value as it grows, and given its industry positioning, CSV is a fair value investing prospect.
(Original Content, Data from Bloomberg)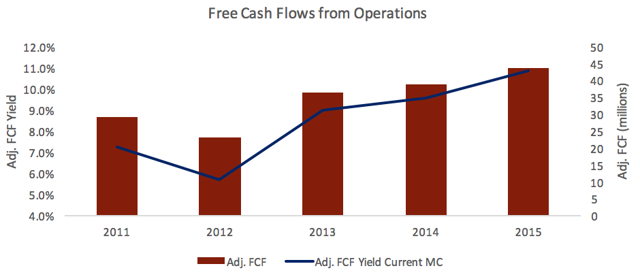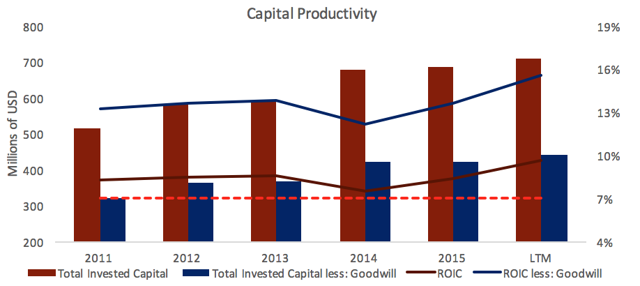 Catalysts
Share buy-backs:
Carriage Services is committed to using its free cash flows to generate as much shareholder value as possible
Having not issued equity since 1998, CSV's aim is to use share repurchases to build equity value for long-term shareholders
Investor activism:
D. E. Shaw & Co. - 0.36%, Citadel LLC 0.07%
These two activists have consistently held long positions in CSV over the past 2.5 years and appear to have a longer-term orientation in their investment
This will help ensure management is working to maintain value moving forward
Republican tax policies:
Conversations with management display their bullish outlook on the acquisition landscape moving forward
Lower taxes increase the willingness of many small business owners (who are largely Republican) to sell assets at more attractive prices
Primary research conducted with independent funeral home owners also points towards this conclusion - general air of optimism in the industry
Risks
Increasing interest rates:
Despite having a stable balance sheet, rising interest rates pose a threat to 60% of their debt (bank debt tied to LIBOR), which will be dilutive to earnings
Hurt their ability to effectively use debt to fund acquisition based growth moving forward
Changing disposition trends:
Cremations offer much lower margins to death-care operators and as their popularity as a form of disposition increases margins will be squeezed
Challenge organic top-line growth moving forward
Regulatory changes as CSV grows:
CSV is currently small and geographically diversified enough to fly largely under the radar of regulators
As they reach a point of critical mass, they too will begin to run into antitrust hurdles and other such measures put into place by the FTC
Valuation
CSV's currently inflated multiples have come following the US election, trading up 10% over the following 2 days.
(Original Content, Data from Bloomberg and Capital IQ)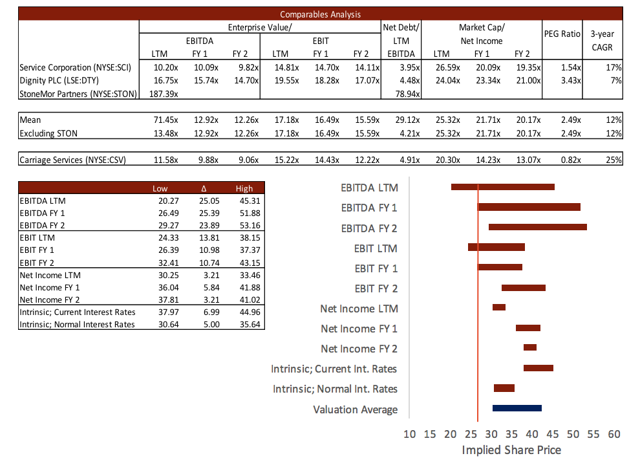 Disclosure: I am/we are long CSV.
I wrote this article myself, and it expresses my own opinions. I am not receiving compensation for it (other than from Seeking Alpha). I have no business relationship with any company whose stock is mentioned in this article.
Additional disclosure: This is intended for educational purposes only and does not constitute investment advice. Please perform your own research before making any investment decisions.