In the February edition of The Forbes Real Estate Investor, we provided a 2017 REIT forecast in which we explained our bullish and/or bearish calls for each property sector. In our "overweight" bucket, we included both Data Center and Cell Tower REITs (collectively "communications") given the "stronger organic growth rates" and "elevated demand prospects."
Let's face it, we are all living in a rapidly evolving world of technology, and if you ignore the forces that are driving demand of cloud-based services, you will be left behind.
As a stakeholder in 3 Data Center REITs, I guess you could say that I'm "doubling down on data". I remain bullish on the growth of the sector because of companies like Seeking Alpha that are fueling web-based demand that will lead to stronger investor returns.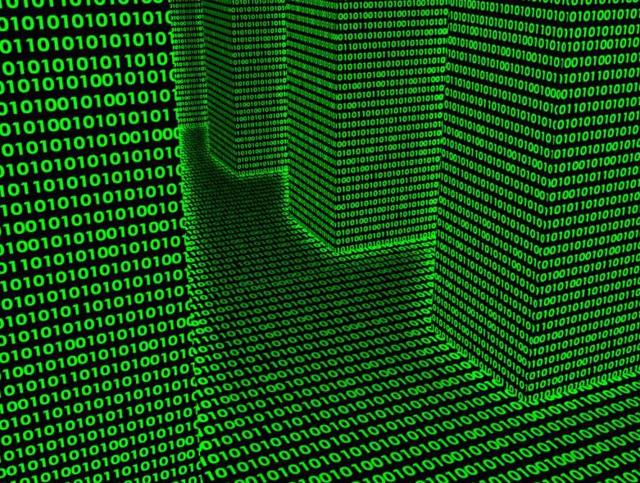 We Now Own QTS
In July 2016, I wrote on QTS Realty (NYSE:QTS), explaining that prospective investors should wait for a pullback. At that time, shares were trading at $54.84 and now the stock trades at $51.08 (down ~7%).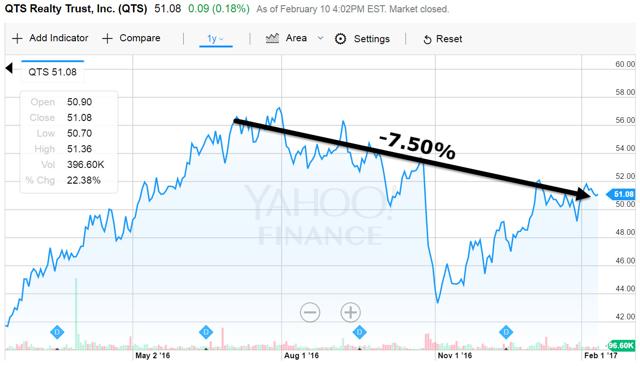 I was fortunate to jump on QTS in December 2016 when shares were trading at around $47.50, but we believe that there's plenty of runway left, and investors could benefit from the strengthening demand for data that is fueling the total return prospects.
QTS is the smallest Data Center REIT (as illustrated below) as the company delivers an integrated platform of colocation, cloud and managed hosting solutions designed to simplify strategies for its customers by delivering increased IT efficiency and reduced capital expenses.

QTS's international footprint of data centers provides a redundant, robust and dependable infrastructure, ideal for workloads that demand high-performance, high transaction volumes and low latency, while processing vast amounts of data, reliably, securely and cost-effectively.
QTS operates 24 data centers on four continents, and the company is poised to deliver world-class infrastructure and value-added technology services to more than 1,000 customers in North America, Europe, Asia and Australia.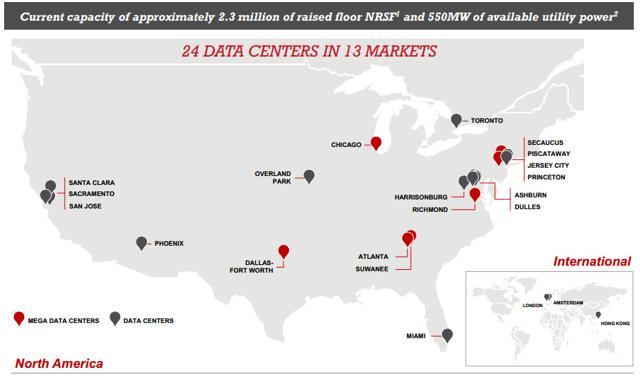 QTS is a leading national provider of data center solutions and fully managed services and a leader in security and compliance. The company offers a complete, unique portfolio of core data center products, including custom data center, colocation and cloud and managed services, providing the flexibility, scale and security needed to support the rapidly evolving hybrid infrastructure demands of web and IT applications.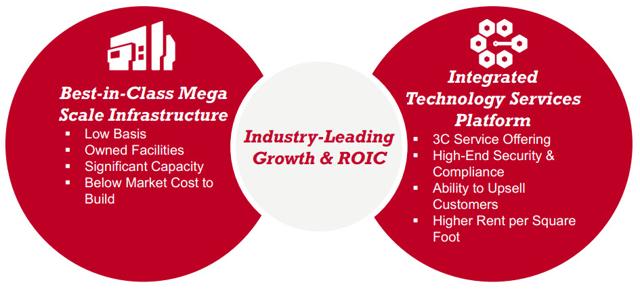 As the nation's only provider of a fully integrated technology services platform: C1 - Custom Data Centers, C2 - Colocation, and C3 - Cloud and Managed Services, overlaid with industry-leading security and compliance, QTS is truly differentiated in the market.
QTS is uniquely-positioned to sell C3 managed services on top of space and power drives incremental revenue and ROIC. Around 60% of recurring revenue is generated from customers using more than one "C" product, up from 40% at IPO
Also, 50%+ of C1/C2 recurring revenue is generated from customers also using C3, up from 30% at IPO. For its C1/C2 customers that are using C3, C3 increases overall customer data center spend with QTS by 35%. Generating $170k of annualized C3 revenue per customer, more than double vs. contribution at IPO.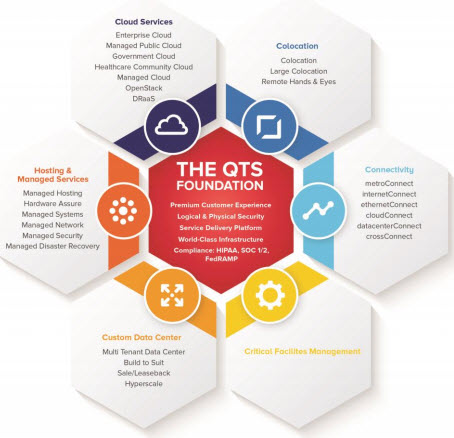 Focusing on Quality, Not Quantity
QTS continues to be driven by its core business model of delivering a unique integrated services platform, on top of world-class real estate assets, with exceptional customer service to achieve industry-leading return on invested capital (or ROIC).
QTS has significant growth opportunities within its current portfolio - 1.0M sq. ft. additional capacity in existing properties and around 250 acres of land adjacent to existing properties.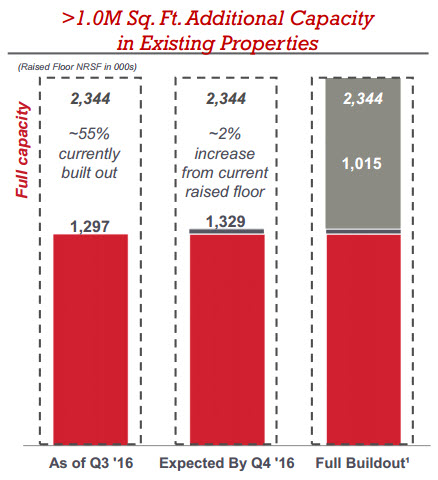 QTS has flexibility to optimize product offerings in response to demand. QTS has the ability to nearly double capacity in existing properties and more than double facility sizes with adjacent, owned land at every mega facility.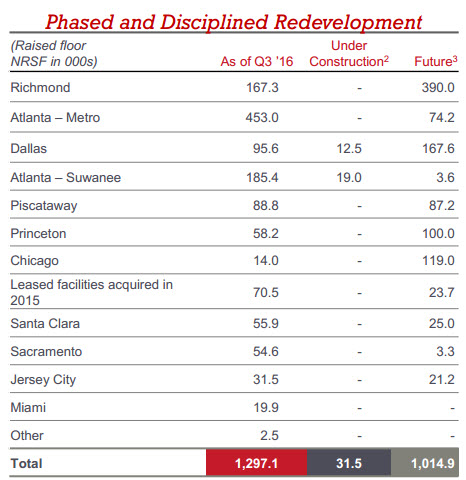 Here's a snapshot of QTS's "Best-In-Class "Mega" Data Centers":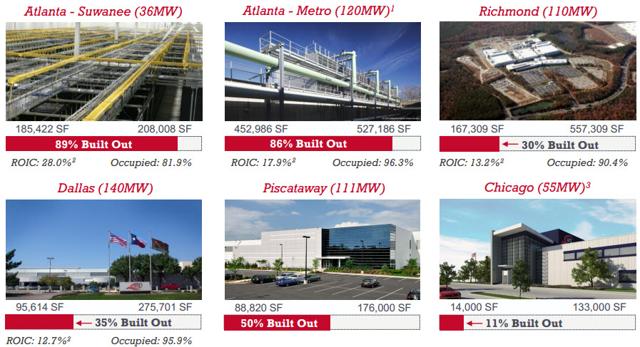 The Growing Platform
QTS has a high credit quality tenant base with over 1,000 customers.
The top 10 tenants as a percentage of annualized MRR are approximately 35% and the largest tenant accounts for ~12.8% of annualized MRR; no other customer represents > 3.5% of annualized MRR.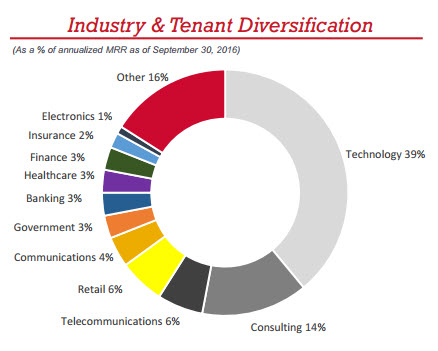 QTS has industry-leading security and compliance, and is positioned to bring highly compliant solutions to sophisticated enterprise customers, specializing in the healthcare, finance, high tech and government sectors. There is a significant opportunity for QTS to grow its new and existing customer partnerships by focusing on security and compliance needs.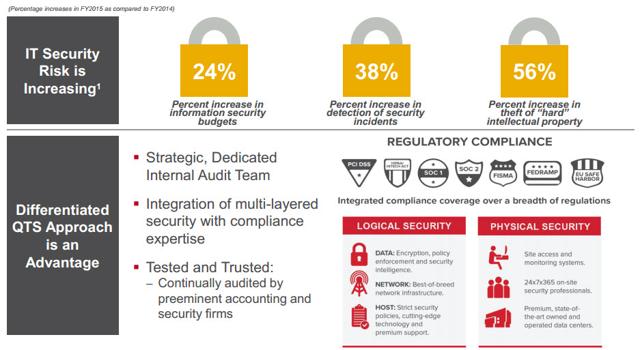 Cyber security risks and concerns among enterprise IT departments will unlock the next wave of enterprise outsourcing to third-party data center providers. QTS's market-leading breadth of compliance certifications and security capabilities present a unique opportunity, given the increasing focus on data security and compliance by customers.
An Improved Balance Sheet
QTS's adjusted EBITDA margin continues to demonstrate the operating leverage inherent in the model. For the third quarter, the company generated an adjusted EBITDA margin of 45.7%. On a year-over-year basis, the adjusted EBITDA margin increased 170 basis points.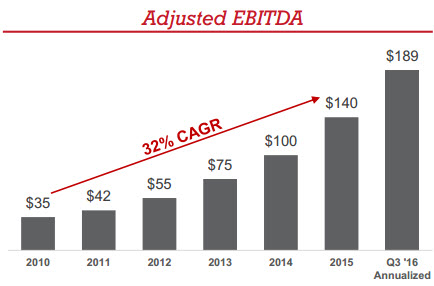 On a sequential basis, QTS's Adjusted EBITDA margin declined 50 basis points, driven by a lower seasonal NOI margin and also the full quarter impact of the company's recently acquired lower-utilization Piscataway facility. Also, the NOI margin tends to drop in Q3, driven primarily by seasonally higher utility costs and then ramp back up in Q4.
As of Q3-16, QTS's total debt outstanding, including capital leases, was $874 million. The company's Q3-16 net debt to annualized adjusted EBITDA was approximately 4.6x. QTS expects leverage will increase in the coming quarters as it delivers on its development pipeline.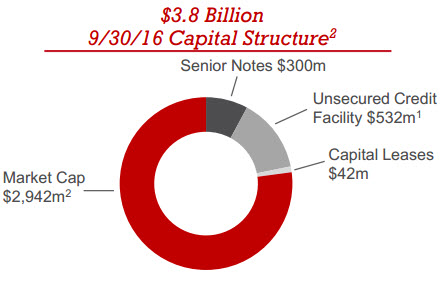 QTS has significant liquidity capacity in the balance sheet. At the end of the quarter, the company had a total of approximately $380 million in liquidity, made up of availability under the credit facility and cash on hand.
As you can see below, QTS has no near-term debt maturities, minimal secured debt and significant available liquidity.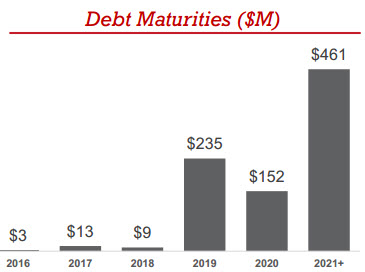 In August 2016, S&P Global Ratings upgraded QTS's corporate credit rating to BB- from B+ and removed all ratings from CreditWatch with positive implications.
The rating agency also lifted its issue-level rating on QTS Realty's unsecured credit facility and senior unsecured notes to BB from BB-, while maintaining its recovery rating at 2. S&P attributes the upgrade to its increased confidence in the cash flow stability of the REIT's business, thanks in part to strong data center services demand and multiyear contracts.
The outlook is stable, reflecting S&P's view that QTS Realty's continued investment in data center capacity will give it sufficient liquidity to finance growth efforts and negative discretionary cash flow until at least the close of 2017.
Why Are We Doubling Down On Data?
As explained in the Forbes Real Estate Investor, we decided to take a position in QTS as a holding in our Average Joe Portfolio. We decided to initiate a position based on the attractive growth prospects, and of course valuation.
As you can see below, for full year 2016, QTS continues to expect core organic revenue growth in the mid-teens and has lowered the annual churn expectation to a range of 5% to 7% from 5% to 8%, factoring in better-than-initially projected year-to-date performance.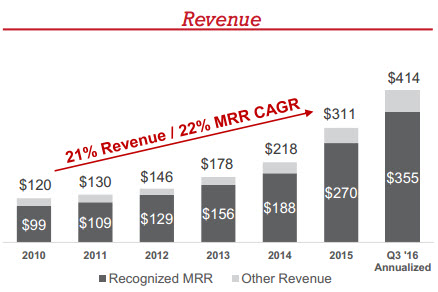 In Q3-16, QTS raised the bottom end of its adjusted EBITDA guidance by $2 million to a range of $180 million to $187 million. The company also raised the OFFO guidance range to $139 million to $143 million.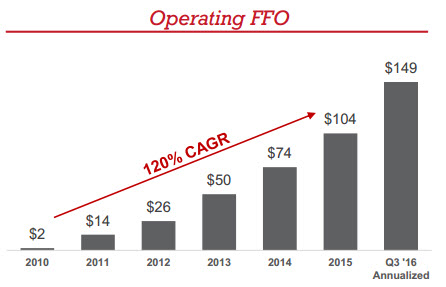 As a result, QTS raised its OFFO per share guidance to a range of $2.57 per share to $2.65 per share. The 2016 OFFO guidance includes an estimated non-cash tax benefit of approximately $7 million. As you can see below, QTS has delivered robust growth across all metrics: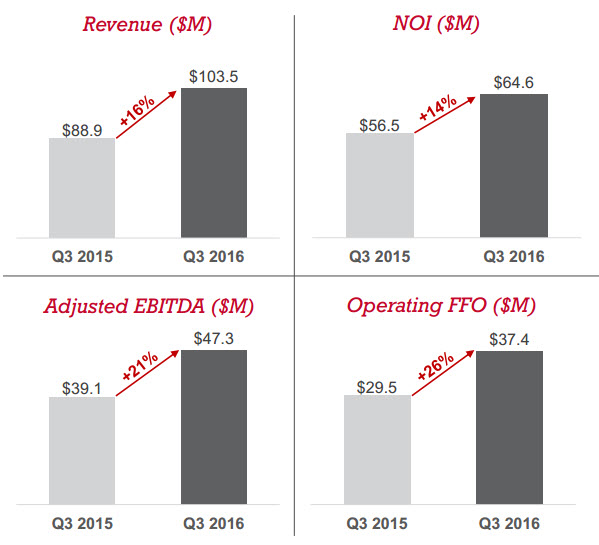 Consider the AFFO growth prospects for these Data Center REITs (including Iron Mountain):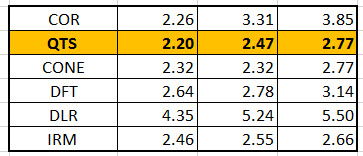 Now compare the above data in %: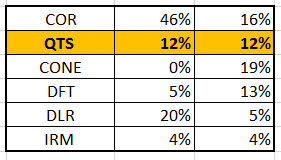 As you can see, QTS is just one of two REITs that forecasts "double-digit" AFFO growth in 2016 and 2017. This is a very good indicator that QTS shares will outperform, and we also like this chart below: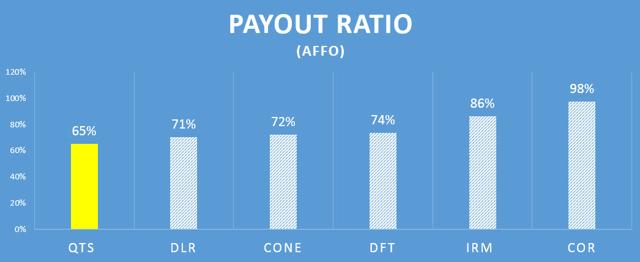 Clearly, QTS has a strong dividend growth runway, arguably, the most attractive dividend run-rate in the data center sector.
Now Let's Consider Valuation
As noted above, QTS has the lowest payout ratio in the sector, that means the company could easily generate a higher dividend yield.

Here's how QTS compares based on P/AFFO:

The argument here is that QTS is not necessarily cheap, but that the company is trading in line with its peers. However, since the company is much smaller than the peers, it has the ability to increase earnings much easier and drive dividend growth (double digits). Take a look at the historical earnings (or AFFO) and dividend history: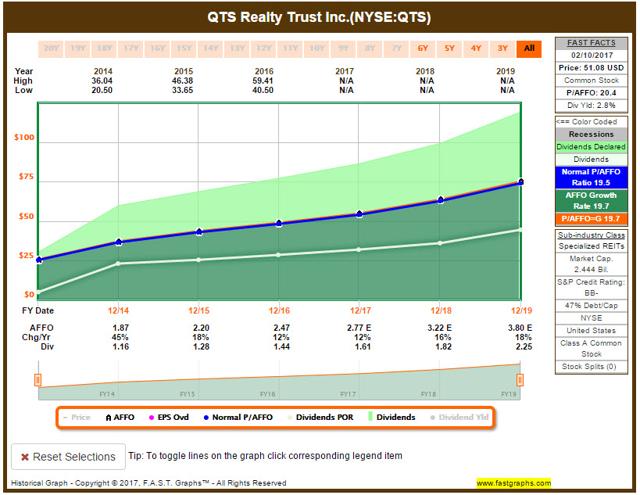 In closing, the demand drivers for Data Centers are obvious. These elevated demand drivers (and others) are decoupled from broader macroeconomic factors such as inflation and GDP. So unlike the Lodging REITs and Healthcare REITs that are exhibiting higher disruption due to economic concerns, the Data Center REITs are likely to perform well because of their strong correlation to technology and cloud-based storage.
We are increasing our exposure to QTS (we already own Digital Realty Trust (NYSE:DLR) and CyrusOne (NASDAQ:CONE)) and our exposure to the "communications" sector (includes data and cell tower) is just under 10%.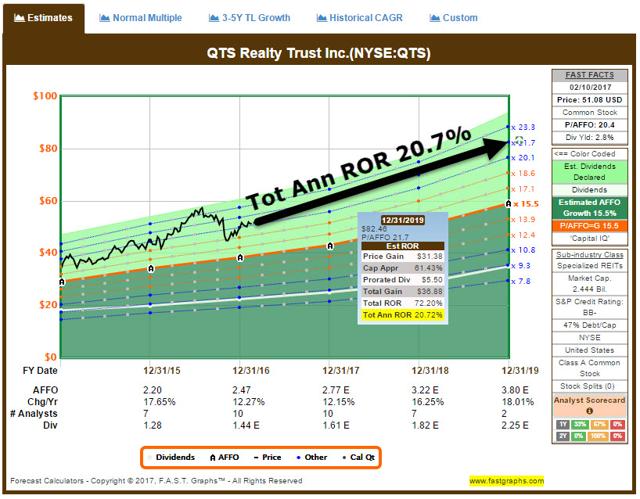 Check out The REIT Beat if you'd like to get more of my ideas, including early access to my highest-conviction REIT plays, access to Q&As with management teams, weekend REIT reports and more. We'd love to have you on board, so have a look.
Source: FAST Graphs and QTS Filings.
Other REITs mentioned: DLR, CONE, (NYSE:DFT), (NYSE:IRM), and (NYSE:COR).
Author Note: Brad Thomas is a Wall Street writer and that means he is not always right with his predictions or recommendations. That also applies to his grammar. Please excuse any typos and be assured that he will do his best to correct any errors if they are overlooked.
Finally, this article is free and the sole purpose for writing it is to assist with research, while also providing a forum for second-level thinking. If you have not followed him, please take five seconds and click his name above (top of the page).
Disclaimer: This article is intended to provide information to interested parties. As I have no knowledge of individual investor circumstances, goals, and/or portfolio concentration or diversification, readers are expected to complete their own due diligence before purchasing any stocks mentioned or recommended.
Disclosure: I am/we are long APT, ARI, BXMT, CONE, CORR, CCP, CCI, CHCT, CLDT, CUBE, DLR, DOC, EXR, FPI, GPT, HTA, HASI, KIM, LADR, LTC, LXP, O, OHI, QTS, ROIC, STWD, SNR, STAG, SKT, SPG, STOR, TCO, UBA, VTR, WPC, PEI, EQR, DEA.
I wrote this article myself, and it expresses my own opinions. I am not receiving compensation for it (other than from Seeking Alpha). I have no business relationship with any company whose stock is mentioned in this article.