Emerson Electric Company (NYSE:EMR) is just a bit above my buy price. A nibble now is good enough; waiting for a bit of a pullback is more prudent for a substantial purchase.
What did I think last time?
Over a 5 month period in 2015, I made 7 purchases of EMR stock for about $11,253 (including commissions of $28 total) plus reinvested about a $120 of its dividends into additional shares. I ended up with just over 233 shares at an average price of $48.78. During 2016, I collected an additional $44.13 of dividends that were used to buy shares in other companies. So when I wrote the article, I was interested in seeing if EMR was again at a good price for the dividends it was paying.
I first wrote about EMR back at the beginning of November here. At that time, it was clear that I thought the dividend was safe. I thought management was doing a good job of cutting costs, which is exactly what you want management to be doing in the down portion of the cycle. I noted that management projected a range for EPS in 2017 of $2.35 to $2.50. I also noted the beat on earnings for the Q4 of 2016. I thought that 2017 looked to be another hard year, but that management seemed prepared for it. Based on these figures and the tiny dividend increase, I decided to use a 1.1% dividend growth rate when calculating present value for the dividend stream. With those conditions I calculated a present value of the predicated dividend stream of $54.18.
What new information do we have now?
To get a picture of where EMR stands now, we have the Q1 earnings report for 2017, a new acquisition and a new look at an acquisition that took place earlier last year.
EMR just released its 1Q 2017 results with a $0.16 beat on EPS and a $40 million beat on revenues. More importantly it also issued revised guidance for the year increasing its estimated EPS range by 12 cents (both the top and bottom of the guidance was raised) so management's projected EPS for 2017 is now between $2.47 and $2.62. Q1 reported EPS is 22% higher than a year ago, although revenue declined around 4%. One of the reasons I projected such slow dividend growth for EMR was the anemic EPS growth it was expecting, so this report and the new guidance is good news on that front. I also want to note here that the Automation Segment had a 9% decline in revenue from last year. This report, where Automation orders increased in the last month of the quarter, looks like a positive sign to me (and was one reason why Q1 came in better than expected). Now, with just 1 quarter of better results, I don't want to declare that EMR has passed the bottom of the cycle, but it's certainly possible.
The next new development since I wrote on EMR in November is this purchase. Since the terms of the deal weren't disclosed, it is hard to determine if EMR got a good deal. However, this purchase will add to the Automation segment, which was just reported to have revenue decline by 9% this quarter compared to the same quarter last year. Shoring up this segment seems like a good idea to me.
Next, the Pentair (NYSE:PNR) acquisition was panned by a lot of analysts. I think it certainly is possible, maybe even likely that EMR paid too much for this business given where in the cycle it is. However, this purchase along with the FMC Technologies (NYSE:FTI) deal does shore up the weak Automation segment. Having gotten regulatory approval, I want to see what impact the Pentair assets will have on Automation segment revenue and earnings. Q1 2017 numbers still don't include results from the Pentair assets.
I didn't include credit ratings in my original article, but since I now have a free subscription to Moody's, I can include that important information in my articles. Here is what Moody's says about EMR.

The two important things to note are that the rating is investment grade and the outlook is stable.
What's a good price?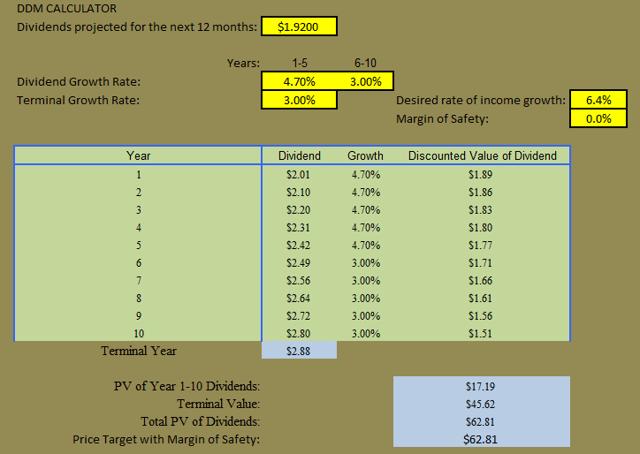 To figure out a good price, I do a DDM calculation using my Excel® based DDM calculator (pictured above, you can see the web-based calculator I based it on here and read a discussion on how the formulas were developed here). Looking at the CCC List, I think that the 3 year DGR figure is now a better indicator of how EMR will grow its dividends in the near future. Given how EMR ended 2016, I thought that it was more prudent to use the percentage change of the last dividend increase, but given its performance in the latest quarter and the increase in the projected EPS for this year, I think it's reasonable to assume that dividends going forward will be more in line with historical raises. From the CCC list, the 3 year DGR figure is still lower than the 5 year, so I am comfortable using it. Also, EPS projections increased 12 cents, and 4.7% dividend growth rate will only increase the dividend by 9 cents (and since the new rate will only be on about half the dividends, that reduces the increase even more). Using these new numbers, I calculate that the present value of the dividend stream is $62.81. With Friday's close being $63.26, taking a small nibble is a good idea (because that's what you do when a company issues and earnings report where they beat expectations and raise guidance). I would wait for a bit of a pull back before making a more substantial purchase.
Can options help?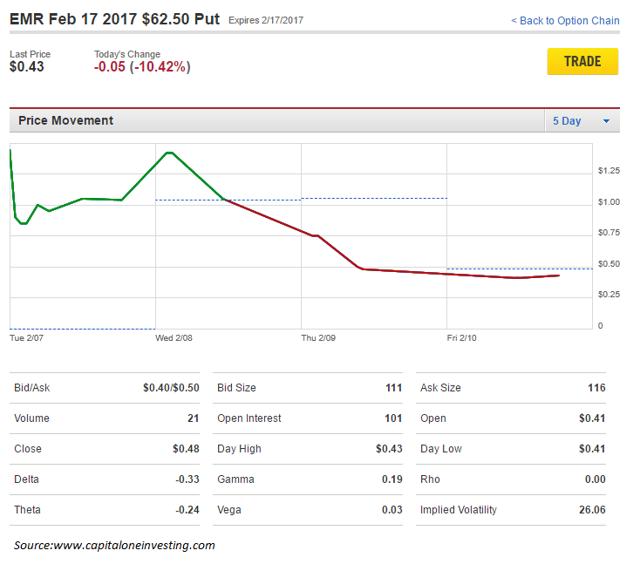 Writing a cash secured put for the February 17 th monthly expiration with a strike price of $62.50 looks good to me. You get a reasonable premium at a strike price below the present value of the dividend stream and you only have to hold for a week. There is only about a 1 in 3 chance of getting the stock, so you can most likely collect the premium and then next week write the contract I discuss in the next paragraph.
The March 17 th monthly expiration date shows promise as well. For the $62.50 strike put, you can collect more than a $1 of premium, which is around half the yearly dividend, for a hold of only 33 days. And the Delta indicates about a 40% chance of getting the shares.
Writing a covered call using the $65 strike should get you about $0.50, or about a quarter's worth of the dividend. With the Delta indicating about a 30% chance the shares will be called away, that seems a reasonable reward for the risk that you will be paid $65 for year shares in the middle of March.
What to watch for going forward?
EMR is in a cyclic business, so an investor always needs to keep an eye on what management is saying about future earnings and revenue. The price you pay for shares is also important, as over-paying can have a big negative impact on your performance during the down portions of the cycle.
Going forward with EMR, management has just upped its guidance for this year, so it's important to keep an eye on that incase this quarter turns out to be atypical for the year. Next, right now the big drag on performance is the Automation segment. So while it did have a pick-up in orders in December, it's important to keep an eye on this segment. Both to make sure that December wasn't atypically good and because two of EMR's recent purchases will be reporting their results in this segment.
Conclusion
I have liked EMR for some time even though it has struggled. In fact that very struggle has let me pick up shares at a good price. In the first quarter of its 2017 fiscal year we see the emergence of first green shoots. While this is a hopeful sign, and it does make for some revision in the price I am willing to pay, it still remains prudent to be careful of the price you pay for EMR shares. Because it beat expectations and raised guidance, taking a small nibble is worth it now, but wait for a pull back to make a substantial purchase.
Note: I hope you all got something out of this article. I do appreciate the time you took reading it. If you are one of those who follow me here, I appreciate it; if you'd like to include yourself amongst those individuals, please hit the "Follow" button next to my name as well as following other contributors whose work you enjoy. As always, please leave any feedback and questions you may have in the comments below.
Disclaimer: This article is intended to provide information to interested parties. As I have no knowledge of individual investor circumstances, goals, and/or portfolio concentration or diversification, readers are expected to complete their own due diligence before purchasing any stocks mentioned or recommended. The price I call fair valued is not a prediction of future price but only the price at which I consider the stock to be of value for its dividends.
Disclosure: I am/we are long EMR.
I wrote this article myself, and it expresses my own opinions. I am not receiving compensation for it (other than from Seeking Alpha). I have no business relationship with any company whose stock is mentioned in this article.