ALPS Sector Dividend Dogs ETF (NYSEARCA:SDOG) has been around since July 2012. It is one of the best performing ETFs in the high dividend category. Currently, it has $2.07 billion of Assets Under Management. One of the major drawbacks for investors is its relatively high expense ratio of .40%. Despite the cost, SDOG delivered impressive absolute and risk-adjusted return over its 4.5 years of existence.
The only high dividend ETF that has outperformed SDOG in the last three years is PowerShares S&P 500® High Dividend Low Volatility Portfolio (NYSEARCA:SPHD), which by itself is worth a separate article. SDOG and SPHD have some similarities. They both own 50 stocks and source S&P 500 for the highest dividend paying stocks.

Source: ETF.com and Morningstar.com
The Dogs Theory
SDOG ETF is based on the Dogs of Dow theory which was publicized by Michael O'Higgins in 1991. The theory suggests investing in the 10 Dow Jones Industrials Average Index stocks with the highest dividend yield. The Dogs theory believes in these stocks' potential for price appreciation as market forces bring their yield into line with the overall market.
The Alps ETFs takes the Dogs theory one step further and expands it to the S&P 500 index. SDOG selects the highest dividend paying stocks from the S&P 500 index in their respective sectors.
The Underlying Index consists of 50 stocks with the highest dividend yield in each sector in the S&P 500 Index. The dividend yield is computed based on the regular cash dividends paid by the company over the previous twelve month period, divided by the share price. The stocks that are selected for inclusion in the Underlying Index's portfolio are equally weighted. The index is reconstituted once a year in December and rebalanced quarterly.
The stock screening typically results in adding securities whose prices have significantly trailed the average return for their respective sector. The 'Dogs Theory' suggests that these companies may be closer to the bottom of their business cycle and are more likely to see a faster price appreciate compared to their lower yielding peers
Currently, the ETF does not hold any REITs. However, I will be curious to see if REITs are added to the portfolio as a separate sector. Many of you many know that real estate was added as an independent sector in the GICS classification and many smart beta ETFs and active funds are still playing catch-up with the change.
Performance
I decided to compare the performance of SDOG with that of Vanguard High Dividend Yield ETF (NYSEARCA:VYM), SPDR S&P Dividend ETF (NYSEARCA:SDY) and S&P 500 (NYSEARCA:SPY). I am skipping SPHD simply because of its shorter history even though it has posted strong numbers since inception.
As you will see below, there is a broad variation between absolute, risk-adjusted and year-over-year returns. It is certainly worth looking at each ETF individually to decide on whether or not it is appropriate for one's portfolio.
SDOG outperformed its peers and S&P 500 in the 3 of its four full years of its existence and underperformed in one year, 2015.

Source. Morningstar.com
Since its inception in July 2012, SDOG reported a 15.5% cumulative return. For the same period, VYM posted 13.8%, SDY, 14.99% and SPY 14.06%. SDOG also lead the rankings for the best and worst annual return amongst the four funds.

Source: Portfoliovisualizer.com
Risk
SDOG tends to have a higher standard deviation than the other three funds. The two main reasons which we are its tilt towards value and mid-cap stocks. The SDOG ETF has a Sharpe Ratio of 1.36, which is slightly lower than VYM, 1.4, and SDY, 1.42, and at the same level as SPY.
Interestingly, though, SDOG has reported superior risk-adjusted returns based on the Sortino and Treynor ratios. This ETF rewarded its shareholders with high risk-adjusted returns based on downside risk and beta.
This ETF has also reported R2 to S&P 500 equal to 74%. The same ratio for VYM is 87%, and SDY has 83%. Therefore, for investors seeking to add some diversification to their portfolio SDOG could be a suitable alternative.

Source: Portfoliovisualizer.com
Value bias
As I mentioned earlier, SDOG invests in the S&P 500 stocks with the highest dividend yield in each sector. This process often includes stocks that had posted recent price losses or lagged behind their sector peers. For that reason, SDOG tends to have a stronger value tilt than other ETFs in the high dividend space.
The SDOG forward P/E is equal to 15.41 versus 18.51 for S&P 500, 17.47 for VYM and 20.05 for SDY. Price to book, price to sale, and price to cash flow show a similar comparison.
Furthermore, SDOG is trading at 17% discount to S&P 500 providing an opportunity for a cheaper entry point, compared to other high dividend ETFs. For comparison, SDY is trading at 8% premium.

Source: Morningstar.com
Market Cap
SDOG has fairly even distribution in the market cap spectrum between giant, large and mid-cap stocks. Driven by its equal weighting methodology, this ETF is overweighting medium-cap over giant cap stocks.
For comparison, VYM is heavily overweight on giant gap stocks, while SDY is substantially overweight on medium and small size companies.

Source: Morningstar.com
Sector exposure
SDOG has almost even exposure to all sector. The difference between the largest sector, Technology, and smallest sector, Materials, is less that 2%. Moreover, as mentioned earlier, there is no exposure to Real Estate.
Again, because of its equal weighting protocol, SDOG tends to underweight the larger sectors like Technology, Health Care and Financials and overweight the smaller ones like Materials, Utilities, and Communication Services.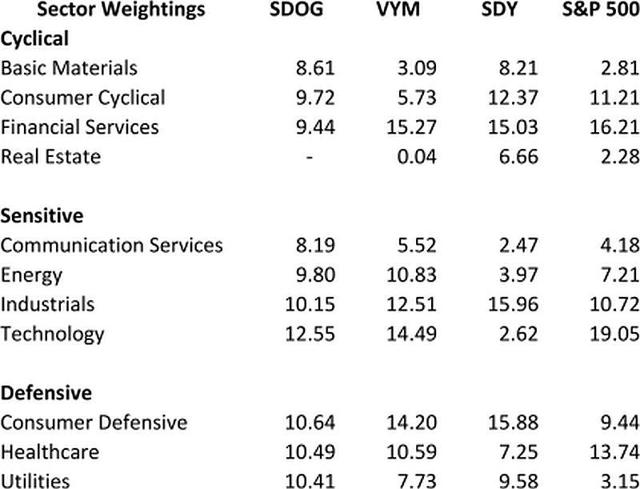 The top holdings in the SDOG portfolio are Seagate Technology (NASDAQ:STX), Eli Lilly Co.(NYSE:LLY), CF Industries Holdings Inc.(NYSE:CF), Philip Morris International Inc.(NYSE:PM), Emerson Electric Co. (NYSE:EMR), Altria Group Inc. (NYSE:MO), IBM (NYSE:IBM), Kimberly-Clark Corp. (NYSE:KMB), Arthur J Gallagher Co. (NYSE:AJG), PPL Corp.(NYSE:PPL), Merck Co. Inc. (NYSE:MRK), Xerox Corp. (NYSE:XRX), and Cisco Systems Inc. (NASDAQ:CSCO)
Final Thoughts
· Yield-hungry investors may consider this ETFs as an extension to the large-cap value corner of their portfolio
· The equal weighting methodology bring an even exposure to sectors and market cap segments
· Stronger value tilt brings higher than the peer group volatility
· The strategy can have longer periods of underperformance due to higher risk and bigger exposure to smaller sectors. The ETF has not been tested yet through a major bear market.
· Since inceptions SDOG has outperformed the S&P 500 In absolute and risk-adjusted terms. It has solid Sortino and Treynor ratio level while its Sharpe ratio is a bit mixed
· The constituents are trading at a considerable discount of -17% for Forwarding P/E relative to S&P 500 giving an opportunity for price appreciation driven market mean reversion.
Disclosure: I/we have no positions in any stocks mentioned, and no plans to initiate any positions within the next 72 hours.
I wrote this article myself, and it expresses my own opinions. I am not receiving compensation for it (other than from Seeking Alpha). I have no business relationship with any company whose stock is mentioned in this article.