Business Overview
Founded in 1836 Legal & General (OTCPK:LGGNF) is a FTSE 100 financial services company specializing in pensions, investments and insurance. Broadly speaking the company can be broken down into the four main divisions which together make up the vast bulk of operating profits: Legal & General Retirement, Legal & General Investment Management (LGIM), Legal & General Capital and Legal & General Insurance.
Retirement provides solutions for corporations looking to de-risk their legacy defined benefit pension schemes in the UK, US and Europe. For individual retail customers the company offers pension solutions such as annuities and a range of lifetime mortgage products for customers looking to release equity from their homes.
LGIM is the firm's global asset management business which serves both retail and institutional customers with a variety of services. It has a particularly large offering of passive investments - something which has helped the division to outperform global trends in asset management over the past few years as core active strategies become less favorable.
Legal & General Capital was established in 2013 and is focused on direct investment with the goal of increasing the risk adjusted returns of shareholder capital. The strategy primarily involves investing in three areas of the UK economy with significant funding shortfalls: housing, infrastructure and financing for small & medium-sized enterprises.
Finally there is Legal & General Insurance, which provides life insurance to 4 million retail customers in the United Kingdom as well as protection to business customers. The group's US operation currently provides life insurance to an additional 1.2 million customers.
Overall these four major operating divisions account for around 90% of total operating profits, with the remainder coming from Savings and General Insurance.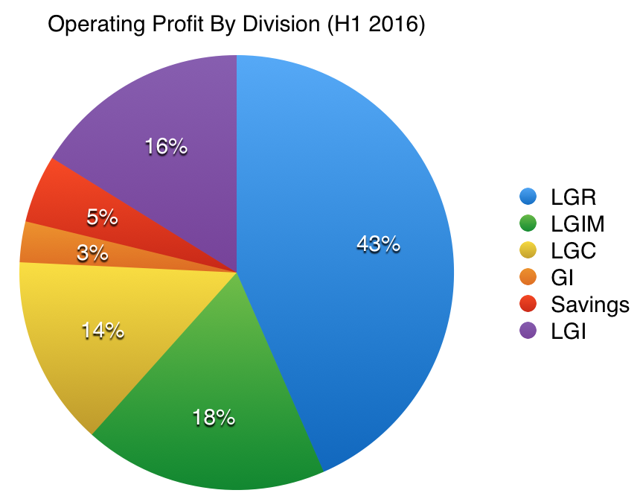 Long-Term Growth Drivers
Over the long
term L&G is well positioned to benefit from pension laws requiring employers to automatically enroll workers earning over £10,000 a year into a workplace pension scheme.
Although the new rules were brought in with The Pension Act 2008 the implementation is worked on a staged basis. Starting in 2012, the largest employers have been required to implement the legislation first with smaller employers being given progressively more time to adapt to the changes. By next year pretty much all employers will have implemented auto-enrollment.
According to the Pensions Institute defined contribution assets in the UK will hit £1.7 trillion by 2030 (up from £275 billion in 2012), representing a good long-term growth avenue for the company given its current 15% share of the UK defined contributions market and projected 12% growth rate.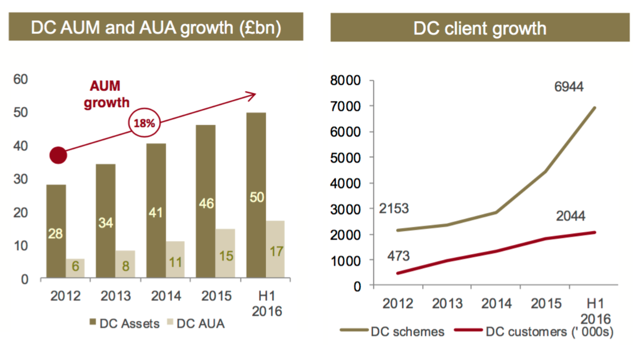 (Source: Legal & General Capital Markets Presentation)
In addition L&G continues to benefit from moves by corporations to de-risk their defined benefit pension schemes. Given that the company is already number one in the domestic market it is well placed to benefit from what is a secular trend. Likewise there is also scope to carry this over internationally, with the company signing its first bulk annuity deals in the United States and Europe back in 2015. In the UK alone the defined benefit market is worth somewhere in the region of £2 trillion, representing plenty of opportunity for long-term growth.
Finally LGIM is very well placed to benefit from current trends in asset management as active core strategies are gradually becoming less favorable compared to passive strategies. Although traditional active core assets have been growing in absolute terms they are shrinking as a proportion of total global AUM.
As it stands active core assets account for a tiny proportion of LGIM's total AUM. The upshot is LGIM continues to perform strongly relative to the global benchmark, propelling them into the top ten global asset managers.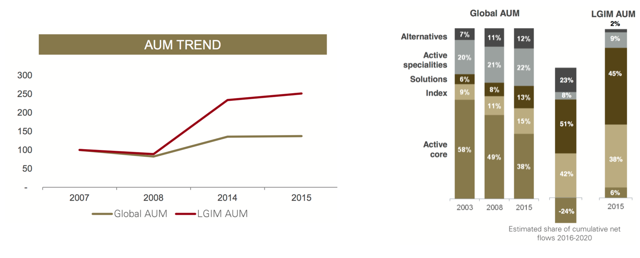 (Source: Legal & General Capital Markets Presentation)
Current State Of Play
Headline figures from H1 2016 results back in August showed operating profit up 10% and earnings per share up 14% on the back of strong growth in Retirement and L&G Capital. The group's Solvency II ratio came in at 163% - lower than domestic peers such as Aviva and Prudential, but still well within comfortable levels with a surplus of £5.3 billion.
The key takeaways for current and perspective shareholders are twofold. First and foremost is that underlying profitability continues to look very attractive. The group's return on equity came in at 20.4% over the period, up from 19.1% in the analogous period in 2015, and has averaged around 17% over the past five years.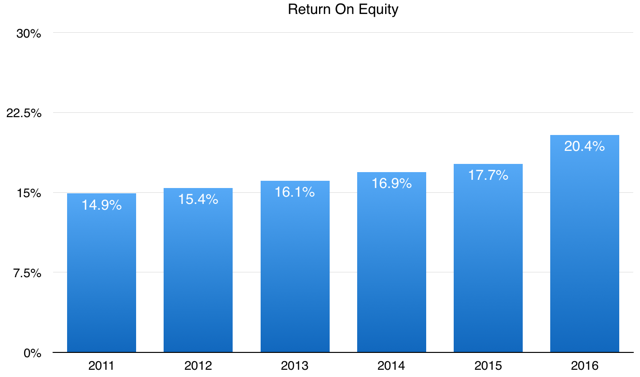 In addition the company continues to churn out plenty of cash. Over the interim period to August net cash generation came in at £727m - up 16% on the equivalent period in 2015. That continues a great trend of underlying cash generation growth which has run at a compounded annual rate of 10% since 2011. For the full year L&G are forecasting cash generation of £1.4bn - around 5% ahead of consensus estimates and 11.5% up on FY 2015.
The second is that L&G continue to execute well in Retirement. As already mentioned, this trend looks to continue over the medium to long-term. Total AUM were up 18% at LGIM, as were annuity assets to £51 billion, and LGR operating profit grew 44% to £406 million.

(Source: Legal & General Capital Markets Presentation)
Dividend: 5.75% TTM Yield, Expect Slightly Lower Growth
In 2014 the company updated their dividend policy with a target of returning two thirds of net cash generation to shareholders. As mentioned the former has been growing at a rate of around 10% a year since the start of the decade, whilst lowering the dividend cover towards 1.5 has seen the company deliver 23% annual dividend growth over the same time frame.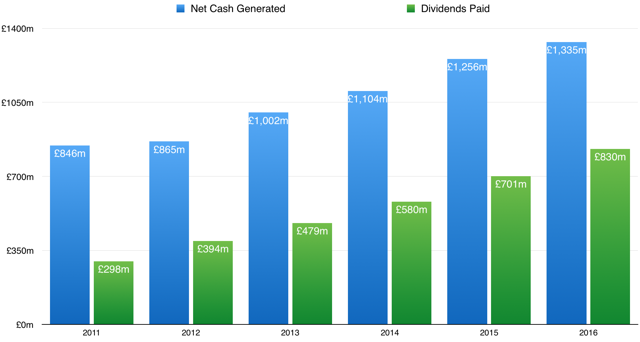 Obviously the nature of L&G's underlying business is inherently cyclical and sensitive to the overall economic environment. That underlying risk, plus a higher pay-out ratio, is reflected in the current trailing twelve month yield of 5.75%. That compares well to other European insures such as Axa (OTCQX:AXAHY), Allianz (OTCQX:AZSEY), Aviva (NYSE:AV) and Prudential (NYSE:PUK) (average dividend yield: 4%) albeit with a higher pay-out ratio versus the peer group average (50%). Granted, the future growth outlook will not be as eye opening without the tailwind of an expanding pay out ratio, however the prospects for long-term business growth are still attractive given L&G's positioning in growing pensions markets.
Non-UK investors also have the added benefit of not worrying about foreign withholding tax - an issue which may otherwise diminish the attractiveness of other high yielding European insurers such as Axa and Allianz to foreign investors.
Outlook & Current Valuation
Consensus estimates for the year have earnings per share at 21.3 pence against a current share price of £2.43. That puts the stock at just under 11.5x forward earnings. The shares have stagnated a bit over the last 18-months on the back of concerns regarding the impact of the new solvency II regulations and June's Brexit vote. L&G is more concentrated in UK compared to the internationally diversified operations of Prudential and Aviva, with concerns regarding its exposure to corporate credit and property prices.
Importantly for prospective shareholders the current valuation is pretty much right in line with the trailing ten year average. Long-term growth prospects are good, and once you add in a TTM yield of 5.75% you can see that it won't take much to move the needle in terms of solid long-term returns.
Disclosure: I am/we are long LGGNF.
I wrote this article myself, and it expresses my own opinions. I am not receiving compensation for it (other than from Seeking Alpha). I have no business relationship with any company whose stock is mentioned in this article.
Editor's Note: This article discusses one or more securities that do not trade on a major U.S. exchange. Please be aware of the risks associated with these stocks.