A company which expects to grow at 5% over the next 5 years is obviously worth less (relatively speaking) than one that expects to grow 10%. That has happened to Novo Nordisk. The share price decreased almost 40% in 2016. Whether it is justifiable is what I will try to assess in this article.
Novo Nordisk has enjoyed a dominant market position in insulin production for many years due to the fact that the entry barriers are enormous, switching costs from the perspective of a diabetic are high, and patents are valuable (products and processes). Furthermore, insulin is produced biologically and it is impossible for a generic manufacturer to copy it precisely. Thus, potential copies are bio-similar, not generic.
As a result of a strong competitive position and a limited number of competitors, Novo Nordisk has been able to raise prices year after year. That situation has prevailed for the last decade (especially in U.S.), but now the Company is faced with limited ability to raise prices without losing business. As you know, diabetes has moved from being a relatively small cost to the medical system to a large and growing one. As a result, the prices of insulin has come under more scrutiny and political intervention.
Furthermore, Pharmacy benefit managers have undergone consolidation in recent years (top three now control 4/5 of the market). In the U.S., significant sales rebates are paid in connection with pharmacy benefit managers and managed healthcare plans.
Here is a short overview of expectations during a 1-year period: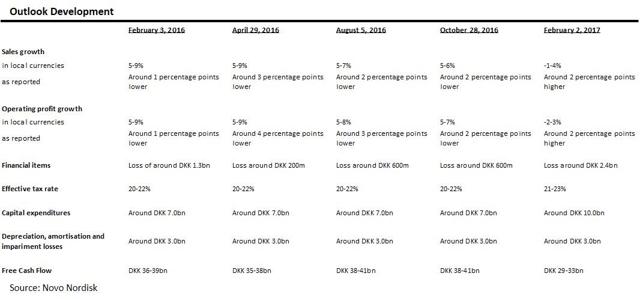 There is no need for elaborate analysis. The top line is mostly down as a result of lower realized prices in the USA. The expectation for operating profit primarily reflects the modest outlook for sales growth. Instead of having a company which grows around 10%, we have a company with top line growth at low single digit level.
How should we think about valuation?
Since no firm can grow forever at a high rate, many of them face a slowdown. Some of them never return to their previous glory, some of them find a new revenue source, while some of them simply fail. In my view, Novo Nordisk still possesses something special that differentiates its business model.
Instead of trying to estimate the growth five or ten years into the future, and then determine the proper discount rate and terminal growth rate, I have decided to look at Novo Nordisk using a reverse DCF model. As Charlie Munger said, "Many hard problems are best solved when they are addressed backward." This method takes the current share price and backs out what is currently implied. Then the growth rate estimate can be assessed for sustainability.
Here is a summary of reverse DCF model: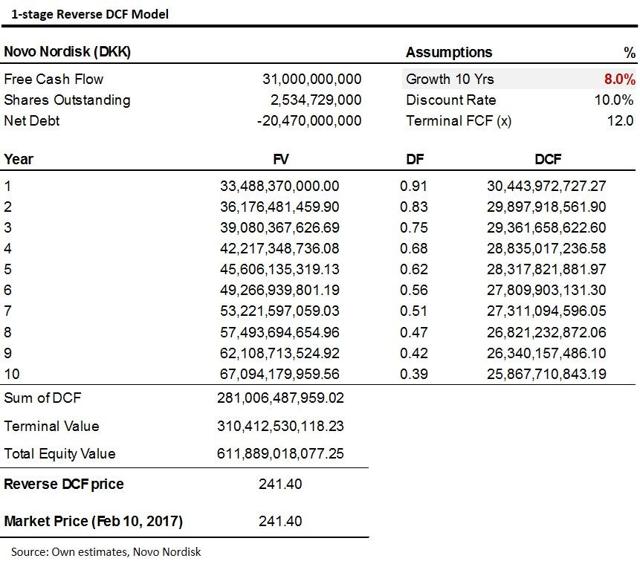 A Reverse DCF model is not perfect but it helps us in many ways. This model solves the problem of not being able to forecast the future, but it doesn't tackle the discount rate problems and terminal estimate. To simplify the model I used a 10% discount rate and terminal FCF multiple of 12x (implies FCF yield of 8%). Overall, based on the 1-stage reverse DCF model I get implied growth rate of 8%.
Conclusion
When a reverse DCF is deployed, the obsession with the current price is removed, and the focus moves assessing growth potential.
The diabetes care market has grown by low double digit figures annually for the last decade and is expected to experience continued solid growth, driven by an increased prevalence of diabetes. According to the International Diabetes Federation, 415m people worldwide are living with diabetes, with a prediction that by 2040 more than 10% of the world's adult population - 642m people worldwide - will have diabetes (on annualized basis it is a growth rate of around 2%). The global market for diabetes care products amounts to USD 50bn, of which Novo Nordisk products account for approximately 27%. Of this global market, insulin accounts for 56%, oral diabetes products (tablet-based medications) account for 37%, and GLP-1 products account for 7%, measured in value.
The logical conclusion is quite simple. According to the demand side of the story, there is no problem because aging population plus lifestyle changes in emerging markets are going to create plenty more patients diagnosed with diabetes. The other part of the story is that many people who have diabetes have been diagnosed yet. To sum it up, over the next 5-10 years, the global diabetes market could grow 4-6% per year, which obviously gives global market leader Novo Nordisk a strong tailwind. Furthermore, Novo Nordisk has a share repurchase program which could provide additional bottom-line growth. Thus, the implied growth rate of 8% is more or less in line with the current business dynamics, but for value investors, it doesn't provide enough room for mistake.
For instance, if more competitors come with its biosimilar products and prices deteriorates even more, that's poses a big challenge. Those kind of questions are difficult to answer so it is prudent for us to seek a margin of safety. Given my long-term approach, I believe Novo Nordisk is worth consideration in the current environment, but each investor should decide on entry point by their own assessment of required return.
Disclosure: I/we have no positions in any stocks mentioned, and no plans to initiate any positions within the next 72 hours.
I wrote this article myself, and it expresses my own opinions. I am not receiving compensation for it (other than from Seeking Alpha). I have no business relationship with any company whose stock is mentioned in this article.