The past week U.S. equities re-took Dow 20,000 and broke out to new highs yet again. The new highs on the broad U.S. equity benchmarks (Dow, S&P 500, Nasdaq-100, and Russell 2000) we not, however, confirmed by new highs on the Japanese and European exchanges. Nor did the market-leading U.S. banks (NYSEARCA:KBE) confirm the new highs on the U.S. broad market indexes.
Last week's price action on U.S. indexes was very intriguing. Yes, we saw the major equity average timidly break to new highs. But stepping back and looking at yearly charts of the indexes would found something rather incredible. Several major U.S. averages simultaneously reached major rising trend resistance on Friday. Consider first the chart of the S&P 500 (NYSEARCA:SPY) below. In spite of Brexit and in spite of Trump, the index has traced out a text-book rising channel since last spring. The traders have begun selling systemically each time the S&P 500 has risen to this resistance line, as shown by the red circles. This isn't magic folks, trading algorithms are picking up on this price pattern and trading off of it.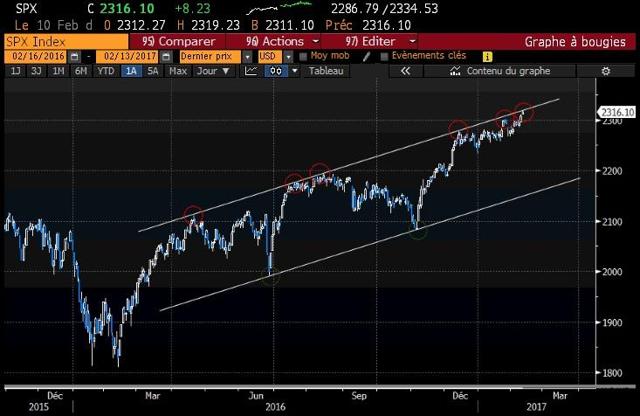 Next, consider the widely followed Nasdaq-100 (NASDAQ:QQQ). No, you are not seeing double. Despite the massive rally on the Nasdaq in 2017, the index just arrived at its homologous rising trend resistance line on Friday.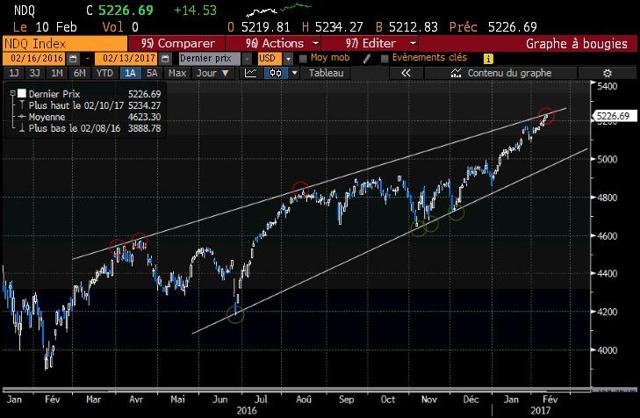 If you think you are just seeing double, or this is just a weird coincidence, check out the S&P 100 (NYSEARCA:OEF), Russell 1000 (NYSEARCA:IWB), NYSE Composite Index, or even the Wilshire 5000.
In this crazy market we could of course see a break and acceleration of the move higher. But should the indexes refuse these obstacles, we see potential negative divergences (with RSIs, stochastics, MACDs) setting up with respect to the prior December peaks on all these indexes. Even a marginal break-higher this week would not immediately annul the potential negative divergence setting up on the S&P 500, for example, so the risk of a bull trap at this stage remains a concern. Traders should be tightening up stops on U.S. equities as this is not the time to let any positions run. Those betting on more upside from here with loose stops (or no stops) must be feeling lucky.
Disclosure: I/we have no positions in any stocks mentioned, and no plans to initiate any positions within the next 72 hours.
I wrote this article myself, and it expresses my own opinions. I am not receiving compensation for it (other than from Seeking Alpha). I have no business relationship with any company whose stock is mentioned in this article.