With the domestic change in partisan leadership that has occurred, there are captivating matters that can influence equities. They include legislation to encourage corporations to repatriate overseas capital and the lifting of financial regulations that have been in place pursuant to the crisis. There are questions and implications to the banking sector, and the backdrop should support investor sentiment to it.
One estimate shows $2.6 trillion in multinational profit stashed abroad. If a fraction of overseas funds re-enter the country, there could be a resultant increase in capital goods that raises the economy's output and aggregate supply, even without consideration of the money itself. Through recent times, with subdued price levels and accommodative monetary policies, pressing questions have pertained to demand. Consequently, a near-term increase in supply that is unaccompanied by stimulus may have questionable results.
There are reasons that the adjustment of banking regulations could be advantageous. Deregulation can be thought of as a loosening of monetary policy. It could be helpful for multiple reasons. The US Federal Reserve System intends to increase interest rates three times this year. If able, it should strengthen the dollar while other currencies are weakening. Increasing the availability of money could help to keep the dollar subdued. It can also stimulate aggregate demand.
While banking laws are in effect for valid reasons, they are the product of the Democratic party's leadership. Republicans can coalesce around their repeal. So, there is the potential that regulations will be modified or eliminated in the future as to make things easier for financial institutions. The backdrop can continuously support investor sentiment toward banks, and their equity. Ongoing uncertainty about the specifics of what will actually happen, if anything, is of secondary importance.
However, bank stocks have already moved up sharply since the election, at least partially pricing in change that is favorable to them before it has happened. Though some share prices have come down, the Financial Select ETF (NYSEARCA:XLF) has not, and the same deals that were available previously are hard to find now. If not for this fact, banking equities might be easier to recommend.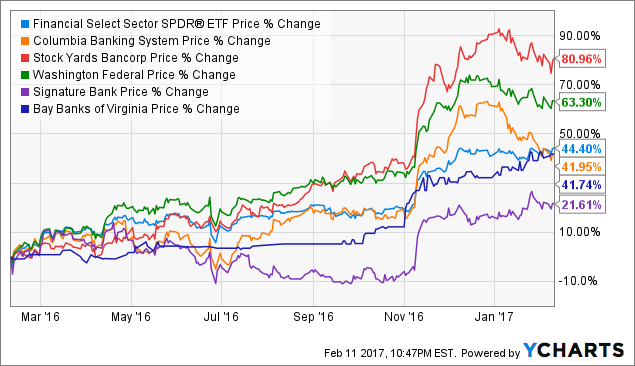 One regional firm, Columbia Banking System (NASDAQ:COLB), which has since given up some gains this year, can benefit from deregulation and has strong measures in comparison to peers. A spreadsheet comparing metrics follows. Three of the columns, Tier 1 Leverage, Tier 1 risk-based, and Total RB capital could even be decreasingly relevant; however, there is continuing emphasis on preventing taxpayer-funded bailouts:

Things to like about COLB include Net Interest Margins (NYSE:NIM), higher dividend yield - though special dividends have stopped, and price to 2017 estimated earnings ratio. The consensus 2017 EPS estimate of $2.31 shows adequate coverage of the $0.22 quarterly dividend. A substantial percentage of revenues are not attributable to interest (current data on peers is not available and shaded), so there is another driver.
The company, headquartered in Tacoma, Washington, is attempting to acquire Pacific Continental Corporation (NASDAQ:PCBK), the second-largest community bank headquartered in Oregon. There are reasons the transaction should have appeal. In addition to geographical overlap, Pacific Continental's efficiency ratio of 54.8% is lower than Columbia's, and its NIM is even higher at 4.22%. About 26% of its portfolio comprises dental loans and has hardly any losses.
There are some risks. Under current rules, if the bank exceeds $10 billion in assets it will be subject to increased regulation, and its costs of compliance. As of the past quarter, and prior to the acquisition offer, Columbia Banking System itself reports $9.568 billion in total assets. Also, 60% of loans are secured by real estate. An increase in market interest rates could affect the ability of floating rate borrowers to repay and thus affect asset quality (Source: 10-K).
A background concern could be a property bubble in Vancouver, Canada. It has been associated with capital flight from China. An eventual bursting could be problematic. A 15% tax on foreign home buyers sounds as if it is effective, though - and perhaps is a worthwhile instance of protectionism occurring alongside national debate. Even if there is a serious housing problem, domestic banks should enjoy some shielding from it.
The economy in the Pacific northwest has drivers in place. Thriving firms such as United Parcel Service (NYSE:UPS) and Boeing (NYSE:BA); and notably innovative ones such as Omeros Corporation (NASDAQ:OMER), are located there. If you have access to Dr. Bill Conerly's commentary, it also is evident that there is stability in Oregon. All of these factors are supportive of banking activity.
There is reason to anticipate continued discussion about deregulation, which can help banking shares. Among regional firms, Columbia Banking Systems has relatively high margins, trades at a comparatively low P/E multiple while offering a higher yield, and enjoys some non-interest revenue. Thus, being well-positioned in stable regional economies, it can ultimately reward investors. However, with bank stocks having already gained since November, there is less confidence that the share price should not go lower before it goes higher, particularly as its assets increase to levels that warrant added scrutiny.
Disclosure: I am/we are long PCBK, OMER.
I wrote this article myself, and it expresses my own opinions. I am not receiving compensation for it (other than from Seeking Alpha). I have no business relationship with any company whose stock is mentioned in this article.