Note: Banking on Financials members received a detailed review of this trading strategy in December 2016.
We believe it would be very naive of us to claim that long-only investors do not observe trading dynamics to improve the timing of their entry/exit points. On this basis, we have developed several short-term trading strategies in the global banking space. It is key to note that our trading strategies are based on fundamental analysis. While we do observe trading dynamics in our strategies, we do not use popular trading indicators such as MACDs or RSIs.
In this article, we discuss a pairs trading idea. By definition a pairs trade is a market neutral trading strategy that matches a long position with a short position in a pair of highly-correlated stocks. The strategy works not only with stocks, but with other market instruments such as bonds, commodities or currencies. However, stocks are still the most popular asset for pairs-traders. This simple-yet-effective method is among the most widely used hedge fund strategies.
Itau (NYSE:ITUB) and Sberbank (OTCPK:SBRCY) are two of the emerging-markets' largest banks. That being said, both banks are listed in the U.S. and are liquid enough to trade.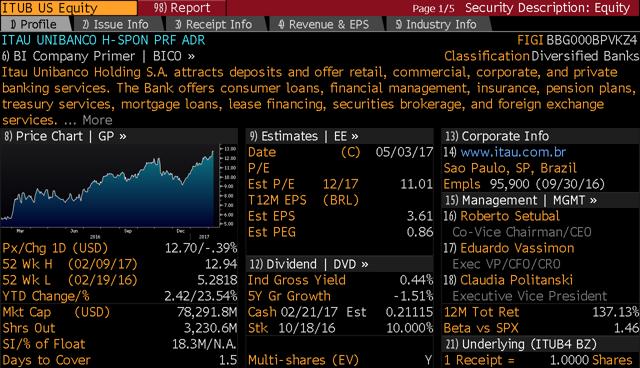 Source: Bloomberg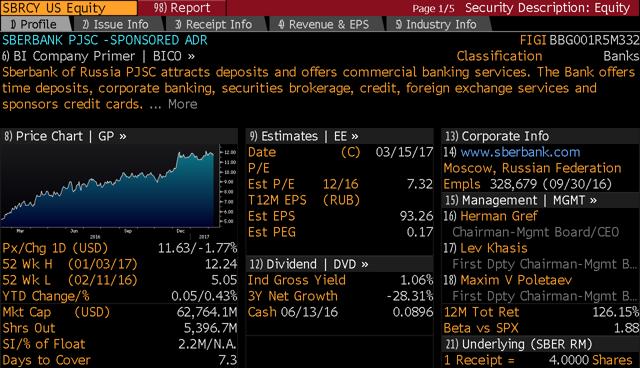 Source: Bloomberg
As the chart below shows, historically, there has been a very strong correlation between Itau and Sberbank.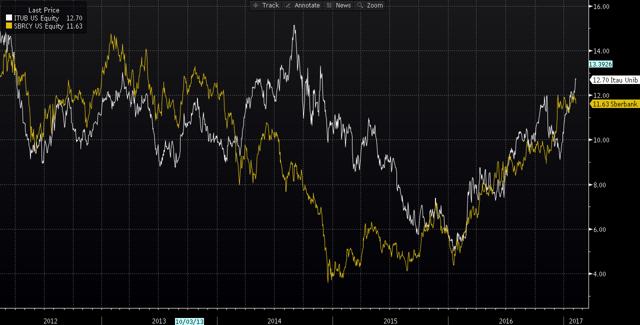 Source: Bloomberg
Indeed, it is a classic pair of highly-correlated stocks. But what is the fundamental rationale behind this correlation?
Firstly, we note that there is also a correlation between the respective currencies: the Brazilian real (BRL) and the Russian rouble (RUB). The correlation can be in large part attributed to the fact that both BRL and RUB are the so-called commodity-currencies, i.e. currencies of countries that depend heavily on the export of certain commodities. The below chart demonstrates that BRL and RUB are dependent on oil (NYSEARCA:USO) prices.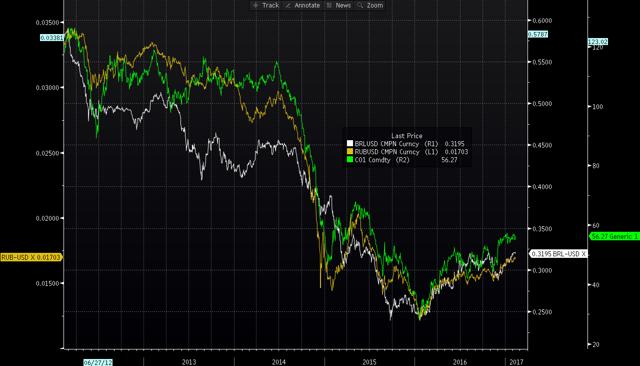 Source: Bloomberg
Secondly, Itau and Sberbank have much in common. They enjoy dominant market positions in their respective markets, operate extensive branch networks and have higher-than-peer net interest margins. As a result, the banks' profitability levels are among the highest in emerging markets and globally.
Thirdly, historically, Itau has traded at a 50-60% premium to Sberbank on a P/B basis. The premium has diverged from this level several times due to various events (for instance, the impeachment of Dilma Rouseff or the EU/US sanctions regime on Russia). However, the premium's average level is close to 50-60%.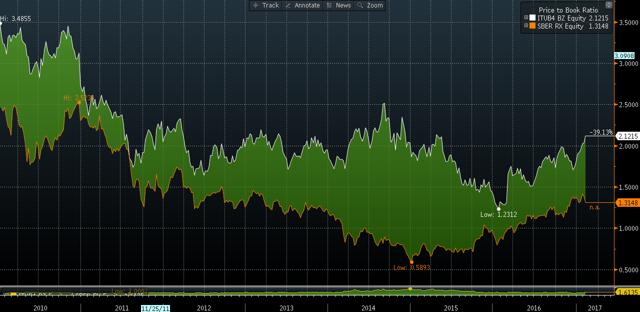 Source: Bloomberg
We have been using this pairs trade since the beginning of 2015, and it has given excellent results so far. When the correlation between the stocks temporarily weakens, i.e Sberbank moves up while Itau moves down (or vice versa), the trade would be to short the outperforming stock and to long the underperforming one.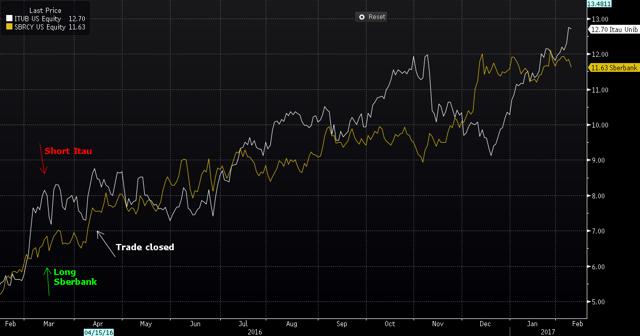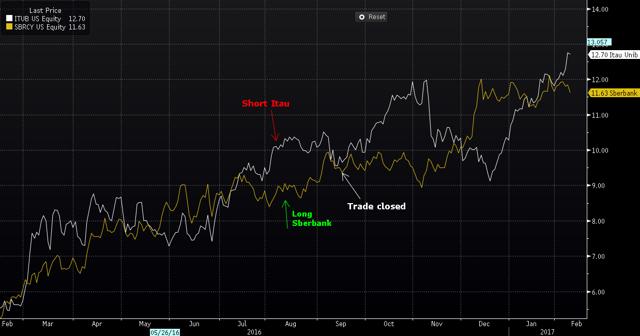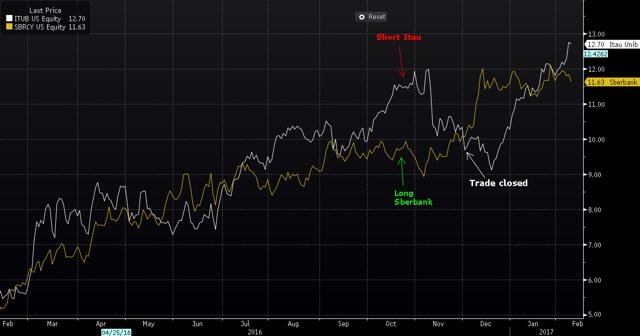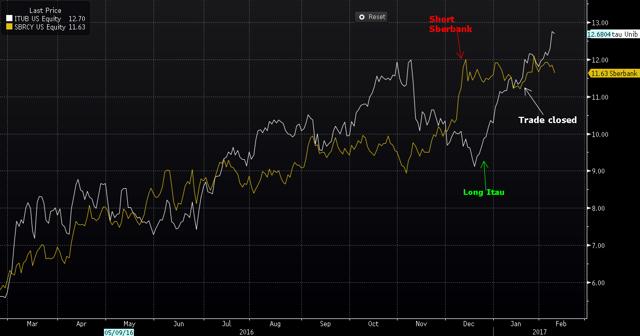 Source: Renaissance Research, Bloomberg
For trading strategies and ideas, including pair trades, consider joining our recently launched subscription service. Go here to learn more or to sign up, we look forward to having you on board.
As a buy-side analyst and a deputy portfolio manager, I oversee a financials-focused fund and will be continuously providing research coverage on developments with global banks and financial companies. If you are interested in the topic, consider following us by clicking the "Follow" button beside our name at the top of the page. Thank you for reading.
Disclosure: I/we have no positions in any stocks mentioned, and no plans to initiate any positions within the next 72 hours.
I wrote this article myself, and it expresses my own opinions. I am not receiving compensation for it (other than from Seeking Alpha). I have no business relationship with any company whose stock is mentioned in this article.
Editor's Note: This article discusses one or more securities that do not trade on a major U.S. exchange. Please be aware of the risks associated with these stocks.