On Wednesday, we'll get earnings from tech giant Cisco Systems (NASDAQ:CSCO). The company is expected to report a decline in both revenues and non-GAAP earnings. However, investors are also expecting a dividend raise at this report, and shares currently are near the top end of their yearly range. With a lot of news likely coming from Cisco this week, should investors focus more on the earnings or the dividend?
Q2 expectations:
Cisco will report earnings for its fiscal second quarter, which ended at the end of January. Don't forget that because of the company's fiscal calendar, the last report was actually a few days after Donald Trump was elected President. With a bit of uncertainty following that upset, I'm curious to see what the company reports in relation to its guidance. Here's what was stated back in November.
Revenue: (2)% to (4)% decline year over year (normalized to exclude the SP Video CPE Business for Q2 FY2016)
Earnings per Share: GAAP $0.42 - $0.47; Non-GAAP: $0.55 to $0.57
When excluding the video segment, last year's period came in at $11.834 billion, while including it resulted in $11.927 billion. Currently, analysts are expecting a roughly 3.2% yearly decline from the included figure, which works out to $11.55 billion. On the bottom line, analysts are looking for non-GAAP EPS of $0.56, the midpoint of the guidance range and down one penny from last year's figure.
Dividend announcement:
I'm not a fan of companies using quarterly reports for big dividend news, as I'd rather see firms use Investor/Shareholder meetings or other days for dividend news, but that is life. Cisco has used its February earnings report for dividend hikes in recent years. In the chart below, you can see the declared payment per year, although the payment schedule is a little different.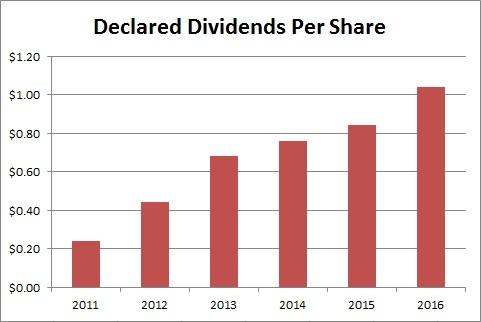 (Source: Cisco dividend history page)
The team over at Bloomberg thinks that Cisco will increase its quarterly dividend by 4 cents a share to $0.30 ($1.20 annual). That would be one cent less than last year's nickel per share raise, but it would still be rather nice. This would send the annual yield back up towards 4.00%, especially if shares decline after earnings.
The amount of the raise likely will depend on how management sees the company's buyback. The buyback itself won't cause a massive dividend rise, as the share count is only coming down by about 1% a year. However, the amount of resources directed towards repurchasing shares plays a big part, especially with Cisco recently announcing a decent size acquisition.
Cisco has promised to return more than 50% of free cash flow a year to investors. In the fiscal year ending July 2016, the company had almost $12.5 billion in free cash flow, bought back $3.9 billion worth of shares, and paid dividends of $4.75 billion. The dividend figure will rise above $5 billion this fiscal year even without a raise, and would likely head to around $6 billion in calendar 2017 if the Bloomberg number proves correct.
Like Apple (NASDAQ:AAPL) and other tech giants, a majority of Cisco's cash is held outside the US. As a result, the company has borrowed a lot of money to help fund dividends and buybacks. While corporate tax reform and a potential repatriation holiday are expected, the board might choose to be a little conservative with the dividend for now, especially as interest rates have risen a bit. Personally, I think a two or three cent quarterly raise would be just fine for now.
Final thoughts:
I'm curious to hear from Cisco because it was one of the first to have reported after Trump's victory. How have things changed since then? Personally, I'm more interested for now in how the company plans to return to revenue growth, especially after the recent expensive acquisition announcement. While a dividend raise will certainly excite investors, the capital return angle doesn't excite me as much until we get more clarity on taxes and repatriation. I'm curious to hear from Cisco investors as to what they think the more important item this week is, with my expectation that they'll prefer the dividend raise right now.
Disclosure: I/we have no positions in any stocks mentioned, and no plans to initiate any positions within the next 72 hours.
I wrote this article myself, and it expresses my own opinions. I am not receiving compensation for it (other than from Seeking Alpha). I have no business relationship with any company whose stock is mentioned in this article.
Additional disclosure: Investors are always reminded that before making any investment, you should do your own proper due diligence on any name directly or indirectly mentioned in this article. Investors should also consider seeking advice from a broker or financial adviser before making any investment decisions. Any material in this article should be considered general information, and not relied on as a formal investment recommendation.