With a compact line-up of 21 unassuming ETFs, it is easy to overlook Charles Schwab as an ETF provider. But after attracting $16 billion in 2016 and with total assets now at $64 billion, Schwab has quickly risen to become the fifth largest sponsor of ETFs. Part of Schwab's success can be attributed to it's low cost strategy. Schwab has let it be known that it will not be undercut on fees for passive, market cap weighted ETFs. Indeed, Schwab recently announced lower fees on a series of its funds and the expense ratios quoted in this article reflect those proposed cuts. Late last year, when BlackRock iShares cut the fees on several of the ETFs in its 'core' series, Schwab responded with fee cuts of its own. In addition to its own line-up of ETFs, Schwab is the largest custodian of ETF assets thanks to the large number of financial advisors who custody their assets at Schwab. Schwab also offers the ETF OneSource, which provides commission free trading on the Schwab brokerage platform on over 200 Schwab and non-Schwab ETFs.
ETFs often grab headlines for being too gimmicky, too speculative, too complex or too numerous. But Schwab's ETFs are all core portfolio building blocks structured only as open-end, exchange-traded funds and contain no exchange-traded notes. Schwab's simple line-up might help investors who feel overwhelmed by choice. In a research paper, Maureen Morrin et al. find that too much retirement choice hurts investors. "We argue that choosing from larger fund assortments taxes investors' cognitive resources", the researchers wrote. Surveys by MFS and Prudential had similar findings. In this article, we take a look at Schwab's ETF line-up and recommend it for investors who feel overwhelmed by the wide array of product offerings available on the market.
Market Cap Weighted U.S. Equity ETFs
Schwab offers 11 market cap weighted equity ETFs, eight are focused on U.S. stocks while three are international. Schwab's most popular ETF by assets is the Schwab U.S. Broad Market ETF (NYSEARCA:SCHB). The ETF tracks the Dow Jones U.S. Broad Stock Market Index, which covers 2,500 stocks, nearly all except micro-cap stocks. The ETF charges just 0.03%, that is $3 on every $10,000 invested. No ETF is available at a lower price. For comparison, the Vanguard Total Stock Market ETF (NYSEARCA:VTI) charges 0.05% while the iShares Core S&P Total US Stock Market (NYSEARCA:ITOT) charges 0.03%. Trading commissions and bid-ask spreads need to be factored into any total cost analysis of ETFs. Like all Schwab ETFs, SCHB is on the Schwab ETF OneSource, which means that it trades commission free on the Schwab brokerage platform. Bid-ask spreads on SCHB and ITOT typically average between 0.02 and 0.06%, this compares to 0.01% for VTI.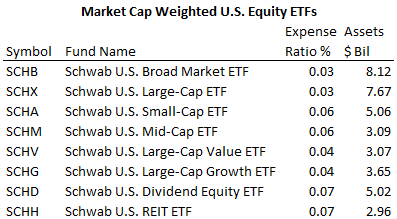 The Schwab U.S. Large-Cap ETF (NYSEARCA:SCHX) covers the largest 750 companies while the Schwab U.S. Small-Cap (NYSEARCA:SCHA) covers the next 1,750. The Schwab U.S. Mid-Cap (NYSEARCA:SCHM) covers the 500 stocks after the largest 500. By design, SCHM overlaps with both SCHX and SCHA so an investor in this ETF needs to be aware of the potential overlap when holding it in combination. The Schwab U.S. Large-Cap Value ETF (NYSEARCA:SCHV) and the Schwab U.S. Large-Cap Growth ETF (NYSEARCA:SCHG) split the large cap index by value and growth styles. Those styles are defined by price/book, forward price/earnings, dividend yield, trailing revenue growth, projected earnings growth, and trailing earnings growth.
At just 0.07%. The Schwab U.S. Dividend Equity ETF (NYSEARCA:SCHD) is the lowest cost dividend-themed, smart beta ETF. I discussed the methodology behind SCHD in this article. The Schwab U.S. REIT ETF (NYSEARCA:SCHH) tracks the Dow Jones U.S. Select REIT Index, an index of approximately 100 U.S. REITs. It's expense ratio of 0.07% is 5 basis points cheaper than the most popular REIT ETF, the Vanguard REIT ETF (NYSEARCA:VNQ). VNQ is somewhat more broad in its inclusion of REITs, holding 156 securities. Note that Schwab's other equity ETFs, such as SCHB, hold REITs so there will be some overlap for investors owning both ETFs.
Market Cap Weighted International Equity ETFs
The Schwab International Equity ETF (NYSEARCA:SCHF) charges just 0.07% and tracks the FTSE Developed ex US Index. This index covers the large and mid-cap stocks from 24 developed market countries, including South Korea and Canada. Because SCHF excludes small caps, it could be paired with the Schwab International Small-Cap Equity (NYSEARCA:SCHC), which tracks the FTSE Developed Small Cap ex-US Liquid Index. SCHF covers stocks that make up 90% of the liquid stock universe while SCHC covers the remaining 10%. The Schwab Emerging Markets Equity ETF (NYSEARCA:SCHE) charges 0.13% for exposure to the FTSE Emerging Index. This index tracks large and mid-cap stocks from 21 emerging market countries. While the index tracks about 978 constituents, the ETF uses representative sampling, so it has 731 constituents.

Fundamentally Weighted Equity ETFs
The Schwab Fundamental U.S. Broad Market Index ETF (NYSEARCA:FNDB), the Schwab Fundamental U.S. Large Company Index ETF (NYSEARCA:FNDX), the Schwab Fundamental U.S. Small Company Index ETF (NYSEARCA:FNDA), the Schwab Fundamental International Large Company Index ETF (NYSEARCA:FNDF), the Schwab Fundamental International Small Company Index ETF (NYSEARCA:FNDC), and the Schwab Fundamental Emerging Markets Large Company Index ETF (NYSEARCA:FNDE) track Russell RAFI indexes. These indexes are constructed by Rob Arnott and his team at Research Affiliates and weight stocks based on three fundamental measures: leverage adjusted sales, retained operating cash flow, and dividends plus stock buybacks. By forgoing market cap weights, these strategies have a dynamic, contrarian rebalancing strategy which naturally sells stocks whose prices have appreciated faster than their fundamentals and vice versa. Each of these three ETFs charge 0.25% except for FNDC and FNDE which charge 0.39% and 0.40%, respectively. While those expense ratios are low, they are not the cheapest among smart beta ETFs.

Fixed Income ETFs
The Schwab U.S. Aggregate Bond ETF (NYSEARCA:SCHZ) tracks the Bloomberg Barclays U.S. Aggregate Bond Index. It's 0.04% expense ratio makes it the cheapest ETF for passive exposure to the U.S. bond market and a basis point or two cheaper than its two main competitors the iShares Core US Aggregate Bond (NYSEARCA:AGG) and the Vanguard Total Bond Market ETF (NYSEARCA:BND). However, SCHZ has much less trading volume than these two other ETFs, leading to wider bid-ask spreads. The Schwab Intermediate-Term U.S. Treasury ETF (NYSEARCA:SCHR) charges 0.06% to track the Bloomberg Barclays U.S.3-10 Year Treasury Bond Index which has a duration of 5 years, about the same as SCHZ. The Schwab Short-Term U.S. Treasury ETF (NYSEARCA:SCHO) tracks Bloomberg Barclays U.S.1-3 Year Treasury Bond Index, charges 0.06% and has a duration of about 2 years. Finally, Schwab U.S. TIPS ETF (NYSEARCA:SCHP) tracks Bloomberg Barclays U.S. Treasury Inflation Protected Securities Index and charges 0.05%. It has a duration of nearly 8 years. While it's expense ratio is less than half of the iShares TIPS Bond (NYSEARCA:TIP), which has the same benchmark, trading volume is lower leading to wider spreads.

In addition to ETFs, Schwab also offers a series of index mutual funds and recently announced that it was cutting fees on these funds. The Schwab S&P 500 Index fund's (MUTF:SWPPX) fee is being cut from 0.09% to 0.03% and cut the fee on the Schwab 1000 Index Fund (MUTF:SNXFX) will fall from 0.29% to 0.05%. In addition, it removed the investment minimum to invest in these funds. However, given the choice, I would much rather invest in Schwab's ETFs than its mutual funds, which are not as tax efficient. Unlike Vanguard, Schwab's ETFs are not a separate share class of the mutual funds. Therefore, their mutual funds do not enjoy the tax efficiency benefits of the ETFs. For example, SNXFX follows a similar group of stocks as the iShares Russell 1000 ETF (NYSEARCA:IWB). However, over the past five years SNXFX's after tax return trails its pretax return by 137 basis points per year compared to just 63 basis points for IWB.
Putting it all together
Last August, Schwab announced the launch of the Schwab Target Index Funds, which are target date mutual funds built off of Schwab ETFs. They illustrate how a complete portfolio can be assembled using Schwab ETFs. For example, the Schwab Target 2035 Index Fund - Investor Shares (MUTF:SWXFX) invests in 7 Schwab ETFs. They have an all in expense ratio of just 0.13%.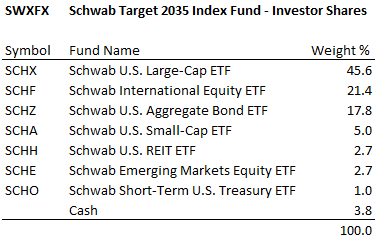 Conclusion
There are nearly 2,000 ETFs available on the market. Blackrock iShares offers over 330 ETFs and even Vanguard has 70. All that choice can lead to confusion and unnecessary complexity. Schwab has a small number of no-frills ETFs. They are all low cost and diversified and should provide a boring user experience for any investor and sometimes, boring is beautiful.
Disclosure: I/we have no positions in any stocks mentioned, and no plans to initiate any positions within the next 72 hours.
I wrote this article myself, and it expresses my own opinions. I am not receiving compensation for it (other than from Seeking Alpha). I have no business relationship with any company whose stock is mentioned in this article.