This article is a follow-up to my previous "BDC Pricing Articles" discussing methods to assess relative risk and dividend coverage, which are necessary for valuing business development companies ("BDCs"). Most retail investors do not have access to research that properly measures risk and dividend coverage for BDCs and this series is my attempt to help BDC investors price investments in a sector that is notoriously opaque. BDC stock prices can be volatile, providing opportunities for investors that have identified proper values based on risk and potential dividend returns.
Previous articles in this series:
Throughout this series of articles, I have discussed assessing relative risk and dividend coverage, which are primarily responsible for driving a wide range of values for BDCs. It is important to realize that BDCs do not report consistently, so investors need to look beyond changes to net asset value ("NAV") per share and dividend coverage from reported net investment income ("NII").
Yield-Based Pricing for BDCs:
This method of pricing for BDCs is partially formulaic and based on the combination of two key measures: potential risk (discussed in Part 3) and upcoming dividend coverage (discussed in Part 2). I also take into account the yield spreads between BDCs and other investments including corporate public debt ratings B and CCC or below (discussed in Part 4). Yield spreads are important to monitor as they can indicate when a basket of investments is overbought or oversold relative to other yield-related investments. However, it is also important to point that these spreads change over time depending on perception of risk and that these are only averages that then need to be assigned a range for assessing individual investments/BDCs.
Establishing a Range of Yields for BDCs:
I try to keep most of my articles "out of the weeds" and less academic, but pricing for BDCs is complex with a wide range of quality among companies that drives a wide range of values. Initially, I start with a baseline average yield that is driven by various comparable investment spreads discussed in Part 4. Then I use a spreadsheet to calculate the "standard deviation" or [σ] of the current yields to develop an appropriate range. The following diagram shows a typical "bell curve" or normal distribution of results, with 95% represented within 2 standard deviations of the mean.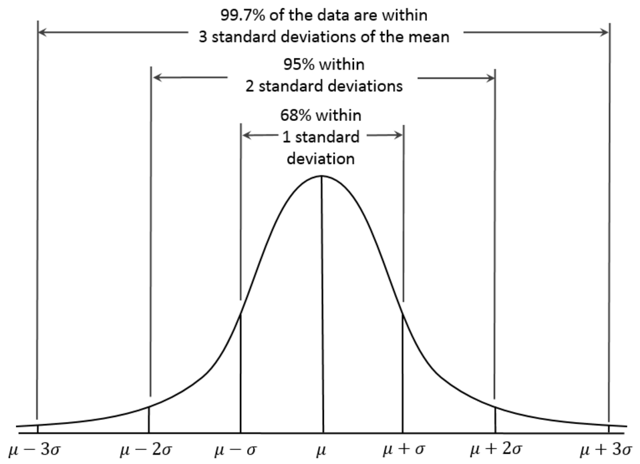 The current average BDC yield is around 9.6% with a standard deviation [σ] of around 1.75%. I use 1.5 σ to come up with a range that should accommodate almost 90% of all BDCs, which calculates to yields between 7.0% and 12.2% as shown in the diagram below.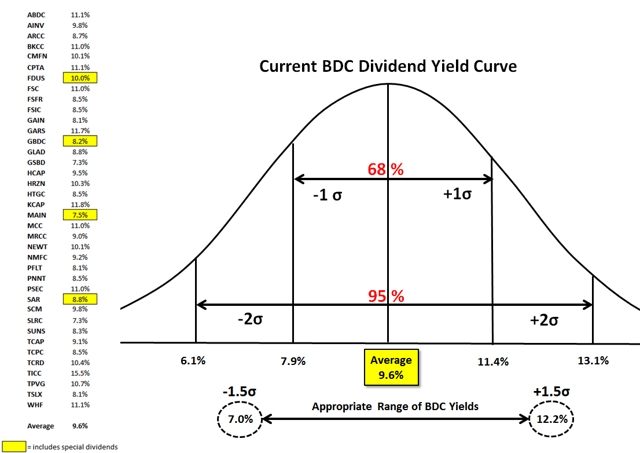 Assigning a Range of Yields for BDCs:
Once I have established an appropriate yield range for BDCs, I assign a corresponding yield to each BDC using rankings of risk and dividend coverage. However, as discussed throughout this series, risk and dividend coverage are very interrelated on many levels. BDCs with lower dividend coverage are more likely to "reach for yield" and/or grow the portfolio during frothy lending periods, taking on increased risk. Please see the following articles in my "The Need to Reach for Yield: BDC Risk Profiles" series:
Riskier portfolios eventually have higher credit issues that drive lower earnings and dividend cuts. Credit issues also drive lower net asset value per share, which is critical for BDCs that use higher amounts leverage due to the requirements for BDCs to have a 200% asset coverage ratio as defined in the 1940 Act. This roughly equates to a 1:1 debt-to-equity ratio for most BDCs. Keep in mind that "net asset value" is the equity of the company.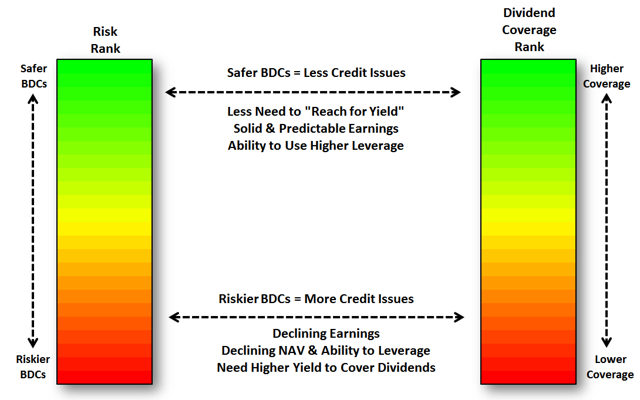 Fifth Street Finance (FSC) and Medley Capital (NYSE:MCC) are excellent examples of BDCs that were reaching for yield and through my vintage analysis discussed in Part 3, I was able to determine that these companies had riskier profiles. Also, these companies were actively growing the portfolio during covenant-light and borrower-friendly periods. Please see the vintage analysis discussion in Part 3 for details as well as my previous articles warning investors:
Please read the comments in the articles linked above as many of them were critical of the information being presented and provide examples of what to look out for when investing in BDCs. FSC has cut its dividend three times over the last few years and credit issues have been driving lower net investment income, dividend coverage, NAV and stock price.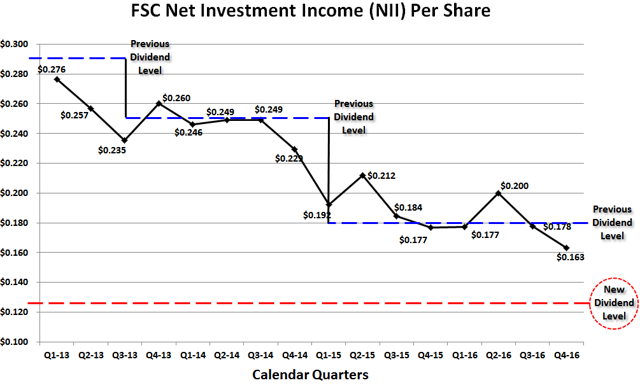 After assessing risk rankings and dividend coverage potential, I assign an appropriate yield to each BDC relative to its peers, which correlates to an appropriate price.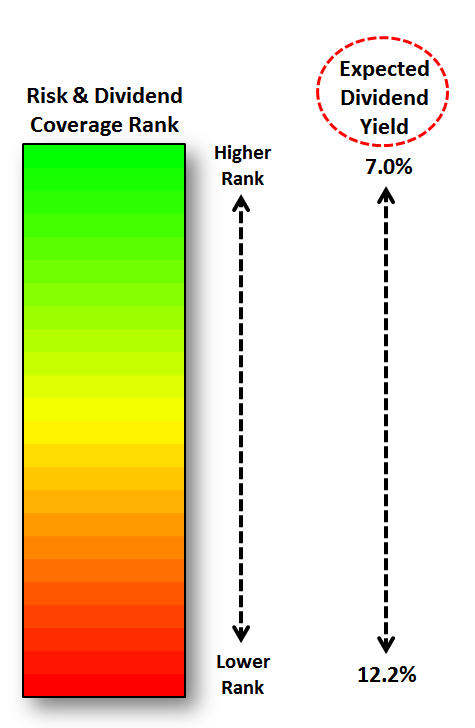 Lower Yielding BDCs:
It is important to note that there are many BDCs not priced appropriately which means that they could have inappropriate yields relative to the amount risk associated with the investment.
Currently, the lower yielding BDCs include: Goldman Sachs BDC (NYSE:GSBD), Solar Capital (NASDAQ:SLRC), Solar Senior Capital (NASDAQ:SUNS), Main Street Capital (NYSE:MAIN), TCP Capital (NASDAQ:TCPC), Golub Capital BDC (NASDAQ:GBDC), TPG Specialty Lending (NYSE:TSLX), PennantPark Floating Rate Capital (NASDAQ:PFLT), Gladstone Investment (NASDAQ:GAIN), Hercules Capital (NASDAQ:HTGC), FS Investment Corporation (NYSE:FSIC), PennantPark Investment (NASDAQ:PNNT) and Fifth Street Senior Floating Rate (FSFR).
Most of these are considered "safer" BDCs with some exceptions. PNNT and FSFR recently reduced dividends contributing to their currently lower yields. It should also be noted that at least two of these BDCs are likely to increase dividend in 2017 and a few others will likely begin to pay special dividends due to growing spillover/undistributed income.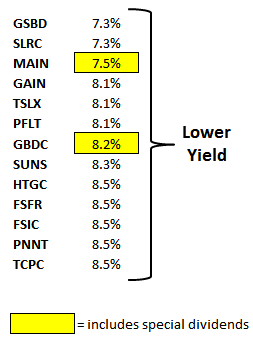 Average Yielding BDCs:
BDCs with yields with average yields include: Ares Capital (NASDAQ:ARCC), Saratoga Investment (NYSE:SAR), Gladstone Capital (NASDAQ:GLAD), Monroe Capital (NASDAQ:MRCC), Triangle Capital (NYSE:TCAP), New Mountain Finance (NYSE:NMFC), Harvest Capital Credit (NASDAQ:HCAP), Apollo Investment (NASDAQ:AINV), Stellus Capital Investment (NYSE:SCM), Fidus Investment (NASDAQ:FDUS), CM Finance (NASDAQ:CMFN), Newtek Business Services (NASDAQ:NEWT), Horizon Technology Finance (NASDAQ:HRZN) and THL Credit (NASDAQ:TCRD).
Many of these BDCs are currently transitioning their portfolios to safer assets and a handful have recently cut dividends in anticipation of lower portfolio yields (from safer assets) including TCAP, AINV, HRZN and TCRD.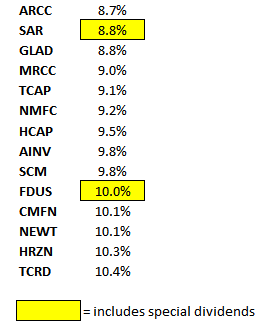 Higher Yielding BDCs:
There are 10 BDCs with yields around 11% to 12% including FSC, MCC, TriplePoint Venture Growth (NYSE:TPVG), BlackRock Capital Investment (NASDAQ:BKCC), Prospect Capital (NASDAQ:PSEC), Capitala Finance (NASDAQ:CPTA), Alcentra Capital Corporation (NASDAQ:ABDC), WhiteHorse Finance (NASDAQ:WHF), Garrison Capital (NASDAQ:GARS) and KCAP Financial (NASDAQ:KCAP).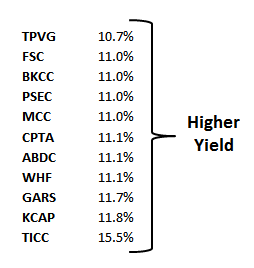 FSC, MCC, CPTA, GARS and KCAP have all cut dividends recently. There is a chance that some of the others could cut dividends this year, including BKCC and TICC Capital (TICC), as well as a few others including those that are actively rotating the portfolio into higher yield investments. As mentioned earlier, many BDCs have been experiencing increased credit issues and others could begin to see additional non-accruals in 2017. BDCs that can safely cover dividends during worst case and lower yield scenarios have many advantages over other BDCs including being more selective with investments.
BDCs have started to report calendar Q4 results and it is important for investors to "read between the lines" and listen to earnings calls looking for the trends related to risk and dividend coverage discussed in Part 2 of this series. For all previous articles on potential equity offerings and the timing of BDC purchases, dividend coverage potential, risk rankings, interest rate discussion, expense ratios, suggested BDC portfolios, my upcoming/historical purchases and current positions, please see "Index to Articles." In the remaining articles in this series, I will cover:
BDC pricing based on multiples and total returns
Target pricing ranges for BDCs
Limit orders and timing
To be a successful BDC investor:
Identify BDCs that fit your risk profile (there are over 50 publicly traded BDCs, please be selective)
Diversify your BDC portfolio with at least 5 companies
Establish appropriate price targets based on relative risk and returns (mostly from dividends)
Be ready to make purchases during market volatility and look for opportunistic buying points
Closely monitor your BDCs, including dividend coverage potential and portfolio credit quality
Personal note: I have updated my positions to reflect changes in my holdings, but please keep in mind that some of the positions are very small and mostly for research purposes. There are over 50 publicly traded BDCs and I try to cover as many as possible but I do not have the bandwidth to include each company for each article.
Disclosure: I am/we are long ABDC, ACSF, AINV, ARCC, BKCC, FDUS, FSC, FSFR, FSIC, GAIN, GARS, GBDC, GLAD, GSBD, HCAP, HTGC, MAIN, MCC, MRCC, MVC, NMFC, PFLT, PNNT, PSEC, SAR, SCM, SLRC, SUNS, SVVC, TCAP, TCPC, TPVG, TSLX, WHF.
I wrote this article myself, and it expresses my own opinions. I am not receiving compensation for it (other than from Seeking Alpha). I have no business relationship with any company whose stock is mentioned in this article.