Well folks, this is what low volatility regime feels like and we are still only eight months into it notwithstanding some very short spikes in September and November. VIX index closed below 11 for the third week in a row and there is nothing on the horizon to change market's perception of risk.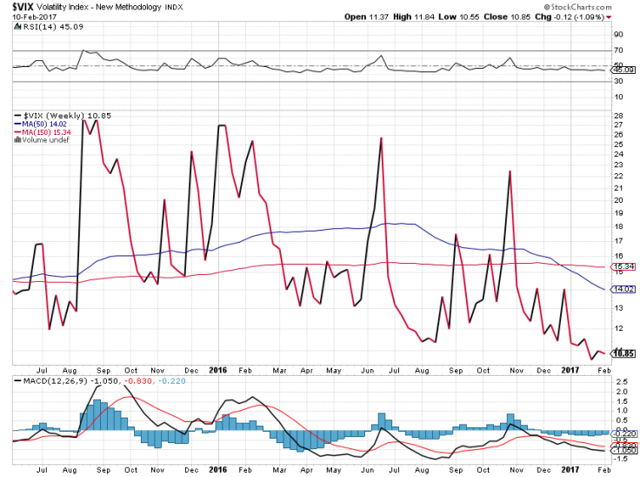 Realized volatility continues to be at historically unprecedented levels with S&P 500 not registering a down day of more than 1% for 84 trading days. I would be surprised if anyone long volatility still has any capital left. I've steadfastly warned all my readers since the inception of this blog that there was no reason to be long volatility as long as markets remain dull and slowly trending higher as has been the case since early December.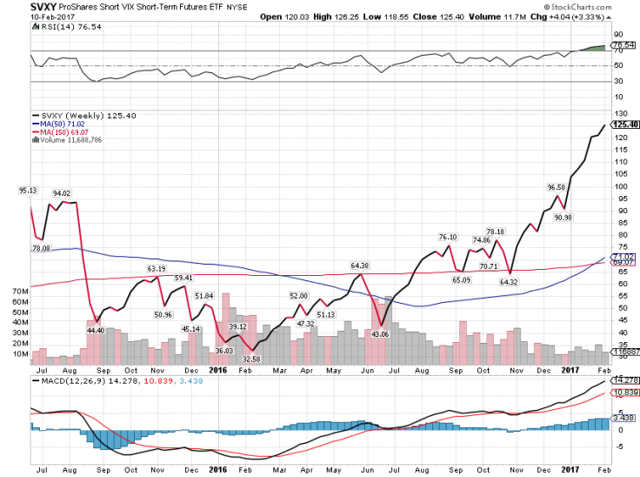 SVXY has nearly doubled since the end of October at the same time as VIX index has averaged less than 13 over the same period of time. Roll yield has handsomely rewarded SVXY and XIV holders, however, it's getting more and more risky to stay short volatility simply due to second-month futures now trading in low-mid 13s and 30-day synthetic in low 13s.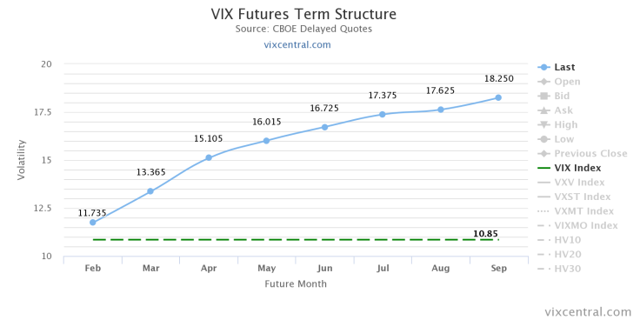 I have sold another small batch of $130 calls expiring in 2018 and will continue to slowly bring my account's overall delta closer to zero as/if SVXY moves higher over the next several weeks. It's possible that 30-day synthetic moves into 12s where it stayed for the majority of 2005 and 2006 and I can't dismiss the possibility of that occurring again, especially as realized volatility is at historically low levels.
Positions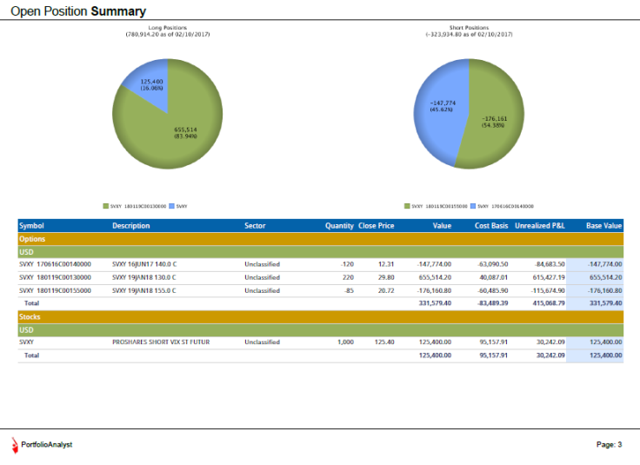 The million dollar question is whether this dull action continues in the face of major political uncertainty. So far, equity markets have shown very little concern for anything that's happening outside of economic and earnings news and I'm a firm believer that today's S&P 500 price includes all present and known worries. Therefore, in order to shake up markets some unexpected events have to take place and those events must be viewed as paradigm changers to bring back volatility.
All indicators that I follow remain very positive. NYSE cumulative advance-decline registered a new high, percentage of NYSE stocks above 200-day moving average also just printed a new 2017 high and Russell 2000 joined all other major indices by registering highest ever weekly close. There is a slight divergence with Transports fractionally below 2017 high and with the percentage of NYSE stocks above 50-day a bit soft and unable to penetrate 80 level.
Interest-sensitive sectors participated in the rally this week as bond yields dropped. I have stated in my November and December articles that a strong rise in bond yields would be net negative for equity valuations. I also stated numerous times that there are several conflicting secular and cyclical trends that make it difficult to predict mid-term direction of inflation and therefore bond yields. I'm still firmly in the camp that technological advances and demographic changes are dis-inflationary, however, I'm noting tight labor markets in the US and rising commodity prices around the world, which may temporarily push inflation higher.
Account performance YTD: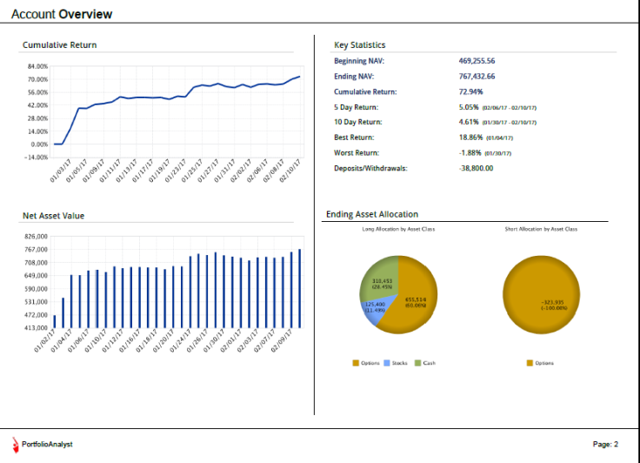 To sum it up, SVXY set another record high buoyed by the third weekly VIX index close below 11. In particular, on Friday VIX index never traded above 11 and I've seen research showing that such a setup would result in an average 13% move higher in the index over the next five trading days.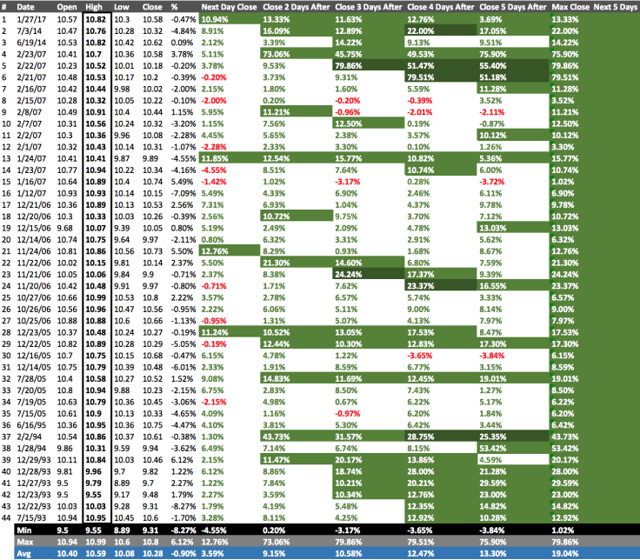 Unfortunately for volatility longs even a 13% move higher in VIX index would take it to around 12.20, which is almost a full point below where 30-day synthetic is currently trading. I noted last week that I see upside risks to my $105-135 range projection for SVXY for the next two months. I'm still sticking with this forecast as my base case scenario, although the chances of SVXY overshooting $135 level are now quite strong.
Disclosure: I am/we are long SVXY.
I wrote this article myself, and it expresses my own opinions. I am not receiving compensation for it. I have no business relationship with any company whose stock is mentioned in this article.