Seymour Schulich has recently purchased another 26 million shares of Pengrowth Energy (NYSE:PGH). He has confirmed that he now owns 80 million shares of the stock.
"While we expect Pengrowth shares to react positively to the news, the company has already set a sub-maintenance capex budget in 2016, eliminated its dividend and continues to pursue non-core asset sales to address $1 billion in upcoming debt maturities," he pointed out.
The above paragraph was an additional quote from Analyst Shailender Randhawa of RBC Dominion Securities in the same article announcing the share purchases. For some time the company has warned of potential covenant violations. In addition a possibly related article headline cites a possible asset sale. This second article has no confirmation at this time from any of the interested parties.
The first article also notes that Seymour Schulich is quite possibly pursuing a seat on the company board. Since a board member just resigned for health reasons, there is a board seat that would be conveniently available. If this is true, it may indicate a lack of satisfaction with management's current performance. So while Mr. Schulich appears to like the future of PGH, he may want to adjust the attitude of management and the immediate direction of the company.
Management has gotten dangerously close to some financial deadlines and potential covenant violations. A good rule of thumb is to resolve the financial issues two years ahead of time. So while the last two years have not been ideal, companies such as Penn West (PWE) and Paramount Resources (OTCPK:PRMRF) managed to extricate themselves from far worse situations than this company is facing. So there is really no reason for delay in reaching a financial solution. The stock has been pummeled by the lack of financial clarity. The low cash flow from operations is not helping either. So the stock is likely to be unable to sustain a rally until the financial situation clears up quite a bit.
The presence of a shareholder such as Mr. Schulich giving the company a vote of confidence by purchasing more shares may cause some shareholders to relax. But the company's management needs to turn around its financial and operating situation enough to inspire market confidence. The current stock price reflects the agonizingly slow management place of meeting the company's current challenges.
The company emphasis on thermal oil does not inspire a lot of confidence in a profitable future. Management really needs to explain the lack of exploration of its light oil properties. Many of these have the potential to be low-cost operations.
Yet the emphasis of the capital budget is on the thermal oil which has a relatively high breakeven cost. This division has really not produced a profit for the company ever. However, the cash flow from the project is building. For a company needing cash flow that could be an advantage even if the thermal oil is only profitable above roughly WTI $46. Thermal oil typically sells at a discount and has much higher production costs than some of the superior light oil projects. That can be a very deadly combination if commodity prices sustain a significant price decrease in the future.
The unconventional oil industry appears to be making some major strides in lowering the cost of producing "shale oil" or oil from tight formations. This is increasing the supply of oil at lower price points. Thermal oil does not appear to be keeping up with this cost lowering trend.
Expanding the first phase of the thermal oil production appears to be an acceptably profitable project. But the financial justification for any part of phase two is scant at best. This company does not have the ability to raise the C$600 million or more needed for the phase two expansion. Plus even though there have been considerable cost savings announced for Phase 2, management has not yet dropped the breakeven enough to make a second project worthwhile.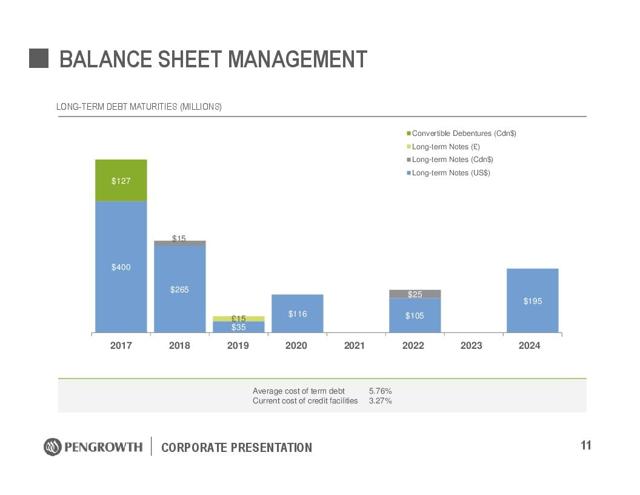 Source: Pengrowth Energy January, 2017 Corporate Presentation
In addition to the operational challenges, the company has the very unfavorable debt maturity schedule shown above. It clearly has enough money for the debt maturing very soon. The majority of the maturing debt will occur in late summer, and there is almost enough cash to retire that debt also. The key problem remains some covenants on the remaining debt.
So the company must either sell assets to retire enough of that debt so that the covenants are not a problem, or it must increase cash flow. Right now, increasing cash flow is problematic as there does not current appear to be enough cash flow to pay the debt and expand production sufficiently to be certain of satisfying the covenants.
Investors need to remember that Seymour Schulich is probably going to invest in this company for the long term. He may trade some and hedge to protect his investment. He invests sums of money that take a while to build positions or even longer to sell. So he is very unlikely to trade in and out of stocks with such a large position. The average investor is more agile. Since the first article was written on this stock, the stock has generally declined. However, there has been enough volatility that an agile trader could make money being either short or long on the stock.
Most likely this stock will resolve the immediate financial crisis in the near term. Seymour Schulich would not be buying more stock if he did not think so and that is definitely good enough for me. However, solving the financial crisis is not the same as restoring the historical production growth paths and historical profitability levels. Restoring production growth may take time. The presence of a major and substantial stockholder indicates that the business should turn around, but the time frame could exceed the horizons of many investors. Current management does not appear to move very fast. So investors may be very well served by waiting for some significant cash flow growth from operations before initiating a position.
Since Mr. Schulich increased his position, there is a good chance that both a "buy and hold" strategy as well as a "dollar cost averaging" strategy could work out well for an individual shareholder. The interests of Mr. Schulich are clearly aligned with the individual shareholders. Plus his holdings in the company ensure that he commands the attention of management. The stock currently reflects the challenges of management without management providing a very public solution. Hopefully Mr. Schulich can apply pressure to correct that situation in a satisfactory manner.
But should Mr. Schulich turn out to be correct, the capital gains could be substantial. Investors who follow Mr. Schulich into an investment in Pengrowth Energy could pick a far worse strategy than that. Mr. Schulich has identified the company as being undervalued at the current time. A vote of confidence from an investor like him definitely increases the chances of a profitable investment success. Investors like him typically set a goal for investment grade stocks to at least double over a five-year period. A risky stock such as Pengrowth Energy should do much better.
The risks include the possibility of a sustained commodity price decline. Or management could allow a covenant breach with all the attendant financial consequences. More likely this management will finally begin the process of selling its way out of the current crisis. There appears to be an above-average execution risk. As noted before, this company has some dated comparisons in its presentation. Management could acquire a lot more market respect by using more current data in the company presentation than it presently does. Management may not have current knowledge of some key aspects of shale oil operations that cause it to report some fairly high proposed costs.
So while there are still some very substantial risks and a very unfavorable debt maturity structure, there is a substantial vote for a successful outcome.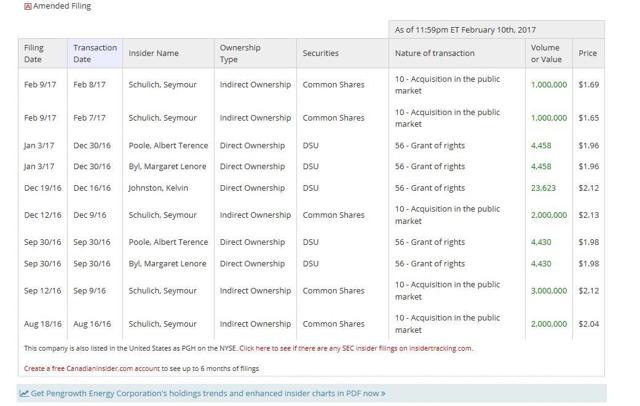 Source: Canadianinsider.com February 10, 2017
Interestingly, while Mr. Schulich is clearly and enthusiastically adding to his holdings, other key insiders do not appear to be following that move in a material way. This could be a warning to potential investors that the ride could be off to a bumpy start at first. So dollar cost averaging may be the best strategy. Plus this investment would be best as part of a basket of speculative stocks. It probably should not be the largest position either until more key senior managers have a clear attitude change about purchasing shares of stock. It is very clear that this stock is only for investors with a very strong stomach.
Disclaimer: I am not an investment advisor and this is not a recommendation to buy or sell a security. Investors are recommended to read all of the company's filings and press releases as well as do their own research to determine if the company fits their own investment objectives and risk portfolios.
Disclosure: I/we have no positions in any stocks mentioned, and no plans to initiate any positions within the next 72 hours.
I wrote this article myself, and it expresses my own opinions. I am not receiving compensation for it (other than from Seeking Alpha). I have no business relationship with any company whose stock is mentioned in this article.
Editor's Note: This article discusses one or more securities that do not trade on a major U.S. exchange. Please be aware of the risks associated with these stocks.