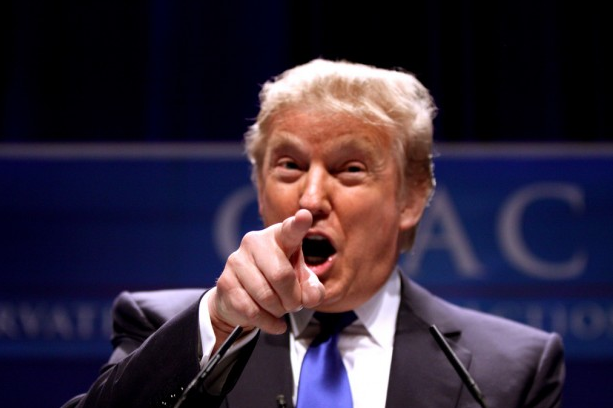 He's pointing at the federal corporate income tax rates.
One of the reasons that's put forward for the current market rally is the Trump corporate tax plan. Namely, Trump's stated intent to aggressively bring down corporate taxes in the US. Currently, federal taxes on corporate income in the US stand at 35%. Trump's original promise was to bring these down to 15%.
Arguably, such a massive move if taken at face value could add as much as 20% to the aggregate value of all stocks, since they'd get to keep a further 20% of their profits. However, several things need to be said right off the bat:
This only takes into account the positive effect of one of Trump's promises. It neglects to consider the possible effect of an associated increase in protectionism, namely through the introduction of a border tax. A border tax would be particularly impactful on large importers. And that would be just the first order effect. As a second order, one would have to consider retaliation from trade partners, which would also be considerable since the S&P companies derive a large part of their revenues and profits from foreign markets.
This also ignores sectoral impacts, such as likely changes to ACA (Obamacare) and other attempts to lower drug pricing. This can have a large impact on the healthcare sector.
Moreover, the original promise still has to go through negotiation even within the Republican Party. First indications are that the tax would be lowered to ~20-25% instead of 15%.
And finally - and this is what this article most concerns itself with - the nominal 35% tax rate doesn't find that many takers. Instead, the concept of an effective tax rate is more useful.
Effective Tax Rates
US corporations - especially the kind of large multinationals, which are the components in the main market indexes - don't actually pay 35% federal tax rates. For instance, this exercise is for the Dow Jones components: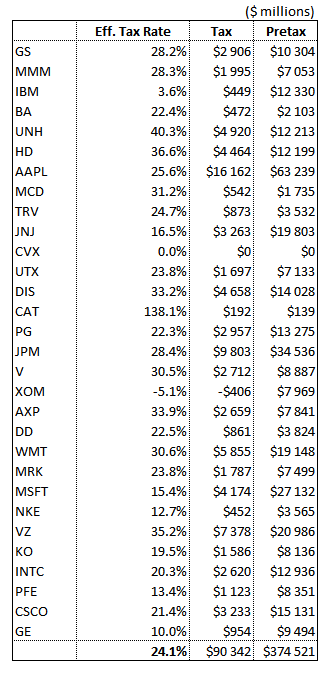 Source: My own work, based on company filings and EPS estimates where a full year wasn't recently published
As we can see, the average tax rate (using actual pretax and tax numbers - not an average of the tax rates above) for the Dow Jones is ~24.1%. That's already significantly below the 35% federal tax rate. But it doesn't stop there. This effective tax rate already includes the impact from state taxes as well.
Indeed, on a broader scale and using 2 Federal Reserve measures (federal taxes on corporate profits and corporate profits before tax), we come to a similar conclusion: The average effective federal tax rate stands at ~20.7%. Other calculations would put it lower still.
Already, we're at tax rates which aren't too distant from those being negotiated within the Republican Party. It doesn't stop here.
We should also consider Trump's drive towards simplification. If tax rules are simplified, a lot of the loopholes which presently allow for this massive tax planning will certainly be gone. If they're gone, the ability to lower taxes goes with them. Thus, a hypothetical 20% federal tax rate will be met by a much closer effective tax rate.
Finally, one other thing comes from the observation of my Dow Jones table above: Tax rates vary significantly from company to company. A main reason for this is that companies spanning the world have many more opportunities for tax planning, leading to things like the "Double Irish with a Dutch Sandwich." It's thus not a surprise that:
Effective tax rates are lower for multinationals like International Business Machines (NYSE:IBM), Johnson & Johnson (NYSE:JNJ), Procter & Gamble (NYSE:PG), Microsoft (NASDAQ:MSFT), Nike (NYSE:NKE), Coca-Cola (NYSE:KO), Pfizer (NYSE:PFE), Cisco (NASDAQ:CSCO) or General Electric (NYSE:GE).
Purely domestic companies would thus likely be most favored by a large cut in Federal tax rates. However, even here caution is warranted, since some of them might be impacted by other factors, like ACA changes (UnitedHealth) or a border tax (Wal-Mart).
Conclusion
What we can conclude from this exercise is that while a large cut in federal corporate income taxes is a positive for many stocks, the impact isn't as large as the headline cut would have it. Effective federal corporate income taxes are already significantly below the headline number. A further cut seems likely to provide just another 5% or so relief, if that (considering that it would only apply to the share of profits that's still being hit by the federal tax rate, and where simplification could hit the large slice that isn't subjected to it).
Also, there are many other possible effects to consider which can affect specific sectors very negatively, or even affect the entire market (trade wars). And the positive effect from any large cut would also affect companies very differently depending on whether they rely on the US for most of their income or not.
Overall, the Trump federal corporate tax cut seems like it's being hyped well beyond its actual potential impact on valuations.
Disclosure: I/we have no positions in any stocks mentioned, and no plans to initiate any positions within the next 72 hours.
I wrote this article myself, and it expresses my own opinions. I am not receiving compensation for it (other than from Seeking Alpha). I have no business relationship with any company whose stock is mentioned in this article.