Gold (GLD, GDX) is looking to continue its 2017 streak of gains in this upcoming week of trading. Right now, the current uptrend is playing a balancing act with more positive news entering the market, such as an imminent plan for corporate tax cuts, which, in turn, boosts corporate earnings, and deregulation for big banks, which complements the Federal Reserve raising short-term interest rates. From gauging investor sentiment, there is reluctance to let go of gold hedges, with GLD being one of the best financial instruments to use, but investors should take note of the potentially positive economic factors currently developing.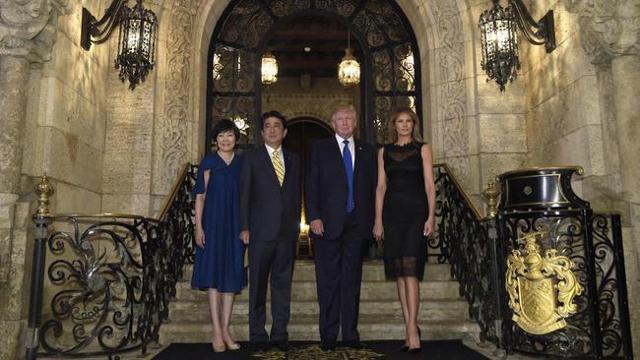 Source: Chicago Tribune
Watching Trump Activity
A large amount of flow this week will continue to be proactive and reactive around President Trump's actions, such as executive orders, and, of course, tweets. With his remarks during a press conference Friday with Prime Minister Shinzo Abe bringing to center stage that a plan for tax reform is on its way and should be available to the public relatively soon, investors have to expect that a major proposal will be brought forth that could reshape the potential level of corporate earnings. Right now, it's looking as though Q4 2016 earnings reports will show earnings up about 7%, which while immensely positive, will be relatively small to what a large corporate tax cut would bring.
What tax cuts would bring to the table for corporations is lower valuations and the potential for stock prices to run up higher, although in a justified manner. In today's session, we are seeing the Dow Jones (DJIA), the S&P 500 (NYSEARCA:SPY), and the Nasdaq (NASDAQ:QQQ) all hit record highs, again, and many investors are wondering if the market is pricing in things that haven't happened yet, such as the tax cuts and Dodd-Frank rollbacks. As you can see below, forward-looking earnings have relatively underperformed the rise of major market averages, which means that there is an overshoot in investor optimism.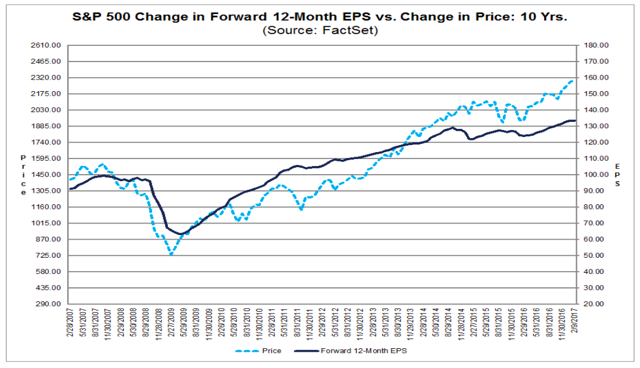 Source: FactSet
That optimism is rather interesting because we're seeing GLD higher YTD by 5.42% already. So, perhaps some investors have taken note of the optimism and have built a hedge not only against political uncertainties, but against the possibility of Dodd-Frank reform, tax cuts and deregulation. From the individual consumer's perspective, a lower marginal tax rate would mean more consumption in the economy. So, on that basis, GLD would see strong outflows as the opportunity cost of holding gold would be higher and that more risk can be afforded; thus, this lends support to higher levels in the equity markets.
The Hedge Still Makes Sense
However, I largely believe it's still appropriate to keep the gold hedge on because not all of the headlines are as positive as lower corporate tax rates to boost corporate earnings. There are still a large amount of political uncertainties and negatively-viewed actions, such as the immigration ban, and as a result, gold has continued its uptrend are pulling back earlier this month. In today's trading, we're seeing gold trade down as the equity markets reach new all-time highs and investors at home have to wonder what's driving this.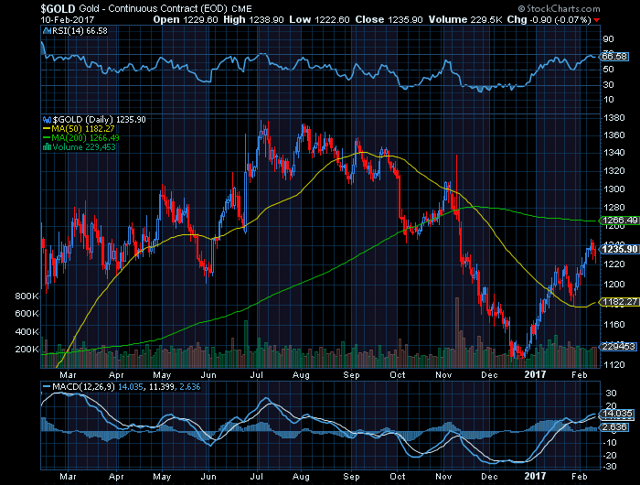 Source: StockCharts
Should the more positive headlines continue to bear fruit, the U.S. dollar should start to rally. This would spur an outflow from long gold futures and into more risk-appropriate investments. We saw the dollar all last week appreciate, something that was countertrend to the January slide. In today's session, the dollar is climbing higher, past the 100 spot level. What's interesting about this week-long trend is that it comes in direct opposition to the January slide from multi-year highs to below the 100 level. That kind of a reversal tells me that investors are expecting a lot of positive changes to the economy, specifically that tax cuts will happen and that Dodd-Frank reform will come in a large manner. The only unknown, to them, is the timeline to implementation.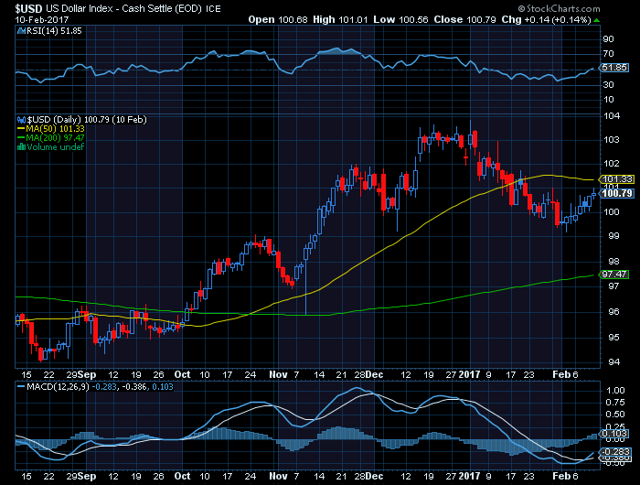 Source: StockCharts
However, there's a third factor that directly plays into the price of gold and that is the testimony tomorrow of Federal Reserve Chairwoman Janet Yellen. I've heard a lot of different inputs as to what she will say and whether or not a rate hike will be on the table at the March FOMC meeting, however I believe a continuance, a reiteration rather, of her statements made back in December will occur. I do believe there is an amble basis to hike in March, however larger policy events need to materialize, notably tax cuts and Dodd-Frank reform before a streak of rate hikes can become commonplace.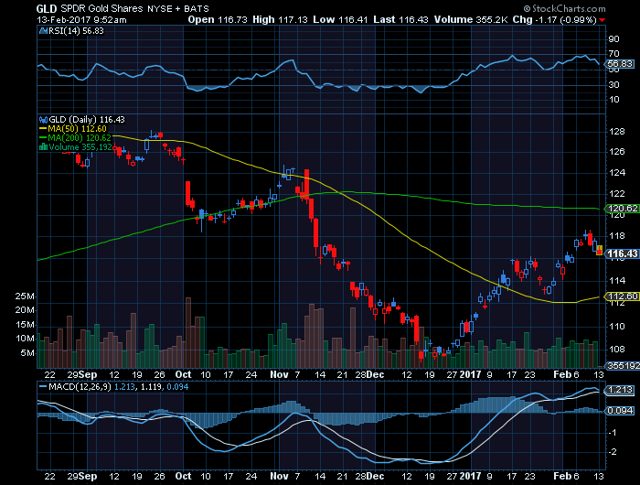 Source: StockCharts
Thus, for holders of GLD, or counterparts GDX and IAU, we're seeing momentum in the long trade pull back. While it can be restored at any moment, the uptrend seen in the last seven or eight weeks may finally have reached a crossroads. While all of the pressure remains on the new administration to implement major economic reform and reflate the economy as a whole, GLD's potential to repeat the previous trend is looking improbable. I'd expect the short-term, maybe the next two to three weeks, to show us a 120 top in GLD, with the downside down to 110.
Conclusion
There's a lot to balance right now if you're a gold trader or using gold as a hedge against a diversified basket of holdings. There is a heavy amount of optimism in the markets, but it is rooted in the expectation that major reflationary actions will materialize. While put options may be appropriate on the major equity averages, gold represents an interesting hedge option because the timeline to implementation on these potential reforms is highly uncertain. The hedge, to me, still makes sense, thus I don't see gold free falling in the short-term, but the presence of optimism makes me inclined to believe that very short-term upside is limited.
Disclosure: I/we have no positions in any stocks mentioned, but may initiate a long position in GLD over the next 72 hours.
I wrote this article myself, and it expresses my own opinions. I am not receiving compensation for it (other than from Seeking Alpha). I have no business relationship with any company whose stock is mentioned in this article.