As we gear up for Weight Watchers' (NYSE:WTW) much awaited Q4 2016 earnings, and more importantly its FY17 earnings and revenue outlook, I put together one last piece before late February results are released.
This weekend, I re-reading Morgan Stanley's mid December downgrade and $8 price target and couldn't believe that Morgan Stanley's leading argument to justify its aggressive downgrade was looking at Google Trends charts. Although I don't dispute Morgan Stanley's ability to type in the search term Weight Watchers and then hit enter, this is not a great data point for two reasons: Google Trends searches aren't a good predictor of future stock prices and they didn't graph Google Trends vs. Weight Watchers' stock price over that time period, as valuation matters.
Enclosed below is a Google Trends search for the U.S., over a five year period.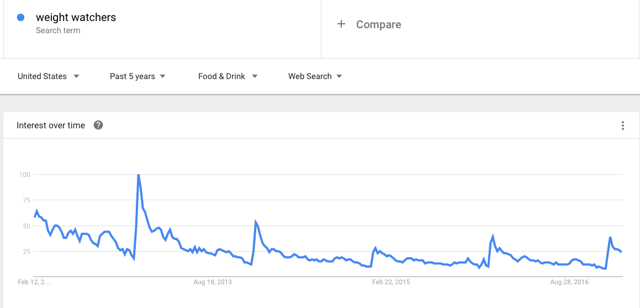 If Google Trends was such a great stock price predictor then why is Fitbit's (NYSE:FIT) stock at an all time low despite its impressive Google Trends search results?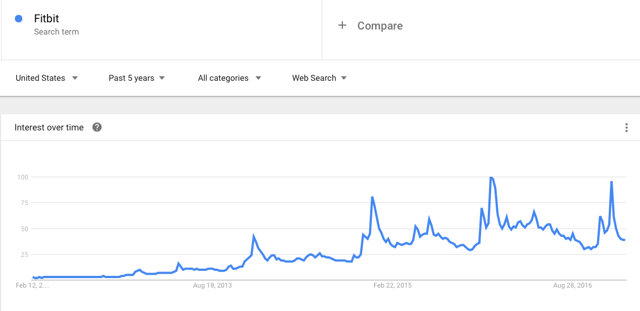 Next let's look at Fitbit's stock price measured over the past five years. Fitbit's Google Trends popularity has exploded, yet its stock is at an all time low.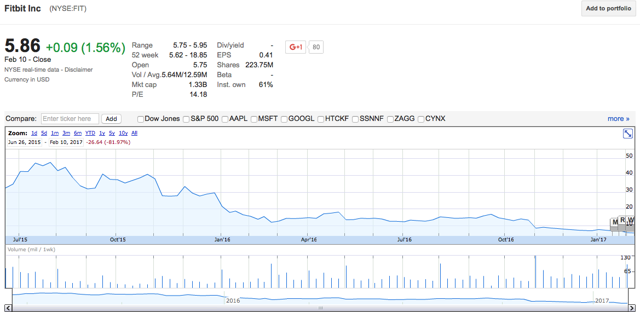 Source: Google Finance
Incidentally, Morgan Stanley was super bullish on Fitbit and on September 8, 2015 upgraded shares from equal weight to overweight and assigned a $58 price target. Perhaps, it is easier to wear rose colored glasses when you can win lucrative investment banking revenues by leading a secondary offering.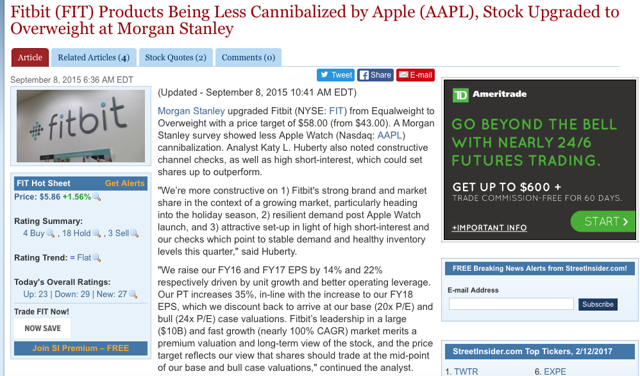 Source: Business Insider (9/8/15)
Point #2
I was able to download historical stock price data for Weight Watchers using Yahoo Finance. Enclosed below please find this data in table and graphical form.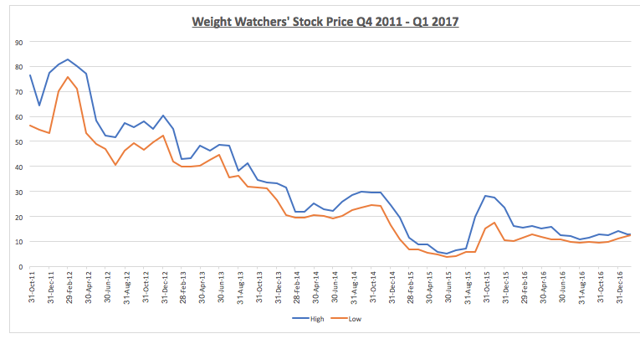 Here are the quarterly prices from Q4 2011 - February 10, 2017.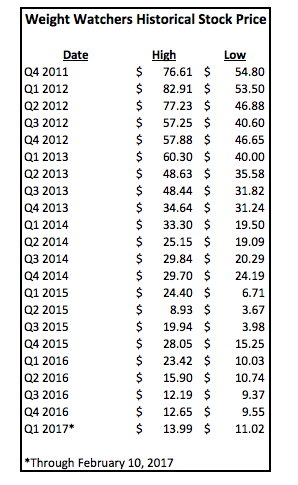 Enclosed below, we see that Weight Watchers' short interest was 18.6 million shares, as of January 31, 2017. This is the second highest short interest in WTW's history. I sure hope hedge funds have a better thesis than Google Trends data.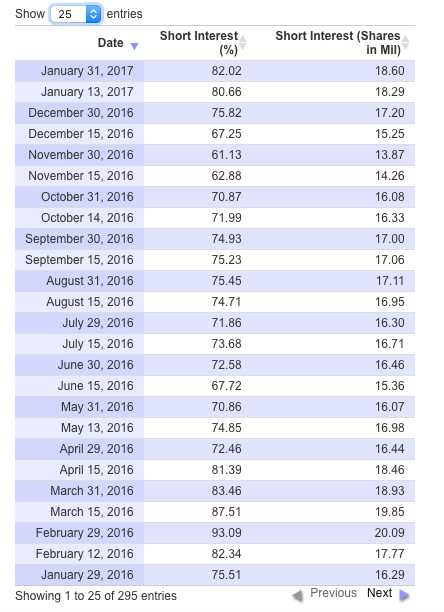 Source: Guru Focus
Here are the holders list as of December 31, 2016. Lo and behold, as I argued in my December 29, 2016 piece: My Spidey Sense Suggests That Shorts Are Nervous, I hypothesized that Fidelity wouldn't sell any shares on the December 22nd pop from $11 to $12.5. The Bloomberg data below confirms my strong suspicions, as William Danoff manages way too much money to worry about trading shares of WTW for 20% moves.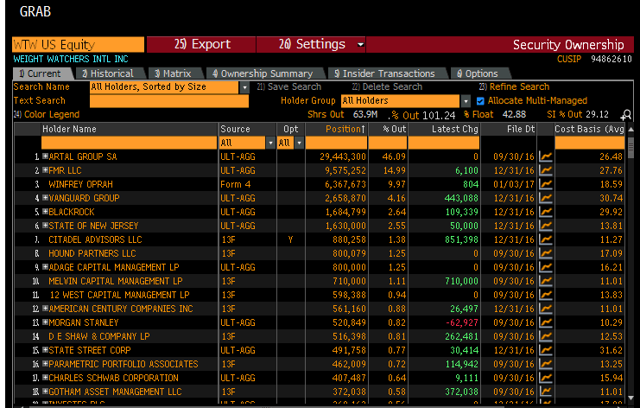 Takeaway
With 18.6 million shares short and assuming Fidelity, Vanguard, Blackrock, and the New Jersey pension fund are long term holders, at least at stock price levels, (as those four collectively own 14.5 million shares) then by my math, Weight Watchers true float is less than 14 million shares, as Artal and Oprah are long term holders.
Therefore, with 18.6 million shares short, the short interest is effectively 132%. Good luck to the shorts if Q4 2016 results are good and FY17 guidance is solid. As I argued and modeled in my January 3, 2017 piece: Weight Watchers Has The Momentum Has Oprah Leans In, I think there is a good chance, emphasis on chance, earnings and guidance will be fine.
Disclosure: I am/we are long WTW.
I wrote this article myself, and it expresses my own opinions. I am not receiving compensation for it (other than from Seeking Alpha). I have no business relationship with any company whose stock is mentioned in this article.