About a year ago, I published an article suggesting that Independence Contract Drilling (NYSE:ICD) was a stock worth a closer look. The Houston-based onshore driller had an impressive fleet of 14 modern rigs that had recently been built or renovated, and the company seemed to be well-positioned to weather the oil and gas sector's downcycle.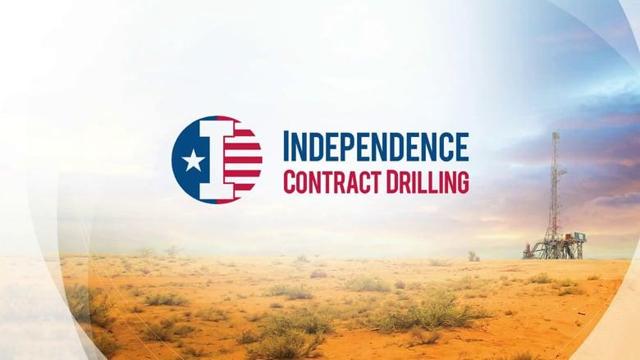 Credit: Vimeo
For Independence Contract Drilling, owning high-quality assets seemed irrelevant at that point, as WTI crude prices hit a 14-year low in January of last year and demand for the company's drilling services fell off a cliff. That's exactly when I bought shares of ICD, and we saw the stock value increase 55% since then, along with a recovery in crude oil prices.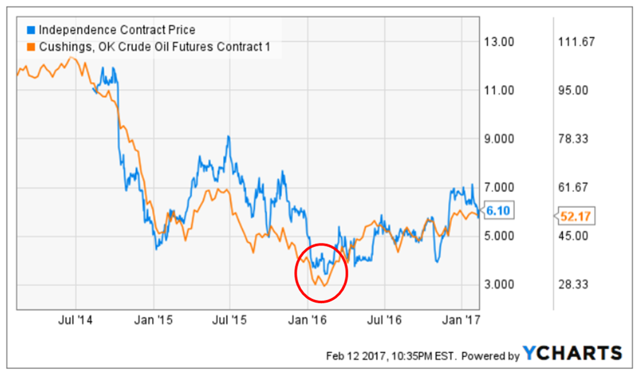 Source: YCharts
But despite the run, those who have not bought ICD may still want to give it some thought.
Scanning through the 4Q16 results of large supermajors and oilfield service providers, one trend seems very clear: the incipient rebound in the energy sector has started to take hold first in U.S. onshore. Halliburton (NYSE:HAL) disclosed a +9% sequential growth in North America revenues in the most recent quarter, pointing to "increased pricing and utilization throughout the United States land sector" that has not been matched by any other geographic region. Following suit, Schlumberger (NYSE:SLB) reported North America revenues up +4% vs. International's +1% in 4Q16.
Exxon Mobil (NYSE:XOM) doubled its holdings in the Delaware basin last month, when it acquired property in New Mexico worth $5.6 billion. The Permian, where the Delaware basin is located, is one of the key beneficiaries of the pickup in oil exploration activity due to the reduced cost of producing oil and gas in the area. As a result, the Delaware basin has seen a sharp increase in dollars spent to acquire oil-producing assets. Noble Energy (NYSE:NBL) has also recently made a sizable acquisition in the region.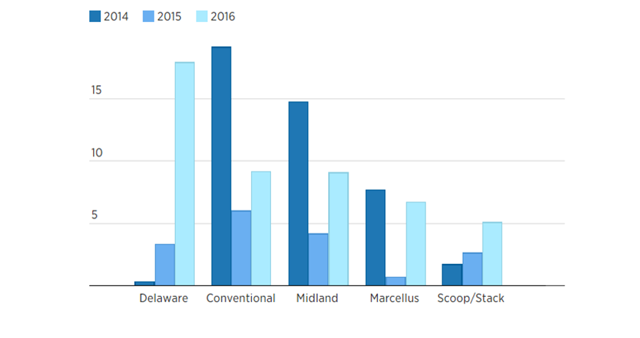 Source: CNBC
Where does ICD fit in this puzzle?
It seems like Independence Contract Drilling would benefit greatly from a pickup in drilling activity in the United States. Last quarter, the company realized a rig utilization rate of only 64.7%, suggesting that the driller has enough idle capacity that can be put to use. The map below illustrates where Independence Contract Drilling's rigs are currently located - many in the western Texas region of the Permian basin.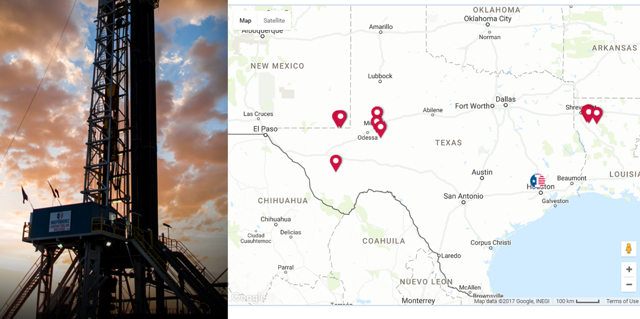 Source: Company's investor relations page
Although the company has not been performing very well lately from a profitability perspective, the tides could very well turn, starting this quarter with the pickup in U.S. activity. Should Independence Contract Drilling eventually manage to improve rig utilization to 85% and average per-rig margin to $10,000/day, in line with 2015 levels, I estimate that the company could generate $20 million in EBITDA on an annualized basis. At these levels, the stock would be trading today at a conservative 12.3x EV/EBITDA.
Investor Takeaway
Independence Contract Drilling reports earnings on February 28th. Using recent reports filed by large energy companies as a reference, I would expect ICD's management team to bring more upbeat news about the state of U.S. onshore drilling later this month. This should bode well for the stock - especially considering that, YTD, shares have been down -9% despite encouraging macro developments.
Looking beyond the short term, I still find ICD a good investment. The company owns a very capable fleet of modern onshore drillers; free cash flow generation has not deteriorated further, despite the downcycle; and the balance sheet seems to be in good shape, especially after ICD's equity raise in 2016.
The stock is not immune to significant downside risk, considering the size of the company and the uncertainties in the oil and gas industry. But I believe, in this case, that the benefits should outweigh these risks.
Note from the author: I would like to invite you to follow me as I build a risk-diversified portfolio designed and back-tested to generate market-like returns with lower risk. I call it the Storm-Resistant Growth portfolio. The very early results have already exceeded my expectations. Take advantage of the 14-day free trial, and get immediate access to all the premium material that I have published recently.
Disclosure: I am/we are long XOM, ICD.
I wrote this article myself, and it expresses my own opinions. I am not receiving compensation for it (other than from Seeking Alpha). I have no business relationship with any company whose stock is mentioned in this article.