Context & Introduction
Apple (NASDAQ:AAPL) is currently trading at P/E multiple of 15.82 after its shares have largely remained flat for almost two years. Apple, a product-hit-driven company, had challenges to grow its new product lines in 2015 and 2016, including suffering what some call a "flop" with Apple Watch in 2016. After the recently presented Q1FY17 results, we believe investors will perceive the comeback of a new growth era for the Cupertino company, with results above expectations on almost all fronts for Apple. We present the case of continued growth during the next 12 months, specifically foreseeing a surprise factor in EPS for the next fiscal year due to the early introduction of the so-called iPhone X.
Going From 'Value' To 'Growth'
A history of value in Apple's stock price
Apple has been trading at one of the lowest P/E ratios in the Technology sector during the last two years, entering into the territory of what we would consider a 'value' stock in 2015 and 2016:
| | | | | | | | | | | |
| --- | --- | --- | --- | --- | --- | --- | --- | --- | --- | --- |
| | Sept. '07 | Sept.'08 | Sept.'09 | Sept.'10 | Sept.'11 | Sept.'12 | Sept.'13 | Sept.'14 | Sept.'15 | Sept.'16 |
| P/E AAPL | 39 | 16.74 | 20.42 | 18.73 | 13.78 | 15.1 | 12 | 15.67 | 11.98 | 13.64 |
Looking at Price-to-Free Cash Flow ratios, we see a similar story. Paraphrasing investor Marc Andreessen, Apple traded 'like a steel mill on its way out of business, with P/FCF consistently below 15 in recent years:
| | | | | | | | | | | |
| --- | --- | --- | --- | --- | --- | --- | --- | --- | --- | --- |
| | Sept.'07 | Sept.'08 | Sept.'09 | Sept.'10 | Sept.'11 | Sept.'12 | Sept.'13 | Sept.'14 | Sept.'15 | Sept.'16 |
| P/FCF AAPL | 30.36 | 12.2 | 18.75 | 15.91 | 11.86 | 15.19 | 10.06 | 12.51 | 9.23 | 11.99 |
A big portion of the conservativeness in AAPL's stock valuation in recent years has been based on the inability of the company to demonstrate sustained growth after the iPhone 6 product line since 2014, and the lack of luster exhibited by new product lines like Apple Watch: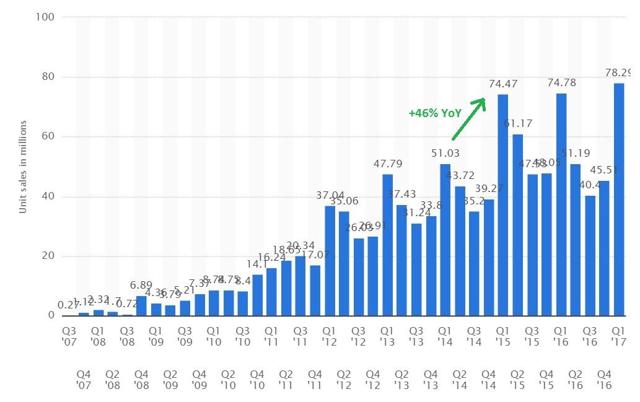 Source - iPhone million units sold per quarter
A new era of growth for Apple
Things changed on January 31st, 2017, as Apple presented its strongest growth YoY than seen in a long time. Quarterly EPS exceeded estimates at $3.36 vs $3.21 expected by market consensus. In particular, Apple CEO Tim Cook commented that "it was a dynamite quarter", highlighting the high-end iPhone 7 Plus as their biggest winner for the period.
After such notable results delivered thanks to the most upscale phone from Apple, rumors have started about how Apple could be preparing an earlier-than-expected release of iPhone 8. Originally intended for 2018, a new iPhone could be expected in September 2017. Timothy Arcuri, an analyst at Cowen and Company, has sent out a research note to clients predicting that the late-2017 iPhone update will be branded as iPhone X (celebrating with the Roman numeral the 10th birthday of the iPhone in 2017). We are optimistic about these reports and believe that the combination of an early release of a high-end product, combined with the massive cash position of Apple in a rising rates environment, could make AAPL shares outperform in 2017.
The Next Product Hit To Deliver Growth
iPhone X will sell above $1,000
Based on reports from a leaked source, everything indicates that Apple is preparing a high-end product ready to meet the highest consumer standards at a premium price. This could represent a potential operational margin increase for the company, as it delivers its most differentiated product yet. Some of the characteristics speculated are:
OLED curve display
3D-sensing technology
Forged stainless steel on the sides
Back of the phone made of glass
More durable battery than predecessors
Anniversary design edition
Face detection and iris recognition
Wireless charging
Although $1,000 seems a price tag many experts have agreed as plausible, there are sources estimating even a higher price at $1,200.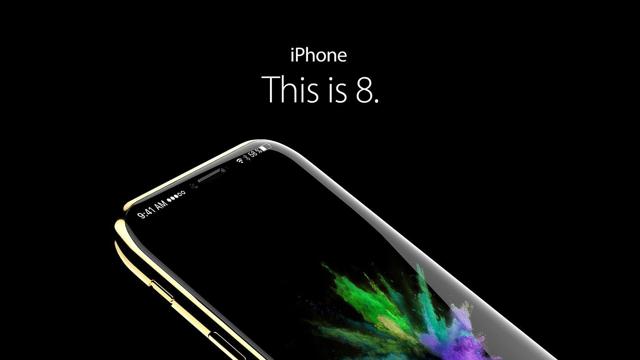 Source - Concept design
The New iPhone May Have Wireless Charging
Apple has filed a total of 16 patents related to wireless charging, in particular, inductive charging technology. Based on analysis from Copperfield Research, Apple has been developing its own technology similar or even more sophisticated than the one used by Samsung (OTC:SSNLF). This feature would facilitate design and convenience, some of the key strengths of Apple, and represents another differentiated technology that would allow iPhone X to demand a higher premium.
The new iPhone release could be expected as early as September 2017
Apple is rumored to have been accumulating OLED orders from Asian manufacturers during the past months, affecting negatively the supply for other smaller firms. According to BlueFin Research Partners, the production of the iPhone 8 is ramping up earlier than expected. Almost every year since 2008 new iPhone releases came in autumn or later in the year.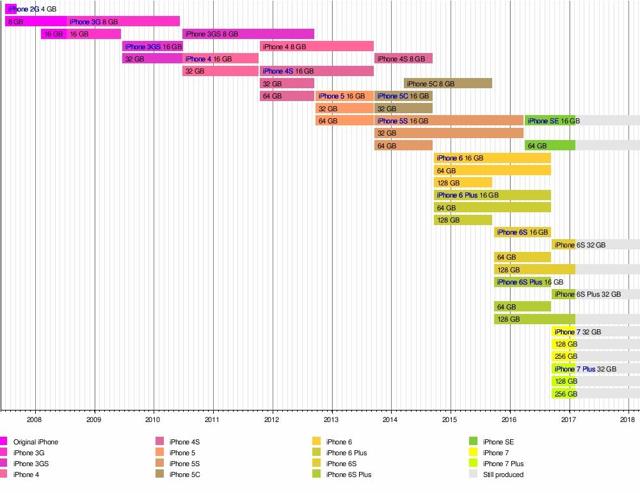 Source: Wikipedia
Apple is the #2 most valued brand in the world
Apple is able to demand a premium on its products thanks to its strong, differentiated brand in the consumer electronics space. We are confident Apple will be able to extract substantial consumer surplus with the release of iPhone X.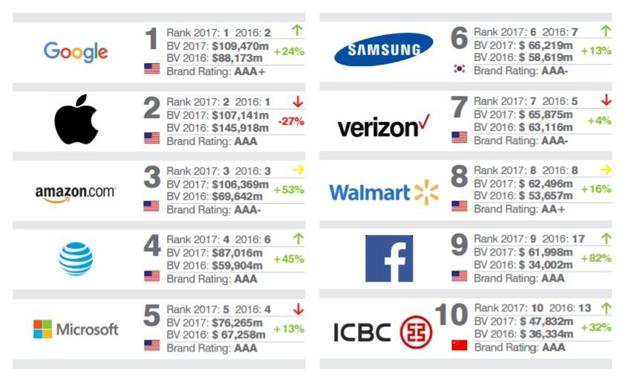 Macroeconomic Environment And The Cupertino Company
Apple's CEO Tim Cook 'optimistic' about UK's future after Brexit
Apple has recently made investments in the UK moving its London headquarters to the landmark Battersea Power Station. As per a recent report from BBC on Feb 9th, Apple's CEO Tim Cook met with UK's Prime Minister Theresa May and said he thought the UK would be "just fine" outside the European Union.
Tim Cook 'not excited' about Trump's immigration policy but open to dialogue in other areas
Apple's CEO has repeatedly stated that immigrants and foreign workers should be accepted and retained in corporate America. He recently was quoted saying:
"We have employees that secured a work visa, they brought family to the U.S., but happened to be outside the U.S. when the executive order was issued and all of a sudden their families were affected...They couldn't get back in. That's a crisis. You can imagine the stress."
This didn't stop Mr. Cook from meeting with U.S. President Trump on December 16th of last year to discuss how technology can continue adding dynamism to the American economy. We foresee continued cooperation between Apple and the US administration.
Despite dividends, Apple still has more cash reserves than ever before
At $246.09 billion, Apple is one of the most cash-rich corporations in the global financial markets, a competitive position that gives Apple the chance to continue innovating and taking risks for the foreseeable future.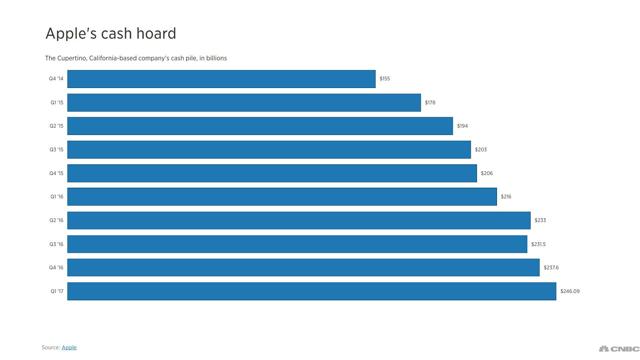 Higher interest rates will deliver more returns for cash-rich Apple
A common defensive strategy in rising interest rates cycles is to accumulate shares of cash-rich companies, as these organizations are able to harvest more yield out of their reserves. The Fed expects to increase rates multiple times this year, making AAPL a good candidate for an investment portfolio.
Apple, engaged with new electronic payment methods
We foresee a notable year for cryptocurrencies as we described in our previous article about Bitcoin. Apple has repeatedly confirmed its acceptance of Bitcoin and other cryptocurrencies as part of its App Store policy.
Target Price For A 12-Month Horizon
We believe Apple can repeat with iPhone X the same success story that delivered a +46% YoY growth in iPhone sales in Q1FY2015, when the company released the iPhone 6 Plus. If this scenario materializes, we foresee an increase of +32% in EPS to $11.03. Taking the current consensus forward P/E multiple (13.15) as our conservative basis, we set a target price of $145 per share.
Conclusion & Recommendation
In this 10th anniversary of the iPhone's birth, we believe Apple will show strength with new product releases, including a potentially upscale new iPhone X. This, together with a favorable macroeconomic environment and rising interest rates, inclines us to give AAPL an OUTPERFORM rating, with a target price of $145.
Disclosure: I/we have no positions in any stocks mentioned, and no plans to initiate any positions within the next 72 hours.
I wrote this article myself, and it expresses my own opinions. I am not receiving compensation for it (other than from Seeking Alpha). I have no business relationship with any company whose stock is mentioned in this article.