Zynga (NASDAQ:ZNGA) has been a turnaround situation play for a while now. The company's revenue and other metrics have been on a decline for several years.
I have been a bear on the stock for a long time, in fact ever since they decided not to enter the online real-money casino space.
However ZNGA's Q4'16 results were actually positive for a change. Nothing to cheer about, but nevertheless positive.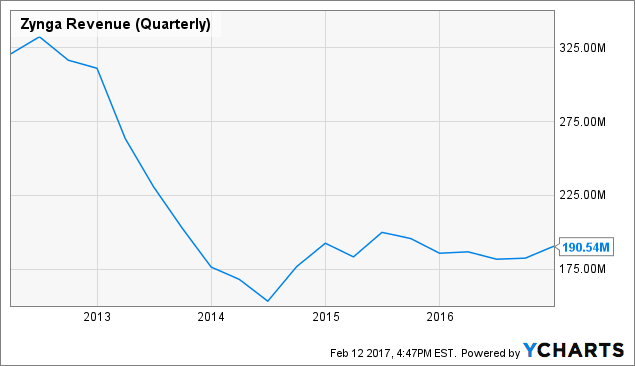 ZNGA Revenue (Quarterly) data by YCharts
Revenue came in at $190.5 million, above the high end of the guidance previously provided, and an increase of 3% Y/Y and 4% Q/Q.
Bookings were $201.5 million. Again, above the high end of the guidance previously provided, and higher by 11% Y/Y and 2% Q/Q.
Operating expenses were $162.4 million, down 9% Y/Y and down 2% Q/Q. Operating cash flow of $27.7 million, up $24.3 million Y/Y and $6.7 million Q/Q.
On an annual basis, revenue came in at $741.4 million, down by 3% Y/Y, but bookings finished at $754.5 million, up by 8% Y/Y.
Other than that however, most other metrics were nothing to cheer about. The company continues to lose money, with a GAAP net loss for Q4 of $35.4 million, and $108.2 million for the full year.
However, most of the losses comprise of stock-based compensation (which I do not consider a loss), and adjusted EBITDA was $10.6 million for Q4 and $107.5 million for the full year. So all in all, things are not that bad.
Zynga's strategy of "forever franchises" is in the right direction
During the year, the company focused its strategy on growing existing games. Meaning, "games that stand the test of time and have the potential to engage players for years as enduring entertainment brands."
By delivering new features and content introduction, many of the company's multi-year game winners continued to perform at a record pace. Specifically, Words With Friends and Zynga Poker increased bookings by 32% and 20%, respectively. In Q4 Zynga Poker mobile bookings were up 44% Y/Y. This might mean 2017 will be a much better year for this particular game franchise.
Both games are celebrating their 8th and 10th years. To the extent that ZNGA can continue to create games that are considered "forever franchises," it might mean less R&D and higher profits over the long term.
During 2016, ZNGA also introduced CSR2 and Dawn of Titans. Both games are a result of the NaturalMotion acquisition. According to the company, the Bugatti Chiron launch for CSRS was the top grossing racing game in 37 countries in its App Store. I'm assuming this means the game will also have a strong 2017.
So the company seems to be on the right track as far as new games launches. The hope is that these games will also turn out to be "forever franchises," something that we will see if it turns out to be true in 2017.
Over the past several quarters the company has tried hard to streamline operations, and as a result non-GAAP operating expenses were reduced to 66% of bookings, as compared to 72% in 2015. Hopefully these operational efficiencies continue in 2017, thus increasing operational results.
Having followed ZNGA for a several years, it is one of the few times that the results matched the upper range of guidance. Not only was revenue of $190.5 million was up 3% Y/Y, but us was also up 4% Q/Q. Even more of a surprise was that bookings were up 11% Y/Y, while only 2% Q/Q. However these results might be a preamble for a much better 2017.
Turning to the balance sheet, total current assets were $965.5 million vs. $1.12 billion for the end of 2015. Total liabilities however remain about the same at $325 million, which means that the balance sheet on average has deteriorated a bit.
How to play Zynga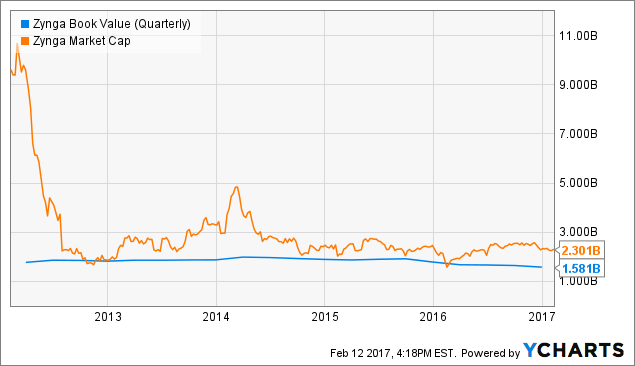 ZNGA Book Value (Quarterly) data by YCharts
Over the past several years I have played ZNGA here and there, buying close to book value, and selling on the bounce anywhere from 30% to 50% higher.
My reasoning was that the company was in fine economic condition and even if it never made money, it would not go out of business.
And indeed, the stock always bounced close to book value per share, currently about $1.77 per share. However currently I am in a very big dilemma.
The dilemma is, should we buy the stock at current levels - since the company after a ling time seems to be turning around - or should we wait for further correction, somewhere along $2 share to buy?
It's a difficult play folks. While I am not excited as per the recent results, I also feel the company will, for the first time in a very long time, do better in 2017. How much better I do not know, however even slightly better might mean a lot for the stock during 2017.
I looked on yahoo.com, and I noticed that the average analyst estimate for 2017 has gone up significantly over the past 90 days, from $0.05 to $0.07 per share.
Also, the average analyst price target is $3.27 per share. Now I'm not that excited about the price target, however analysts might update their targets to the upside if during the next several quarters the company performs like it did in Q4.
So on average, while I am not that excited about buying at current levels, I do see the possibility of a 50% profit over the next 3-6 months if the company performs well and surprises us.
Bottom line
On average, I am positive on the stock. I am not long yet, but I will if I can get the stock on any kind of a correction from current levels, preferably below $2.30 a share.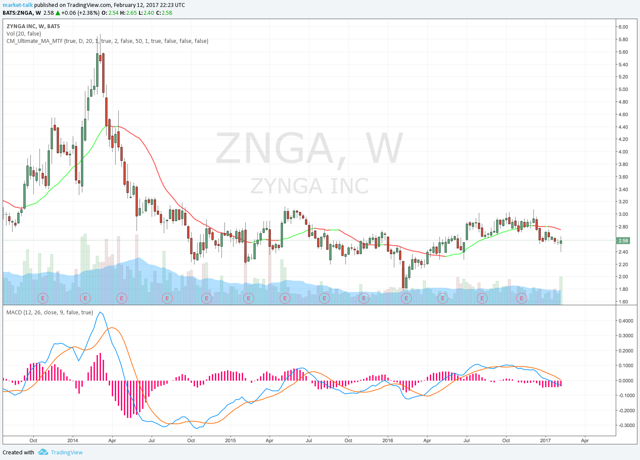 On a technical note, I prefer to buy on technical strength. Currently on a weekly scale is still in a down-trend. However given the relatively high volume last week, there is a good chance the stock might bounce from current levels.
So if you want to buy, my advice is use you favorite technical indicator, and when you see strength, or some bullish pattern, then I suggest going long.
Disclosure: I/we have no positions in any stocks mentioned, and no plans to initiate any positions within the next 72 hours.
I wrote this article myself, and it expresses my own opinions. I am not receiving compensation for it (other than from Seeking Alpha). I have no business relationship with any company whose stock is mentioned in this article.