My look at the fixed-income high-yielders last week ("Is It Time To Rotate Out Of High-Yield, Fixed-Income?") was focused on three well-known CEFs (and, yes, I'm going to get back to that). Toward the end of that article, I threw in a Discount-Premium vs. NAV Yield scatter chart (let's call it the DPNY chart). A fund that caught my eye from that chart (and that of several readers) was the Virtus Global Multi-Sector Income Fund (NYSE:VGI), so I resolved to take a look at it.
For openers, VGI has had an impressive year. Here's a look to see how it's stacked up against two funds I just discussed. It buried the PIMCO Dynamic Income Fund (NYSE:PDI), which has been losing points to its NAV all year long, and beat PIMCO Dynamic Credit & Mortgage Income Fund (NYSE:PCI), one I've been accumulating in the category, by a couple of points. Not bad at all.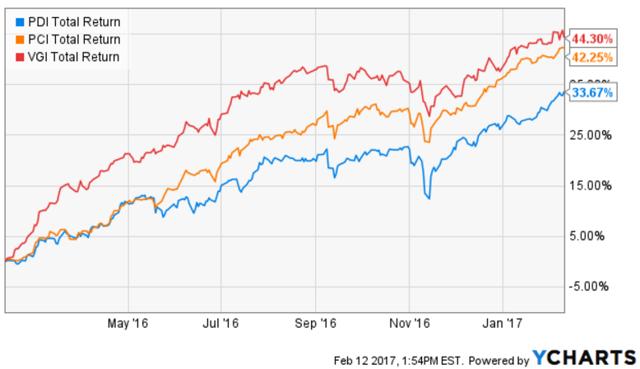 Here's the chart that caught my attention: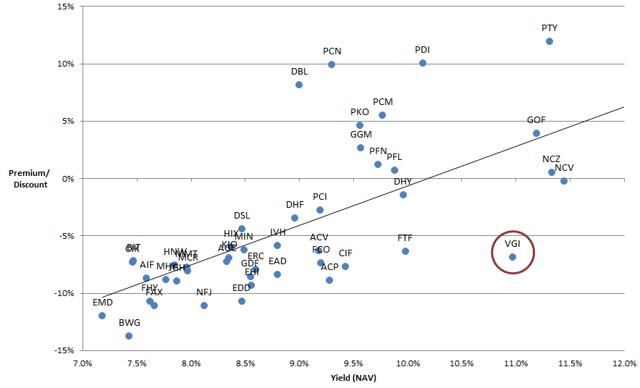 I'm of the opinion when a fund is that far below the trend line on this plot it merits attention. May turn out that there's nothing there, but it's worth a look.
Problem is, I said at the time, this chart is a bit of a hodgepodge of a lot of unlike things. Before taking this too far, let's try to focus on VGI within a more tightly defined category. It's a bit of a hard fund to categorize. Cefonnect includes it in its Taxable-Income, Multi-Sector group (n=23). Cefanalyzer has it as Global Fixed-Income, Corporate Bonds (n=4). CEFA has it as a Global Income fund (n=13). VGI is the only fund that appears in all three of those lists. Taking all three together n=33, a not unreasonable number so that's what I'll use here.
Putting those 33 funds into the DPNY chart hardly changes VGI's relative position: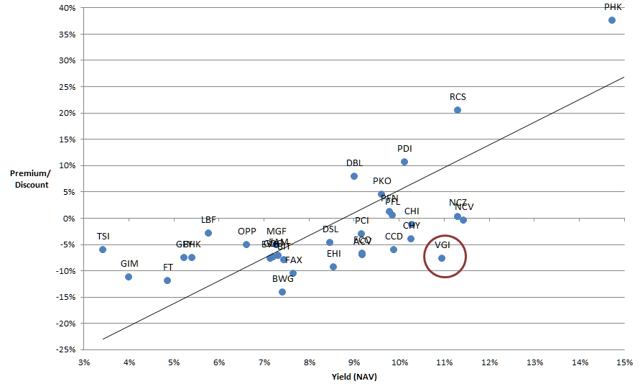 What if we take out the PIMCO funds with their PIMCO premiums that are clearly skewing the chart.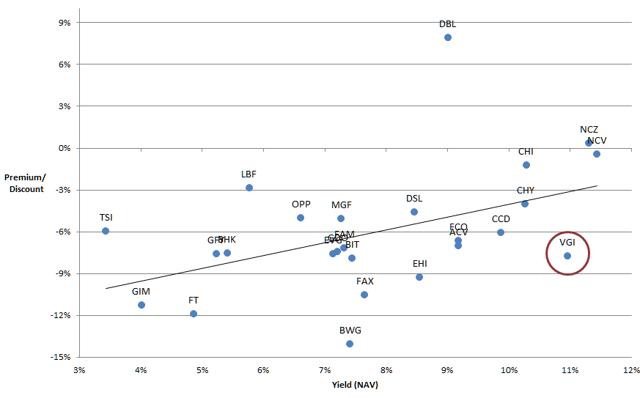 VGI continues to fall deep below the line, with nothing close to it on the high NAV yield end of the scale. On the basis of these charts, VGI still looks good enough to pursue.
Some quick observations from the charts before continuing with VGI: AllianzGI Convertible & Income Fund II (NYSE:NCZ) and AllianzGI Convertible & Income Fund (NYSE:NCV) are beginning to look a little stretched, aren't they? And, what's with the Doubleline Opportunistic Credit Fund (NYSE:DBL)? How can its NAV yield, which is the median for the category and its total return TTM of -0.32% vs. a category median of 28.92% even begin to merit an 8% premium? Are people still that much in love with Jeff Gundlach? Let's face it, he's made a series of very poor calls recently, and the performance of this fund reflects it.
VGI
VGI is a mid-size fund (AUM = $260M). It is paying 11.88% ($0.1560/share paid monthly).
Readers have expressed concern about the fund because there has been a steady component of return of capital over the previous two years. This chart shows RoC as a percent of distributions going back three years.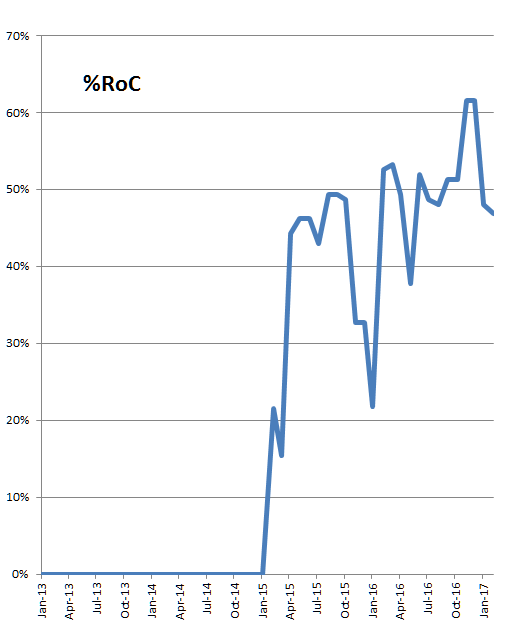 That much return of capital over that prolonged time frame is disconcerting for what looks like a straightforward bond fund: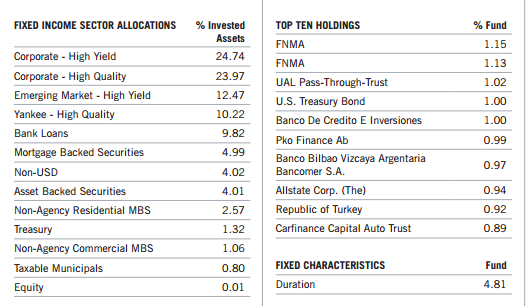 So one has to ask, "Is it safe?
As a counter to that return of capital, consider that as of November 2016's annual report, accumulated UNII was -$0.0615 per share; negative, but not at level that would suggest distribution payments should be more than 50% return of capital. At this writing, I'm unsure of what to make of that. One possibility is that Virtus has been returning capital month-by-month at a near break-even pace so accumulated UNII is not going deeply negative at any time.
More important in my view is the fact that the return on NAV for the past twelve months is 27.7% vs. NAV distribution rate of 10.96%. Those extra 16.7 points are not coming out of income from the holdings; nothing in this portfolio is likely to be generating anything close to that much income. So the bulk of it must be coming from unrealized or realized gains on the holdings. No capital gains have been reported for the fund on a month by month basis, only income and return of capital. What is going to matter is what the final reporting shows.
The monthly (or quarterly) Section 19a reports that funds are required to file to report return of capital typically bear little resemblance to the year-end accounting. With a 60% annual portfolio turnover, and substantial appreciation of asset value, it seems apparent that there must be some capital gains in the mix. So I'll wait until there are some final year-end numbers before I get too worked up over those RoC reports. For now, with that huge positive differential between NAV return and NAV distribution, there does not appear to be a pressing problem of that return of capital casting the safety of the distribution in doubt.
In addition, VGI's strategies include option overlays using out of the money put and call spreads. Option income is typically reported as return of capital. For VGI's last reporting period, the option income accounted for about 2% of the fund's returns.
Portfolio
I noted above the portfolio allocations in various categories. Morningstar put the weighted average credit rating of VGI's holdings at BB+, about typical for a high-yield bond fund. The portfolio has an effective duration of 4.82, unadjusted, and 6.60 adjusted for leverage.
This is a global fund. The percentage of the assets invested in issuers located outside the United States will vary over time, but under normal circumstances will constitute no less than 40% and no more than 75% of the fund's assets. The fund intends to have at least 80% of its assets invested in at least three different countries. Presently, geographic distribution of holdings has the USA at 45.3%, with Mexico, Netherlands, Luxembourg and the Cayman Islands filling out the top five.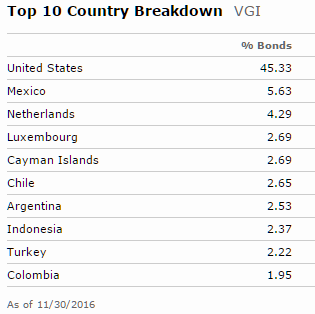 A year previous, when US high yield was in the throes of a rough period, VGI's portfolio held only 5.7% in US securities, illustrating the potential advantages of a fund that seeks opportunities worldwide and is agile enough to adjust its portfolio accordingly.
Discount and Distributions
VGI has a managed distribution policy. It has been paying its current $0.156/share monthly since April 2015. The distribution was raised in April 2015 and October 2014. It has never been reduced since the fund's February 2012 inception. The market yield is 11.9%, which leads the category (the large category that includes the PIMCO funds). NAV yield and the fund's -7.7% discount rank in the top quartile of the category.

Z-scores are, as you might expect from the fund's recent performance, positive. This is, as we saw in the previous articles on this broad category of CEFs (here and here), true across the category. Even so, the Z-scores rank at (1yr) or below (3 and 6 mo) the category median which might be unexpected given the fund's strong performance record.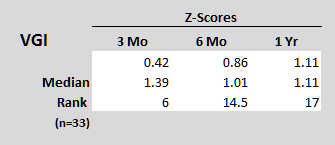 Summary
VGI lives up to the potential its position in the DPNY chart suggested. Its valuation relative to its peers is excellent with a category-leading market yield and a top quartile discount.
We also begin to see one reason that it falls that much below the line in spite of those credentials: It has been returning capital at a pace that is unsettling. But other indicators of distribution sustainability are much less negative. NAV return well exceeds the NAV distribution rate. The opposite would be a primary indicator of a fund that is floundering to meet its distributions. UNII is negative but not to an extent that looks worrisome, at least as best as I can discern from the three-month old data at hand. Unfortunately, we're not likely to see an update to the UNII numbers for another four months or more, so that's the best we have. What we should have soon is a final accounting of the sources of the distribution payments. I'm going to guess a lot of that return of capital will have vanished when we do.
Another point in the fund's favor is its demonstrated agility in moving out of depressed fixed-income classes and into trending ones. I base this primarily on the eight-fold increase in the fund's commitment to domestic high-yield securities over the last year. A year ago it held only a minor stake in the domestic market when the domestic market was depressed. Now, a year later, a year that is characterized by outstanding performance in the domestic high-yield sector, the domestic holdings account for nearly half the portfolio.
Overlying specific consideration of VGI is the state of the high-yield (or should I say, high-income?) market broadly and of the CEFs in that marketplace. Concern on this point is what led me to initiate a fresh look at the category. Before opening or increasing a position in VGI at this time, it's my view that one would have to accept a moderate to high likelihood that the category will be running out of steam in, at best, the mid-term future. One would also have to be of the opinion that VGI will continue to outperform the category even if the category declines. On the other side of that gloom is the fact that one could lock in a nearly 12% yield at a reasonably attractive discount. There's not much else offering that kind of income at a discount right now.
Disclosure: I/we have no positions in any stocks mentioned, but may initiate a long position in VGI over the next 72 hours.
I wrote this article myself, and it expresses my own opinions. I am not receiving compensation for it (other than from Seeking Alpha). I have no business relationship with any company whose stock is mentioned in this article.