One of our favorite long-term holdings has recently pulled back and by initiating a buy-write, investors can lower their risk even further. Exxon Mobil (NYSE:XOM) is one of the world's largest integrated oil players and has pulled back to the point where we feel like one of our favorite strategies makes sense. We don't like to lose money and that is why we focus on situations that put the odds on our side. So here is how we play Exxon after the recent pullback and why we believe it presents a good opportunity.
At current levels of $82.50, XOM trades at 20 times current year estimates and 17 times next year's consensus estimate of $4.82. At current levels, Exxon yields 3.6% and pays out a $.75 quarterly dividend. With oil rebounding recently, we look for earnings to improve and for the stock to begin to find support.
Looking at the chart below, you can see the pullback in the shares and also major support in the low to mid-$70s going back to January 2016.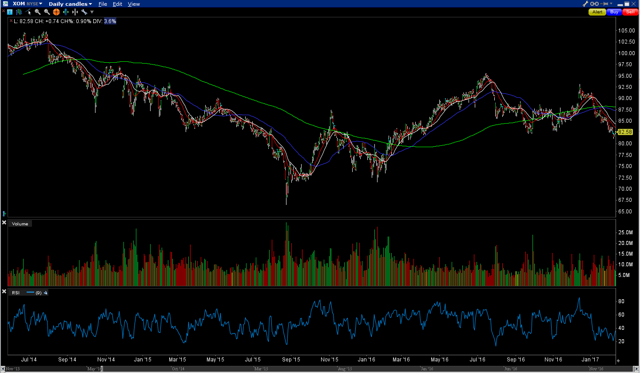 For income investors, the math stacks up well if one is willing to look out a few months.
By buying the stock at current levels of $82.50 and selling a January $80 call against the position, investors can buy the stock for a net cost of under $76.00 with an upside of $80.00. The net cost is the current stock price of $82.50 minus the option premium $6.50. It is important to note that if selling a call, one should be long 100 shares of stock for each option contract sold. Potential return on this trade is over 8% in a little less than 12 months. This is an "in the money" buy-write and offers a little more downside protection versus writing an at the money or out of the money call. Less risk means less reward, but 8% potential return in this market might make sense. If called away without getting a dividend, the return would be about 5% in three months. If the stock closes below $80 when the option expiration rolls around in January 2018, investors will be simply be long the stock as their option will expire worthless. At that point, they could write another call, do nothing, or sell the stock.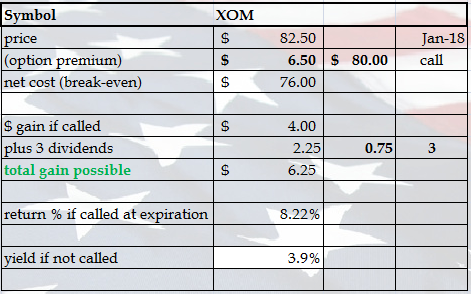 In our LOWS fund (Levered Option Writing Strategy) at Covestor that we manage, we sold the July $65 puts for $.75 several weeks back. They currently are trading around $.35-.40 per contract. The covered call (buy-write) trade we initiated this past week and feel it offers clients a good risk/reward.
Disclosure: I am/we are long XOM.
I wrote this article myself, and it expresses my own opinions. I am not receiving compensation for it (other than from Seeking Alpha). I have no business relationship with any company whose stock is mentioned in this article.
Additional disclosure: We are short the July $65 puts in our Covestor fund and have long positions and buy-writes on XOM