GlaxoSmithKline (NYSE:GSK) has had an interesting few years. As well as facing-like so many of its peers-a series of painful patent expiries they have also been undertaking a bold restructuring of the business with a greater emphasis on their vaccine and consumer healthcare business.
All told this has left long-term investors carefully watching as dividend coverage (and, as a result, share price strength) has increasingly slipped away from beneath them. Yet 2016 has so far emerged as an important year in which significant progress has been made. Indeed, as my Q1, Q2 and Q3 analyses show progress has in fact been accelerating beyond what many (including management) had expected.
With the release of the Q4 and FY2016 results earlier this month, we get to take a broader view of this important year in their turnaround. For me, what emerges is a very encouraging picture indeed as we move into 2017. The year may see change with a new CEO, Emma Walmsley, replace long-standing colleague Sir Andrew Witty. Yet it also looks likely to see some continuity of some of the strong trends from 2016: solid vaccines and consumer healthcare performance and building new pharma momentum.
Broad-Based Strength as Diverse Strategy Matures
2016 saw a broad-based growth story for GlaxoSmithKline across their segments both from a top and bottom line perspective:

Critical is the growth in the return to growth of the pharmaceutical division. Certainly in recent years the focus towards lower margin, higher volume vaccines and consumer healthcare products has reduced their significance. Yet it remains, by far, the largest individual segment: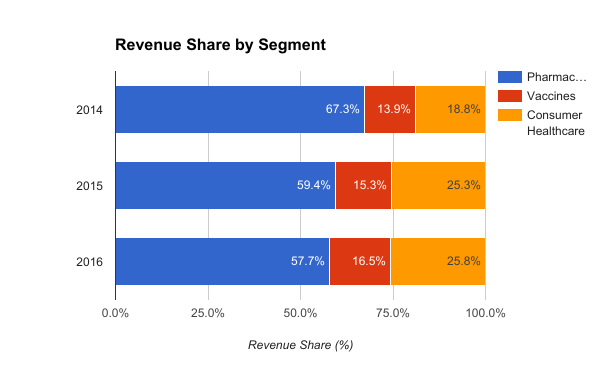 Nonetheless the more stable-if lower margin-consumer healthcare and vaccines business is growing total company revenue share.
Their strategy of diversifying the business to not just include the improving pharma business but also towards the more stable earners like vaccines and consumer healthcare looks increasingly well-timed. With pricing pressure growing against pharma companies in the US, this diversity is looking ever more valuable. As Andrew Witty stated at Q3 results times:
[Growing pricing pressure] has … driven our agenda of looking for high returning growth opportunities beyond simply the traditional US pharmaceutical high priced marketplace, if I can characterize it that way, which is why we have invested where it makes sense in the Consumer business, the Vaccine business and elsewhere in the organisation.
GSK and other similarly diversified pharma giants like Johnson & Johnson (NYSE:JNJ) are looking increasingly able to weather any potential tightening of pricing in the world's biggest healthcare market than their more pure-play pharma peers.
Nor, as we can see above, have either the consumer healthcare or vaccines businesses been laggards in 2016. 5% and 12% constant-currency revenue growth, respectively, is hardly sluggish. Although pharma remains the core of the company's revenue and profitability, these significant smaller parts of the business will help to smooth out the boom-and-bust nature of the pharma business in the future as much as today. All very encouraging.
New Pharma Growth
Nor has their pharma business been overlooked during this period. In particular, GSK's impressive recent set of pharma releases continues to pile up the revenue growth: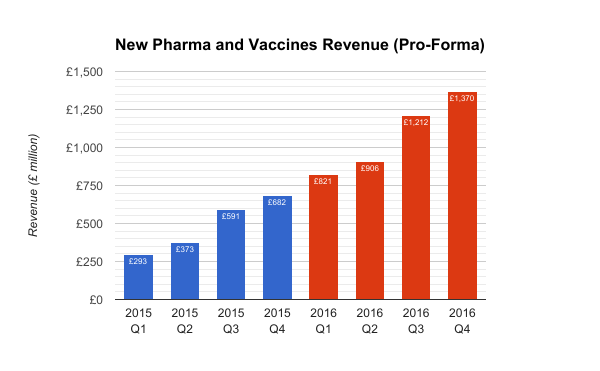 The company continues to stand by their belief that new products will generate over £6 billion in revenue by 2018 (as opposed to 2020 as originally predicted in 2015). Judging from their current progress and continued pipeline potential, this certainly seems likely.
It is a nice broad picture too (Sources: Combined and Adjusted from FY2015 and 2016 results):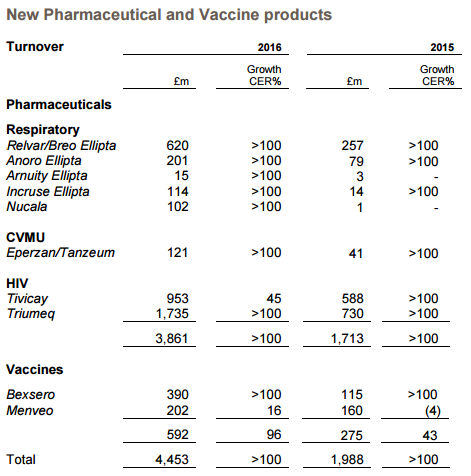 Their HIV assets are still proving important drivers of revenue growth. Yet their new potential blockbuster Relvar respiratory drug is starting to make significant headway in becoming a material contributor to overall revenue figures. This is wonderful to see as their respiratory business needs a new blockbuster to maintain its position at the forefront of the research area.
Advair threat to Respiratory
Indeed, respiratory remains by far the largest pharma segment (although HIV's rapid growth courtesy of the two "T's"-Tivicay and Triumeq-is certainly expanding rapidly):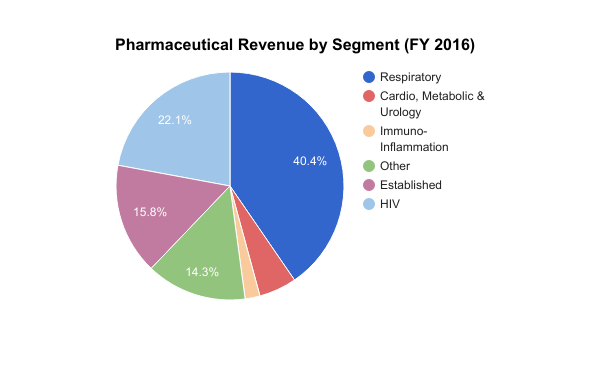 Growth performance has, thankfully, looked impressive: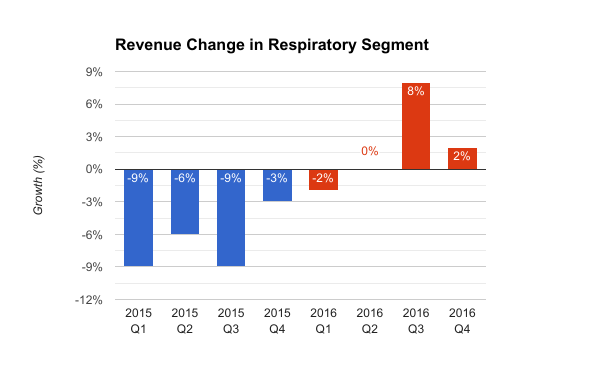 Q4 2016 did see a slowdown in growth compared to Q3. Nonetheless, as you can see the chief reason for this was a far tougher comparator at Q4 2015 time than in Q3 2015.
Key to future growth remains GSK's Relvar/Breo Ellipta drug. Clearly Relvar's performance is very encouraging indeed. Yet the reality is that it needs to be to compensate for the loss of patent protection for aging respiratory blockbuster Advair. So far, Relvar has done this job superbly. Whilst Advair has lost about £200 million in revenue in the last year, Revlar has added £363 million: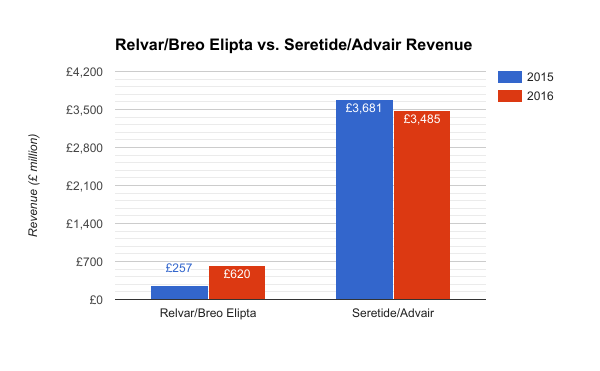 The crunch point is really set to be this year, however. Generics are set to potentially be approved in the US from Mylan (NASDAQ:MYL) sometime before 28 March. Another rival (their VR315 program) from Hikma (OTCPK:HKMPY) and Vectura (OTCPK:VEGPF) will have its fate decided by 10 May. Novartis's (NYSE:NVS) generic segment-Sandoz-is also working on a generic version yet seems to be focusing more attention on delaying approval of rival Advair generics at present.
Whatever the case in terms of when and how many generics get approved, GSK is not without tools to fight it. GSK retains a degree of price flexibility attached to its blockbuster drug. Sure, this may well mean than top and bottom line performance will be hit. Nonetheless, it should allow them to retain market share to some extent and hold onto some of the Advair cash flow for longer. What is more, there is no certainty (though it I,as they say, a "real possibility") that a generic will get approved in the US in 2017. If so, the company explains that:
In the event that no generic version of Advair is introduced to the US market in 2017, the Group expects 2017 core EPS growth of 5-7% at CER. This is based on an expected decline in 2017 US Advair sales of 15-20%.
Yet Witty made a fascinating comment to reporters which is very important (Source: Reuters):
Once we are through this window of Advair, the company doesn't really have any material patent expirations until the late 2020s, which is an extraordinarily long period of time.
That is undoubtedly true. For long-term investors this is music to their ears. The potential for a good few years of relatively benign patent trends should assist in allowing the business to rebuild its balance sheet and shareholder returns program after several years of solid if hardly stunning performance.
Vaccine Continue to Impress
Nor was it solely the new pharma that impressed. Bexsero-their new meningitis vaccine-also continued to perform well jumping to £390 from £115 million in revenue. This is despite the fact that limited production capacity for the vaccine has consistently fallen behind demand. As GSK's CFO, Simon Dingemans, explained:
We continue to invest to expand production capacity [for Bexsero] but this is a long cycle process and supply is likely to remain tight for some time.
As a result, within those already impressive early revenue growth figures is a lot of pent up potential future demand. Although-as Dingemans also cautioned-"vaccines remains a lumpy business," GSK's portfolio and performance so far has looked very strong.
Indeed, vaccine performance generally looked a solid across the globe: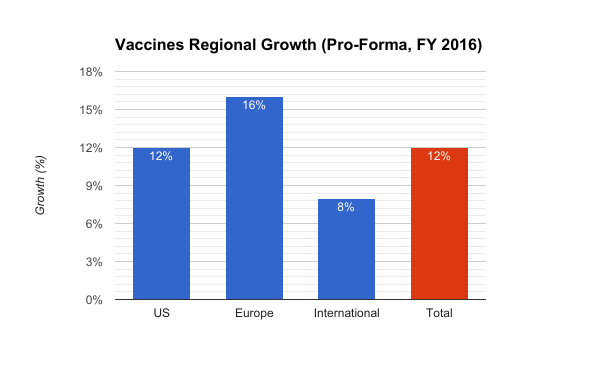 Although, perhaps, generally a lumpy market it is a large, growing global market. The fact that GSK has proven itself able to market products which have continued to pull in customers across regions is good to see.
What is more, GSK has been investing heavily in future vaccine development. For instance, they opened their new global vaccines R&D center in Rockville, Maryland in December 2016. This is a segment I am looking forward to following more closely as its matures within the business in future.
Pipeline Continues to Perform
They expect new drugs to arrive to boost revenue in 2017/18 which follows the filing of their new shingles vaccine, Shingrix, in October and their COPD treatment, Closed Triple, late last year.
Closed Triple could become the first three-in-one COPD treatment. The filing for COPD in the US and EU in Q4 2016 is, therefore, very interesting. They expect the US filing to take about 10 months to be reviewed. Yet FULFIL trial data was very encouraging and the upcoming IMPACT trial will hopefully be similarly encouraging.
As they highlight, Closed Triple would serve to complete the companies important inhaler portfolio alongside Breo, Anoro, Incruse and Arnuity (Source: Q4 2016 Results Presentation Slides):

As Witty noted (Source: Q4 2016 Analyst Call):
Last year, we also initiated a number of Phase III trials for assets in HIV, respiratory and anemia, and started Phase II trials for five new assets. Over the course of 2017/18, we expect important data for between 20-30 assets in clinical development to read out.
In fact, they started five Phase III trials in the year alongside their five Phase II trials and expect four regulatory decisions by the end of 2017. Future pipeline progress therefore looks very healthy indeed as we enter 2017. Naturally the extent to which these trials and filings end in marketable, revenue-producing products is still uncertain. Nonetheless, the pace of pipeline progress remains compelling.
Consumer Healthcare
It is not only GSK's expanded presence in vaccines that is looking increasingly smart in light of potentially tightening drug prices in the US. GSK's consumer healthcare division continues to do exactly what was expected of it: slow but steady, cash generative growth. As noted earlier, 5% constant-currency revenue growth seen by the segment is a great figure.
Underlying performance by segment was a little more complex, however. Wellness and Oral Health continue to be their two dominant segments from a revenue perspective: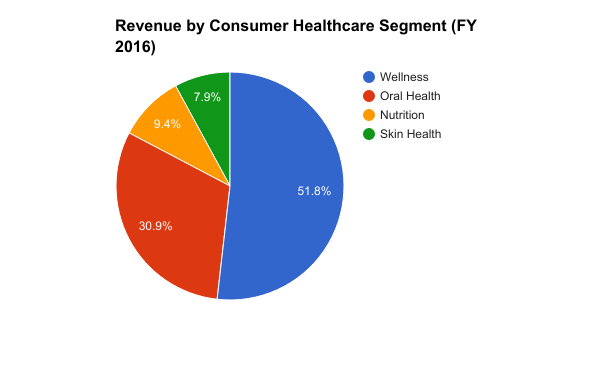 Indeed, the company's leading sensitive toothpaste brand-Sensodyne-became a £1 billion brand in 2016. These two larger segments continued robust growth performance throughout 2016 was, therefore, a key driver of GSK's consumer healthcare growth overall: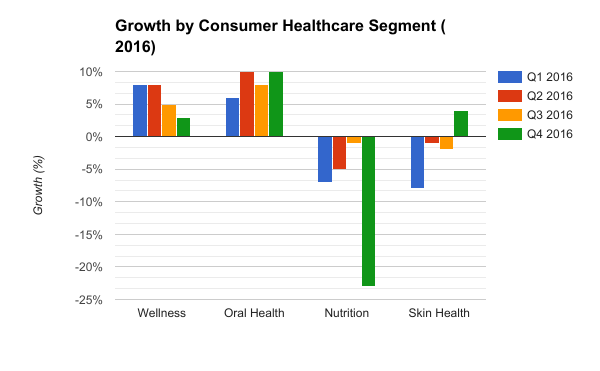 Yet it is clear that their two smaller segments-Nutrition and Skin Health-had a somewhat more mixed year. Skin Health, encouragingly, saw a Q4 boost which pushed it back into growth after spending most of the year struggling to do so. Yet Nutrition appeared to deepen its fairly disappointing performance in Q4. However, 2016 did face (particularly towards the end of the year) a number of challenges including:
tough comparators and headwinds in international, later on in the year, including the impact on the Indian business of demonetization and a slowdown in the nutrition category, as well as the divestment of the Nigerian drinks business at the end of Q3.
Nutrition, in particular, was affected in India where its significant Horlicks brand is a big seller. This certainly fed into the weak performance. Although significant to some extent, it was not all bad news, as Witty highlighted:
If we look at the overall share performance of our Indian business, very, very strong in our core GSK Consumer Healthcare products, like Sensodyne, the pain meds, those sorts of things; a bit more challenged in a slowdown in the nutritional category, so that is the area we need to focus on, but in terms of, let's call it, the new generation consumer products, extremely robust and extremely strong and I am confident that the monetization issue will wash through, but it was, as for everybody, a surprise and has a pretty significant short-term impact.
Nonetheless, weaker nutritional performance no doubt impacted upon the nature of the organic revenue growth split in Q4 2016 which saw a noticeable drop in volume growth to just 1%: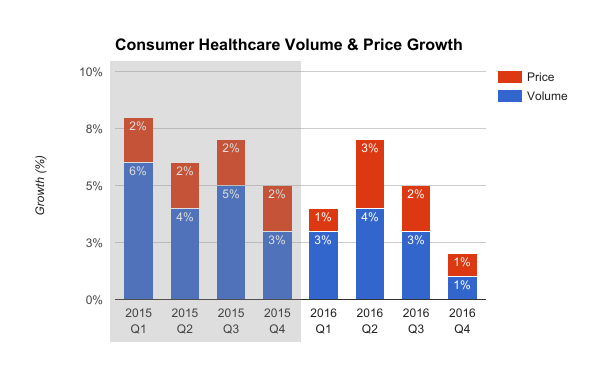 Although not a trend you perhaps like to be seeing. Yet two things are important to note. First, despite this -- as Witty correctly describes it -- " significant short-term impact" in their significant Indian market and other headwinds volume growth was maintained in Q4. Similarly, for the year as a whole volume growth performance was very healthy. Second, this growth was achieved on the back of a very strong set of comparators in 2015. For me, both are important and impressive signs of the health of the consumer healthcare business.
Ideally, of course, we'd like to see their Nutrition and Skin Health segments firing on all cylinders next year. Yet it has to be said that it looks good as we continue to see their core segments performing strongly.
Cash Flow Improvements
All of this has resulted in a finally improving FCF performance. Cash flow has been declining over the last couple of years. Yet in 2016 we saw a healthy leap leading to FCF to be in line with that generated back in 2007: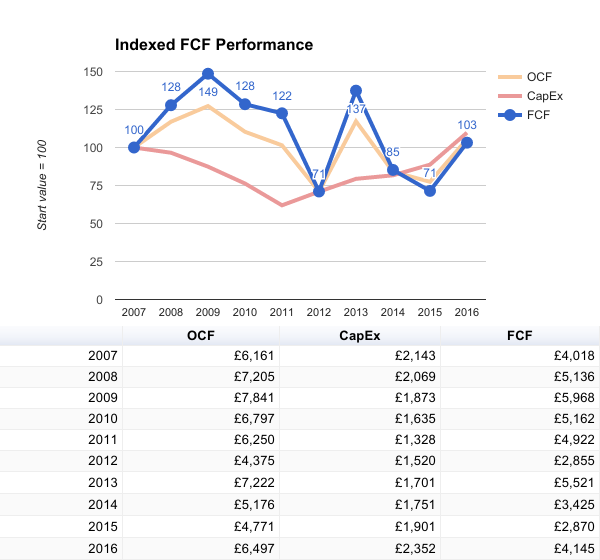 Although maybe not the most obviously impressive sounding news. In light of their patent expiries of late, this move back to healthier levels of FCF generation is very encouraging. Indeed, with dividend obligations (without the £1 billion special dividend included) or about £3.9 billion GSK has finally chalked up a year again in which the dividend was (admittedly thinly) covered.
Now, of course, a not insignificant amount of that cash flow bounty was courtesy of a generous currency tailwind. With their reporting currency-GBP or pound sterling-weakening sharply after the Brexit vote in June their immense international revenue exposure (over 36% of which is from the US) has turbocharged their reported cash flow figures: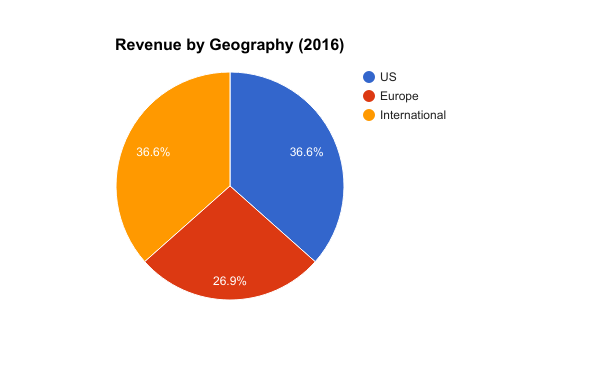 Clearly -- as I wrote about some months ago -- this currency benefit is a fickle beast and has the potential to disappear as quickly as it arrived. Nonetheless, for the short-term it is a useful assistance to GSK in helping support their dividend until their new pharma and vaccine products start to "kick in the cash flow and profitability" as Dingemans described it.
Debt Situation Stable
Debt continues to be something of a drag. Total debt grew about £2.1 billion. In turn, net debt growth was even sharper. Nonetheless, this was in a large part a reflection of how currency effects can cut both ways. As Simon Dingemans explained:
Net debt increased by £3.1 billion, driven by an aggregate currency impact of £2.2 billion, that affected cash balances and other financing items, but primarily impacted the translation of foreign currency borrowings. We do not hedge the principal amounts of these borrowings, as they are matched to equivalent foreign currency earnings.
Debt levels , although high from an equity perspective, are perhaps not quite so terrible. For instance, 2016 saw their FCF-to-debt ratio improve to over 22%: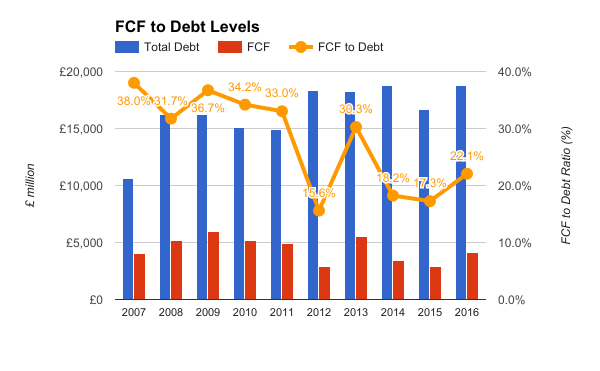 This suggests that with FCF alone they would be able to repay their entire debt load in a little under 5 years. Of course, in practice the story is far more complex. After all, a vast majority of GSK's FCF currently goes towards servicing their dividend payments. Nonetheless, it does at least suggest that GSK has the fundamental means to easily cover its current obligations.
More encouragingly, however, is that the company is looking to deal with the leverage levels at GSK in coming years. Dingemans explained that (Source: Q4 2016 Analyst Call):
On net debt, given the investments [already undertaken] … I think we would expect debt to start to come down in 2017, not by very much, and then fall further as we go forward from there, as the cash generation comes out of the other side of the Advair impact.
This is nice to hear. As GSK increasingly see cash flow improve, for them to have already set about allocating some of this to pay down debt is something that I am happy to wait for. With currency translation making the situation look a little less healthy than it is and FCF still providing a nice coverage level the company-with its fresh products starting to produce results-looks in pretty robust long-term health. Watching to see how rapid the deleveraging process is, however, will be very interesting to watch.
Conclusion
GSK's 2016 results left me very encouraged as a long-term investor. Overall results were exactly what we would want to see in this important year. Growth has replaced declines in the all-important pharma segment. What is more, the pipeline is set to provide additional growth opportunities in the near- and medium-term. Investors have had to be patient, yet it looks as though this is about to (finally) be rewarded.
In the meantime, their financial position looks healthy. Debt growth may have been exaggerated by currency fluctuations. Yet fundamentally their balance sheet is solid if not quite super-strength. In turn, cash flow performance is improving at last even if 2017 will likely provide another near-term blow to this progress as Advair seems almost certain to face generic competition. With new drugs increasingly providing fresh top and bottom line growth as well as cash flow we should expect to see the trend heading up in the future at least.
GSK's increasingly diversified revenue stream strategy is also looking more attractive to long-term investors. The actual outcome of any price tightening in the US drug market still remains uncertain. Nonetheless, it is clear that it could put more pressure on the main pharma companies. GSK's large footprint in consumer healthcare and vaccines will serve it well whatever the future serves up to their pharma segment.
All told, I am very happy with GSK's 2016 results. They produced figures which were exactly what I was hoping for and set the company up well for 2017. Although in some regards Q4 2016 was clearly a tougher quarter which may well take some momentum out of growth into 2017 (not to mention potential Advair headwinds) the longer-term picture looks very good. With a full position in the company already, I will not be looking to sell-down or build up my current position. Yet had I currently had a slimmer position in this pharma giant, I would certainly be tempted to pick up further shares today. Near-term risks clearly remain (not least to the dividend) yet the potential for medium or long-term reward remains compelling.
Note: All graphs, tables and the calculations contained within them were created by the author unless otherwise noted. All data was collected from publicly accessible company filings and reports. Creative Commons image reproduced from Flickr user jepoirrier.
Disclosure: I am/we are long GSK.
I wrote this article myself, and it expresses my own opinions. I am not receiving compensation for it (other than from Seeking Alpha). I have no business relationship with any company whose stock is mentioned in this article.