CNBC: 12:15 EST

After a quick pop to new highs 2318, ES futures (NYSEARCA:SPY) were mostly range-bound in the overnight session, though with a firm bull bias in place. This extended to the morning equity session, as the market cap of the S&P crossed $20T for the first time ever.
Curiously, the VIX is also showing bullishness as investors look for Fed Chair Yellen's comments midweek as she testifies in front of the Joint Economic Committee, in Washington, DC.
The VIX (poorly proxied by VXX) opened at a weekly high of 11.84 last week, and fell all the way to 10.55, before ultimately settling about flat from last week's close.
Article Shout-Out
Today we highlight work from Steven Hansen. In his weekend piece published on SA, " Chaos Theory Applied To Trump Presidency", Hansen responds to a New York Times article from a few weeks back. Hansen makes the case that, contrary to the Ph.D. expert opinions given in the NYT article, chaos is exactly the type of technique frequently used by replacement management teams seeking large turnarounds in huge corporations.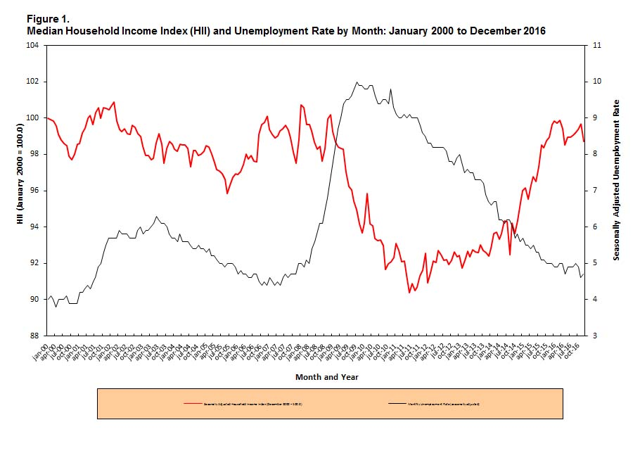 Mr. Hansen uses the graphic above to demonstrate that perhaps the US is indeed a nation in need of a turnaround. While the unemployment rate has greatly reduced, median household income has stagnated across years.
Assuming that chaos is the play Trump and his administration has elected to run, at least initially in his term, we may be in for much more market volatility than we have seen so far. With increased uncertainty, though, we also believe that the potential for longer-term productivity growth should be strongly considered as well.
Thoughts on Volatility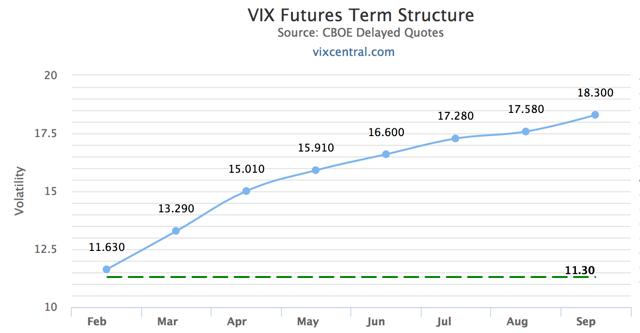 VIX term structure is seen even steeper than Friday, with front-month contango currently at 14.27%. We'd like to reiterate our warning from Friday for front-end VIX position takers.
As shown below, while the front-month contango can continue higher, over the last two years it has failed to stay higher for any meaningful amount of time.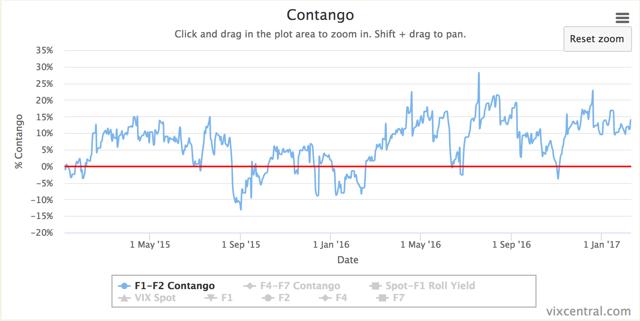 Those with VIX shorts looking to scalp juicy contango may really want to consider how attractive this set-up really is. We believe that the front end is becoming more and more unsuitable whether taking the long or short end of VIX, unless you have very strict entries and exits in place. You absolutely do not want to be "winging" positions here.
Tracking the Trade*(please read disclosures):
Our market volatility bulletins tend to come in two major parts: one where we cover general activity in the equities markets and the VIX, and another part where we identify and then track a trade over the course of several days.
Yesterday we discussed the mechanics of how we closed our sim trade that we initiated on Monday, January 30. Our opinion is that investors and traders give way more attention to developing a strong thesis than they do to understanding tactics or mechanics. This is a mistake. Please carefully read how we conduct a "hard close" on this trade that we've gradually instated over the last two weeks.
Today's segment of Tracking-the-Trade will discuss what the strengths and weaknesses of our trades came out to be. What we did well; what we could have done better.
To be clear, there is no great reason as to why the trade "should" be closed; we just set a two-week time horizon on the position, and so we're sticking to that.
As a reminder, the focus in writing these pieces is educational. We repeat during our Market Bulletins that these trades are not actual recommendations; we are not "telling" you what to do, but rather we are walking you through what a reasonable way to execute a strategy would be in the event that you the reader similar a similar thesis to that stated just below.
Before we go further, however, we will show you the payoff visuals on our two-legged trade, and we'll show you the trade log from the past two weeks so that you have greater context.

Total cost to enter the position was $16.25.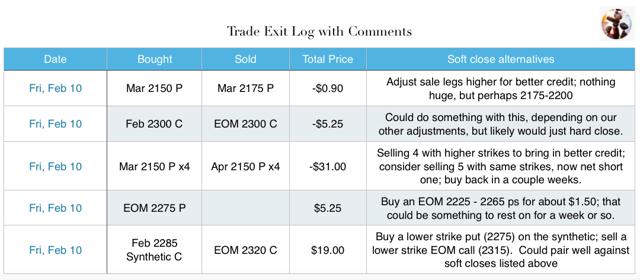 Total net proceeds on the hard exit was $13. The P&L on the entire as-is trade therefore amounted to a loss of $3.25. We'll discuss the strengths and weaknesses of our trade below.
Thesis (Strategy):
In a nutshell, our thesis over the last couple weeks has been as follows:
Buy-the-Dip is clearly still alive for now (as we observed last week and every week for SPY), but the market has over-reached. The CNBC article that we referenced in Thursday's bulletin speaks to a market that has entered an almost dream-like phase. VIX tried to pick up the week before last, but it failed early and failed hard.

Even at peak nervousness, the index never made it to a thirteen-handle over the past two weeks.

Front-end VIX contango is simply a marvel at these levels. From our perspective the catalysts for increased volatility keep coming, but are summarily disregarded.
We hypothesized that any meaningful pullback would be instinctively bought up, at least initially. Our downside action was therefore limited due to market knee-jerk reactions built in over the past four years to buy any SPX weakness. Therefore, while we preferred a trade with an inverse exposure to SPY, it was not our primary objective as we illustrate the dynamics of this particular trade.
"So how was your thesis?"
Our thesis over the past couple weeks was mostly incorrect. Now this may be a time horizon issue. Our trade actually was positive up until last Thursday morning with the Trump tax reform announcement. We discussed last Wednesday that a large move up would not be helpful, but that we wanted to avoid overtrading a <then>-profitable position.
That said, however one may want to sugarcoat: our thesis did not play out over these past two weeks. We were wrong. A lot more people in the finance profession need to become more comfortable with saying that. We have been wrong many times, and we believe admitting failures increases trust though integrity, and also affords more room for improvement. Hem-hawing helps nobody.
As far as our thesis was concerned, there was a bit of silver lining. We hypothesized that any initial downdraft on SPX would be instinctively bought up. This allowed for a play that enlisted the sale of March 2165-area options as an offset to the now-unprofitable call diagonal spreads that we sold. Our thesis did allow for such a put sale, and it clearly helped us a lot on that first leg.
Tactics
Tactically, the trade was pretty defensible. On Tuesday, Jan 31, we made the following statement after the S&P had retreated reasonably strongly from the 2300 mark down as low as 2261:
Given that the market is lower, however, and that we have yet to initiate additional legs to the trade, we want to move our strikes in accordance with yesterday's price action.

In fact, you could make the case that we should move the Feb calls lower to the money on this second layer. That would pay more theta (time decay) and give the option a better overall vega profile (more volatility).

We have found over the last several months that the S&P never hesitates to find a reason, no matter how tenuous, to rally. We believe that this is index traders' first instinct (buy any weakness), and so we don't want to get too aggressive on readjusting strikes. We believe this modification to be reasonable.
We took moderate action and did not get over-eager when the market traded down in the 2270 region. This is the region where the great bulk of our trade was put on over the past two weeks.
It's easy to get jittery when the market moves a little "too quickly" on you. We kept our calm, and just scaled our second trade down by 15 handles. This turned out to have been "wrong", but it was highly justifiable, and actually remained so over the majority of the trade window.
"What about the second leg - the calendar spread?"
The calendar spread was a reasonable choice for getting longer vol, shorter exposure to SPX, and maintaining a fairly neutral weighting on exposure to time. Especially considering the shape of volatility right now, with its steep contango, this was not a bad selection. A raw March strangle may have worked better; but we stand by what we chose.
We avoided the temptation to grab hold of skewey Feb volatility. The week before last, low Feb puts were getting very expensive, while Feb calls were becoming quite cheap. While you could argue that we should have then sold a Feb put and/or bought a Feb call, that is really not in keeping with the thesis.
So far as the first two calendar spreads that we initiated on Wed, Feb 1, we feel positive about those. We stated in that bulletin:
Depending on how greedy you are, you may set a lower limit price to see if you could pull off at a lower price:

In pre-market open, the bid-ask is a bit wide; you could definitely get this done easily somewhere at the mid, especially during regular hours.
Remember, this is not a leg that you absolutely need to add. Hold out for a better price if you like (within reason). We're fairly confident we'd be able to get this done for $9.00 at some point today. No guarantees of course, but nothing wrong with reaching.
We were not in a hurry to trade into that second leg (at least not on Wednesday). We waited for a better fill, which made sense given the market context.
The weakest play of the trade was jumping a little too quickly into doing the same trade (the calendar spread) another two times, without waiting for a better price (in fact doing the trade at a worse price). We got filled at $10.75, as Feb's skewiness gave us some heartburn. Not a horrible play, but at the same time probably the weakest segment of the trade.
Finally, the trade modification from Tuesday, Feb 7 could be criticized. It turned out to be a decent enough trade, and we got the options sensitivities correct in terms of general direction. Furthermore, we did not want to smother our trade, and we certainly didn't. But it was a position that offered little in the way of true defense in the event of a large move higher, which is in fact what played out. Perhaps a better approach would have been to sell back one or two of our calendar spreads at a modest loss. The second leg is where we really paid for this trade: down about a total of $8.75.
"So how do you feel about the way you played your thesis?"
Overall we believe the tactics went well for us. Most of our trade was put on with the ES around the 2270 region, with the VIX around 11.50. At our exit on Friday, the ES traded at 2312, and the VIX was printing 10.65. SPX was up 42 points, the VIX traded down a vol point (10% of its value); we lost 3.25. That actually speaks to a moderate thesis with a nuanced approach to tactics.
In fact, the point of concern we have is that had the play worked, it may have not worked well enough on a meaningful downdraft. We would perhaps not have been profitable enough; hindsight is always 20/20.
We did consider our payoff diagrams and our options Greeks as we initiated and monitored our positions. That helped us to tailor a position that was in keeping with our stated goals.
Mechanics
We went into detail yesterday on how we exited each position. Again, many people gloss over these kinds of discussions, but if you are ever considering trading options, we strongly recommend that you read about mechanics first. They are not just an afterthought!
As far as the trade entries, again the purchase on Thursday, Feb 2 was a little hasty. We don't want to come down too hard on ourselves; if the market was trading down 40 handles instead of up 40 handles from where we were when we initiated, we would be lauding this play. But we have no problem with criticism, either from ourselves or from others. That is the play that cost us.
Final Thoughts
"So is your thesis dead?"
Not really. There is no reason why the trade should have to die. In fact, given that our losses were so modest, one could easily justify simply adjusting some strikes and/or expirations, and keeping it alive (though I say that with ES printing new highs in pre-market: one can only fight crazy for so long!).
Furthermore, our closing table (at the intro section of today's Tracking-the-Trade segment) demonstrated ways in which we could "soft close" our positions rather than fully flattening them out. While soft closes carry risks of their own, it is very likely that in practice we would perhaps modify position in such a way that we would effectively recognize some modest loss, and carry on the trade.
But we write about these sim trades to get your own mind working in terms of possibilities. We believe that you should not just run out and buy (or short) some shiny ETP when you have a view. We believe there is value in thinking beyond just strategy, and understanding that there may be a tool kit that allows for a wider array of possibilities.
As such, we don't want the time frames on trades to overstay their welcome. So we end them after a week or two. And while this may seem arbitrary to you, consider that all "exits" have a certain degree of arbitrariness built in. Whether you exit after a certain time, or a certain target gain or max loss threshold, or a max exposure to a particular Greek; maybe even there's just an option or futures expiry that you use to mark the end of a trade's life. Unless one goes completely bankrupt, exits will always have something of an artificial quality about them.
A hard close after two weeks certainly meets the description of an exit that leaves one wanting, but that's not such a bad thing. We walk away having had a faulty thesis over the stated window of time, but with a pretty solid set of tactics and mechanics that kept the losses quite manageable.
Thank you for reading; we will begin a new segment of "Tracking the Trade" in the near future, with a new trade idea to follow. We hope that you enjoy the format of these discussions. Please comment below, as we are very interested in your thoughts!
Please consider following us!
Disclosure: I am/we are short SPY.
I wrote this article myself, and it expresses my own opinions. I am not receiving compensation for it (other than from Seeking Alpha). I have no business relationship with any company whose stock is mentioned in this article.
Additional disclosure: We actively trade the FX and futures markets, potentially taking multiple positions on any given day, both long and short. It is our belief that the S&P 500 is meaningfully overvalued. As such, we typically carry a net short position using ES options and futures. We want to emphasise that these "trades" are for educational purposes, to demonstrate how to reasonably analyze, enter, adjust or modify a position. These are NOT actual trade recommendations.