NVIDIA Corporation (NASDAQ: NVDA) has defied all expectations and returned 312% in the last year, continually smashing analyst estimates along the way and adding new investors to the bandwagon every day. Now, there is some concern that it's too late to enter a position, as the company is now overvalued. This simply isn't true - NVIDIA's entry into the console market signals an opportunity for market dominance that could see performance in 2017 that rival's last year's. For a more rigorous analysis check out my latest on NVIDIA here.
(Yahoo Finance)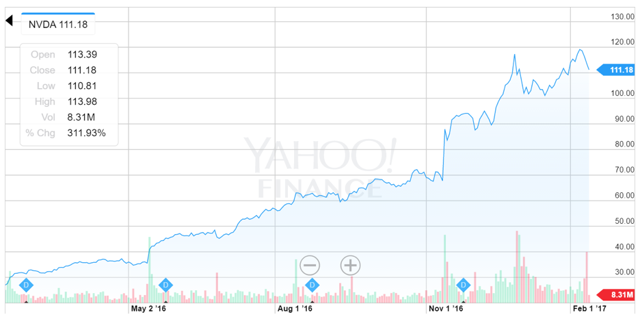 GeForce Graphics Cards
The first avenue for growth at NVIDIA is in its graphics card business. While console gaming still dominates the news, the PC market is bigger and growing - of the 1.8 billion gamers globally, some 1.2 billion use PCs. What's more, NVIDIA dominates it with 70% of the market. Their upcoming GPU, the 1080 Ti, is a refined version of the popular 1080 model that fans have been hotly anticipating. At CES this year, the company actually refrained from announcing it after watching AMD's (NASDAQ: AMD) press conference. Clearly, NVIDIA has a strong GPU pipeline, especially compared to AMD - more on that later.
Nintendo Switch
One of NVIDIA's biggest avenues for growth in 2017, and the fact that the market is missing, is the success of the Nintendo Switch, an upcoming gaming console powered by one of NVIDIA's mobile Tegra chips. Many investors are discounting the potential success of this convertible console - in fact, Nintendo's (OTCPK:NTDOF) stock fell 5.75% on the day of the full reveal of the console last month. After the Wii U failed to live up to the expectations set by the Wii, it's natural for investors to be cautious regarding this launch. However, there are many reasons to expect it to be successful.
The Wii U failed for many reasons - it was overpriced, underpowered and had a lackluster launch lineup. Everything has changed with the Switch. The price of $299 US is low when considering the fact that this device replaces both a handheld and a home console. The device is powerful enough to play quality titles like Skyrim on the go. And, the console is launching with a Zelda title, one of the most popular Nintendo franchises. As the Switch launches and becomes a success, watch out for a continued rally in NVIDIA's share price.
Entering the Broader Console Market
Currently, AMD supplies GPUs for the Sony (NYSE: SNE) PlayStation 4 and the Microsoft (NASDAQ: MSFT) XBOX One. These consoles, which have been wildly successful, both launched in 2013, and are due for an update soon. Now that NVIDIA has proven its hardware advantage in the PC market and is entering the console market through the Nintendo Switch, the company has the potential to dominate gaming consoles next cycle. This massive growth potential gives the stock significant upside long term as well, making it an excellent investment despite the recent rally.
Don't Buy into the AMD Hype
NVIDIA's close competitor, AMD, has also attracted many investors over the last year, rallying over 655% in the last 12 months, more than double NVIDIA's run. At this point, it's important to remember that as an investor, you're looking for cash flow, not just hype. NVIDIA is trading at 19.2x 2018 EBITDA, a metric that reflects the growth the company is expected to achieve in the next two years. In contrast, AMD is trading at 33.9x EBITDA, despite having worse growth prospects. NVIDIA has locked down the PC market and is about to become competitive in the console market. AMD, on the other hand, has failed many times to chip away at NVIDIA's PC market share, and now has its console dominance threatened.
(Yahoo Finance)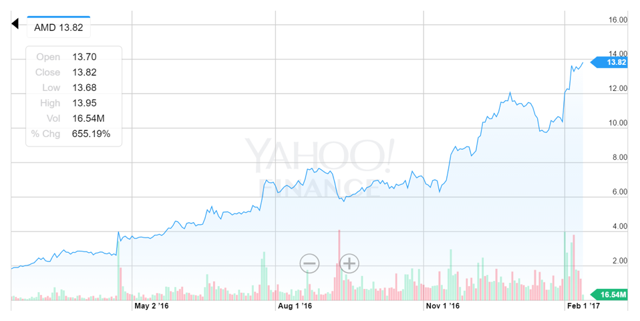 Whether you're looking for long term growth prospects or an attractive valuation, NVIDIA still has both despite its 312% rally in the last 12 months.
If you enjoyed my opinions, insights, and analysis, please hit that FOLLOW button and checkout my other ARTICLES and analysis. Thanks for Reading! Please leave a comment below as I am anxious to know your thoughts on this matter.
Disclosure: I/we have no positions in any stocks mentioned, and no plans to initiate any positions within the next 72 hours.
I wrote this article myself, and it expresses my own opinions. I am not receiving compensation for it (other than from Seeking Alpha). I have no business relationship with any company whose stock is mentioned in this article.
Additional disclosure: The analysis presented in this article is the opinion of the author and is for educational purposes only. This does not constitute investment advice.
Editor's Note: This article discusses one or more securities that do not trade on a major U.S. exchange. Please be aware of the risks associated with these stocks.