With some companies, leverage just does not work. Chesapeake Energy (NYSE:CHK) had negative cash flow the first half of the year and management is not forecasting enough cash flow to cover the capital budget until 2018. The remaining leverage will not work in the favor of shareholders without generous cash flow. That generous cash flow appears to be a few years away. This leaves the stock overpriced and volatile without much chance of steady future appreciation.
EP Energy (NYSE:EPE), on the other hand, just announced an agreement with an Apollo subsidiary to joint venture some wells.
"entered into a drilling joint venture with private capital investor, Wolfcamp Drillco Operating L.P. (Investor), to fund future oil and natural gas development in its Wolfcamp program.

Drilling Joint Venture highlights

Up to a 150 well program in two 75 well tranches
Investor funds approximately $450MM for 60 percent of drilling, completion and equipping costs over the life of the program
Investor earns 50 percent working interest in each farmout well in the completed Wolfcamp interval
Significantly enhances program economics with well-level IRRs of more than 80 percent
Further illuminates Wolfcamp acreage value of approximately $20,000 per acre
EP Energy operates all wells in the program"

"We are pleased to announce our Permian drilling joint venture, which will enable us to accelerate the development of our largest strategic asset in a balance sheet friendly manner,"

"Wolfcamp Drillco Operating L.P. is managed by, and its equity is owned by, affiliates of Apollo Global Management LLC, affiliates, of which beneficially own approximately 45 percent of EP Energy's common stock and have representatives on its board of directors. The transaction was approved by the disinterested members of the EP Energy's board of directors."
Apollo Global Management LLC (NYSE:APO), through its funds owns and for all intents and purposes controls EP Energy. Apollo has every incentive to make EP Energy succeed. Apollo is not known for settling for a mere 20% return either. Notice the sentence on the value of the Wolfcamp acreage. This company is going to be a potential acquisition candidate in the Apollo tradition. Generally Apollo aims very big so that if things go wrong, the company still makes a profit. The management company has an excellent long term track record. It has a lot of experience making leverage work to magnify investment returns. Expect Apollo to put that knowledge to use in running EP Energy to the advantage of shareholders.
Chesapeake Energy, on the other hand has been reporting a steady stream of losses and writedowns. Any joint ventures have not been material enough to enhance the financial situation of the company. At December, 2015, fiscal year end (click on Adobe or Word 10-K) the company had $10.735 billion in long term debt of which $381 million was due within a year. The working capital deficit was $1.205 billion. The latest working capital deficit in the third quarter (click on the third quarter Word or Adobe 10-Q) just ended was $2.539 billion. The long term debt was $9,682 of which $660 was due within a year at the end of the fiscal third quarter for 2016.
So despite highly publicized property sales by Chesapeake Energy. The total of the working capital deficit and long term debt at the end of the third quarter of 2016 was $12.221 billion. At fiscal 2015 year end this figure was $11,940 billion. So not only is the company not making progress in paying down debt, it is reporting property sales, losses, and writedowns to magnify a bad situation. This is just the opposite of what debt is supposed to do. Clearly the resumption of preferred dividends was meant to prevent investors from focusing on the lack of balance sheet progress and a possible future financial crisis.
EP Energy had far better measurements for its leverage. Cash flow from operations (click on appropriate 10-K version) was $1.327 billion for fiscal year 2015. Working capital at the end of the fiscal year was $621 million. This resulted in a strong working capital ratio of nearly 3:1. Long term debt was $4.812 billion, nearly 8 times shareholders equity. At the end of the third quarter (click on appropriate 10-Q version) the company had a working capital of $63 million (still better than 1:1 working capital ratio). Long term debt was $3.796 billion. So the combined long term debt minus working capital figure is $4.191 billion at fiscal year end and $3.733 billion at the end of the third quarter.
EP Energy cash flow from operating activities was $658 million. While this was down from $1.039 billion in the nine month period the year before, at least the company had some cash flow to service its debt. But this is where Apollo management makes the difference. Cash flow was down and the ratio of long term debt to cash flow from operations was getting into nervous lender territory. So Apollo stepped in to fix the situation promptly. Shareholders may not even realize there was a potential problem. Just a very happy joint venture announcement to please Mr. Market. Apollo has a reputation with lenders that it does not want to endanger. It also has a successful reputation with investors. So as the manager of EP Energy, action was needed to correct a potentially materially damaging situation. Obviously that action was promptly taken.
EP Energy just announced a $1 billion offering of 8% senior secured notes that will enable it to pay some debt coming due in a few years. Most of the company debt will now be due after 2020. The bank line had an escalation clause that was neutralized earlier in the fiscal year. Any earlier repayments left will be very easy to handle. That joint venture announcement had a material part in making this financing (and refinancing) effort successful. Shareholders can expect Apollo to look out for them in the future to make this company very successful. Like the remaining shareholders, Apollo wants to make a lot of money. Unlike the smaller shareholders, controlling shareholder Apollo has the means and experience to make it happen.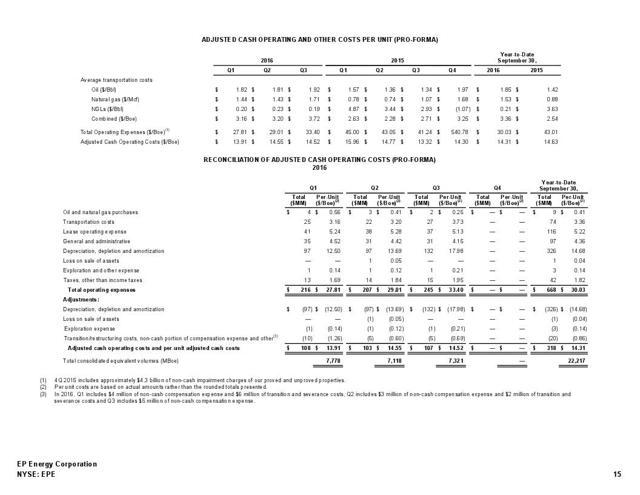 Source: EP Energy Third Quarter, 2016, Financial And Operational Reporting Package
Like Chesapeake Energy, EP Energy has some very low operating costs (click on third quarter update). But its liquids production is a much higher percentage. That higher liquids percentage has allowed the company to report net income for the nine month year-to-date figure. That net income figure is actually an improvement over the previous year even though the latest quarter showed a small loss. The fourth quarter comparison will be an easily positive comparison because this year the company has no giant fourth quarter impairment charge. So for EP Energy, the leverage will work in the favor of shareholders both now and in the future.
Management is feverishly working to lower operating costs more. With the continuing operating improvements and new well designs sweeping the industry, expect this company to continue to report its fair share of future significant operating cost improvements.
Source: EP Energy Third Quarter 2016 Investor Update
Of course a decent hedge program is playing a major role (click on Adobe download) in this comparison. But the progress made through debt reduction, cash flow maintenance, and operational improvements cannot be ignored. Not many companies had significant cash flow in the very low commodity price first quarter. Fewer still have found a way to recover cash flow back to previous levels. Many have gone bankrupt as a result. But bankruptcy is not in the vocabulary of Apollo or this company management. Management that deals with leverage always has backup plans. This management knows that if the company is going to be leveraged, then management had better make that leverage work. Otherwise excess debt is the kiss of death.
Source: EP Energy Third Quarter 2016 Investor Update
The debt is a significant competitive handicap. So there needs to be a lot of locations to drill where the breakeven price is low to offset the debt costs each quarter. Clearly EP Energy has those locations. The continuing efforts to decrease operating costs and improve well production is also showing positive results. So as that excellent hedge program declines, there will be lowering operating costs in place to pick up the slack. Apollo is generally a very tight fisted manager. So unlike Sandridge Energy (NYSE:SD), Energy XXI (EXXIQ), and Halcon Resources (NYSE:HK), replacing lost cash flow is a priority that historically has borne immediate and tangible results. Problems are promptly fixed. Chesapeake Energy management could learn a thing or two from this company.
EP Energy is a much better leveraged deal when compared to Chesapeake Energy and it is likely to remain so well into the future. Apollo has the company well positioned in some of the better and low cost basins in the industry. Should an acquisition or another joint venture be needed, Apollo has the experience to make it happen. The presence of Apollo and its vast experience (and connections) makes the risk of investing in EP Energy much lower than would otherwise be the case. This stock will easily double over the next five years and probably do much better. Apollo usually aims for large gains. With the EP Energy investment, it is very likely to get those gains. This stock should outperform Chesapeake Energy over the next five years by more than double. The outperformance will probably be far more dramatic.
Disclaimer: I am not an investment advisor, and this article is not meant to be a recommendation of the purchase or sale of stock. Investors are advised to review all company documents and press releases to see if the company fits their own investment qualifications.
Disclosure: I/we have no positions in any stocks mentioned, and no plans to initiate any positions within the next 72 hours.
I wrote this article myself, and it expresses my own opinions. I am not receiving compensation for it (other than from Seeking Alpha). I have no business relationship with any company whose stock is mentioned in this article.
Editor's Note: This article covers one or more stocks trading at less than $1 per share and/or with less than a $100 million market cap. Please be aware of the risks associated with these stocks.