Investment Thesis
I previously wrote an article about two under-followed banks, Oritani Financial Corp (NASDAQ:ORIT) and Glacier Bancorp, Inc. (NASDAQ:GBCI). I've been asking readers/commenter's to provide additional stocks for further research. The first on my list of to-do's is BGC Partners (NASDAQ:BGCP).
While this stock is slightly more mainstream than others, I have had it on my watch list for a while and have failed to dig into the company for further research. Although I like the initial review of BGCP's numbers, I want to disclose that its operations are rather complex and that investors should give extra consideration towards researching BGCP before entering into a position. My initial prediction is that BGCP is a buy, and even though it has enjoyed a 20 percent gain in the last three months, I still believe that there is potential for continued gains.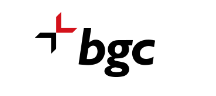 BGC Partners - Corporate Overview
BGCP is a leading global brokerage that specializes in financial, real estate, and corporate services. For financial services, BGCP offers financial tech solutions and market analytics to brokerage clients. Some of the specific products include:
Fixed income securities
Interest rate swaps
Foreign exchange
Equities
Equity-related products
Credit derivatives
Commodities
Futures Structured products
Financial services is BGCP's primary focus, as real estate services started in 2011 after the company acquired Newmark Knight Frank. BGCP followed up with another acquisition in April of 2012 when it purchased a significant number of assets from Grubb & Ellis Co. BGCP's real estate assets operates under the name Newmark Grubb Knight Frank (NGKF). Real estate services include:
Leasing advisory
Global corporate services
Investment sales and capital markets
Consulting Program and project management
Property and facilities management
Valuation services
Although real estate is newer to BGCP, it's important to understand that the company acquired two well-known real estate groups to develop these services. NGKF has 12,800 employees operating in 370 offices over six continents. In other words, real estate is just as significant to BGCP's portfolio as its financial services are.
BGCP has headquarters in both London and New York, and the products/services previously mentioned are utilized by some of the most prominent banks, investment banks, trading firms, hedge funds, and various corporations in the world.
According to www.dividend.com, BGCP pays a dividend of $.16/quarter, or $.64/annually for a current yield of 5.66%. Using the last four quarters of earnings, BGCP has raked in EPS of $.83/share, giving BGCP a payout ratio of approximately 77%. Although BGCP has only raised its dividend for the last two years, it has continued to pay out dividends going back to 2008 when it first implemented a dividend policy.
BGCP - Growing Fundamentals
BGCP recently release its 4th quarter earnings. Here are the year-over-year changes in company revenues and segments from the Q4-2016 earnings report.

As I mentioned before, real estate makes up a significant portion of the company revenues, but I want to draw attention to the Q4-2016 increase in the pre-tax margin (over Q4-2015) in the financial services segment of BGCP's operations. Although revenues were down from Q4-2015 to Q4-2016, they were able to increase the pre-tax margin so that the pre-tax earnings were almost 18 million dollars year-over-year (YoY). Additionally, I want to point out that the loss on the corporate segment was almost half the loss from the year before; meanwhile, revenues were down $1.5 million YoY.
I wanted to examine what led to such drastic results from 2015 to 2016. In the company's Q4-2016 report, it points out that pre-tax earnings were up significantly because of BGCP's acquisition of GFI and the profitability of its FENICS line of products (more to come on this below).
Financial revenues were down significantly due to the sale of Trayport. The Q4-2016 report notes that if Trayport's sale and the impact of a stronger US Dollar had been excluded, that Financial Services revenues would have been up 1% over 2015.

When comparing the FY2015-FY2016 numbers, its easy to see that revenues saw very little change overall. Meanwhile, pre-tax earnings were up significantly. I have prepared the following table to give a stronger illustration of BGCP's results.

Again, the company points to the acquisition and integration of GFI and the increased revenues and profitability of FENICS products for the main reason earnings and margin as a whole were up so significantly. It is also worth consideration that real estate revenues were up almost 6% but were down YoY on the pre-tax earnings by almost the same percent.
Completion of the GFI acquisition and the increasing revenues of FENICS products were significant drivers in improved financial services numbers. GFI's acquisition resulted in cost synergies and savings that are in total over $125 million for distributable earnings. Meanwhile, FENICS revenues now make up 13% of financial services revenues (they were only 3% of revenues in 2010) and 28% of financial services pre-tax distrbutable earnings in Q4-2016.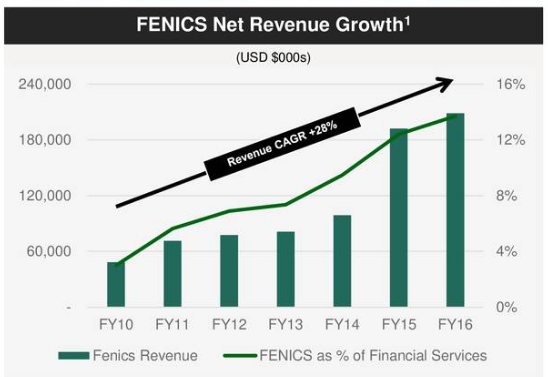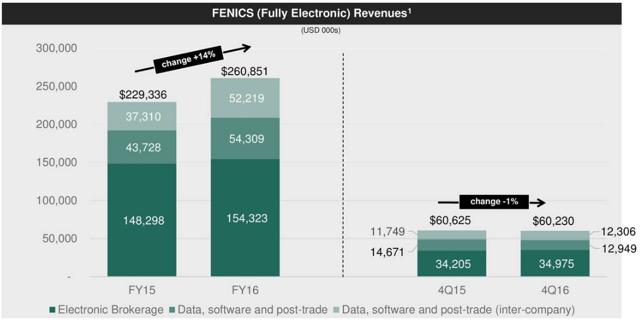 As you can see, FENICS revenues and pre-tax distributable earnings have grown significantly since inception, and BGCP emphasis on this growth in the Q4-2016 report suggests that they are going to continue investing heavily in this product line.
Business Revenues Through Product Diversity
Although we know that BGCP's Financial and Real Estate make up nearly all of the company's earnings, its also worth examining the diversity of the revenue base, especially because it's important to know that all of BGCP's chips aren't placed on one bet.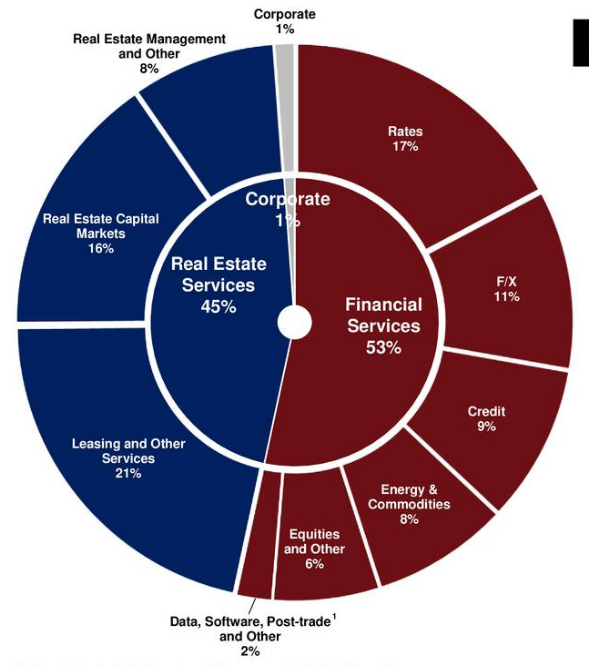 It is comforting to see that a company as complex as BGCP has such a strong diversity of products at its disposal. By maintaining and expanding such a large portfolio of products, BGCP is doing a good job of insulating itself from an industry that is especially susceptible to both positive and negative economic changes.
Real Estate
In my review of the company's YoY real estate numbers, the biggest change was the shift from leasing services to capital markets, and while the real estate sector experienced 6% growth, the bigger story is how real estate has performed since 2013. The following graph demonstrates the 22% CAGR over the last four years.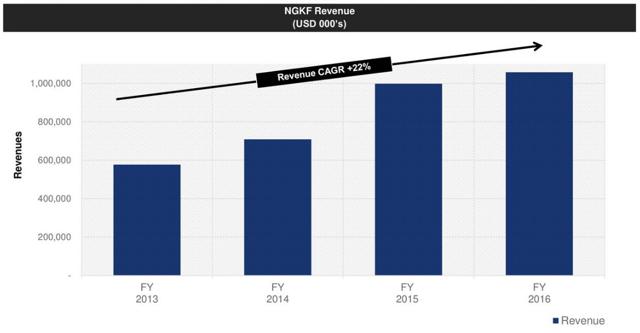 While this revenue growth is impressive, pre-tax earnings have remained fairly stagnant. All things considered, real estate is an area with rapidly growing revenues and increasing profitability and investors should keep close watch on how these numbers improve going forward.
Strong Insider Ownership
As investors, I think we can all agree that we like to see a company that is aligned with our interests, and a strong insider ownership is usually a good indicator of this. BGCP has a very strong insider ownership that is just shy of 15% of shares outstanding.
Although insider ownership is strong, institutional ownership is lower than I expected sitting at just under 40%. As I have mentioned in previous articles, I like to see strong institutional ownership because this suggests that there is value I am not seeing, especially because I have always believed that institutions have much greater access to information than I do. In other words, a high institutional ownership likely means that I should dig into a stock to see if I am missing something.
Although institutional ownership is lower than I expected, I have to give more credit to BGCP for their strong insider ownership because few publicly listed firms as large as BGCP have ownership levels this high. (ORIT has nearly 15%, but is much smaller by comparison).
Dividends and Shareholder Returns
BGCP's history demonstrates a strong value for shareholders. Below is a graph from the 2015 annual report that shows how an initial investment of $1,000 in 2012 would be almost $3500 in 2015. Investments like this over such a short period of time can be hard to come by.

While the dividend doesn't come with the certainty of a dividend champion, I personally feel that the yield, history of payments since 2008, and the payout ratio are enough to compensate for the uncertainty. BGCP's dividend is also a qualified dividend, meaning that the dividend is subject to capital gains tax rates rather than income tax rates, thus making BGCP a good choice for both a taxable and non-taxable portfolio.
Conclusion
BGCP is an interesting but extremely diversified company. While this is a positive for the growth potential, it does make BGCP a little more concerning for the average investor to figure out what is going on and the risks associated with their business model. As a dividend income investor, I find the stock attractive but would only be willing to execute a small position at this point in time for the most conservative income investor.
For the income investor who has time on their side and is more comfortable with risk, I would say a larger position would be acceptable because the company has demonstrated continuously improving fundamentals that give me a strong faith in management and the direction of the company. As FENICS products and the GFI acquisition have shown, BGCP is an adept deal-maker and has positioned itself for growth in the financial services and real estate industry.
Even after the large run up in BGCP's stock price, I still view the company as a buy, and would say that extra consideration should be given on any dips in the stock price (especially below $10/share). I would say that any changes in the financial sector would cause me to re-examine my opinion, but I expect the stock to flourish as the markets go through a period of deregulation that should benefit both financial services and real estate segments of BGCP's portfolio.
Final Note: If you enjoy my articles please take the time to follow me. While I enjoy performing analysis, following me is the best method for showing me that SA subscribers are finding my work useful.
If you have any suggestions to improve my articles or if you would like me to perform analysis on a stock please feel free to message me and I will do my best to make it happen.
Disclosure: I/we have no positions in any stocks mentioned, and no plans to initiate any positions within the next 72 hours.
I wrote this article myself, and it expresses my own opinions. I am not receiving compensation for it (other than from Seeking Alpha). I have no business relationship with any company whose stock is mentioned in this article.
Additional disclosure: This article reflects my own personal views and is not meant to be taken as investment advice. It is recommended that you do your own research. This article was written on my own and does not reflect the views or opinion of my employer.