Some investors, particularly the inexperienced ones, are especially fond of purchasing stocks near their 52-week lows. As they buy the stock at a lower price than the entry point of almost all buyers of the last 12 months, they feel they buy a great bargain. However, they need to realize that great conviction is required for such trades to become profitable. Otherwise, these trades are likely to result in excessive losses.
First of all, when investors buy a stock around its 52-week low, they are likely to incur short-term losses due to its negative momentum. As stocks maintain their trend much more often than they reverse it, it is almost impossible to identify the exact bottom. Therefore, investors who purchase a stock around its 52-week low should be well prepared for paper losses, at least in the short term. Even if their thesis is fundamentally correct, the market can remain irrational much longer than they can tolerate bleeding. All in all, only investors who can stomach appreciable paper losses for an extended period should attempt to bottom-fish a stock.
As an example, about four years ago, I bought Ross Stores (NASDAQ:ROST) during a correction around $33, based on its exceptional growth record and its promising growth prospects. While this well managed company kept posting excellent results, its negative momentum continued and it lost another 10% soon after I bought it. Moreover, while the stock bottomed at that level, it remained suppressed for a total of two years. I was quite discouraged by the behavior of the stock while its business was performing well and the company was beating the analysts' estimates. It took two years to the market to start appreciating the stock. Finally, the bull thesis proved correct as the stock has doubled during the last two and a half years. However, its shareholders needed to have great conviction to hold the shares while they were markedly underperforming the S&P 500 (NYSEARCA:SPY).
When a stock posts new 52-week lows, there is usually a good reason to justify the downtrend. In other words, the fundamentals of the stock have incurred a negative shift, which justifies a new, lower range for the stock. In fact, posting new lows is one of the most reliable technical signals, which usually indicates further downside ahead. The longer the stock remains under its previous lows the more reliable the bearish signal. Therefore, when a stock posts a new 52-week low, investors should not rush immediately to grasp the "great bargain." Instead they should perform thorough due diligence to understand why the stock is falling. In addition, they should determine whether the cause of the plunge is here to stay or the headwind is just temporary. Only in the latter case they should attempt to bottom-fish the stock. Even in that case, they should keep in mind that great patience is likely to be needed until the market appreciates the stock again.
While bottom-fishing may seem particularly attractive, at least on the surface, it is likely to result in excessive losses if the homework is not done properly. If investors buy a stock without completely understanding the cause of the plunge, they are probably positioned for huge losses. For instance, Michael Kors (NYSE:KORS) posted a new 52-week low of $72 in the fall of 2014. As the stock had lost 28% off its peak, some investors considered it a great bargain and bought the stock. The plunge might have looked unjustified, as the company was still experiencing double-digit growth in its same-store sales. However, the market eventually proved wise. The company soon switched from same-store sales growth to contraction and hence the stock has lost almost 50% since then.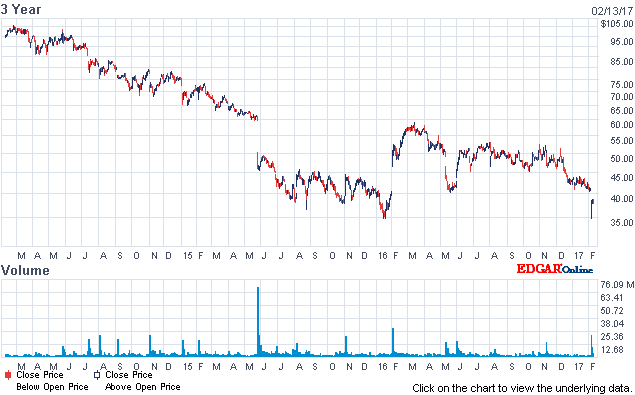 All in all, bottom fishers incurred excessive losses even though the stock was still posting great results when they picked up the shares. The key point is that a stock may post new 52-week lows due to the market's forecast for great business deterioration even though there are no such signs on the horizon. Consequently, investors should be particularly cautious when they purchase a stock near its yearly lows.
To sum up, many investors, particularly the inexperienced, are highly attracted by stocks that trade near their 52-week lows. However, instead of purchasing them right away, investors should perform thorough due diligence to determine the cause of the plunge and whether the cause is permanent or temporary. If they cannot understand why the stock has dived, they should certainly stay away from the stock. Otherwise, they run the risk of incurring excessive losses within a short period. On the other hand, even if their thesis turns out to be correct, great patience will probably be required until the market changes its view.
Disclosure: I/we have no positions in any stocks mentioned, and no plans to initiate any positions within the next 72 hours.
I wrote this article myself, and it expresses my own opinions. I am not receiving compensation for it (other than from Seeking Alpha). I have no business relationship with any company whose stock is mentioned in this article.