Unlike many of the other Brookfield entities, Brookfield Renewable Partners (NYSE:BEP) has failed to unlock and deliver value for investors. This has triggered concern among investors, with many now regarding it as a value trap despite its attractive valuation and 6% yield. The main reason for this is that over the last 10 years it has only delivered a return of 74% or an average of 7.4% annually compared to Brookfield Infrastructure Partners' (NYSE:BIP) 162% and Brookfield Asset Management's (NYSE:BAM) 86%, as the chart shows.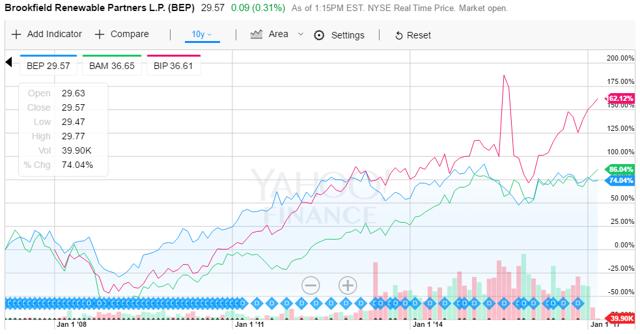 Source: Yahoo Finance.
Nonetheless, despite this less than spectacular performance, Brookfield Renewable offers considerable potential upside for investors and a very tasty 6% yield.

Management has also been working hard to unlock value and deliver more consistent returns for investors from what is a difficult sector in which to operate.
Understanding the business
Brookfield Renewable Partners owns and operates one of the largest independent renewable power businesses globally, with 260 generating facilities in North America, South America and Europe. It has renewable energy assets with installed capacity of 10,700 megawatts of which 88% is derived from hydro and the remainder predominantly coming from wind.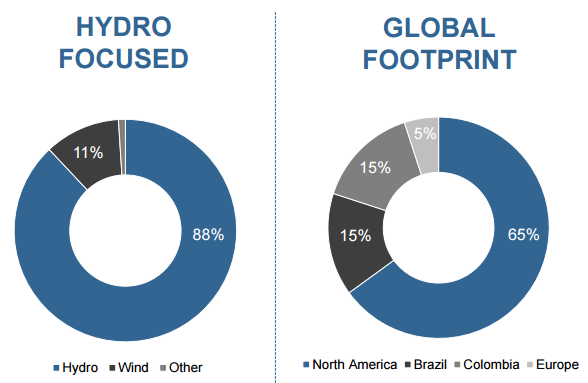 Source: company filings.
Its assets and operating footprint is diversified across three continents and five countries with a distinct presence in two emerging markets, Colombia and Brazil.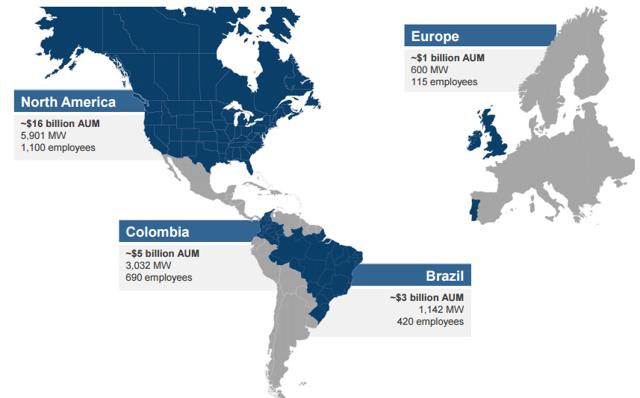 Source: company filings.
These assets endow Brookfield Renewable with a wide economic moat and the ability to benefit from the higher growth rates that emerging markets can generate. The geographic diversification also helps to protect its earnings from regional economic downturns.
The business is structured as a publicly traded limited partnership that does not earn business income. Instead, the partnership receives various forms of investment income from subsidiary corporations that control and operate its assets in the jurisdictions listed.
Key macro-growth catalysts
It is this geographically diversified portfolio of renewable energy assets that endows Brookfield Renewable with a range of macro and organic growth catalysts that should see its performance improve over the mid to long term.
#1 Secular trend to clean renewable sources of energy
One of the most important long-term tailwinds for Brookfield Renewable is the secular trend to clean renewable sources of energy. This has been gaining considerable momentum in recent years because of fears over global warming as the graph shows, global renewable capacity has grown at a staggering rate since 2006.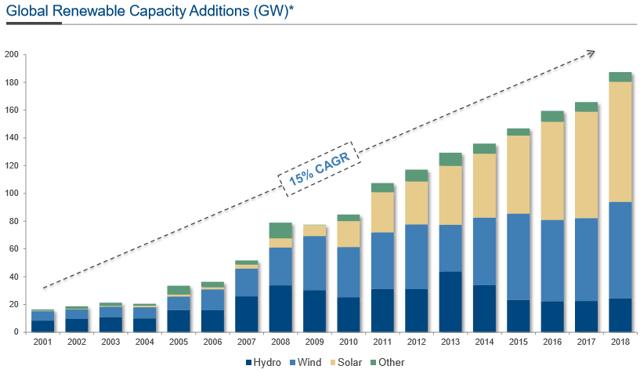 Source: company filings.
This will continue particularly with the Paris Agreement on climate change having entered into force on 4 November 2016. Its central aim is to limit the rising global temperature this century to well below 2 degrees Celsius above pre-industrial levels and to pursue efforts to limit the temperature increase even further to 1.5 degrees Celsius.
This will be achieved by eventually phasing fossil fuels out of the global energy mix, starting with coal. Coal fueled electricity and heat production is rated as the single largest emitter of greenhouse gases globally. This has seen a number of countries introduce aggressive clean energy targets, with China being the global leader as it seeks to drastically improve the air quality of its major cities.
China is rated as the world's largest emitter of greenhouse gases, producing almost double the volume of the U.S. which is the second largest emitter globally. Growing concern over pollution and poor air quality are making clean energy a higher priority in China.
This is acting as a powerful tailwind for investment in the renewable energy sector, with a record $349 billion being invested in the sector in 2015 and a further $288 billion in 2016. The year-over-year decline in investment in renewable energy can be attributed to falling equipment costs rather than a decrease in interest for investing in the sector.
According to the U.S. Annual Energy Outlook 2015, the cost per kilowatt hour for renewable sources of energy has fallen drastically in recent years. This now sees hydroelectric being one of the cheapest sources of electricity, with it being far cheaper than clean coal.
It is also one of the most attractive forms of power generation, with it having a longer life-span than any other form of electricity generation and delivers one of the highest returns on capital of any renewable source of energy.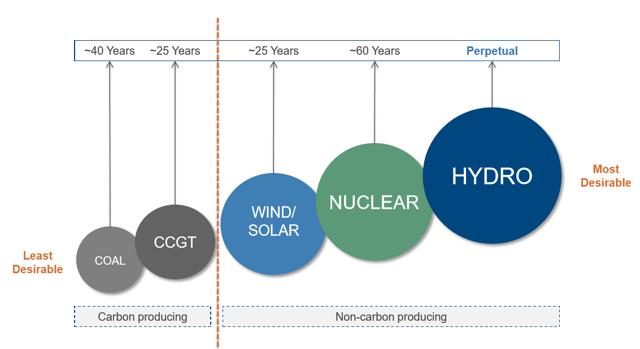 Source: company filings.
The push to combat global warming and boost the proportion of electricity generated by renewable sources of energy will act as a powerful tailwind for Brookfield Renewable. While hydro may be coming under considerable scrutiny because of its high development costs and initial environmental impact, existing facilities will remain in high demand, especially given the perpetual nature of the resource.
#2 Widening global infrastructure gap
Another important macro-tailwind is the ever-widening infrastructure gap. At this time, there is a significant shortfall of investment in infrastructure globally, particularly critical infrastructure such as that which supports electricity generation and transmission. From now through to 2030, the world needs $3.3 trillion annually invested in infrastructure, with roughly 60% of that required in emerging markets.
However, current investment comes to $2.5 trillion a year, representing a shortfall of $800 billion, and the largest shortfall is occurring in emerging markets. This is because emerging governments don't have the financial means to maintain the required level of investment.
Furthermore, because of the initial infrastructure deficit, younger fast growing populations, rapidly expanding economies and accelerated rate of development, the demand for infrastructure and this deficit is growing at a brisk pace. Much of the shortfall relates to critical infrastructure such as power generation and electricity transmission.
This has created considerable potential for the private sector, especially utilities and infrastructure companies to step in and fill the gap.
In fact, private public partnerships are becoming increasingly popular in the infrastructure sector as governments battle to fill the investment gap and ensure that the minimum level of public goods are delivered to their populations. It is this which has created considerable opportunities for Brookfield Renewable with its focus on the emerging markets of Brazil and Colombia.
The demand for electricity in both countries can only rise because of rapidly expanding populations and growing industrial sectors.
Brazil's energy consumption for electricity generation is expected to grow by 58% between now and 2035. This, along with the gradual economic recovery that is now underway, will drive higher demand for electricity, triggering price increases, which, with Brazil responsible for 11% of Brookfield Renewable's electricity generation, will give its bottom-line a healthy bump.
Meanwhile, electricity demand in Colombia, which accounts for 20% of Brookfield Renewable's electricity output, is expected to grow by 26% between now and 2028. It is also worth noting that in Colombia and Brazil, a large proportion of power generation comes from renewable sources, most notably hydro and the development of renewable power remains a priority for both governments.
These factors will act as powerful long-term tailwinds for Brookfield Renewable, especially when considering that it has the liquidity and financial backing to develop the required infrastructure and expand electricity output to meet that solid growth in demand.
Key internal growth catalysts
Aside from the macro-growth catalysts, Brookfield Renewable possesses solid organic growth opportunities which when coupled with its ongoing focus on making acquisitions will drive long-term earnings higher.
#1 Solid organic growth pipeline
One of Brookfield Renewable's key growth initiatives is maintaining an organic growth pipeline with 200 megawatts of projects under development on an annual basis. As at the end of 2016, the partnership had seven projects under construction, which on commissioning will add 153 megawatts of capacity to its asset base.

These importantly include expanding its exposure to Europe through the development of four wind projects and expanding its hydro capacity in Brazil. On commissioning, which is expected between now and 2018, these projects will deliver 767 gigawatt hours annually, giving Brookfield Renewable's earnings a healthy bump.
#2 Ongoing acquisition program
Another factor that supports Brookfield Renewable's growth is its program aimed at growing its portfolio of electricity producing assets through acquisitions. With $1.2 billion in liquidity, it remains focused on investing in hydro assets, particularly in North America.
Brookfield Renewable is also expanding into wind assets in Europe where demand for renewable energy sources remains high. In 2016, it acquired 19 megawatt wind development project in Ireland which on completion is forecast to generate 63 gigawatt hours annually.
There was also the needle-moving $2 billion acquisition of Colombia's Isagen S.A. from the Colombian government at the start of 2016. Isagen is Colombia's third largest electricity producer with a focus on hydro and has just over 3,000 megawatts of installed capacity. It offers considerable exposure to a highly regulated and under-supplied market. This, coupled with Colombia's expanding economy and growing industrial sector, will drive further revenue growth, especially once the transaction is fully bedded down.
#3 Solid balance sheet and well-laddered debt profile
A primary strength of Brookfield Renewable is its solid and highly liquid balance sheet. It has total debt of $10.2 billion which comes to 6.8 times adjusted EBITDA. The majority of which is non-recourse debt. While this may appear high, it is quite normal for electric utilities to carry considerable amounts of debt due to the capital intensive nature of the industry.
It is worth noting that Brookfield Renewable's consolidated debt-to-capitalization ratio is only 39%, highlighting the value it has been able to unlock from its portfolio of assets.
More importantly, Brookfield Renewable has a well laddered debt profile with no near-term material maturities.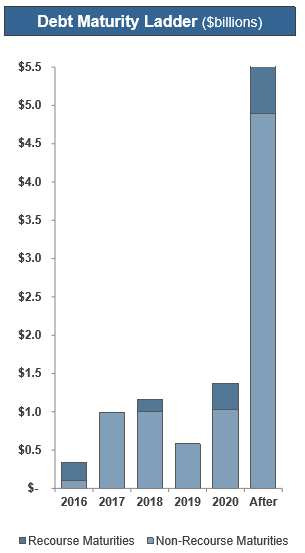 Source: company filings.
When coupled with $1.2 billion in liquidity, it is well positioned to continue making accretive acquisitions and recycling capital so as to enhance growth.
Determining Brookfield Renewable's indicative fair value
Valuing a utility like Brookfield Renewable is relatively straightforward because of its stable regulated and contractually locked in cash flows. For this reason, I have calculated its indicative fair value using a DCF valuation model, and because it has a similar capital model, invests in hard assets and is structured as a limited partnership, I have used a similar model to that in my previous article on Brookfield Infrastructure Partners.
When using this model, I have made the following assumptions:
I have utilized an average revenue growth rate of 15% which 2% lower than the annual average rate of revenue growth over the last seven years. This lower revenue growth represents the potential impact of poor hydrology on Brookfield Renewable's operations.
I have assigned a terminal growth rate of 2% which is 40 bps lower than the long-term global GDP growth rate of 2.4% forecast by the World Bank to represent the uncertainty of the global economy.
A risk-free rate of 3.5% has been used, representing the average long-term yield on 10-year treasuries.
A 2% country risk premium has been factored in to account for the additional risks of operating in Colombia and Brazil.
The weighted average cost of capital (WACC) used is 9.8% and this has been applied as the discount rate in accordance with DCF methodology.
I have used a cost of equity of 10.5% calculated using the CAPM model and considering the risks associated with operating in emerging markets.
This gives an indicative fair value of $37.30 per share which represents a premium of 27% over the last trade share price of $29.30.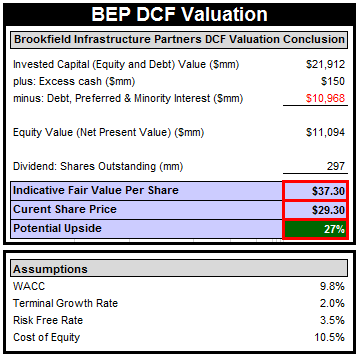 When calculated using a conservative valuation methodology, assumptions and growth rates, it offers investors considerable upside with a solid margin of safety. On top of this potential upside, investors will also be rewarded by a steadily growing distribution and juicy yield of 6%.
Coming to grips with that juicy distribution
Brookfield Renewable has an impressive history of hiking its distributions, increasing them for the last five consecutive years. The last was the 5% increase announced with its 2016 results, giving Brookfield Renewable a very juicy yield of just over 6%. The latest hike will be applied to the distribution payable in March 2017. The partnership's solid growth prospects, coupled with its current distribution payout ratio of just under 100% of funds flow from operations, indicates that it is sustainable.
The distribution has a 7% CAGR and I would expect this solid rate of growth to continue for the reasons explained, which means there will be further dividend hikes as earnings grow.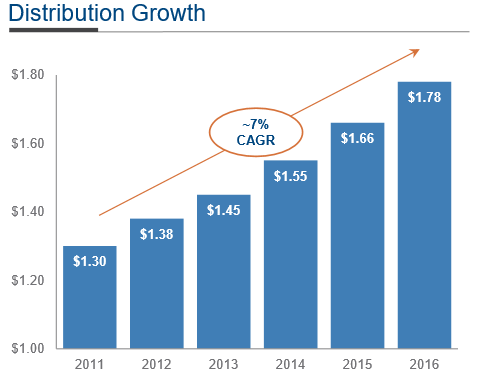 Source: company filings.
It also is one of management's stated long-term targets to ensure that investors receive a 12% to 15% annual return. To date, Brookfield Renewable has failed to deliver for investors, with the total yield since listing on the NYSE in late 2005 coming to 79% or 7.2% annualized.
There are signs that the partnership is unlocking further value for investors with it delivering a total return including distributions of 20% for 2016. Given the latest dividend hike, I expect this trend to continue with the distribution being responsible for delivering a solid chunk of that return, making Brookfield Renewable an attractive stock for income hungry investors.
Typically, dividends paid by a Canadian corporation are subject to 25% withholding tax, but in the case of U.S. residents, this is reduced to 15% by the tax treaty between the two nations. U.S. investors can avoid Canadian withholding tax by holding shares in an IRA or 401(k).
It is also worth pointing out that Brookfield Renewable's partnership structure means that income flows through the vehicle and is taxed in the hands of investors. Nevertheless, Brookfield Renewable is committed to structuring its operations to avoid generating UBTI and ECI.
Risks to the investment thesis
No investment is without risk. Many of the standard business risks faced by Brookfield Renewable are mitigated by its wide economic moat, the inelastic demand for electricity and contracted cash flows. There are three key risks that investors should be aware of, with the most significant being the variable nature of renewable power generation. The specific risks to Brookfield Renewable's operations and planned growth are:
1. Variable power generation - A primary business specific risk for Brookfield Renewable is the variability of power generated by its hydroelectric plants and wind turbines. This is because poor hydrology or water inflows for its hydro plants, which are responsible for 88% of its electricity output, can cause the amount of electricity produced to fall, impacting revenues, cash flows and its bottom line.
Poor hydrology in recent years has had a sharp impact on earnings, causing gigawatt hours to be well below those forecast. For 2016, hydroelectric gigawatt hours generated were 16% lower than the projected target of 35,094 gigawatt hours. It is this which caused Brookfield Renewable's funds flow from operations to decline by 10% year over year despite it expanding its electricity output through the purchase of Isagen. There is a similar risk for its wind assets with irregular wind cycles impacting gigawatt hours and hence earnings.
This is further magnified by the potential impacts of climate change which has sparked changes in weather patterns such as the el Niño system, affecting hydrology in the Americas.
It is a risk that is beyond the control of the partnership and essentially cannot be mitigated, making it important for investors to be aware of how it can affect gigawatt hours, earnings and funds flow from operations.
2. Country/geopolitical risk - Brookfield Renewable has considerable operations in two emerging markets, Colombia and Brazil. These nations are as stable as developed jurisdictions such as Canada or the U.S., which is demonstrated by the economic slump and political scandals being experienced in Brazil. Because Brookfield Renewable generates a considerable portion of its revenue from those markets it is exposed to the additional political and regulatory risks present in those nations.
Nonetheless, Brookfield Renewable's long history of operating in those markets, the oligopolistic nature of the utilities sector in those countries and the significant economic imperative to boost power generation offsets much of that risk. To account for this risk when conducting the DCF valuation, I have factored a 2% country risk premium into the WACC and cost of equity, meaning that the indicative fair value calculated accounts for this risk.
3. Balance sheet risk - As discussed earlier, Brookfield Renewable has a solid balance sheet and well laddered debt profile. However, it does carry a considerable amount of debt which is over six times EBITDA because of the capital intensive nature of the business. This means should there be a sharp protracted slump in earnings, the partnership could be forced to divest assets and even cut its distribution in order to fund debt repayments.
The likelihood of this occurring is low because of Brookfield Renewable's significant liquidity of $1.2 billion available at the end of 2016 and focus on boosting margins through cost cutting which should increase cash flow.
4. General risks - There are also a range of standardized risks that apply, including the impact of currency movements and a stronger U.S. dollar on funds flow, counterparty risk, operational risk, and regulatory risk which could also affect cash flows and earnings.
Final thoughts
It is easy to understand the concerns of investors relating to the performance of Brookfield Renewable's, especially due to its poor historical performance. There are signs, however, that much of this relates to poor hydrology rather than mismanagement, and the partnership's performance in 2016 shows that it is on track to unlock value for investors.
The range of internal and external growth catalysts highlights that the partnership possesses considerable potential for investors. Solely based on existing cash flows and projected growth, it offers investors 27% upside and then there is that juicy 6% yield to consider, which, while at risk because of declining funds flow, does appears sustainable at this time. If anything, while it is a far riskier investment than Brookfield Infrastructure Partners, it is an attractive investment with a considerable margin of safety that is misunderstood by the market.
Disclosure: I am/we are long BIP.
I wrote this article myself, and it expresses my own opinions. I am not receiving compensation for it (other than from Seeking Alpha). I have no business relationship with any company whose stock is mentioned in this article.