Fed Chair Janet Yellen speaks before Congress tomorrow and Wednesday. She will sound pretty dovish. There is a goldilocks setup taking place in markets with strong jobs and low inflation. That should be the message the next two days from the Fed.
Goldilocks
The term was prevalent in the 1990s when there was strong growth and low relative inflation.
Based on recent economic data the economy seems to be hitting a similar stride short term.
Strong Jobs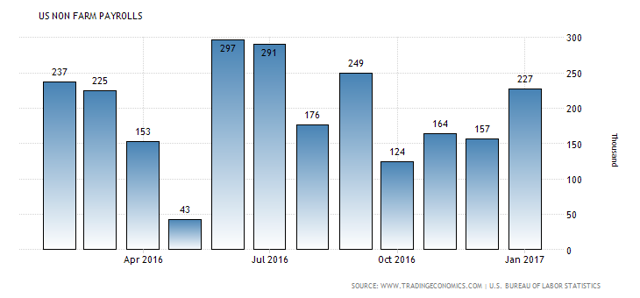 Source: Trading Economics
The recent report of non-farm payrolls numbers hit a four month high.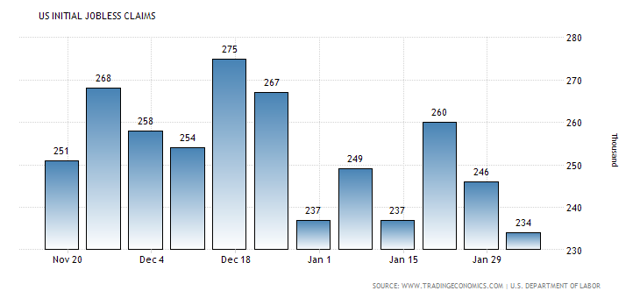 Source: Trading Economics
Jobless claims hit 40-year lows. Fewer people claiming unemployment insurance is a sign of a strong economy.
Low Inflation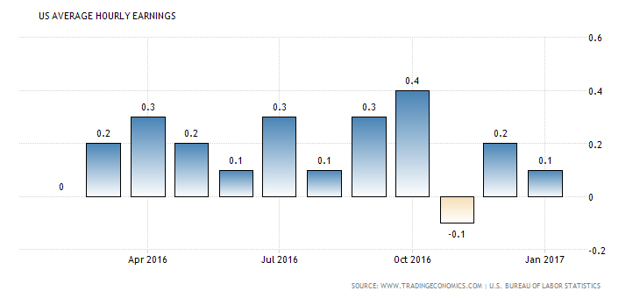 Source: Trading Economics
Wage growth has been slowing as you see in the chart above.
Wage growth tends to coincide with CPI which reports on Wednesday.
| | | | | | | | | |
| --- | --- | --- | --- | --- | --- | --- | --- | --- |
| | Jun | Jul | Aug | Sept | Oct | Nov | Dec | Jan |
| Core CPI | 0.2 | 0.1 | 0.3 | 0.1 | 0.1 | 0.2 | 0.2 | |
| Core CPI Annual | 2.3 | 2.2 | 2.3 | 2.2 | 2.1 | 2.1 | 2.2 | |
| Core PCE Mo-Mo | 0.1 | 0.1 | 0.2 | 0.1 | 0.1 | 0 | 0.1 | |
| Core PCE Y-o-Y | 1.6 | 1.6 | 1.7 | 1.7 | 1.8 | 1.7 | 1.7 | |
The wage rate has been slowing but CPI picked up. The PCE price index, the Fed's choice measure, had slowed.
CPI reports on Wednesday and could slow like the wage numbers have.
Fed Chair Goldilocks
In any case Fed Chair Yellen has a bullish story to tell Congress Tuesday and Wednesday.
The Fed is currently planning three rate hikes but the market is only expecting two.
Low inflation and strong growth can keep rates from jumping. That can help equity markets.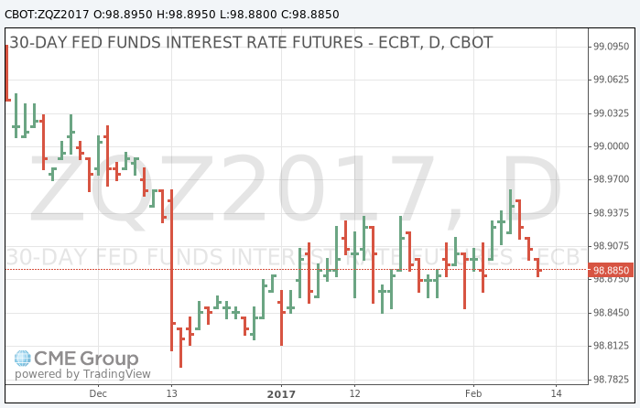 Source: CME
Above is the December 2017 Fed Funds Futures priced 100 - the expected Fed Funds by December 2017. 100 - 98.885 = 1.12%. The market only expects two 25bp rate hikes from the current roughly 60bp Fed Funds rate.
We'd guess the Fed Chair's message tomorrow may confirm the market's two hikes over the Fed's three hikes.
Message To Congress
Fed Governor Stanley Fischer said this weekend,
"Significantly reducing capital requirements would reduce the safety of the system. I certainly hope it's not going to happen."
He's referring to the president's calls to roll back Dodd-Frank.
Here's what President Donald Trump said recently,
"We expect to be cutting a lot out of Dodd-Frank because frankly I have so many people, friends of mine, that have nice businesses and they can't borrow money. They just can't get any money because the banks just won't let them borrow because of the rules and regulations in Dodd-Frank."
We'd expect Fed Chair Yellen to offer a counter case to President Trump's calls to end Dodd-Frank when she meets Congress. The change in policy will be in the hands of Congress. We'll need to watch the exchange between Republicans and the Fed Chair the next few days on this issue.
Fed Governor Fischer said their was "quite significant uncertainty" surrounding policy and said, "at the moment we're going strictly according to what we see."
What that means is despite the potential economic boost from deregulation the Fed will continue to move slowly until they actually "see" the "uncertainty" clear up. That keeps rates low while markets expect a pickup.
Conclusion
We expect a bullish message from Fed Chair Yellen tomorrow to Congress.
Premium Service Price Rise March 1st. Lock In The Lower Price.
Catch market moves over the next few days and weeks. Enhance trading performance and skills. SPY, Gold, Oil and more.
Click here for a free trial of Elazar's Pro Trader on Seeking Alpha.
If you liked our work scroll to the top and click "Follow."
Disclaimer:
ETFs reported by Elazar Advisors, LLC are guided by our daily, weekly and monthly methodologies. We have a daily overlay which changes more frequently which is reported to our premium members and could differ from the above report. Portions of this article may have been issued in advance to premium members. All investments have many risks and can lose principal in the short and long term. This article is for information purposes only. By reading this you agree, understand and accept that you take upon yourself all responsibility for all of your investment decisions and to do your own work and hold Elazar Advisors, LLC and their related parties harmless. Any trading strategy can lose money and any investor should understand the risks.
Stanley
Disclosure: I/we have no positions in any stocks mentioned, and no plans to initiate any positions within the next 72 hours.
I wrote this article myself, and it expresses my own opinions. I am not receiving compensation for it (other than from Seeking Alpha). I have no business relationship with any company whose stock is mentioned in this article.