I spent over a thousand dollars eating at Chipotle Mexican Grill (NYSE: CMG) in 2016. As soon as I walk in the store during lunch, they start preparing my meal without me having to say anything.
And I treated my office to free catering thanks to the desperate Chiptopia promotion they ran this past summer. My colleagues were pleased.
But is the stock a good buy?
A High Level Look
Chipotle's stock was rocketing upward until the food-poisoning outbreak in late 2015, and has settled for now around $400/share from its high of about $750: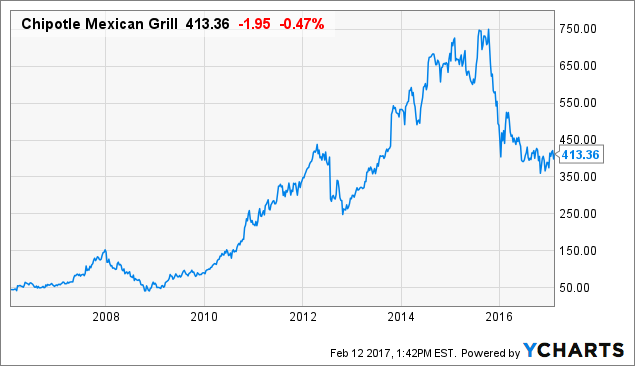 And here's a summary snapshot: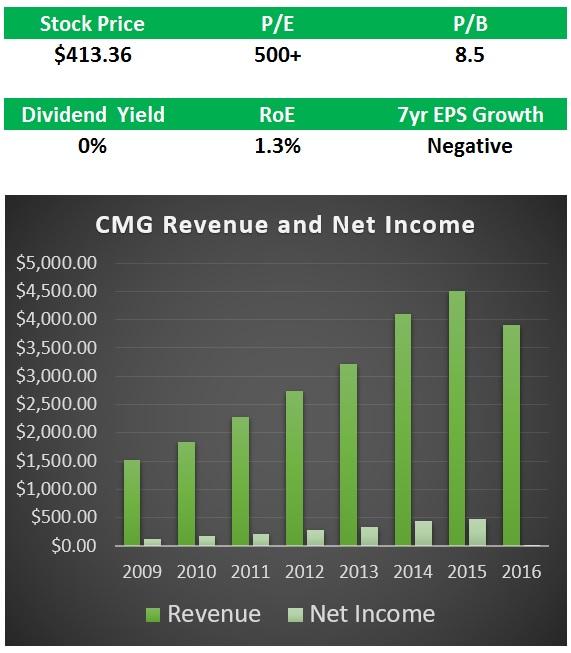 Source: Excel, using Morningstar data
Many of the traditional valuation metrics are not applicable at the moment. The nosebleed 500+ P/E ratio doesn't truly capture what's going on.
However, the current stock price divided by 2015's peak EPS is 27, which still seems high. Even when Chipotle gets its profit back in line with where it used to be, investors still have a large growth expectation set on the stock.
The consensus analyst 2017 EPS estimate is $8.20, while the 2018 EPS estimate is $11.89. Those numbers have a high degree of uncertainty due to the current situation with the company, but this would give the stock a forward P/E of about 50 on 2017's expected earnings, and a very-forward P/E of about 35 on 2018's expected earnings.
That's not cheap.
Chipotle Lacks a Compelling Moat
A key thing that long-term investors want to see is a strong sign of an economic moat. Unfortunately, Chipotle's isn't very robust.
The only moat they have is their brand, and that's been in question ever since they made customers sick. Everything else about their business can be replicated by competitors; they only grew so far so fast because of their efficient method of operation and their choice of ingredients, all packed together under that brand.
Competitors can start using antibiotic-free meat and cleaner ingredients, and already have. Their store layouts can and have been copied. There's no entrenched attribute about the business that can lead to long-term superior margins except for brand power.
I know that for me personally, even as one of their most hardcore regular customers, I go there because I don't eat meat with antibiotics, I don't eat grain-fed beef, I don't eat foods with soybean oil in it, I don't really eat wheat much, and I like the flexibility of being able to construct my own meal as they make it in front of me. Plus, I've been eating a ketogenic diet this past winter and a Chipotle salad can meet the constraints of that diet.
That's it, and Chipotle is meeting that demand. As soon as there are more fast options that meet or surpass that criteria, I'd likely go to Chipotle less.
Chipotle's idea of expanding their concept into other food genres with their new brands like Pizzeria Locale, ShopHouse Southeast Asian Kitchen, and Tasty Made is a good idea, but can easily be replicated by competitors. As they enter new markets without the Chipotle brand, they're entering a more cutthroat commodity-like playing field.
And they haven't proven their ability to expand internationally yet, as they have 99% of locations in the US.
The Valuation Spectrum
There have been no end to the articles on Seeking Alpha for or against Chipotle. Will it regain its fast growth, or will it sink further? That's the million-dollar question, and there are dozens of bear and bull cases around that subject.
Rather than try to predict what Chipotle's performance will be in this article, I will construct a spectrum of potential outcomes, and see how the stock price would be affected by those results.
Here's why: Chipotle's fundamental problem is that restaurant volume declined by just 20-25%. Since a lot of their costs are fixed, that modest change affected everything by dramatically reducing their profits.
There's a huge difference in eventual outcomes between Chipotle being able to bring back a third of the customers that left, or two-thirds of them. Any strong bullish or bearish argument rests on being able to predict, with high accuracy, what Chipotle's volume per restaurant will be going forward. And that's a really uncertain game.
So, this approach of considering a few scenarios can help us work backward to see what assumptions we need to make for the stock to be a smart buy today.
Then the reader can judge whether those assumptions are a worthwhile bet to take. There's no crystal ball here; just a look at what Chipotle would have to accomplish quantitatively in order to make the current stock price attractive.
5-Year Optimistic Scenario
At the end of 2009, the company had 956 locations. Fast-forward to the end of 2016, that number is up to 2,250. That's a 13% compounded growth rate in store count over a seven-year period.
In 2016, the company opened 240 locations, but according to the Q4 earnings release, they only expect to open 195-210 in 2017.
As the company gets bigger, the rate of store growth becomes harder to maintain, and the damage to the brand adds another anchor for how fast they can profitably grow. The high end of their expected store openings for 2017 represent less than a 10% yearly increase in store count.
Let's propose, optimistically, that the company opens 210 locations in 2017 at the high end of their expected range, followed by a 10% growth rate in location count per year over the next four years
The other main variable at play is sales per location. At their peak in 2015, they achieved over $2.5 million for this figure, but now that's down to under $1.9 million. This is the main driver of their current problem, since a relatively mild increase or decrease in sales per location, while most expenses remain fixed, leads to levered growth or shrinkage of profits.
In this optimistic scenario, I'm going to assume they gradually achieve their peak numbers again, and I'll adjust those numbers for inflation. Thus, $2.8 million in sales per location in 2021 is about equal to $2.5 million in sales per location in 2015, if you assume a 2% inflation rate over that period.
I'll use a mildly declining share count; about 1% reduction per year based on pre-crash buyback behavior of the company.
Lastly, I'll assume profit margins ramp back up as sales increase per location. The company achieved 10-11% net margins during its peak years in 2014/2015, and changes to corporate tax rules under the Trump administration could favorably impact this. So in this model, I'll assume net margins increase back up to 11% within a few years.
Here is what the table ends up looking like:
Analysts expect $4.6B in 2017 sales with $8.20 in EPS, along with $5.2B in 2018 sales with $11.89 in EPS. So, this table shows a more optimistic outcome than analysts expect, especially for 2018.
The table shows that EPS could be over $39 by 2021. Slapping a 20X earnings multiple on that would lead to a share price near $800, while a 25x earnings multiple would lead to a price of near $1,000.
At the current price in the low $400s and with no dividends, this is about 14-19% per year in returns over a five-year period. A lot has to go right in order for this to happen, but if it does, market-beating returns for the shares are very likely.
5-Year Pessimistic Scenario
Now, let's assume the company slips and only opens 190 locations in 2017, and then only opens 8% per year for the four years after that. Then, sales per location stay stuck roughly at where they are now, and only increase at a rate that matches inflation.
Lastly, they continue to run promotions just to achieve these figures, meaning that net profit margins stay stuck well below prior levels, at about 7%.
Here's the result:

The sales and EPS targets in this case are fairly close to the current consensus analyst expectations for the 2017-2018 period. This is by no means the worst possible outcome, since it doesn't include further food scares, or collapsing profit margins.
In this case, it's not until 2020 that they achieve EPS equal to what they reported in 2015, and slapping a lower 20x earnings multiple on their 2021 EPS results in a $344 stock price. This would be a negative result over a five-year period.
5-Year Moderate Scenario
If we avoid extremes, and propose that they open 200 locations in 2017, increase the number of stores by 9% per year, and then max out at $2.4 million in sales per location (well below their $2.5 million peak, especially when taking into account six years of inflation), you end up with a table like this:

Put a 20-25x earnings multiple on $26 in EPS and it gives you a $520-625 share price in 2021. That's about 5-9% compounded annual returns from the current share price.
Add a potential Trump tax cut to those numbers to boost EPS further and you've got what would likely be a market-beating stock.
Valuation Summary
A lot of articles and comments talk about whether the company is expensive or cheap.
These models show that the current price is well within a reasonable boundary. There is no blatant mispricing; it's all about expectations.
Currently, it's priced for a middle-of-the-road outcome, with a moderate recovery that never hits the per-location peak that the company had back in mid-2015, but still better than flat same-store results.
If your assessment deviates significantly from that in either direction, then Chipotle could be a solid long or short play. There's a lot more long potential than short potential here, unless you're banking on another food safety scare.
Can Options Help?
Selling cash-secured put options on Chipotle isn't a bad play at this time, with the main downside being that it requires a position size of about $40,000 to do so.
The company has a solid financial position with zero long-term debt, and they're currently cash flow positive. The company can therefore weather a long duration of disappointing results until a more bullish recovery can take hold, if it ever does.
The only problem is that the longer it takes for Chipotle's bullish thesis to play out, the more unjustified the currently high valuations will become.
If you believe, overall, that Chipotle may not surge in performance but at least the fundamentals will not crash, and you have a large portfolio, then selling put options could be the right move.
However, the option premiums aren't great. Here's the summary for selling April 21 puts at a strike of $400: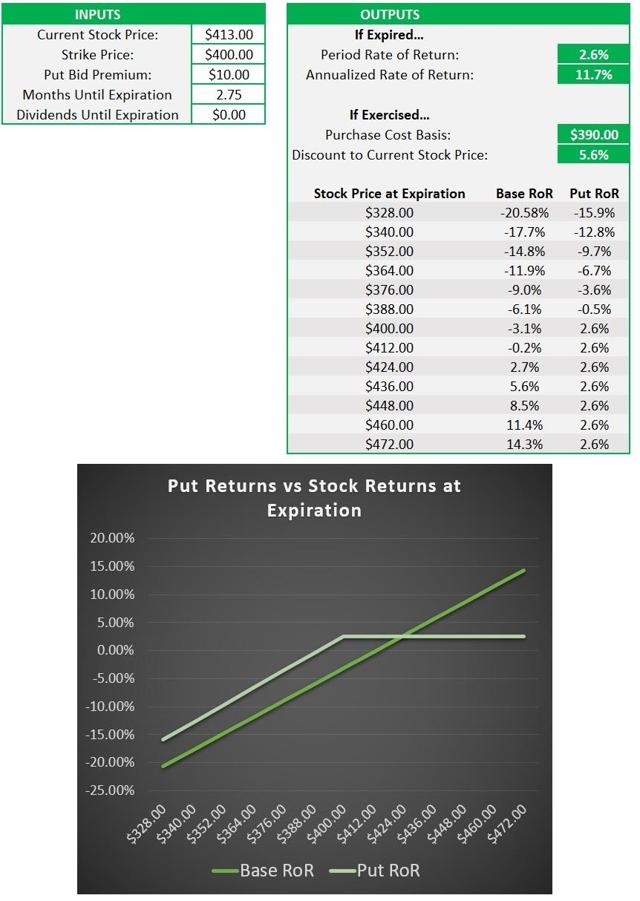 Source: OptionWeaver
You can generate up to 11.7% returns, with a high short-term capital gains tax rate (unless you're in a retirement account) with a fairly high chance of being assigned.
It's not the most attractive risk/reward scenario compared to other alternatives. However, this could be a smart strategy if you're truly looking to buy shares at a discount, because it would lead to a cost basis of $390 if assigned or pay you decently if it doesn't dip.
And you can weave options in and out. Sell cash-secured puts to get paid to buy on a dip, and then sell out-of-the-money covered calls until you get assigned on those, and then rinse and repeat. You can make a lot of money on a flat stock with that approach, and all that it requires for you to do so is for the stock to not crash and remain at low levels permanently.
Chipotle's fundamentals give that strategy a high likelihood of success over a multi-year period.
Final Words: A Look at Tax Possibilities
One of the trends that investors are using to justify the current high market valuation is the high likelihood that corporate tax rates will be lower going forward, thanks to agreement between the GOP-controlled Congress and President Trump on that topic.
I've seen some articles talk about how the 35% corporate tax rate might be cut to 15%, and then they leave it at that without further detail.
But here's the more accurate picture: US corporations pay a 35% federal tax rate at face value, but then benefit from various loopholes and credits to lower the effective tax rate well below that figure. They also pay state sales tax and other taxes, and some of those are outside of what the federal government can affect with new policies.
A 2016 report by the Government Accountability Office found that the average federal tax rate for profitable corporations is already under 20%. And here's a look at state tax rates for corporate income.
So, for any specific company you look at, you have to see what their actual tax breakdown is. Some of them already have very low federal tax rates, even below Trump's proposed 15%. And some of them exist in high-tax states that Trump's agenda cannot address.
Here's a look at Chipotle's tax breakdown:

Source: CMG's 2016 10-K, courtesy of Morningstar
They're fortunately in a state with a low corporate tax rate, because they're one of the corporations hit hardest by high federal corporate taxes. They're paying most of the actual face value.
In a scenario where US federal corporate tax rates are cut to 15% with loopholes, credits, and deductions reduced or eliminated, Chipotle's tax rate could be cut from 40% down to around 20% including state income tax.
That would considerably lower the amount of volume needed per restaurant to get back to the 10-11% net margin they were running at two years back.
Overall, Chipotle is a questionable stock at these prices, but not unreasonable. There's most likely a lot more upside potential than downside risk at current prices over the long term, when you consider their strong balance sheet, the high probability of at least some tax improvements, and even a partial return to their previous profitability levels and sales rate per restaurant.
If you want more articles like this, scroll up and hit "follow."
Disclosure: I/we have no positions in any stocks mentioned, and no plans to initiate any positions within the next 72 hours.
I wrote this article myself, and it expresses my own opinions. I am not receiving compensation for it (other than from Seeking Alpha). I have no business relationship with any company whose stock is mentioned in this article.