Since the Fukushima disaster in March 2011, the uranium industry has experienced close to six years of absolute carnage. This is partially due to a real decrease in demand from Japanese reactors; the country had fifty-four reactors operating before Fukushima, yet only five of these are operating today. It has also been partially caused by extreme pessimism surrounding the future of nuclear power in places like Germany and the United States.
As you can see in the following chart, the price of one pound of U308 has plunged roughly 60% over the aforementioned period.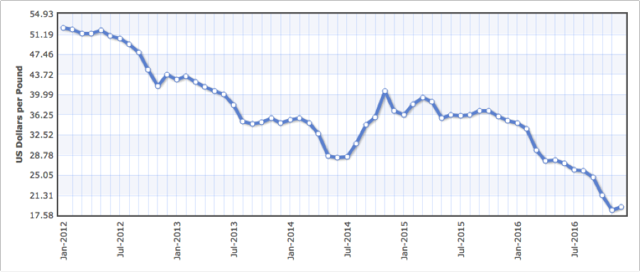 In the vast majority of cases, uranium equities have performed even worse. In light of the above information, why in the world would anybody want to get involved in this space?
We are actively putting money to work into select uranium equities. My answer to the above question is multi-faceted:
1. The long-term future of nuclear power remains exceedingly bright. Nuclear energy will remain one of the world's most important sources of energy for decades to come.
2. Structural changes from within the past few months indicate that uranium and uranium equities have bottomed. At the very least, further downside is extremely limited.
In regards to nuclear power's long-term future, it is important to note that nuclear, hydropower, and geothermal are the only forms of 24/7 base load power that do not emit carbon dioxide or other air pollutants.
Air quality is becoming an urgent political issue in emerging countries across the globe. It is no coincidence that China alone has twenty reactors under construction and over forty more in the planning stage.
Globally there are a total of 224 reactors that are either under construction, or planned around the world, and an additional 330 reactors that are proposed (with the potential to be operating by 2030).
Let's assume that 33% of the 554 reactors that are either under construction, planned, or proposed ultimately make it to production by 2030. This would mean an additional 185 reactors over the next 13 years. This implies a 40% growth in nuclear power generation, as there are currently 448 reactors operating in 30 countries worldwide.
40% growth over 13 years? This does not sound like an industry on its deathbed by any means. The long-term future of nuclear power remains bright.
Now let's move onto the structural changes that indicate to me that the U308 price and uranium equities have bottomed. The first major change we've seen over the past 6 months is that supply cuts have been announced by two of the world's largest uranium producers.
Cameco is the largest publicly traded uranium equity and accounts for 24% of global uranium production. In mid-2016, the company announced that it would be cutting supply by roughly 20% by mid 2017.
Just within the past few weeks, the world's largest producer Kazatomprom announced a 10% production cut. This will reduce global uranium supply by another 5m pounds, equivalent to 3% of estimated global U308 production.
As we've seen recently in markets such as zinc and oil, major supply cuts are often a harbinger of higher prices. Sure enough, the uranium price has responded by jumping from a low of US$18 in November 2016 to above US$26 today.
Interestingly it has been largely underreported that natural gas prices have jumped nearly 100% since March of last year. This unlikely contributed to the jump in the U308 price over the past 90 days, but it is positive in the medium to long-term. Natural gas competes directly with nuclear in terms of base load power generation, and a rising natural gas price makes nuclear more competitive.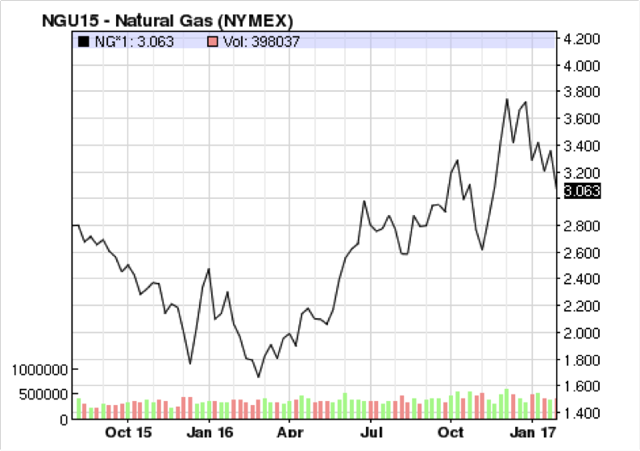 We are looking exclusively to the Athabasca Basin and United States for our uranium exposure.
The Athabasca Basin is the future of uranium supply due to the exceptionally high-grade deposits that continue to be discovered. After all, grade is king. The sole drawback of investing in the Athabasca Basin is that many of these deposits won't be in production for at least five years due to permitting and infrastructure struggles. We've recently participated in placements with Appia Energy (OTC:APAAF) and UEX Corp (OTCPK:UEXCF), both of which are based in this region.
The United States uranium industry has two main advantages when compared to the Athabasca Basin, despite the dramatically lower uranium grades. The first is that there are multiple idled projects that can quickly be brought into production within 3-6 months, in response to higher U308 prices. The second is that, regardless of whether Trump survives his first term, having Republicans in the White House guarantees a pro-mining environment for at least four years. This is particularly important given the stigma that surrounds uranium mining. We've recently participated in placements with US-based companies Western Uranium (OTCQX:WSTRF) and UEC Corp (NYSEMKT:UEC).
Disclosure: I am/we are long APAAF, UEXCF, WSTRF, UEC.
I wrote this article myself, and it expresses my own opinions. I am not receiving compensation for it (other than from Seeking Alpha). I have no business relationship with any company whose stock is mentioned in this article.
Editor's Note: This article covers one or more stocks trading at less than $1 per share and/or with less than a $100 million market cap. Please be aware of the risks associated with these stocks.