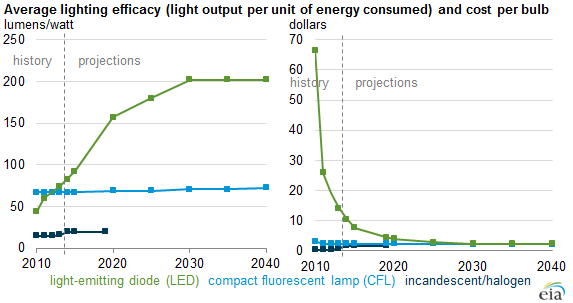 (Source: U. S. Energy Information Administration)
The above graphs illustrate a strong case of why the transition to LED lighting lies at a threshold of major growth ahead. Costs of adoption have come down to the point where LED is increasingly affordable compared to incandescent and CFL. However, the rate of decline in costs is approaching the bottom of the curve. In practical terms, the graphs illustrate that potential buyers of LED lighting systems could save money by postponing LED adoption until costs come down, but the potential amount to be saved is declining while approaching a bottom in the curve. In addition, by postponing adoption, potential buyers forego savings that would otherwise accrue while waiting.
The graph below illustrates LED lighting adoption by application as provided by the U.S. Department of Energy. In addition, Orion Energy Systems (NYSEMKT:OESX), a recognized leader in the lighting retrofit space for commercial and industrial applications, has notated its primary products (bordered with green), showing that adoption for low bay and high bay fixtures remains below a 5%. Consensus estimates value the commercial and industrial addressable LED retrofit market at $200 billion.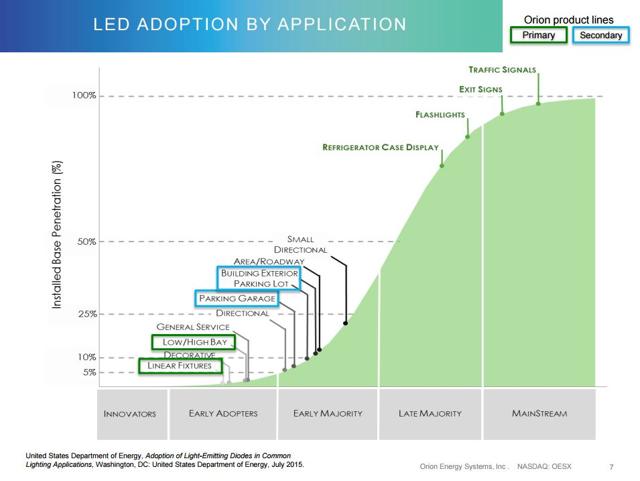 (Source: U.S Department of Energy and Orion Energy Systems company presentation)
While the overall transition to LED is underway in residential, small business, and institutional markets, adoption at larger commercial and industrial entities has barely begun. Walk into the majority of retail stores, office buildings, hospitals, factories, distribution centers, and you will see mostly fluorescent lighting overhead. In many retail locations, LED lighting products are fully stocked on the shelves for sale, but not installed on the ceiling. And while commercial and industrial early adopters have begun the transition to LED, adoption has not occurred in mass to move beyond the early adopter phase. Confirmation of the foregoing assertion will be further illustrated later in analyzing performance of LED pure plays in the space. Due to increased performance and lower adoption costs, however, the overall LED lighting industry is likely to improve financial performance as it moves beyond the early adopter phase. The industry could be boosted further by a new climate for business investment enabled by lower corporate tax rates.
ROI metrics of adoption
As a general rule in the past, LED lighting retrofit projects typically had a 1-3 year payback period, which was dependent on the type of lighting being replaced and LED retrofit products chosen. However, as the graphic below illustrates, the payback period could be in as little as six months, enabled by lower adoption costs as well as utility and tax incentives. In addition, the attractiveness of ROI is bolstered by the extended useful life of LED compared to legacy lighting systems.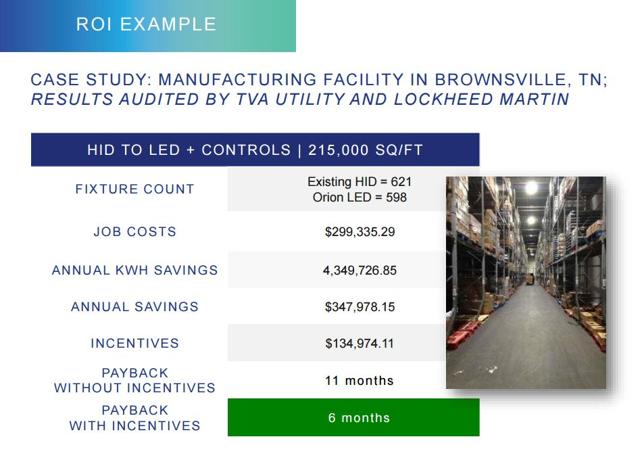 (Source: Orion Energy Systems company presentation)
Economic tailwinds
Tune in to any business media today and you will likely hear discussion and speculation of what may happen in the new political environment with decreased corporate taxes and diminished regulation. Business spending fundamentals, however, actually began improvement in November as evidenced in the chart below. By January the PMI (Purchasing Managers Index) rose to its highest level (56) since September of 2014, when it had a reading of 59. A reading of above 50 signifies expansion in the business sector. Current levels are significantly higher than the numbers throughout 2016. The PMI, along with anticipated benefits of a pro-business environment, bodes particularly well for increased business spending and investment, which could further boost the trend of LED adoption. In addition to taxes and regulation, there remains $2.4 trillion in Fortune 500 corporate cash deposited offshore. A repatriation of any amount will enable funds to be spent in the U. S. Over the last several years corporations have allocated excess cash (and sometimes borrowed cash) for share buybacks. While buybacks have an immediate impact on EPS, additional benefits accrue with retrofit LED lighting investments that enable improved lighting configured to specific visual preferences resulting in improved safety, employee morale, and performance.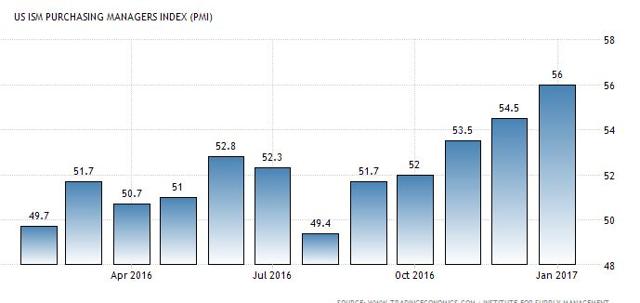 (Source: TradingEconomics.com, Institute of Supply Management)
LED Lighting Players
The table below illustrates LED lighting manufacturers which have been selected as pure plays in the category. Obvious players like GE(NYSE:GE), Acuity (NYSE:AYI) Eaton (NYSE:ETN), Flex (NASDAQ:FLEX), are large, significant players but could not be considered LED pure plays due to diversification of their businesses. While Acuity is a lighting pure play, a major portion of its products are fixtures only without a distinction of lamp type. For some investors, however, the larger diversified players may be more suitable to gain participation in the industry.
Pure Plays - LED Lighting
Company
Symb

Mkt

Cap

M$$

Primary

Business Segmt.

5-Yr

Rev Grwth%

5-Yr

EPS Grwth%

Rev %Chg

Q/Q

EPS% Chg

Q/Q

5Yr

Mkt

Perf

Cree Inc
CREE
2750
Lamps, Semicond
10.4
-16.6
-59.7
89.7
-1.4
Osram Light AG
OSAGF
5900
Lamps, Semicond
-28.4
1373.1
6.6
-56.6
50.0 aprx.
Philips Light NV
LIGHT
3560
Lamps, Fixtures
2016IPO
2016IPO
-5.7
68.2
na
Revolution Light Tech
RVLT
138
Lamps, Controls
88.7
47.3
33.2
534.1
763.0
Energy Focus
EFOI
54
Light Tubes
12.9
17.5
-54.6
-165.9
na
Orion Energy Sys
OESX
54
Fixtures, Controls
-3.8
0.0
19.1
73.6
-42.2
Russell2K
RUT
na
na
na
na
na
na
39.8
(Source: Finviz.com , BigCharts.com, company reports, period from 2/3/2012 thru 2/3/2017)
A review of the companies in the table reveals that investing in LED lighting has been a losing proposition for most players, for years. Other than Osram and Revolution, returns have been erratic or sub-par. Each company has a significantly different businesses when compared to the group, as will be discussed in further detail. Most notable among the group is Cree (NASDAQ:CREE), a recognized leader in LED for over 20 years, which has been a disappointment at least in the last five years. It must be pointed out, however, that recent Cree results have been impacted by the sale of its Wolfspeed Power and RF division for $850 million in cash, which closed in 2016. The shed Wolfspeed business generated $173 million in pro-forma revenue in the 12-month period leading up to the announcement. The sale was consummated with a goal to focus on the core LED lighting business. The sale of Wolfspeed provides the opportunity to focus more on the LED business and a stronger cash position for expansion, which will likely include acquisitions. At least in the near term, Cree's financial performance is expected to be muted due to the shedding of Wolfspeed, as management has guided near-term reduced revenue and bottom line losses.
A standout in the group is Osram (OTCPK:OSAGF), a Germany-based manufacturer of LED lighting and semiconductors, which provided an approximate stock return of 50% over five years. For investors, Osram has a proven record of delivering innovation and shareholder return, even though financial performance has been irregular. With a strong management, the company is likely to deliver solid results and accelerate performance in an improved LED lighting business market. Osram owns Sylvania, which has a major presence in the U.S. market.
Philips Lighting NV (LIGHT), which was spun off from Royal Philips NV (NYSE:PHG), a Dutch technology company, has been a recognized leader in the lighting business for decades, both in Europe and internationally. The recent spinoff of the lighting business will position the company to focus on the LED market. In addition to lamps, the company supplies fixtures for home, commercial and industrial applications. With only recent financial numbers available, it is currently difficult to evaluate performance of the new company until several quarters have been reported.
Another standout in the group is Revolution Lighting Technologies (NASDAQ:RVLT), which has generated a market return of 763% over the last five years, beginning at 87 cents in 2012. While RVLT has been successful in building revenue in the LED space, it has been largely through 9 acquisitions over the last 8 years, including Lumificient, Seesmart Technologies, Relume Technologies, Value Lighting, Tri-State LED, All Around Lighting, Energy Source, EL Lighting, and TNT Lighting. Revolution has been reporting impressive numbers with a 33% increase in Q3 (9-30) revenue and an EPS of .08 per share, a transition to profitability after years of losses. Gross margins have remained near 32%. Management stated on a 11-9-16 earnings conference call that organic revenue grew 10% during Q3.
Revolution states in its SEC filings that it is a leader in the LED lighting business as a designer, manufacturer, and seller of LED lighting products for commercial, industrial, and government applications. RVLT offers a wide array of products for interior, exterior, and specialty lighting applications. SEC filings do not break down revenue and earnings by business segments, however, a review of the company website appears to convey that the target market is largely small business and government entities, including school districts. Recently management stated that they received certification to sell the U. S. Navy in outfitting vessels with LED lighting tubes. Currently, most of the Navy's LED retrofit lighting has been supplied by Energy Focus (NASDAQ:EFOI), which has been in the form of lighting tubes to retrofit existing florescent fixtures to LED. RVLT also announced that it had booked approximately $4 million in new business to outfit public schools in Connecticut, New Jersey, and Rhode Island with LED lighting tubes and panes. The foregoing, along with information on the company's website, indicates that a major portion of Revolution's business is in supplying tubes and lamps instead of fixtures.
Energy Focus mainly supplies LED lighting tubes to the U.S. Navy, although it is currently attempting to diversify its business beyond supplying the Navy. Further information on Energy Focus can be obtained from a SA article published in April of 2016. Recent Q/Q revenue was negatively impacted by U.S. Navy irregular buying patterns. With potential new competition from Revolution Lighting in supplying the Navy, Energy Focus could experience significant headwinds in revenue growth in the absence of a quick, successful diversification of the business.
Other than Osram and Revolution, the market performance has been extremely poor over the five year period, compared to the Russell 2000 index return of 39.8% for the period. Absent RVLT, OESX has begun to standout with improved revenue and EPS performance Q/Q, increasing 19.1% and 73.6% respectively, while the performance of the others has remained erratic. As discussed in a previous SA article, Orion has undergone a disruptive restructuring and repositioning of the company to transition the business to an LED model. However, in the absence of full-scale adoption to LED in commercial and industrial, growth has not met expectations at Orion and throughout the industry.
Several key factors should be considered when evaluating the six pure plays. Cree and Osram supply semiconductors. Accordingly, they are subject to a greater degree of margin erosion as semiconductor prices fall, although recently price declines have abated somewhat. By comparison, Orion and Revolution may not be subject to significant margin erosion from falling prices of basic materials as their input costs also decline. While Orion and Revolution supply segmented portions of the market, Cree, Osram, and Philips pursue vertical integration to expand their businesses. As they implement vertical integration strategies, fixture manufacturers with strong portfolios of differentiated products could become attractive M & A candidates. In that regard, Orion appears to stand out with the best lineup of products and clients.
Since the focus of the current article is on the LED transition in commercial and industrial, the remainder of the article will focus on the purest plays in the space. While most of the six companies illustrated will likely do well as LED adoption accelerates, the smallest companies have the largest potential for outsized stock performance, which has been evidenced in the performance of Revolution. Additionally, the smaller companies could become future acquisition candidates. In view of the foregoing, the remainder of the article will focus on microcaps Revolution and Orion, which corresponds to the author's focus on small caps and special situations.
A review of both companies reveals that they essentially operate in the same space: commercial, industrial, and institutional sales; however, they differ significantly in product offerings, IP, manufacturing, and marketing strategies. Revolution has supplied LED lighting since it acquired Lumificient in 2008 then launched the Array line of LED replacement lamps. The company outsources most of the manufacturing and assembly of its products to a number of contract manufacturers globally. Revolution has exceeded Orion's financial performance with a four-year lead in entering the LED lighting market. Starting in 2008 RVLT has made 9 acquisitions to bring the company to where it is today. In the same period, Orion has made only one acquisition, Harris Lighting in 2013, to gain access to the commercial lighting business with retrofit LED troffers.
While Revolution outsources most of its products offshore, Orion manufactures at its facility in Manitowoc, Wisconsin. Orion management states that domestic manufacturing is essential to competing in the lighting retrofit business on a large scale. Accordingly, the company maintains a quick order turnaround in a 10-day period from order receipt to shipment. Management further states that the company has been able to maintain better control of manufacturing costs in its own operations.
Comparison of Orion Energy Systems and Revolution Lighting Tech
Stk

LED

Entry

Mkt

Cap

M$$

5Yr

Rev

Grth

%

5Yr

EPS

Grth

%

Grs.

Mgn

Mfg

Loc

High

Bay

LPW

Dlrs.

&

Dist.

Sales

Agnts

Dist.

Strat.

Patents

&

Pend.

OESX
2012
54
-3.8
0.0
30
USA
214
?
25

Sales

Angcy

100
RVLT
2008
138
88.7
47.3
32

Off

Shr

141
76
30

Multi-

ple

38
(Source: Finviz.com, company reports and SEC filings)
In industrial applications, high bay lighting fixture performance (measured in lumens per watt) represents the standard by which lighting is evaluated. Orion supplies its ISON-class high bay fixture with a rating of 214 LPW. By comparison, Revolution's high bay is rated at about 141 LPW (obtained by dividing lumen output by watts), giving Orion a 51% LPW advantage. In October 2016 Orion announced that Toyota Motors had agreed to install Orion ISON-class units in its 8.1 million square feet facility in Georgetown, Kentucky, offering initial evidence of the product's strength.
A primary lighting fixture in office and commercial spaces is the troffer unit, a recessed lighting fixture installed with drop ceilings. Revolution offers flat-panel troffer retrofits. The company website provides mostly generalized product advantages without detailed specifications. In contrast, Orion offers an entire suite of troffers in three product levels: ISON, Apollo, and Harris, each of which can be installed onsite in about one minute. To make buying decisions even easier, Orion offers a product line that "future proofs" current technology with an option to replace existing light engines in LED retrofit fixtures with later-stage versions. Additionally, Orion has achieved ease-of-installation advantages throughout its product lines to position the company as a leader in the LED retrofit space which can be seen in a company presentation. The presentation also covers information on its client base and channel partners.
A clearly defined and implemented distribution strategy is essential to the long term success of any company. While both OESX and RVLT sell through distributors, Orion has been transitioning to an agency business model. As the company evolved from mostly an industrial supplier to industrial, commercial and institutional, a remake of the distribution system was needed to reach an expanded, more encompassing addressable market. Orion currently employs 25 sales agencies that it intends to expand to 50 to maximize market penetration in North America. The company embarked on its agency strategy in 2015 and it has taken some time to line up the best agencies to get full penetration of its markets. Some of its agency partners are illustrated below. The process of repositioning the distribution system could have had some negative impact on revenue in recent quarters, however, it should lead to revenue gains as a complete build-out of the system is completed.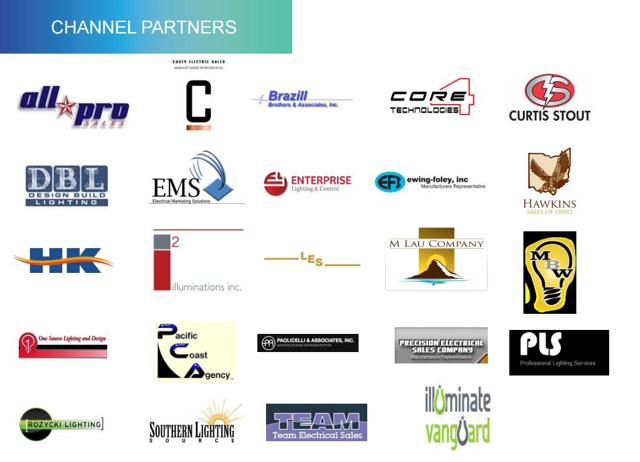 (Source: Company presentation)
Revolution maintains a direct sales force of 19 individuals that sell national retailer and business accounts. The company also employs approximately 30 sales agents in the United States and four countries internationally. Management stated on the last conference call (11-9) that the company would increase its sales agency count to 60 by the end of Q1 2017. In addition the company sells to 76 dealers and distributors. Information on named sales agencies and distributors was not obtainable from public documents.
While Revolution continues to make progress on its business model, its target market appears to be smaller business entities compared to Orion. In viewing the company website, a great deal of emphasis appears to be on lighting tubes which are replacement lamps to retrofit florescent fixtures to LED. While lighting tubes can be utilized to retrofit fixtures quickly and at a relatively low cost, they may not realize the full benefit of LED since they are installed into fixtures designed for florescent. When utilized in optimum performance configurations, improved LED lighting fixtures offer a higher level of lighting performance at reduced costs per watt. Further, higher-end retrofit LED fixtures offer the option of incorporating smart building technologies, which is the future of the business. Another potential downside of LED tubes is that, in the absence of a highly differentiated product, they are a commodity item available from multiples of global suppliers that can ship them inexpensively. However, based on news releases, it is apparent that Revolution is successfully booking new business and continues to grow in the space. In addition, RVLT has committed relatively large amounts to research and development, which totaled $2.5M in that last reported fiscal year and $1.9M in 9 months of the current fiscal year.
On the other hand, as Orion continues to sell into its existing pipeline of clients and expand its footprint with new products and channel partners, the company will likely accelerate revenue gains going forward. OESX has a broad range of LED lighting products and controls for retrofit applications, some of which can also be installed in new construction. With a portfolio of 100 patents covering lighting fixtures, components, and controls, it appears to have product advantage over Revolution in commercial-industrial, since RVLT supplies mainly lighting tubes, lamps and specialty lighting. Orion's products are well differentiated and preferred by some of the largest and diversified companies in North America. For example, even though GE is a major competitor to Orion, the company historically has been a very large customer for the company (as noted in the presentation linked above).
Smart buildings / connected ceilings
Orion historically supplied lighting controls for industrial use and holds patents and technologies which it previously marketed with florescent lighting products. Since the launch of its full suite of LED lighting fixtures is largely complete, the company now intends to upgrade its offerings of connected ceiling / smart building technologies. Management announced on its recent conference call (2-8) that it plans to introduce an upgraded platform to enhance building management and utilization. According to management the current market for smart lighting is estimated at $20B today which enables access control, fire and safety, space utilization, asset tracking, energy management, and other functions. Management further indicated that its smart technology product offerings will be mostly in support advancing its core lighting business than as a standalone..
Revolution Lighting recently created a control division to expand its controls product offering and recently added 15 lighting control products. It appears that their control product offering addresses lighting controls as opposed to connected ceilings / smart building technologies due to the nature of their product line.
There is almost an endless number of participants in the smart building / IoT space, including huge players like Microsoft, Intel, Cisco, Honeywell and countless others. One assumption that can be made is that it is the future of lighting, as smart buildings, smart homes, and smart cities become commonplace.
Comparison summary
While Revolution Lighting Technologies has delivered impressively for investors over the last five years, the company's products do not appear to have the degree of differentiation compared to Orion's full suite of LED fixtures that maximize performance and utilization. However, LED lighting tube and lamp replacements appear to suffice for many users, which should result in continuing demand for its products. RVLT continues to make significant R & D investments with a current annual run rate of about $2.5 million which could sustain and grow its business. However, the commodity nature of lighting tubes and lamps will likely exert greater pressure on growth and margins. On the other hand, Orion continues to expand and differentiate its LED product offering to significantly greater performance than otherwise exists in the market. For large, top-tier clients, the performance advantage will not likely be ignored, as evidenced by the Toyota decision to go with Orion. In addition, Orion's expansion into connected ceiling technologies will likely extend its appeal.
Overall, Orion and Revolution compete in the same space of commercial, industrial, and institutional, but with greatly different product offerings and clients. In fact, Orion management has indicated in the past that during the process of attaining new business, it most often encounters GE or Flex. While GE and Flex are giants compared to Orion, Orion has a differentiated product with performance advantages. After years of restructuring and cost containment, Orion has created a lean operation with full control of USA operation costs. Further, current gross margins for GE and Flex are 25.2% and 6.5% respectively, compared to Orion at 30% and building.
Orion earnings release:
OESX just reported Q3 earnings ending 12-31 on Wednesday (2-8). Revenue grew 23% to $20M while margins grew 180 basis points to 30%. Net loss narrowed from $2M in Q3 2016 to $1.1M in Q3 2017. Backlog increased 28% to $9.6M and cash flow from operations was positive at $266 thousand (per Form 10Q). The company maintains a strong balance sheet with $19M in cash, a current ratio of 2.6, and total debt of $6.3M. Investors apparently expected more of a revenue bounce in Q3 2017 and the stock has traded mostly down since the earnings release. Actually, Q3 results showed significant improvement in revenue, margins, and cost controls. While sales and marketing, as well as research and development, expenses rose in the quarter, general and administrative costs declined 8.3%.
A question was asked during the Q & A session of the conference call concerning the level of revenue required to attain profitability. Management stated that at the current gross margin of 30%, breakeven would be attained at an approximate revenue run rate of $25M per quarter, or $100M annualized. Management further indicated that the company is working further to increase gross margin by lowering manufacturing and sourcing costs. In addition, the current gross margin does not include revenue contribution from the newly launched flagship ISON-class high bay product which carries a higher gross margin.
Management narrowed guidance for revenue growth of 10-15% for full fiscal year 2017 (ending March 31), which likely tempered investor enthusiasm for the stock. The 10-15% growth rate compares favorably to the 10% organic growth rate of Revolution Lighting Technologies.
Overall Q3 was successful for the company in continued financial improvement and execution. A key factor which should drive future revenue is in the full implementation of its distribution channel strategy, which was candidly discussed on the conference call. As stated by management, the company does not have the "channel strength" of key market players, like GE and others, that have been building and perfecting distribution channels for decades. As evidenced in the previous SA article linked above, management has a history of success in positioning product, manufacturing, and service to compete successfully in the LED space, which offers confidence in its ability to successfully execute a new, clearly defined distribution system.
Potential M & A- While in its relatively early stage of market penetration, it does not appear likely that Orion would be an acquisition candidate before its potential value is realized. In any event, companies like Cree, Osram, and Phillips will be looking to grow their businesses vertically by acquisition. With Orion's differentiated product line and retrofit experience, it could become a viable M & A candidate at some time in the future.
The stock today
With OESX currently trading near $1.84, it has a market cap of $54M with an annual revenue run rate of $70M, price-to-sales ratio of .76, and price-to-book at 1.2. In addition, the company operates in the high secular growth LED lighting industry with well-differentiated products and a history of doing business with top-tier clients. The company continues to improve financial metrics by quarter and appears poised to become profitable with increasing revenue and margin enhancement.
Risks
Orion Energy Systems continues as a tiny competitor in a market populated with giants. It has limited resources which could place limits on its ability to compete in research, product development, marketing, and project financing. As such, technology improvements by competitors could upend its efforts to continue growth in the future. While investing in microcap companies like Orion entails more risk than with its larger counterparts, the downside risk does not appear significant at $1.84 per share with solid financials in a secular high-growth business.
Conclusion:
While there remains a great deal of uncertainty on what the macro environment for increased business spending will be, there are some assertions that can reasonably be made. The United States currently has the highest corporate tax rate in the world. With a Republican majority in both houses of congress and a pro-business president, it is becoming evident that corporate taxes will be lowered and at least some cash will be re-appropriated to the United States. The only uncertainly appears to be in what those tax cuts will be. In addition, on January 30 President Trump signed an executive order reducing regulations and regulatory costs. Further actions will be undertaken by congress to modify laws on the books which will further reduce unnecessary regulation and costs, which will ultimately lead to increased lending to business and business spending.
While full-scale adoption to LED lighting has eluded investors for some time, macro factors could now be in place for success ahead. Declining adoption costs and increasing performance, coupled with an improved business spending environment, appear to be aligning to accelerate the trend to adoption in commercial and industrial. As the business moves to the next stage of adoption, it will likely inflate market caps of LED lighting players from current levels as the general investor population fully recognizes the trend. For investors who prefer to make investments in advance of confirmed trends, market dynamics appear to be much more favorable than in the past. While it is impossible to predict the full benefit and timing of macro factors that will result, a more business friendly environment will in itself be of some benefit. Wall Street continues to ponder what sectors and businesses may benefit most from the new business climate. With its favorable ROI metrics, LED retrofit projects could likely be a logical choice in a new paradigm.
When comparing the companies discussed above, it appears likely that most should do well in a new paradigm of LED adoption. Orion Energy Systems, however, could outperform from a current market cap near $50 million, continued revenue and profit growth, and its positioning as a viable acquisition candidate. It will likely prove to be a company on sale.
Disclosure: I am/we are long OESX.
I wrote this article myself, and it expresses my own opinions. I am not receiving compensation for it (other than from Seeking Alpha). I have no business relationship with any company whose stock is mentioned in this article.
Editor's Note: This article covers one or more stocks trading at less than $1 per share and/or with less than a $100 million market cap. Please be aware of the risks associated with these stocks.