Introduction
The first comment to my inaugural article for 2017 in which I touted Abbott's (NYSE:ABT) as a stock ripe for accumulation at its then current price of $38.41 was somewhat unflattering. It suggested the pick was "low risk" and "boring". I was glad to see the "low risk", but "boring"... that burned a bit at first look.
In a rising market, such as we have at this instant in time, boring is well - boring. In this article, I will show how Abbott has climbed on to a new peg of stability making it even safer and less exciting. This should be a positive not a negative. If the market starts to fall off from record highs, boring and low risk will become rarefied and sought after features.
Plus, Abbott's management has revealed in its earnings report that it is actively pursuing strategies that will make it exciting in a conventional fashion. It is pursuing new and expanded market opportunities from a favorable base as a top performer in its devices segment, particularly as relates to cardiovascular, diabetes care and neuromodulation devices.
It is working to enhance growth in its nutrition segment; and plans to leave its regulatory induced inventory woes in the Chinese market in the rear view mirror for 2017. The nagging woes of the Venezuela debacle are clearing up. Aside from its earnings report we know that it is pursuing litigation which would allow it to shake the unfortunate Alere situation.
Abbott is now >4 years into its current major restructuring.
Abbott's big makeover began on January 1, 2013 when it split from AbbVie. The motivating idea behind the split was to separate the higher risk pharma from the remainder of the business. According to Abbott's CFO, Abbott's businesses had:
...evolv[ed] into different identities, and investors had different appetites. The spin off was a straight-forward way of changing. ...

We believed that proprietary pharmaceuticals was a differentiated investment area with investors who appreciate the opportunity of high risk/high rewards and high dividends…It takes a special group of investors to evaluate that.
The arrangement has not been kind to Abbott up to this point in time.
Abbott, the boring bit, as we know it today retained the "nutrional, medical device and branded generics businesses". It also retained its previous corporate name and the architect of the deal, Miles White, Abbott's irrepressible CEO.
The high risk, high dividend portion of the business took on the name AbbVie (NYSE:ABBV). It was headed by another long time Abbott veteran, Richard Gonzales.
The comparative chart of Abbott's share price since the split presents an awful picture. The chart below compares price action of Abbott, AbbVie and two ETFs over this period.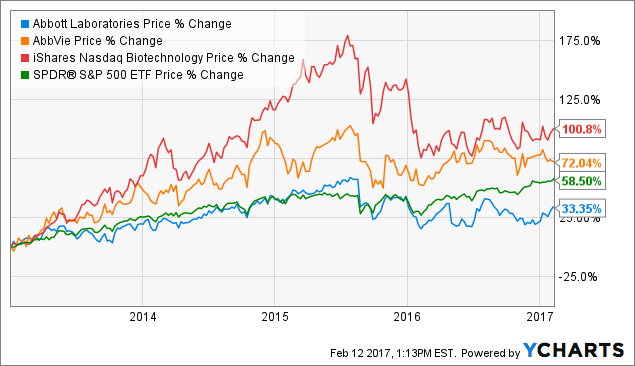 ABT data by YCharts
So far no matter how you slice it, It seems that Mr. White's selection of Abbott, in blue on the chart, was a dud. The Abbott piece of the puzzle is underperforming the Biotechnology ETF, its severed brother AbbVie and pitifully, the S&P 500 ETF.
Ouch! Mr. White what is going on here?
2017 is Abbott's turn in the limelight.
Abbott's CEO can't help but recognize how poorly Abbott shows up in comparisons such as shown in the chart above. No problem, it takes time to build out a vision. Five years is ample time. This is the fifth year.
This is the year for Abbott to put up or shut up. Judging by CEO White's major recent stock purchases, and Abbott's most recent earnings call, he is expecting it to do just that. While the stock market is generously priced in other names, there are not too many laggards having the quality and potential that Abbott presents.
When seen from that perspective, Abbott's dismal comparative price chart shown above presents more of an opportunity than an indictment.
During Abbott's Q4, 2016 earnings call Q&A, Kristen Stewart an analyst with Deutsche Bank, asked a question which must be front of mind for Abbott watchers. Politely pointing out that Abbott has now been at its reshaping project for several years, she asked what the plans were for the next several years. She wanted to know if more reshaping or divestitures were in prospect. She also asked for a big picture view of Abbott over the next few years?
CEO White gave this question his full attention. He started by setting Abbott's actions over the previous four years into context. He noted how the AbbVie separation left Abbott with considerable cleanup both in terms of administrative issues and structural ones.
Perhaps the best way to sum up the end result is set out on Abbott's single-slide slide deck which it presented with its earnings report. On this slide Abbott encapsulates its current business model and latest operational results as set out below:

This slide describes a cohesive set of attractive business segments which are growing at sustainable rates which Abbott confirmed with its guidance. Abbott's fine tuning to get to this point allows it to present four carefully sculpted business segments which CEO White promotes as:
...[occupying] strong sectors that are very well positioned in their respective product markets and their respective geographic markets. Our challenge, or at least opportunity now looking forward for the next few years is integrate St. Jude and, frankly, focus on the organic pipelines of new products coming, and execute so that we can see the growth benefit of the strength of these four segments around the world.
Keeping the Alere debacle in mind, which has yet to play out, it is encouraging to know that Abbott's mixing and matching days are drawing to a close.
Risks
Abbott's prospects are rosy, they are not without risk. It is at a stage where execution is critical. The St. Jude's acquisition opens exciting possibilities. It also brings potential liabilities.
St. Jude has had execution issues which have lead to scary headines in connection with battery issues in its heart devices. It has had to issue software updates to allay security issues in its pacemakers. As recently as this month Abbott announced that an issue with one of St. Jude's promising heart catheter devices has lead it to issue recall notices on several hundred of the devices.
As one of America's preeminent multinationals Abbott is at risk for slowdowns in global growth be they trade related or otherwise.
Conclusion
Abbott has a unique suite of businesses which its CEO has assembled over his lengthy and distinguished career. These are the ones that he has selected and shaped to best maneuver in the world's current challenging environment.
Abbott's businesses are ones which satisfy basic human needs. Abbott has painstakingly built these up over long years and across broad geographies. They are not subject to being easily overturned by competitors. As such they constitute classic wide moat operations.
Safe, I hope so. I believe that its management will carry it through execution risks in its St. Jude unit and such other speedbumps as 2017 has in store. Boring, well perhaps quality investments are more important as a source of income and security than as a source of entertainment.
In the introduction I highlighted certain of Abbott's initiatives which management expects to kickstart near term growth; these present the prospect that Abbott will open an exciting chapter in its restructuring saga. After four painstaking years of restructuring 2017 is set to be the year when Abbott reaps the benefits of its strategies.
Disclosure: I am/we are long ABBV AND ABT AND MAY INVEST FURTHER IN THESE NAME OVER THE NEXT 72 HOURS.
I wrote this article myself, and it expresses my own opinions. I am not receiving compensation for it (other than from Seeking Alpha). I have no business relationship with any company whose stock is mentioned in this article.