Last week, I made the bold case to take a short position in shares of tiny drybulk shipper Globus Maritime (NASDAQ:GLBS) after an "outrageous, DryShips-inspired recapitalization deal diluted outside shareholders by more than 90%".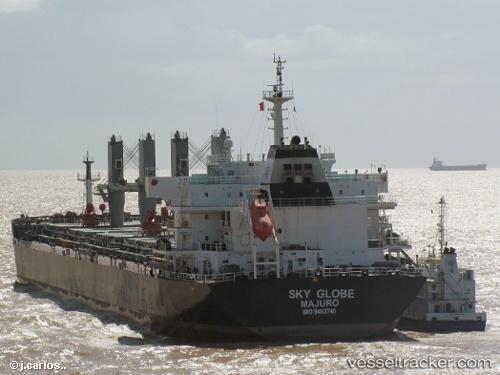 Picture: Supramax drybulk carrier "Sky Globe" - Source: vesseltracker.com
In short, the transaction contained the following key measures:
Globus Maritime issued 5 million new shares to four investors for gross proceeds of $5 mln. The placement price actually calculates to just $1.00 per share
In addition, the company issued warrants to purchase an additional 25 million shares at an exercise price of $1.60
In exchange for the termination of $20 mln in credit obligations, Globus Maritime issued an additional 20 mln shares to entities controlled by the company's chairman. The debt conversion price was also set at $1.00
The chairman's entities also received warrants to purchase another 7.4 mln shares at an exercise price of $1.60
As a consequence, the new share count calculates to 27.6 mln, an immediate dilution of 90% for outside shareholders. Even worse, the share count should soon balloon to 60 mln given the low warrant exercise price of $1.60 and the fact, that the warrants are immediately exercisable. Final dilution would calculate to 95.5% this way.
After the debt conversion and the exercising of all warrants, the company will have approximately $57 mln in cash and $45 mln in total debt for a net cash balance of roughly $12 mln - add roughly $50 mln in fleet market value and the company's net asset value post recapitalization would amount to just $1 per share.
At the current share price of $7, the company's market capitalization calculates to almost $200 mln, a more than 850% increase from previous levels around $20 mln. Not bad for a transaction that initially reduced the company's net debt by a mere $25 mln and only lifts the net asset value from negative territory to slightly above zero.
Unfortunately, I wrongly assumed the additional shares to hit the market within rather short notice while, in fact, these shares have not yet been registered with the SEC and looking at the transaction terms, the new investors will have to wait at least six months before their granted rights to demand registration will become exercisable.
This means, the company's tiny, registered share count of just 2.6 million will most likely remain unchanged for at least another six months with the free float assumed to be even lower given the chairman being the company's controlling shareholder.
Given these issues, I am retracting my short recommendation for now and apologize to readers for initially missing out on important details of the transaction. I would particularly like to thank fellow contributor Bart van Velzen for bringing this topic to my attention.
While the time to short Globus Maritime might have not come yet, investors should take a close look at the company's SEC filings in approximately six months from now as I firmly expect the new investors to demand registration of their shares at the earliest possible date.
I will follow up on this special situation once the registration filing has been made by the company.
Disclosure: I/we have no positions in any stocks mentioned, and no plans to initiate any positions within the next 72 hours.
I wrote this article myself, and it expresses my own opinions. I am not receiving compensation for it (other than from Seeking Alpha). I have no business relationship with any company whose stock is mentioned in this article.
Editor's Note: This article covers one or more stocks trading at less than $1 per share and/or with less than a $100 million market cap. Please be aware of the risks associated with these stocks.