Investors looking for a high yield, a stable and rising cash dividend and good value need to look no further than Enbridge Income Fund Holdings Inc (OTC:EBGUF). The fund, which holds energy infrastructure assets, was "designed to hold a diverse portfolio of long-lived, highly reliable energy infrastructure asses yielding predictable cash flows for its investors," according to the Enbridge website. It has more than delivered on this purpose, and investors have reaped the rewards.
Its holdings are comprised of three segments: Liquids Pipelines, Gas Pipelines and Green Power. Despite the diversification, this is very much a liquids pipeline play as it accounts for 86.7% of earnings.
DIVIDENDS AND CASH FLOW
Enbridge's dividend policy is to pay out 80% of cash available for distribution by the fund. As such, so long as the cash flows continue to increase, so will the dividend. Since its inception in 2003, Enbridge Income Fund has prided itself on a rising dividend with no cuts despite the recent challenging oil climate.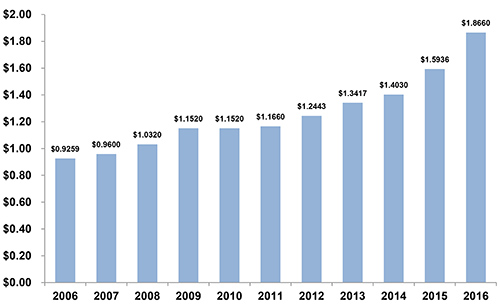 The fund's yield is currently hovering around 6%, and its dividend has an annual compound growth of approximately 7% over the last five years. Despite its targeted payout ratio, as of end of Q3 2016, its current fund group payout ratio sat at 89% as compared to 85% over the same time frame in 2015. Although the rising payout ratio may be reason for concern, there was a onetime factor, the wildfires in northeastern Alberta, that negatively impacted cash flow in 2016.
Looking forward, Enbridge is well-positioned to continue to grow over the next few years through previously announced growth projects. These projects, announced in 2015 will support strong cash flow growth, and as a result, the fund has committed to raising dividends by 10% through 2019.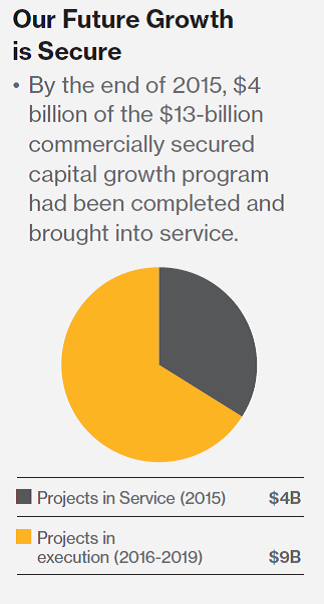 (*Source: Company Presentation)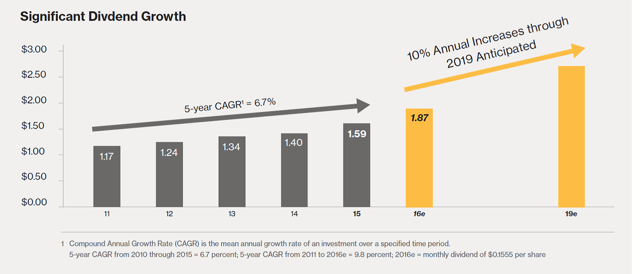 (*Source: Company Presentation)
The fund has thus far performed extremely well, has met its growth objectives and announced a 10% increase to its dividend in January. Therefore, there is no reason to believe that the fund cannot fulfill its goals through 2019.
PERFORMANCE AND VALUATION
The fund has performed extremely well over the past year and has consistently outperformed its peers since its inception.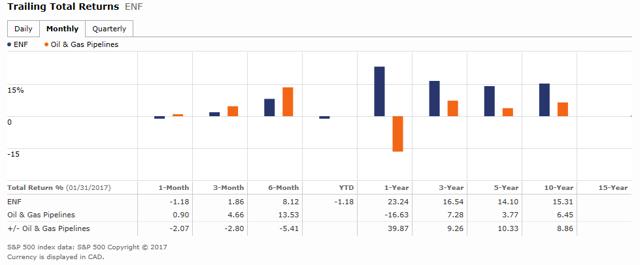 (*Source: Morningstar)
With a current P/E of 15.6, Enbridge appears fairly valued as it is trading in line with its historical value (See F.A.S.T Graph below). It's forward PEG ratio is current at 1.06x earning which once again points to the stock trading in line with its growth prospects. However, the fund is trading at a 14% discount to its Graham Number of C$39.80 which implies that the stock is currently undervalued.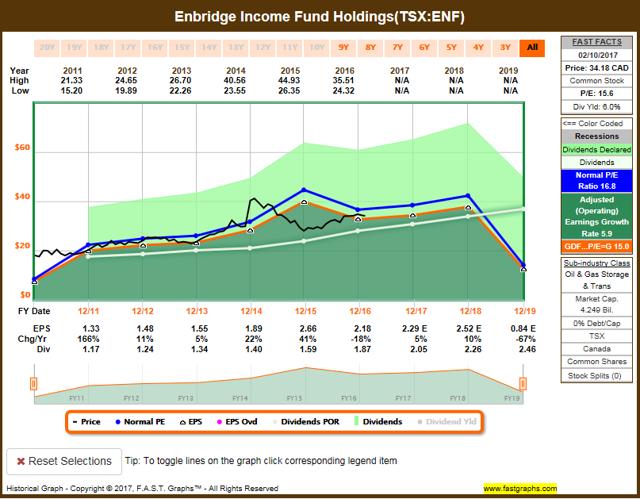 A GOOD ENTRY POINT
Enbridge Income Fund has consistently rewarded shareholders, and its anticipated growth pipeline will further continue to reward investors. The stock is currently fairly to undervalued based on several metrics, and it has committed to a 10% dividend growth through 2019. With a current yield of 6%, investors seeking income should be well rewarded with Enbridge Income Fund. At these prices and with the anticipated growth, investors should be comfortable initiating or adding to existing positions.
If you would like to receive updates for any of my upcoming articles, please click the "Follow" text at the top of this page next to my profile.
Disclosure: I am/we are long EBGUF.
I wrote this article myself, and it expresses my own opinions. I am not receiving compensation for it (other than from Seeking Alpha). I have no business relationship with any company whose stock is mentioned in this article.