The IPO filing of Snap, Inc. (NYSE:SNAP), the parent company of Snapchat is one of the most anticipated tech offerings in the past few years. However, there are many analysts who clear their reservations regarding the future of the company and its stock.
User growth is slowing
Although Snapchat has experienced tremendous growth since inception, significant slowdown is on the horizon. Growth of DAUs (daily active users) has been declining for two consecutive quarters. In Q3, the company experienced a decline from 65% to 62% of its users being active daily, but in Q4, Snapchat experienced further slowdown to 48%. To set the stage for a comparison with another tech giant, Facebook (FB) has added 189 million users in 2016 while Snapchat has only added 51 million. Facebook's performance is boosted by growth experience outside of North America and Europe. However, it also outperformed Snapchat in North America despite the inclusion of both Mexico and the Caribbean in Snapchat's DAU count. Due to this very unconventional way of geographic clustering by Snapchat management, we believe Snapchat is attempting to inflate its North American performance before its IPO.
(Original Content, Data from ReCode)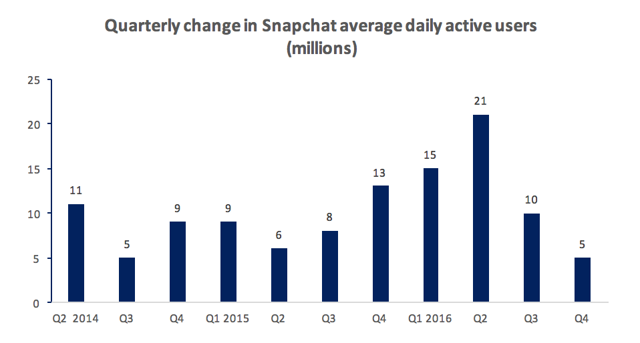 Additionally, Snapchat is not generating the same per customer revenue that Facebook was able to achieve pre-IPO in 2011. While Facebook was making an average of $3.2 dollars per customer, Snapchat is only able to receive $2.15. This may be a sign of things to come, unless Snapchat finds a business model that allow it to effectively monetize its users.
Additionally, Facebook's increasingly aggressive investment in Instagram which has released similar features to those of Snapchat through the "Instagram stories", signifies future competition that will hinder the future growth of Snapchat.
Snapchat management has begun to focus on growth through increased engagement with existing customers as opposed to growth through customer acquisition. However, this task may prove to be even more difficult than user growth. Analyst estimates state that Snapchat users spend between 25 and 30 minutes on the app daily, which is half of the amount of time Facebook users spend on the web and desktop applications. The average American spends around 186 minutes a day on their phones (excluding calls & texts). This is broken down into 44 minutes of video and 60 minutes of social network use. If Snapchat has already captured 25 mins of this time, it will be difficult to cut out an extra piece of the pie with Facebook, YouTube, and Instagram. Even with the innovative product roadmap, there is a hard limit on the amount of engagement Snapchat can gain.
(Original Content, Data from PewInternet)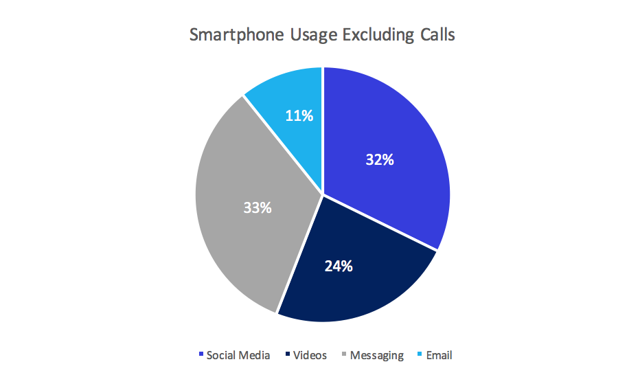 The Snapchat spectacles are therefore a smart strategic pivot for Snapchat and a key driver of Snapchat's potential future success. Going away from the smartphone hardware allows the company to target a whole new opportunity to obtain users' time in a space that is not yet heavily targeted by its competitors. This can be seen in the IPO as it has filed under a "Camera Company" suggesting that there may be more hardware products to come.
Snapchat is struggling to find its way to profitability
Just as most Silicon Valley unicorns, Snapchat has struggled to create a sustainable and profitable business model. When Facebook went public, it was already profitable and it still experienced stock price drops up to 50 percent after its initial IPO, which were not recovered until two years of proven operations. Other companies such as Twitter (TWTR) have not been able to recover stock prices and have continued to struggle with profitability. Revenue has grown from $58 million in 2015 to $404 million in 2016. Snapchat has experienced an operating loss growth from $381 million to $520 million during that same period. It is evident that Snapchat is trying to find a business model that will allow for it to cover its costs and become profitable. But in the meantime, poor fundamentals may put downward pressure on Snap's stock once it goes public.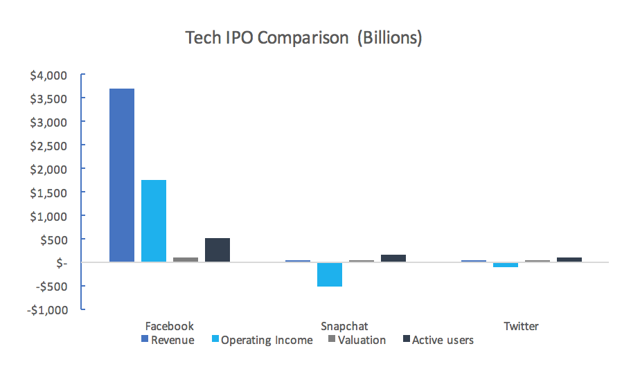 Snapchat numbers are much more like those of Twitter than Facebook. Out of the three social media giants, it has the worst operating income at -$520 million and a valuation that is over $5 billion higher than Twitter. We believe the company should be valued at $15-18 billion based on these metrics.
Dependence on Google
Most of the infrastructure set up by Snapchat is hosted by Google Cloud. The company has entered a $2 billion contract for the next five years to maintain and expand this infrastructure. This is relevant as Google (GOOGL) (GOOG) is receiving a great deal ($2 billion in revenue) while helping one of Facebook's competitors grow. Additionally, while it is paying Google, it acknowledges YouTube as one of its main competitors. If Snapchat's growth continues in the next five years, it can be expected that Google will begin to charge a large premium to continue supporting Snapchat, which could significantly hinder future earnings.
Even though Snapchat is one of the most anticipated IPOs of the year, we do not recommend taking any long positions due to issues with the business model, fundamentals, and tough competitive landscape.
If you enjoyed my opinions, insights, and analysis, please hit that FOLLOW button and check out my other ARTICLES and analysis. Thanks for Reading! Please leave a comment below as I am anxious to know your thoughts on this matter.