American companies have delivered record amounts of cash to investors in recent years. Many investors on this platform are focused on dividends as an indicator of value. The world is changing. Today, stock buybacks are the primary means of returning cash to shareholders. That has implications for investors. Do dividends still matter in a world where corporate treasuries are buying hundreds of billions of dollars of stock in the open market?
History
Corporate share repurchases in the United States were incidental for most of the 20th century. However, in 1982 the SEC adopted the "safe harbor" rule 10b-18, exempting US corporations from litigation if they conducted open market operations within very broad guidelines. In effect, companies could buy back their own stock without fear of being labeled stock manipulators.
Share repurchases thereafter consumed a progressively larger share of corporate cash flow. The charts below illustrate just how significant share buybacks are. Since the Great Recession, they have been half again as large as dividend payouts!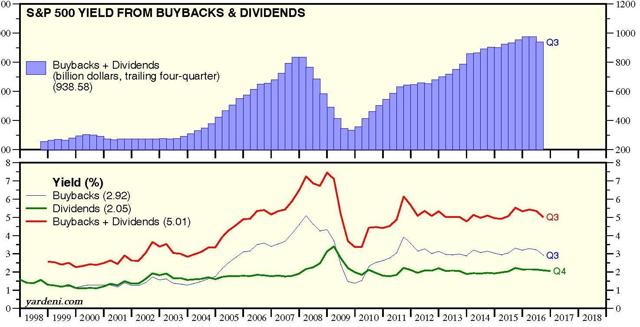 Source: Yardeni Research
Viewed another way, we can see that large US companies buy back shares equal to 3% of their market value every year. That's a significant fraction of overall trading volume. There are a number of reasons for the trend.
Why Buybacks?
Stock buybacks can be understood in the context of investor expectations. The investing public is conditioned to expect non-decreasing dividends. Corporations can comfortably carve out "safe" regular dividend distributions while paying out the balance in sporadic share repurchases. In effect, the share repurchases deliver residual cash flow without raising investor expectations through highly visible dividend payouts.
Another rationale can be understood in the context of the tax regime. Cash returned to shareholders in the form of repurchases is taxed at long term capital gains rates. Over the past 35 years, these have been uniformly lower than ordinary tax rates. The tax treatment of dividends, on the other hand, has ranged from ordinary income to the long term capital gains rate. Thus, shareholders can pay lower taxes with buybacks rather than dividends.
The most cited reason for share repurchases is earnings management. By reducing the amount of shares outstanding, companies are able to increase reported earnings per share through financial engineering. As managerial compensation is often driven from EPS, there are motivations beyond shareholder value to implement repurchase programs.
Finally, share repurchases can be regarded as a positive signaling mechanism. A share repurchase announcement tells the world that company management believes its shares to be a good buy. Who would know better than corporate insiders, right?
Do dividends and repurchases matter for investors?
There has been a lot of research on the value of dividends over time. Modigliani and Miller famously opined that dividends didn't matter in a world without taxes. Investors could sell shares or reinvest dividends if their cash needs did not dovetail with a company's dividend payout. The only thing relevant to investors was the company's investment policy.
The real world has taxes and, practically speaking, many investors seem to have a preference for dividends. Many of the contributors to SeekingAlpha have such a preference. How well have dividend-paying stocks done?
Fortunately, the Financial Analyst's Journal has published some recent research on the topic using US companies. The data ranged from 1963 through 2014. The results revealed that high-dividend-paying stocks are less volatile across investment styles and market capitalizations. The results also suggest (with less statistical significance) that higher-yielding stocks produce better future returns.
In general, focusing on dividend-paying stocks significantly reduces risk, independent of investment. This finding is true for value and growth portfolios as well as small, mid, and large cap portfolios. ... With the exception of the late 1990s, which witnessed a tech bubble, the performance superiority of the high dividend portfolio has been remarkably consistent over time.
The findings here do not represent a consensus. Dimensional Fund Advisors has studied global market returns for the last 25 years and found little evidence of a dividend effect that is distinct from an associated value premium. Also, the number of companies paying dividends is shrinking. Concentrating portfolios in high-yielding stocks reduces exposure to key industries.
Bottom line is that there does appear to be some support for yield seeking. The sea change in corporate share buybacks since 1982 has not negated the salutary effects of regular and increasing dividends.
That leads to another question. Can investing in companies active in share repurchases generate superior returns? Indices of such companies have already been constructed. There are two ETFs - PowerShares Buyback Achievers Portfolio ETF (NASDAQ:PKW) and SPDR S&P 500 Buyback ETF (NYSEARCA:SPYB) - that provide exposure to companies engaged in large buybacks.
SPYB tracks the S&P 500 Buyback Index, which provides exposure to the 100 constituents of the S&P 500 with the highest buyback ratio in the last 12 months. PKW tracks the NASDAQ U.S. Buyback Achievers Index, which is comprised of U.S. securities issued by corporations that effected a net reduction in shares outstanding of 5% or more in past year.
Research in the area of share buybacks is less developed as the history of repurchases doesn't extend too far. However, the early results are promising. Jonas Rasbrant has found that stocks enjoy a "pop" both at the time of the repurchase announcement and the days when the shares are actually purchased.
Observing an effect and actually trading are two different things. Trading costs can confound the best of investment theories. Fortunately, we have tradable security to measure. PKW has a ten year track record. It's worth evaluating its results thus far against a passive US stock market benchmark.
Those results are interesting - but not yet statistically significant. In other words, there is not enough data to indicate that the stock buyback portfolio either reduces risk or adds return to Russell 3000 index. Here is ten year track record of PKW against the Vanguard Total Stock Market ETF (NYSEARCA:VTI) for the period ending January 2017.

Maybe dividends - and stock repurchases - do matter after all. The investment landscape is changing. One must adjust for changes in the tax and regulatory framework to undertake informed empirical analysis.
Disclosure: I am/we are long VTI.
I wrote this article myself, and it expresses my own opinions. I am not receiving compensation for it (other than from Seeking Alpha). I have no business relationship with any company whose stock is mentioned in this article.