I grew up hearing the saying that "the market is nervous enough to have predicted 11 of the last seven recessions." In the case of Kinder Morgan (NYSE:KMI), that appears to be the case. Despite an excellent long term track record, the company cut the dividend a few years back and the market has been a nervous wreck ever since. All of a sudden, all kinds of project failures, and other disasters could wreck a company that was relatively secure before the dividend cut. A neutral observer might think that the market believes that management has lost its touch.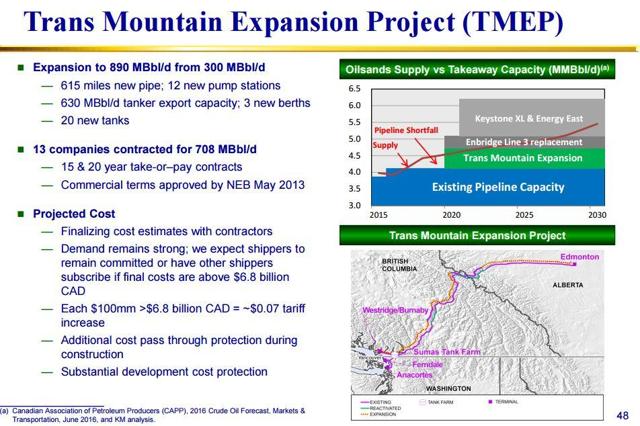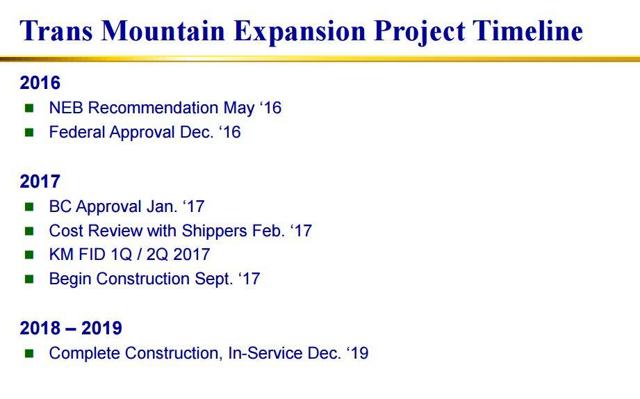 Source: Kinder Morgan January 25, 2017 Investor Update
Mr. Market from time to time gets nervous about the Trans Mountain Pipeline Expansion project. If the project was cancelled tomorrow, then there would be some charges and writedowns. But much of those charges would be money already spent in the past. Current and future cash flow would be free to use to increase dividends or invest in other capital projects. Mr. Market may not like all the charges and the effect on the income statement for the next quarter. But many of the charges will be non-cash. The on-going business would really not be affected. The following quarter would not have any charges, earnings would bounce back, and cash flow would continue to be based upon newly completed projects and ongoing business.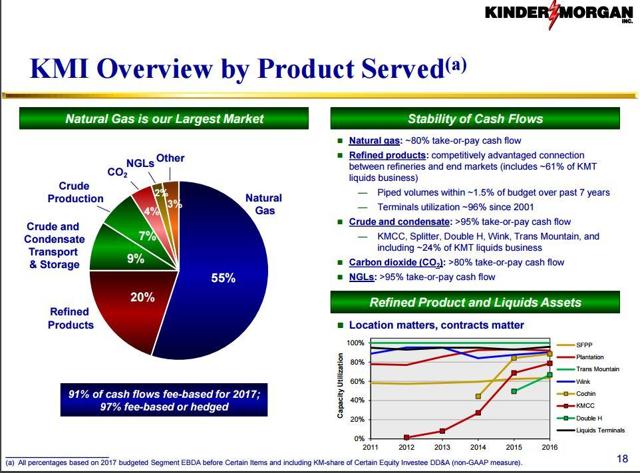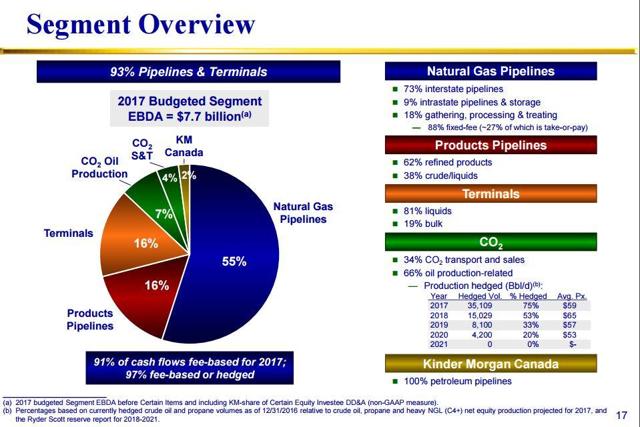 Source: Kinder Morgan January 25, 2017 Investor Update
As shown in the slides above, natural gas and natural gas pipelines constitute a majority of the business. However, the slides also show a very well diversified company. This company has pipelines all over North America. While each pipeline contributes to profits (some more than others), management has attempted to make sure that no one pipeline's difficulties would wreck the company. That is going to include a proposed pipeline such as the Trans Mountain Capacity Expansion project.
The first slide shows just how small the contribution of the Canadian Division is currently. While this expansion project would definitely increase that percentage, that increased percentage is not going to be a company maker or a company wrecker. Plus the company has diversified opportunistically through the years to decrease specific project risk and increase diversification. While the last year saw some pressure induced sales, investors should expect the sales of project interests periodically in the future as management deems appropriate. Increasing diversification is still the order of the day.
Many investors are long term buy and hold investors. The company DRIP program is very popular with this type of investor. If there is no intention to sell then there should be a fair amount of faith that management will come up with more projects to replace a cancelled project. That would especially be true for significant projects.
The same attitude should prevail about the dividend cut. It is an ideal time to participate in the DRIP program to buy shares at half the price of just a few years back. When management raises the dividend, then the share price will heading back up. Eventually the sale will be over.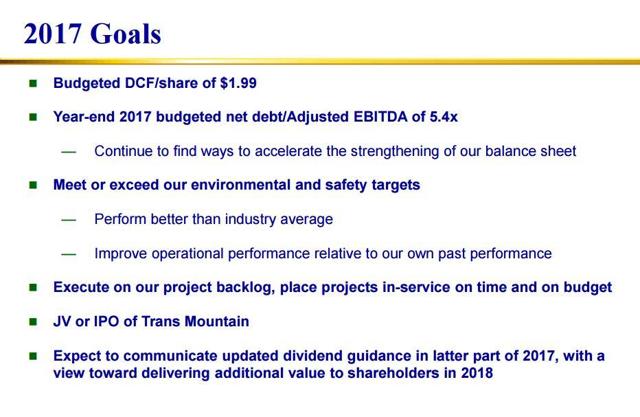 Source: Kinder Morgan January 25, 2017 Investor Update
If the stock was a buy a few years back at a higher price, then it should be a bargain now after the dividend cut. That dividend cut may have produced a rough bump, and quite a stock price tumble, but for the long term investor it is still just a bump. The underlying business is still producing close to the same cash flow. That cash flow is just not valued as highly by the market because all of it no longer goes to the shareholders.
As shown above, management is not predicting much of a cash flow drop from the current year. In fact many would call that a basically flat cash flow amount for the 2017 budget vs. the 2016 actual. None of that cash flow prediction comes from the Trans Mountain expansion project. The slide also shows that management plans to reduce the exposure to the Trans Mountain Expansion project. Management has no intention of the project materially hurting the company. Should there be a cancellation, there is plenty of time to replace that capital project and its projected cash flow in the backlog. Future growth would not necessarily register a pause.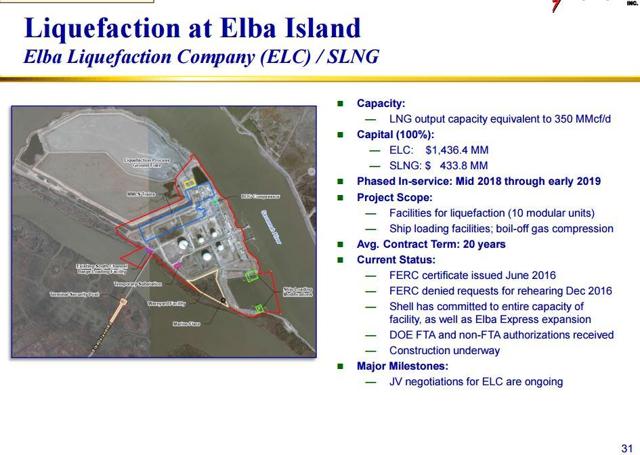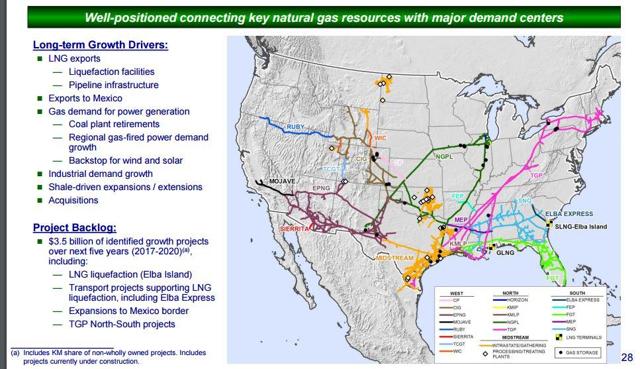 Source: Kinder Morgan January 25, 2017 Investor Update
Here is a small sample of some of the projects in the backlog. As shown above, the first slide for the liquefaction at Elba Island is a relatively large company project. But the total cost listed is less than 5% of the company enterprise value as reported in the presentation. In fact the total project backlog reported in the second slide does not pass 5% of the reported $86 billion enterprise value reported in the presentation. So as visible as one project may be, any one project will probably not slow down company progress much, if at all, if something goes wrong.
One project may be relatively important to Mr. Market. In fact it may even be the crown jewel. However, even the Trans Mountain expansion (a crown jewel?) was slated to either go public through an IPO or reduce risk by selling partnership shares. This company has always reduced the risk inherent in large projects in the past, so there is no reason for investors to assume a change in strategy now. Management diversification efforts have been very successful, so investors have every right to assume they will continue.
So if the Trans Mountain Expansion project gets cancelled. Investors could expect that the effects will be felt for a quarter or two. After that it is back to business as usual. Some cash flow would now be available for increasing dividends and other projects in the backlog. While it would have been a shame to invest the time and money in a failed project, that is water over the dam. Those decisions are done and gone. All that is left is to appropriately adjust the balance sheet to reflect the new, more current conditions.
The worst thing to happen to this company was the dividend cut in the recent past. But after two years of lower dividends, management is talking about raising the dividend in 2018. The underlying business has not changed much. What changed is the market's perception of the value of that cash flow produced now that investors no longer receive all the cash flow. But it is clear that the stock price has begun recovering from this experience. Five years from now, this dividend cut should be an unpleasant memory. Companies such as SandRidge Energy (NYSE:SD), Halcon Resources (NYSE:HK), and many others wish that all they had were unpleasant memories. JP Energy Partners LP (NYSE:JPEP) is merging for more solid reasons than unpleasant memories. So that dividend cut could have been a far worse experience.
The business world is full of chances. Sometimes, even a top notch management like Kinder Morgan guesses wrong, or fails to see an insurmountable challenge. But investors should expect that this management will recover quickly from any setback to "right the ship" as soon as possible. Usually that will be very soon. If it takes longer, at least management has made sure that most problems are readily fixable. Some managements are not that careful to think about the challenges that lie ahead. So this management is definitely a cut above average. That makes the stock a relative bargain.
Disclaimer: I am not an investment advisor and this is not a recommendation to buy or sell a security. Investors are recommended to read all of the company's filings and press releases as well as do their own research to determine if the company fits their own investment objectives and risk portfolios.
Disclosure: I/we have no positions in any stocks mentioned, and no plans to initiate any positions within the next 72 hours.
I wrote this article myself, and it expresses my own opinions. I am not receiving compensation for it (other than from Seeking Alpha). I have no business relationship with any company whose stock is mentioned in this article.