AT&T (NYSE:T) is a dividend champion in the telecom industry. With its long history of predictable dividend increases, at its current market price it is a buy.
What did I think last time?
I last wrote about T in this article, where I looked at how the dividend increase and the acquisition of Time Warner (NYSE:TWX) would impact the dividend. My main concern in that article was how the purchase would impact the dividend T can pay. It looked like the credit rating agencies might downgrade T's credit rating, which would then make its sizable debt more expensive to service, and borrowing the cash needed for the deal would add even more costs to servicing the debt.
While I thought the deal might not be approved by regulators, I thought it more likely that they would require changes to the deal instead. I worried that any such changes could make the deal less beneficial to T and put additional strain on its ability to pay the dividend.
I also noted that T had recently raised its dividend. Now, an extra penny a share each quarter isn't going to make anyone rich quickly, but I like that I can depend on T raising the dividend about a penny a quarter every year in the fall.
What new information do we have now?
Since I wrote about T at the end of October, the first piece of new information is the election results. Since Trump's initial reaction to the news of the TWX acquisition was negative, many people thought his election might spell trouble for the deal. Trump hasn't said anything about the deal since winning the election, and most people are now focusing on his feud with CNN. My take is that Trump is unlikely to take action against the deal just because he doesn't like CNN. In fact, he might just see CNN getting new owners as a plus.
I previously pointed out that the deal valued shares of TWX at around $107, and that at that time they were trading well below that figure. Since I think the deal is even more likely to go forward now, it might be a good opportunity to pick up shares of TWX since they are trading for around $96.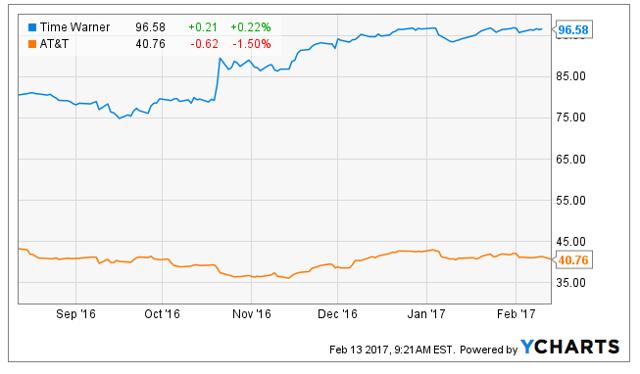 On January 25th, T released its Q4 earnings where it met expectations on earnings but missed on revenue by around $200 million. My big takeaway from this story is the 2.8 million new wireless subscribers. The DirecTV Now platform also signed up an additional net 200,000 paying customers.
Looking at the slides from the earnings conference call presentation, I see several items of note.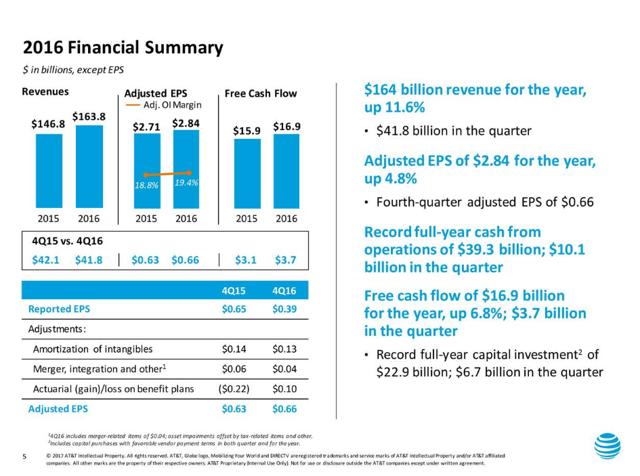 This slide showing the results for the full year and the quarter, address several items on my investment partner checklist. First, revenues from the prior year are up, both on a whole year and quarterly basis. EPS is also growing nicely. This should provide excellent support for growing the dividend in the future.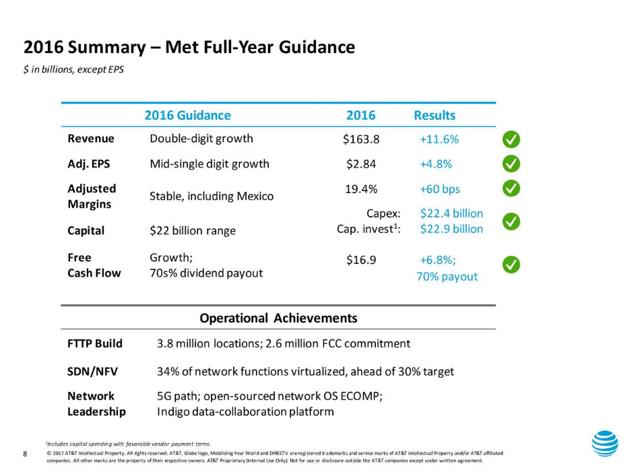 Above we see that management achieved performance for the year that matched their guidance. It's good to see that management can put a solid plan together and execute it successfully. For a dividend growth investor that is important, because if management can't execute their plan, they could easily get into a position where the dividend can't be sustained.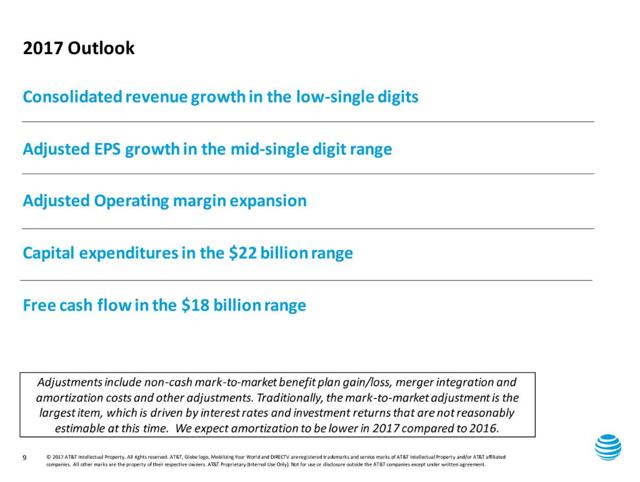 Here we see the guidance for 2017. It seems less ambitious that last year, especially on the revenue front. However, the guided growth in EPS should be more than adequate to support another typical dividend raise of a penny a quarter.

Checking what Moody's has to say on T, I see that it still has an investment grade credit rating. Moody's, along with other credit ratings agencies, have had T under review since shortly after it announced the deal to acquire TWX. Clearly the agencies are waiting till more details emerge on exactly how T is going to pay the cash portion of the deal. Since it is currently at Baa1, there is some cushion to investment grade if the rating is cut.
What's a good price?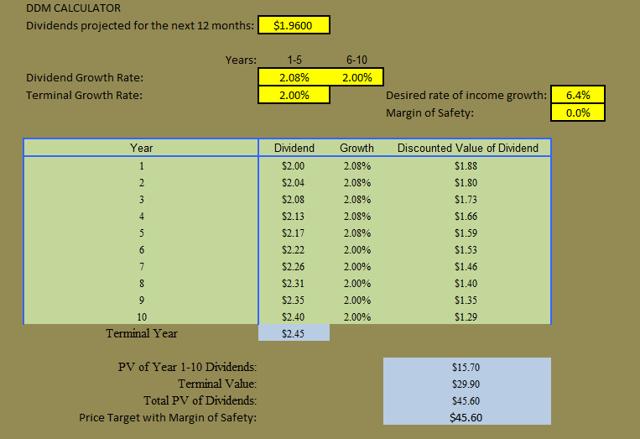 To figure out a good price, I do a DDM calculation using my Excel® based DDM calculator (pictured above, you can see the web-based calculator I based it on here and read a discussion on how the formulas were developed here). Looking at the CCC List, I can see that its latest dividend increase as 2.08%. Since T has been doing a penny a quarter raise for some time now, I calculated the present value of its dividend payments using a set of dividend growth rates that will result in that same penny a quarter increases for many years. Starting with the latest declared dividend payment, this calculates to a present value of the dividend stream of $45.60. As T is currently trading just under $41it is a buy at the current market price.
Can options help?
To write a put contract, I want a strike price that is at or below the current market price and below my target buy price as well. I also want to be paid a premium for the contract that is more than the pro-rated dividend I would get if I owned the stock till expiration. So for T at this time, I will want a put contract with the strike price of $41 or less.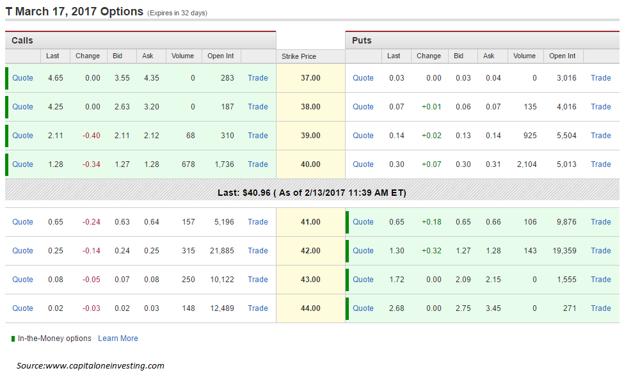 The $41 put contract with the March 17th expiration date meets these requirements. The strike price is right around current market price. And the $0.65 premium is more than a quarter's dividend payment for holding just over 1 month. And the Delta is such that there is nearly a 50/50 chance that the shares will get assigned to the contract writer.
To write a call contract, I want a strike price that is higher than my buy price and that pays a premium higher than 50% of the pro-rated dividend I would get from the stock for the time till expiration. Also since I want to keep the shares, I want the Delta of the contract to be less than 0.40 and ideally less than 0.30. So for T at this time, I will want a call contract with a strike price of $45 or more.
For the call contracts, the $45 strikes are fairly far OTM. The first expiration date that I see where the premium is higher than $0.20 is in July. I don't like writing such a long contract with such a small premium. I don't currently see a call that I am willing to write.
What to watch for going forward?
The big thing to watch for going forward with T is how the acquisition of TWX proceeds. I think the deal will win approval, but I am cautious as to what regulators will require in order to approve it.
Along with the TWX deal is the review by credit agencies of T's credit rating. I expect them to eventually settle on dropping it one grade. I hope it will work out better than that, but it will be an issue if it's a bigger drop than that.
DirecTV Now is an important platform for growth. I want to keep an eye on it and make sure the service resolves its technical problems and signs up even more paying customers.
Conclusion
T is an unexciting company that keeps paying a dividend and raising it an unexciting penny a quarter each year. But that steady - yes, even boring - predictability is what makes it an attractive investment. At its current market price, it is a buy.
Note: I hope you all got something out of this article. I do appreciate the time you took reading it. If you are one of those who follow me here, I appreciate it; if you'd like to include yourself amongst those individuals, please hit the "Follow" button next to my name as well as following other contributors whose work you enjoy. As always, please leave any feedback and questions you may have in the comments below.
Disclaimer: This article is intended to provide information to interested parties. As I have no knowledge of individual investor circumstances, goals, and/or portfolio concentration or diversification, readers are expected to complete their own due diligence before purchasing any stocks mentioned or recommended. The price I call fair valued is not a prediction of future price but only the price at which I consider the stock to be of value for its dividends.
Disclosure: I am/we are long T.
I wrote this article myself, and it expresses my own opinions. I am not receiving compensation for it (other than from Seeking Alpha). I have no business relationship with any company whose stock is mentioned in this article.