This research report was jointly produced with High Dividend Opportunities co-author Philip Mause.
Pattern Energy Group (NASDAQ:PEGI) is a leading wind energy producer which has been growing both energy production and revenue steadily. It closed recently at $19.44 and pays out $1.632 for a yield of 8.3%. The dividends have been increasing quarterly for the past 11 quarters and future increases are likely. PEGI is a very attractive investment at the current price and provides the investor with an opportunity to obtain a generous yield while diversifying his or her energy exposure.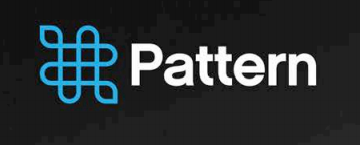 The Business - The business model of PEGI is very well described on the company's website:
Our name, "Pattern Energy", embodies the approach we take. We seek and find patterns in all aspects of our business: wind currents, electrical grids, risk mitigation, site locations and financial models. These patterns help us identify opportunities, build tools, select technologies, and create solutions that yield successful, high-performance facilities.

By re-examining established practices, we discover new ways to approach them. We discern patterns through a systematic and scientific approach, but we count on our practical know-how and industry experience to convert them into facilities that perform. When we find profitable patterns, we repeat them. This cycle of discovery, deduction and development is a pattern we'll keep repeating.
PEGI has managed to structure its business in a very investor-friendly manner. It is important to understand the financial dynamics of PEGI's business. PEGI acquires wind (and, in the future, a small number of solar) farms (areas with a large number of wind energy installations) primarily from its affiliate, Pattern Development (which owns roughly 20% of outstanding PEGI stock), finances each farm with non-recourse debt (on two of its projects the debt is limited recourse), arranges to sell the electricity to a utility or other buyer under a long-term contract and operates the facility. The long-term contracts - called Power Purchase Agreements (PPAs) - are the primarily support for the debt secured by the facility and are, therefore, tightly drafted with a solid counterparty - which are typically large utility companies. Each facility is, in a sense, independent and in some cases PEGI owns only a share of the facility together with other owners. The company hedges those risks associated with operations (price, interest rate, exchange rate) and thereby has a very reliable stream of cash flow. While the total amount of debt secured by the facilities seems large, almost all of the debt is non-recourse. This means that the worst thing that can happen is that, if a single facility runs into trouble, the creditor will foreclose and take that facility, but that the creditor will not be able to reach other PEGI assets or other facilities. The limited risk associated with this arrangement allows PEGI to grow rapidly and to pay out a relatively high percentage of cash flow.
PEGI has some 2,644 megawatts in operation and is targeting 5,000 megawatts by the end of 2019. It is truly international in that it has facilities in not only the United States, but also Japan, Chile, Mexico and Canada. This can be advantageous due to higher electricity prices in those countries. PEGI's equipment has an average age of less than three years, and its average remaining contract length is 14 years. The company buys equipment from the top suppliers - GE (NYSE:GE) and Siemens (OTCPK:SIEGY) - and has determined that its equipment will have a longer useful life than the depreciation life utilized for accounting treatment. Equipment installed prior to 2011 is being depreciated over 20 years and equipment installed subsequently is being depreciated over 25 years. Counterparty risk is limited because counterparties are generally financially stable electric utilities and its average counterparty credit rating is A-. Its largest single purchaser is San Diego Gas & Electric which takes 17% of total output.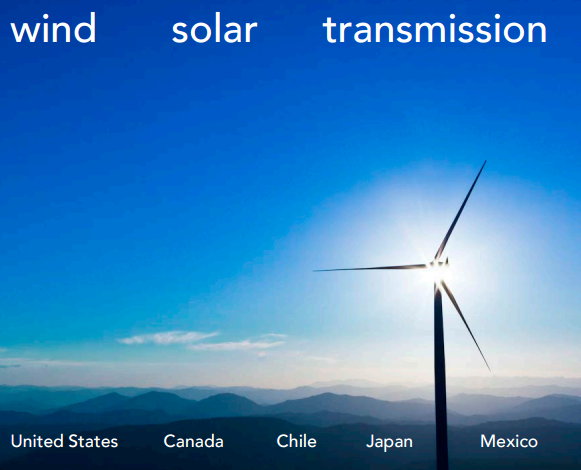 Balance Sheet and Capital Structure - Capital structure is clean with no IDRs and no preferred shares. PEGI is internally managed so there is no potential for a conflict of interest between a managing entity and the shareholders. The company has (as of September 30, 2016) some 87.5 million shares. It has $225 million of convertible debt paying 4% interest which is potentially convertible into roughly 8 million shares. PEGI has some $1.192 billion in long-term debt, but it is almost entirely non-recourse. The debt to which the balance sheet is exposed is limited to the convertible debt and a revolver which had $35 million out as of 9/30/16. Against this PEGI has $90 million in restricted and unrestricted cash. As a result, it is not really exposed to a substantial liquidity or solvency risk. If several projects run into trouble, the worst outcome is that the projects get taken away. Most of the credit exposure does not implicate PEGI's own balance sheet.
Financial Performance - In its most recent conference call, PEGI projected Cash Available For Distribution (CAFD) for the full-year 2016 at between $130 and $140 million. It should be noted that PEGI's distributions increased each quarter during the year so that full-year actual distributions will probably be either covered or very close to covered. PEGI is adding new facilities and should see steadily increased CAFD which should support higher distributions into 2017 and beyond. Adjusted EBITDA should fall in the $285 million neighborhood for the full-year 2016, and this comfortably covers the debt which actually can reach PEGI's balance sheet.
The Trump Administration - The market may be punishing PEGI for its position in the renewable energy space on the theory that the Trump Administration will be less supportive of renewable energy. In this regard, the market reaction - if it exists - is neglecting several important considerations. First of all, wind energy is a very important resource in a number of red states - Texas is actually the state in which PEGI has the most operating facilities. It has provided jobs and tax revenue for those states. Secondly, most of the key policies which have helped wind energy are state, rather than federal, policies requiring electric utilities to buy an ever increasing percentage of their electricity from renewable sources. Thirdly, PEGI's existing facilities are subject to long-term contracts which will not be affected by go-forward policies adopted by the new administration. Fourth, its immediate growth plans involve 942 megawatts of which only 412 megawatts are in the United States. PEGI is becoming a truly international company and is not totally dependent upon the United States. Of the 942 planned megawatts of capacity, 129 megawatts will be solar - included a large solar facility in Chile.
What is the most important to note here is that Mr. Trump actually likes Wind Energy and "Green Energy Features Big among Trump's Top 50 Infrastructure Projects" as reported on many news sites including Forbes on January 27, 2017.
Since September 2016, the stock has retreated over 20% providing a unique buying opportunity.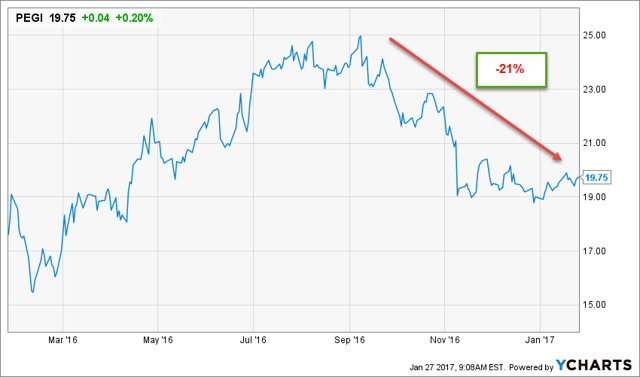 Dividends - PEGI recently announced its Q3 2016 quarterly dividend of $0.408/share, providing a yield of 8.3%. The dividend was 2.3% higher than the Q2 2016 dividend paid, and represents the 11th consecutive quarterly hike for the company.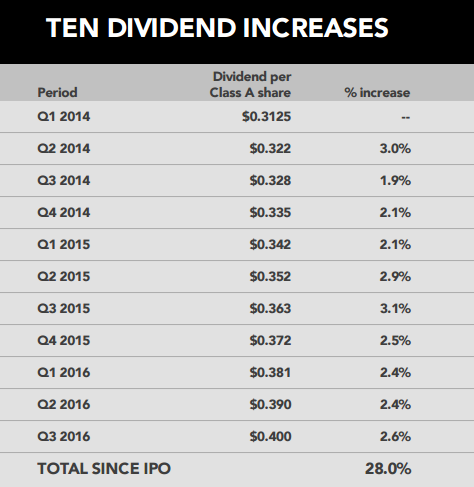 In total, the company increased its quarterly dividend by 30% during the last three years - this is significant.
Valuation - Based on trailing numbers, PEGI appears attractively priced for a utility/electric production company.
Using estimated 2016 CAFD of $135 million or $1.54 per share, the price/CAFD ratio is 12.8 times.
Using an EV of $3.07 billion and estimated EBITDA for 2016 of $285 million, the EV/EBITDA ratio comes to 10.8 times. The EV/EBITDA should in effect be lower because PEGI was adding capacity during 2016 and incurring costs which led to a mismatch between capacity and costs. The capacity which was added online was used only part of the year or none of the year, but the costs in terms of debt and share issuance are fully present in our calculations. Therefore we expect EV/EBITDA to be much lower in 2017.
Price Target - This electric generation company has actually seen analyst estimates rise for the current fiscal year, but that is not yet reflected in its price. As of January 31, 2017, there are 16 banks and analysts who cover the stock with a consensus rating of "BUY" on the stock, and an average consensus price target of $27.17 - implying a 40% potential upside from its recent price of $19.44 per share.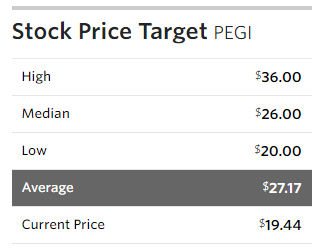 PEGI looks well positioned for a solid gain. This year's significant expected earnings growth over the past year should ultimately translate into a solid price appreciation.
Recent lawsuit - Investors should be aware that, in connection with the most recent 10-Q issued for the period ended 9/30/16, PEGI identified a material weakness in internal control over financial reporting. As a result, a class action lawsuit has been filed. In both the 10-Q and the related conference call, PEGI stated that - despite the weakness - all financial statements were accurately reported: "We have concluded that our consolidated financial statements present our financial position, results of operations, and cash flows for the periods presented fairly in all material respects". It does not appear that either the weakness in internal controls or the lawsuit will have a major effect on the company's prospects or valuation because it did not have an impact on the financial statements reported to investors. In our opinion, this does not affect the strong case for the stock.
Taxation - One advantage to PEGI is that it does not issue K-1s. PEGI issues a 1099. It has issued a tax statement concerning all 2016 distributions that 100% of those distributions constitute "a non-taxable return of capital and reduction of a U.S. shareholder's tax basis." Thus, U.S. shareholders should not have to pay taxes on 2016 distributions but will experience a lower tax basis and higher capital gains taxes when they sell.
Bottom Line
PEGI has established a contractual and financial structure which limits investor risk. The recent selloff has created a unique buying opportunity. Going forward, the company should provide investors with a steady stream of increasing dividends. As dividends increase, investors will not have to share those increases with a management company's investment distribution rights (IDRs). The management has incentives which are well aligned with those of the shareholders. Finally, PEGI provides investors who have a high allocation to fossil fuel MLPs with a diversification advantage due to its renewable energy position.
If you enjoyed this article and wish to receive updates on my latest research, click "Follow" next to my name at the top of this article.
About "High Dividend Opportunities"
High Dividend Opportunities is a leading dividend service ranked #1 in dividends on Seeking Alpha and is dedicated to bringing investors the best high-yield securities trading at bargain valuations. It includes a managed portfolio targeting 7-9% overall yield - and a selection of the best high-yield Master Limited Partnerships, BDCs, U.S. Property REITs, preferred shares, baby bonds, and closed-end funds (CEFs). I invite readers for a two-week free trial currently offered by Seeking Alpha to have a closer look at our investment strategy, our Top Buy list, and our extensive report on the "Best High-Yield Stocks and Securities For 2017." For more info, please click here.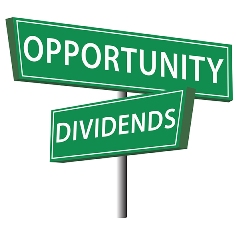 Note: All images above were extracted from the Company's website, unless otherwise stated.
Disclosure: I am/we are long PEGI.
I wrote this article myself, and it expresses my own opinions. I am not receiving compensation for it (other than from Seeking Alpha). I have no business relationship with any company whose stock is mentioned in this article.